Protein Sparing Bread Hawaiian Rolls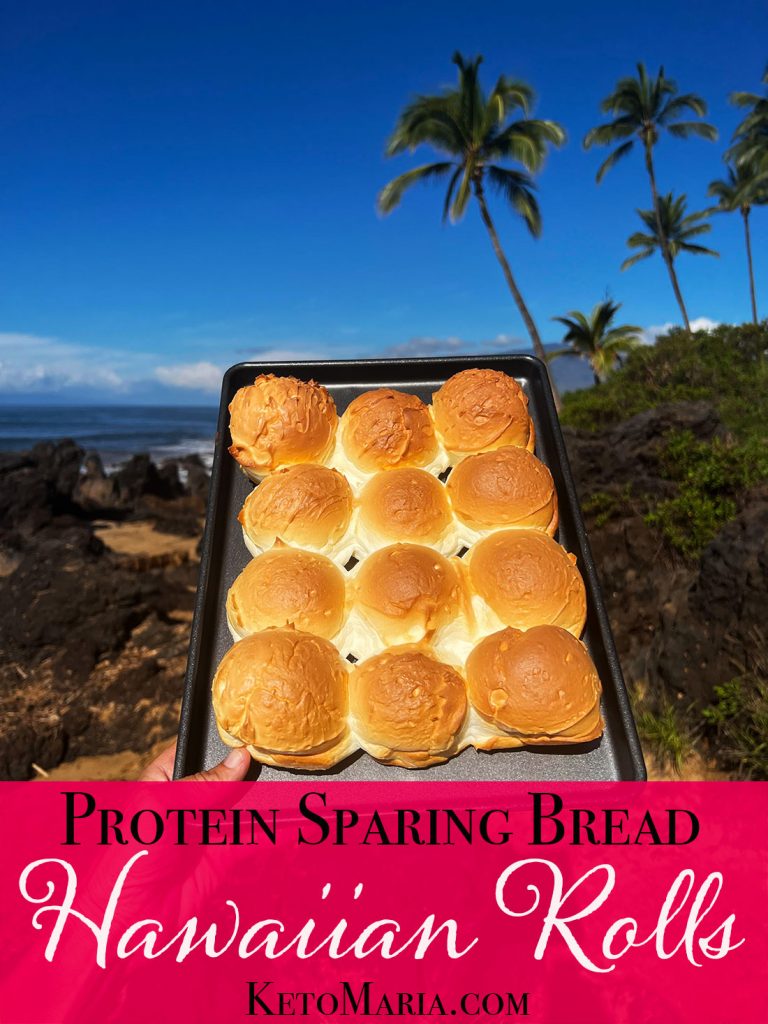 If you love my protein sparing bread, you are going to LOVE my protein sparing bread Hawaiian Rolls recipe!
I wrote my protein sparing bread recipe over 15 years ago and I had many variations. Sometimes I added the yolks back in (like this recipe), and in some psmf bread recipes I didn't. I also used less egg white powder because that creates a softer bread; however, less powder causes the bread to fall if not made properly so I added more egg white powder to my latest recipes in order to help people have success making my protein sparing bread.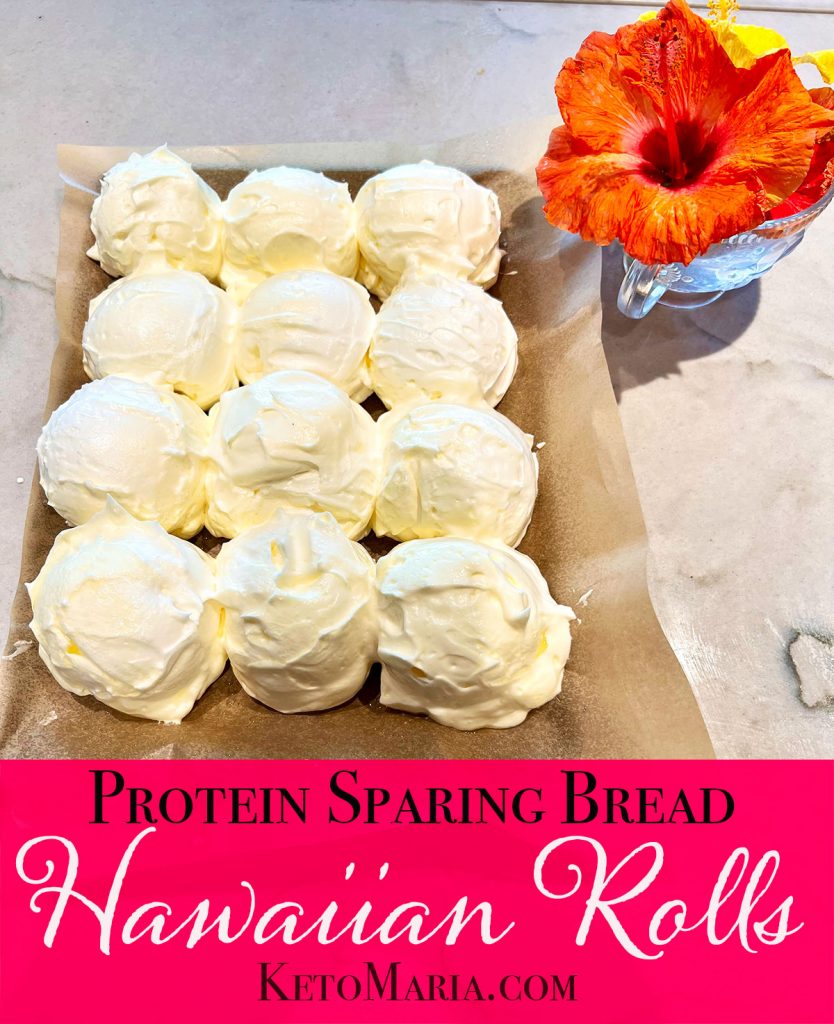 I have also made crouton like in this recipe and even used it as a protein sparing flour or bread crumbs too. You can use this flour for breading on fish or anywhere you would use traditional flour.
It is fun to see everyone jump on the bandwagon and make my protein sparing bread recipe in various ways. Some recipes however, add ingredients that I do not recommend for health nor weight loss. So just be aware when making a version of my protein sparing bread, that other versions of my recipe, I don't always approve of.
The past 15 years, I've made my protein sparing bread so many different ways. I've made protein sparing bread croutons, protein sparing cinnamon bread, cinnamon fry bread, cinnamon rolls, protein sparing bread popcorn, caramel popcorn, protein sparing bread danishes, protein sparing pizza, dessert pizza, Dutch baby pancakes, deep dish pizza, protein sparing bread angel food cake, protein sparing bread tiramisu … you name it! If there is something out there that someone is doing with this bread, it's likely I have already done it!
But one thing I did overlook and someone on our private Facebook group (which you can join for support HERE) mentioned was a Hawaiian style sweet roll.
As you may know we spend time in Hawaii now (mainly to help limit Craig's pain when the weather gets cold) so this was a natural fit to our protein sparing bread recipes!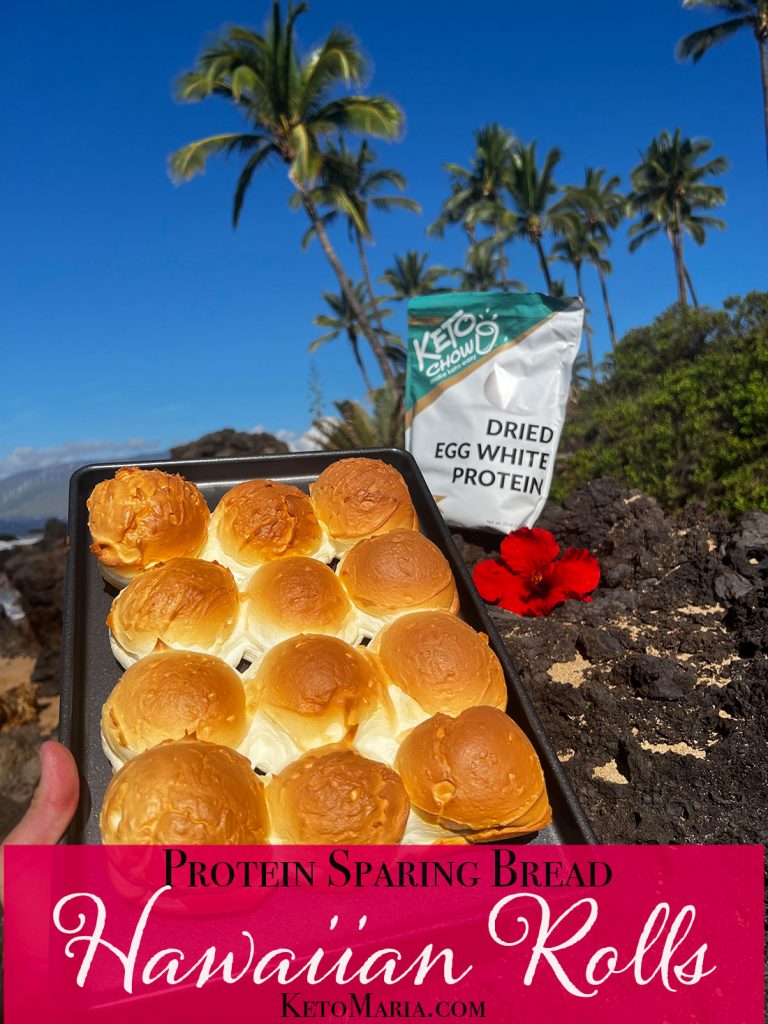 To make my protein sparing bread Hawaiian Rolls, I used Keto Chow NEW egg white powder! I also make these keto bread Hawaiian Rolls with Keto Chow whole egg powder which made the protein sparing bread a bit softer.
Keto Chow not only makes the BEST egg white powder, they also make my favorite mineral drops, liquid magnesium and electrolyte drops! Click HERE to find!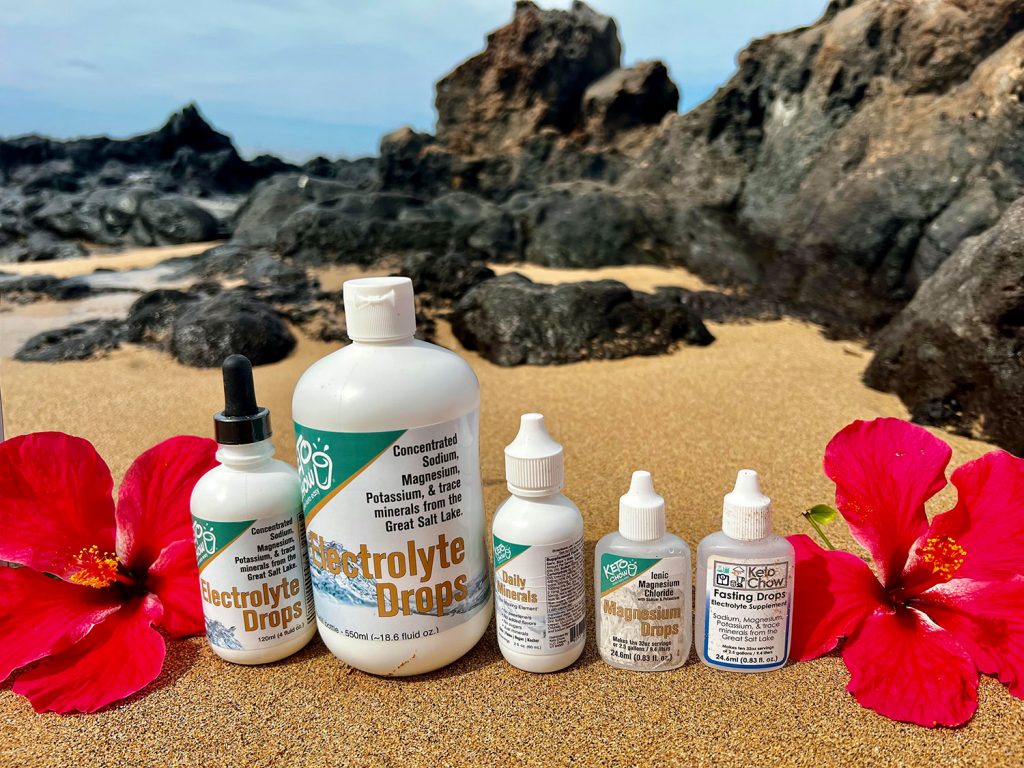 I want to tell you just how special of a company Keto Chow is to me and my keto family!
Keto Chow is owned by Chris and Miriam Bair. Their first introduction to the ketogenic diet was when their oldest son started having seizures.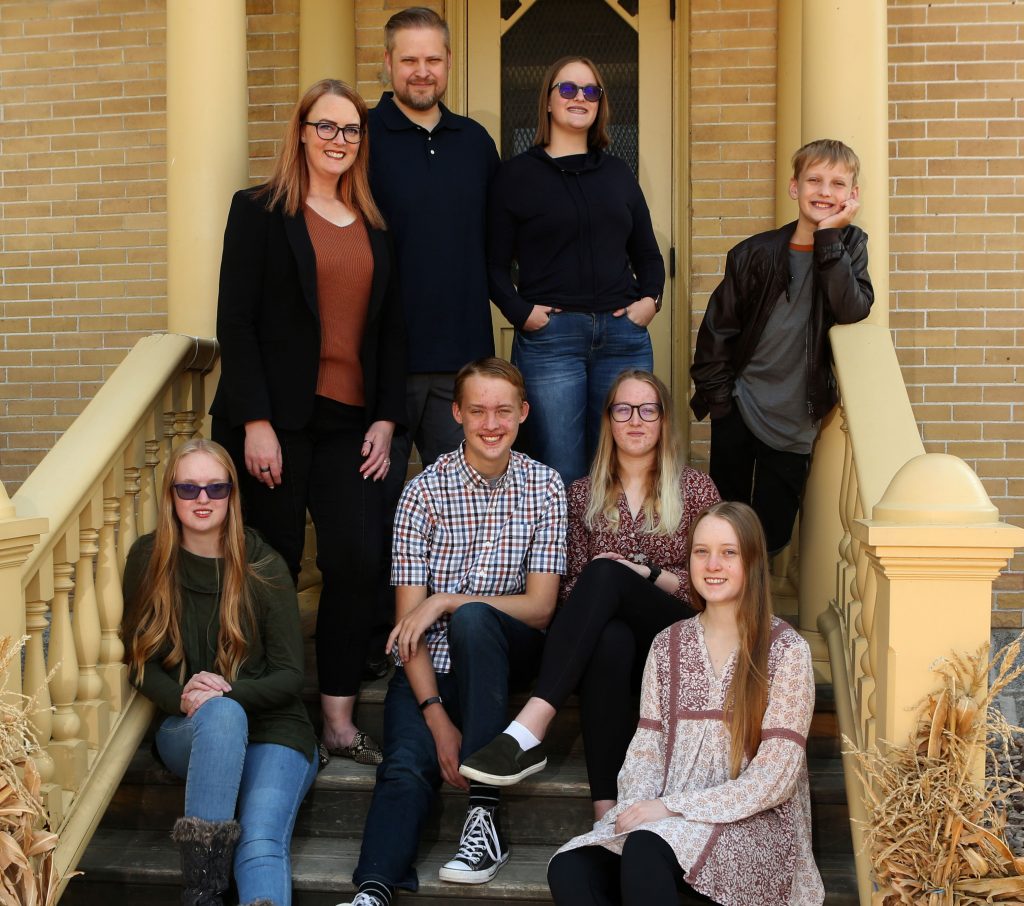 As the Bair's followed the medical advice that was given to them, they were introduced to keto as a potential last-ditch effort to treat seizures if medication #13 was not successful.
Because that last medication worked, they all but forgot about the ketogenic diet until years later when Chris decided he wanted to lose weight and improve his health. As the Bair family started keto, they quickly realized how effective it was, but it was daunting and time-consuming.
Even though Miriam and Chris researched as much as possible, they still made mistakes like not getting enough electrolytes so they created Keto Chow electrolytes. They also wanted to make LIVING an effective ketogenic lifestyle easier especially for those living with seizures so they created Keto Chow mixes.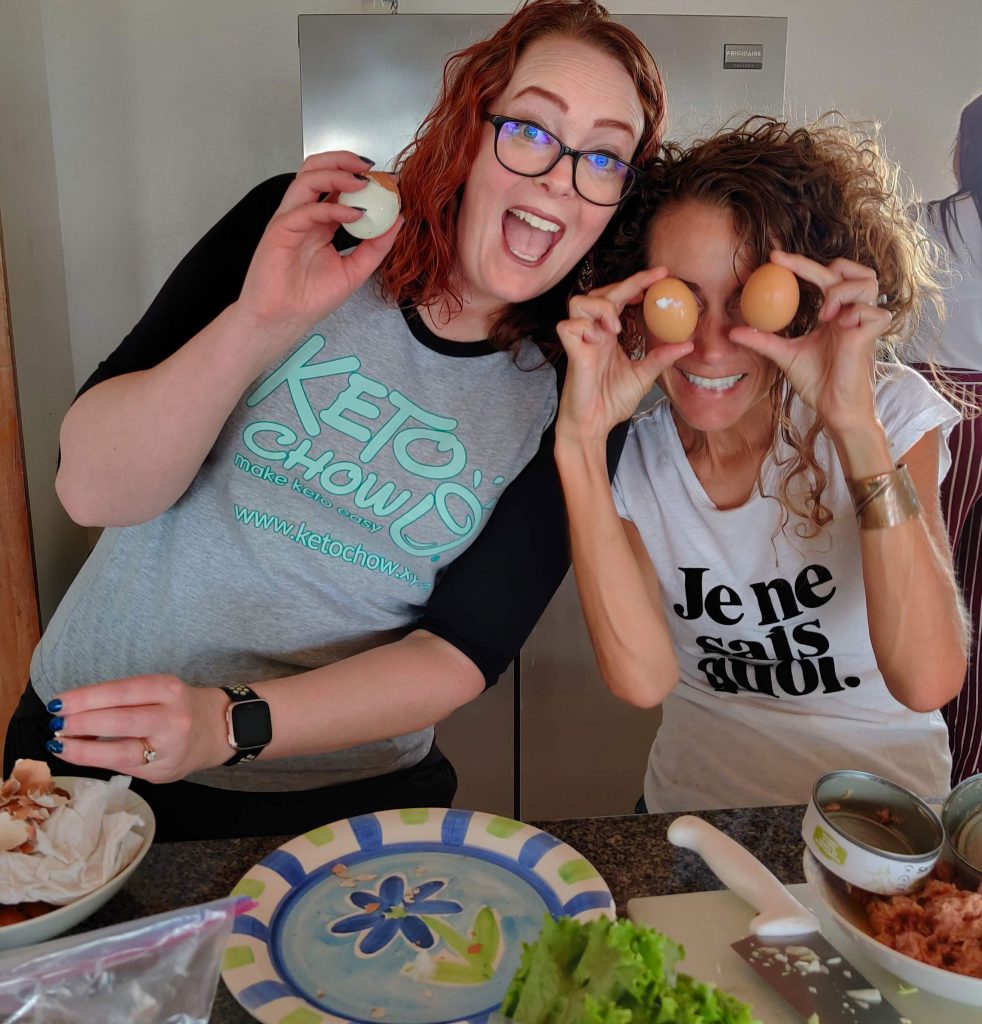 Over the past decade, I have become very good friends with Miriam and Chris! They even took me to dinner for my birthday this past year since I was traveling for work and speaking at Low Carb San Diego!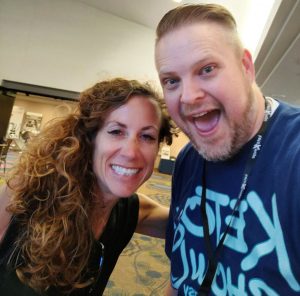 The Bair family is the nicest family I have ever met! I am not exaggerating. The whole family, even their children are super kind! They always have a smile on their faces!
I was so honored that they wanted to create the BEST egg white powder for my protein sparing bread and other recipes like my keto Dutch Baby pancakes with me!
If you are looking for the BEST quality egg white powder to make my protein sparing bread and Hawaiian rolls, I highly suggest ordering a large bag of Keto Chow Egg White powder! And add a bottle of electrolyte drops to your order to help keep you feeling great while you do protein sparing modified fasting days!
Use code MARIA10 for 10% off!!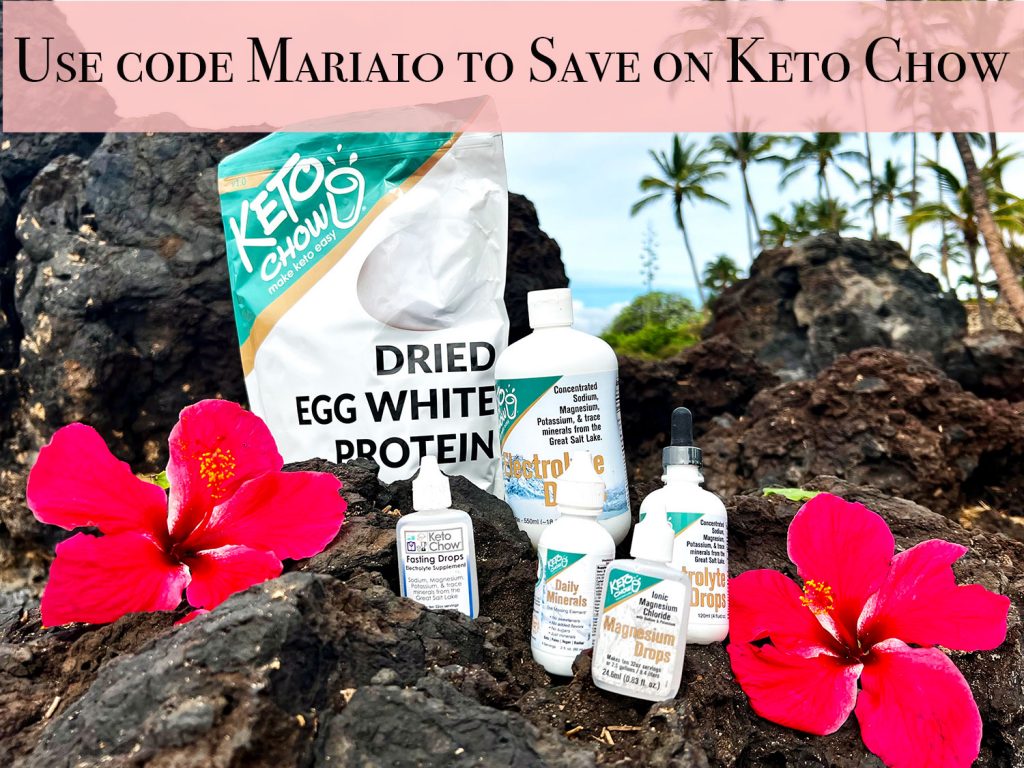 Click HERE to find the ice cream scooper to make my Protein Sparing Bread Hawaiian Rolls!
Protein Sparing Bread Hawaiian Rolls
Ingredients
8

large

egg whites

separated from whole eggs

4

large

egg yolks

omit for better PSMF macros

¼

cup

powdered Allulose

2

tablespoons

Nutritional Yeast

optional

½

teaspoon

Redmond Real Salt

1

teaspoon

cream of tartar

to help stabilize the whites

1/2

cup

KETO CHOW egg white protein powder

1

teaspoon

pineapple extract

optional

Primal Kitchen Avocado Oil Spray
Instructions
Preheat the oven to 325 degrees F. Line a large baking sheet with parchment paper and spray with Primal Kitchen Avocado oil spray and set aside.

Separate the eggs (save 4 yolks for adding back in later), and place the whites into a large bowl or stand mixer.

In a small bowl, mix together the Keto Chow egg white powder, allulose, nutritional yeast (if using), salt and cream of tartar. Add the dry ingredients to the egg whites and whip the whites for a few minutes until VERY stiff.

Turn the mixer to low and GENTLY mix 4 egg yolks into the whites (if using). NOTE: If you over mix the dough after adding the egg yolks, the bread will fall more.

Gently fold in the pineapple extract.

Use a large 4.6 ounce ice cream scooper (click HERE to find) to place 12 mounds of the dough onto the baking sheet, just so the mounds touch each other.

Bake for 15 minutes or until golden brown. Turn oven off and leave Hawaiian Rolls in the oven for 15 minutes to avoid the bread from falling.

Let completely cool before cutting.

Store leftovers in the fridge for up to 4 days or in the freezer for up to a month.

Loaf: just place in a loaf pan and bake at 325 for 30 mintues.

Sweet recipes (Cinnamon rolls, danish, etc): Replace the bread with this recipe (minus the pineapple extract) and continue with the rest of the recipe.
Notes
(Without yolks):
31 calories, 1g fat, 6g protein, 1g carbs, 1g fiber
P:E Ratio 6.0
Nutrition
Calories:
49
|
Fat:
2
g
|
Protein:
7
g
|
Carbohydrates:
1
g
|
Fiber:
1
g
|
P:E Ratio:
3.5
DONUT OPTION!
You can make this recipe into donuts! Just substitute the pineapple extract with vanilla extract, add 1-2 more tablespoons sweetener, then bake in a donut or bagel pan!  Top with chocolate, glaze or your choice of topping. Melted the good chocolate makes a great topping!
TESTIMONY OF THE DAY
"Maria Emmerich! Not only is she a blessing, she is so brilliant to say the least. I can honestly say that if I would not have reached out to her I would not be who I am or the amazing way I feel till this day.
Years back… I was not feeling this way.  Aches, pains, inflammation flare-ups non stop and  days I could hardly walk. I was referred to a rheumatologist I was told I have spondyloarthritis. I was prescribed a few medicines and methotrexate being one of them, which I later on learned was the culprit for my headaches, dizziness, nausea and severe fatigue.  Methotrexate is known for other problems it can cause, but I did not and could not stick with it any longer to find out the other damages it would have caused me . And that is all because of Maria Emmerich.  Her wisdom, information and advice is phenomenal
I followed exactly what she advised  me to do to heal all the things that ailed me. Soon after starting Maria's plan for me, I was able to stop all prescribed medicines from my rheumatologist! And I can honestly say It was because of her I feel like I feel today…which is amazing!
I went to my last rheumatologist with a whole different body so to say.  My Dr. was amazed at the difference he saw in me.  From once hardly being able to move, bend or twist with extreme fatigue to what he was seeing that day was … it was like he was shocked and looked shocked.  His exact words were "whatever you're doing, keep on doing it".  And to my shock he was not one bit shocked when I told him I went off the medicines he prescribed me 6 months prior.  He also said "well then you're the first person I am legitimately taking off those meds."
And I can honestly say that is all because of Maria and Craig Emmerich! I am beyond grateful and thankful  to then for not only giving me the knowledge and tools I needed to heal what ailed me." Jennifer