Protein Sparing Bread Hawaiian Roll Ham Sliders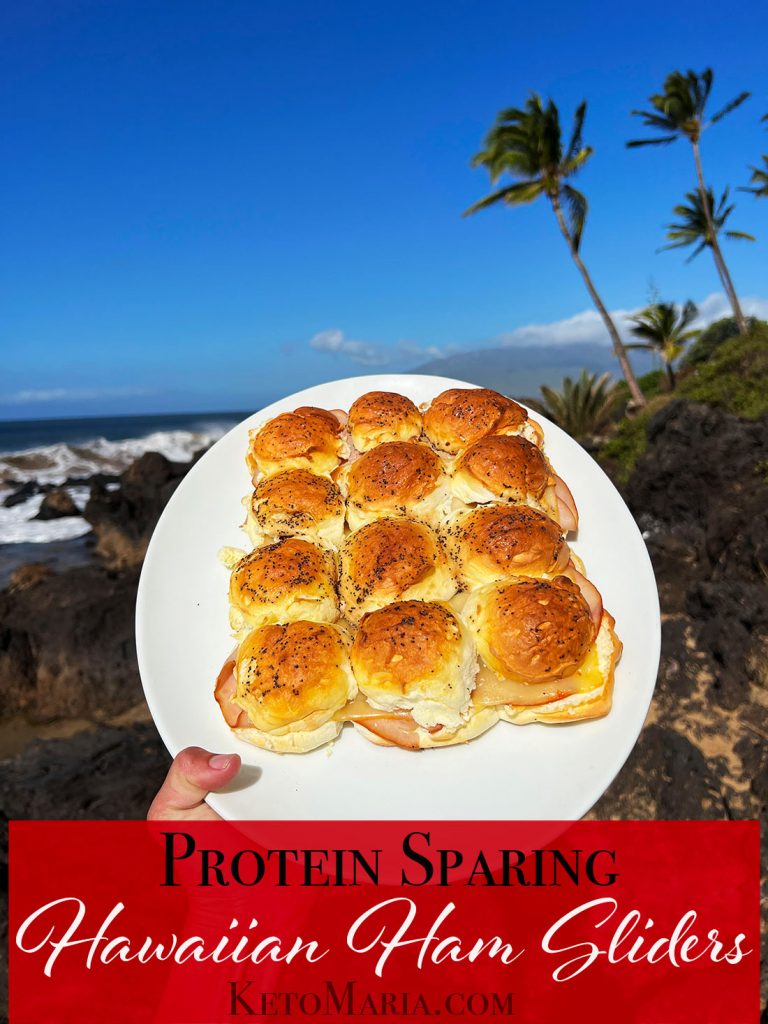 My protein sparing bread Hawaiian Roll Ham Sliders will blow your mind!
The classic Hawaiian Ham Sliders are filled with carbohydrates and sugar, but my recipe is just as delicious without the carbs or sugar!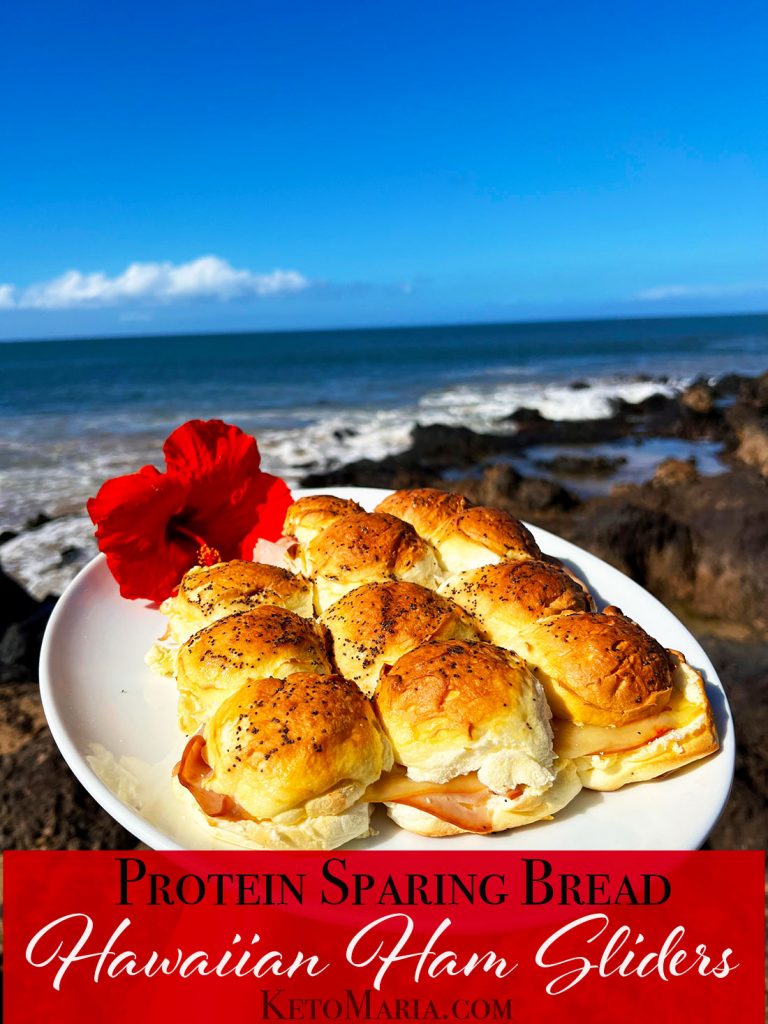 To make the ham sliders, I used Primal Kitchen mayo and dijon mustard!
My recipe for protein sparing bread Hawaiian Roll Ham Sliders is so easy! I love that all I have to do is open a jar of Primal Kitchen mayo and a bottle of Primal Kitchen Dijon mustard and I have a delicious ham slider in no time!
I love adding Primal Kitchen organic Dijon Mustard to my protein sparing bread Hawaiian Roll Ham Sliders. Primal Kitchen's Dijon mustard gives the Hawaiian Sliders the most delicious flavor! You are going to love this protein sparing recipe!
Primal Kitchen is SO generous that they are doing a special discount for all of my readers! Use code: Maria for 20 % off!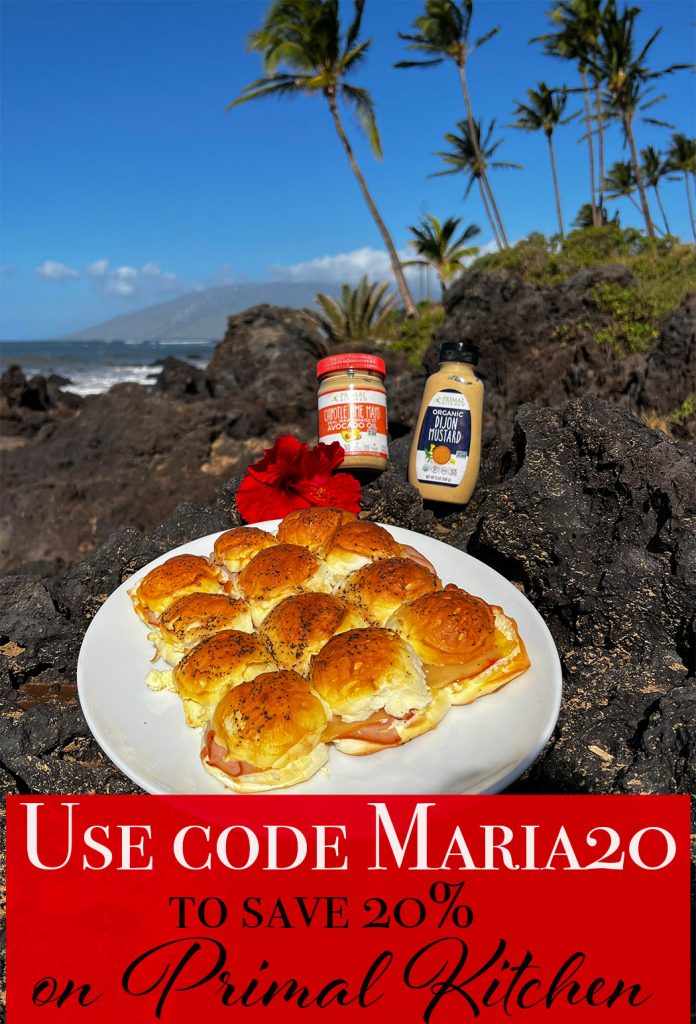 Protein Sparing Bread Hawaiian Roll Ham Sandwiches
Ingredients
1

Protein Sparing Hawaiian Rolls Click HERE

3/4

pound

sliced lean baked ham

6

slices

Havarti cheese

cut in half, omit if dairy free

2

tablespoons

Primal Kitchen mayo

2

tablespoons

unsalted butter

or duck fat if dairy free

2

teaspoons

Primal Kitchen organic Dijon mustard

2

teaspoon

poppy seeds

1

teaspoon

fish sauce

1

teaspoon

organic tamari sauce

1/2

teaspoon

onion powder
Instructions
Without separating the rolls, slice the Hawaiian rolls in half. Place the bottom half of the rolls in a 9×12 baking pan.

Layer on sliced ham then cheese and a light smear of Primal Kitchen mayo. Place the tops on the rolls.

In a sauce pot over medium heat (or a microwave safe bowl bowl), melt the butter. Stir in primal kitchen Dijon, poppy seeds, fish sauce, tamari sauce, onion powder and Dijon mustard.

Brush Dijon mixture over top of rolls.

Loosely cover pan with parchment followed by tinfoil and bake at 350˚ for about 15 minutes or until cheese is melted. Remove foil the last 3-5 minutes of baking to slightly brown and crisp the tops of the rolls.
Notes
(without egg yolks in rolls):
144 calories, 10g fat, 13g protein, 1g carbs, 1g fiber
P:E Ratio 1.3
Nutrition
Calories:
162
|
Fat:
11
g
|
Protein:
14
g
|
Carbohydrates:
1
g
|
Fiber:
1
g
|
P:E Ratio:
1.3
TESTIMONY OF THE DAY
"Good morning Maria Emmerich! This weekend marked a milestone in my journey. Not only have I lost half of my body weight but I wore a sleeveless shirt for the first time in 15 years!
My 12 year old daughter pointed out that she has never seen me wear a sleeveless shirt….and added that I looked buff!
Thank you Maria and Craig Emmerich for all of your guidance! I am beyond happy to have found this way of eating and will never return to where I started. I am stronger, healthier, younger and feel fantastic. Keto on!
Age: 40 yrs
Height: 5'6"
SW: 270 lbs size 22
CW: 135 lbs size 4"– Sarah
Most people I consult are doing keto totally wrong. Get fast results with the my Mind-blowing Keto School!