PROTEIN SPARING POPCORN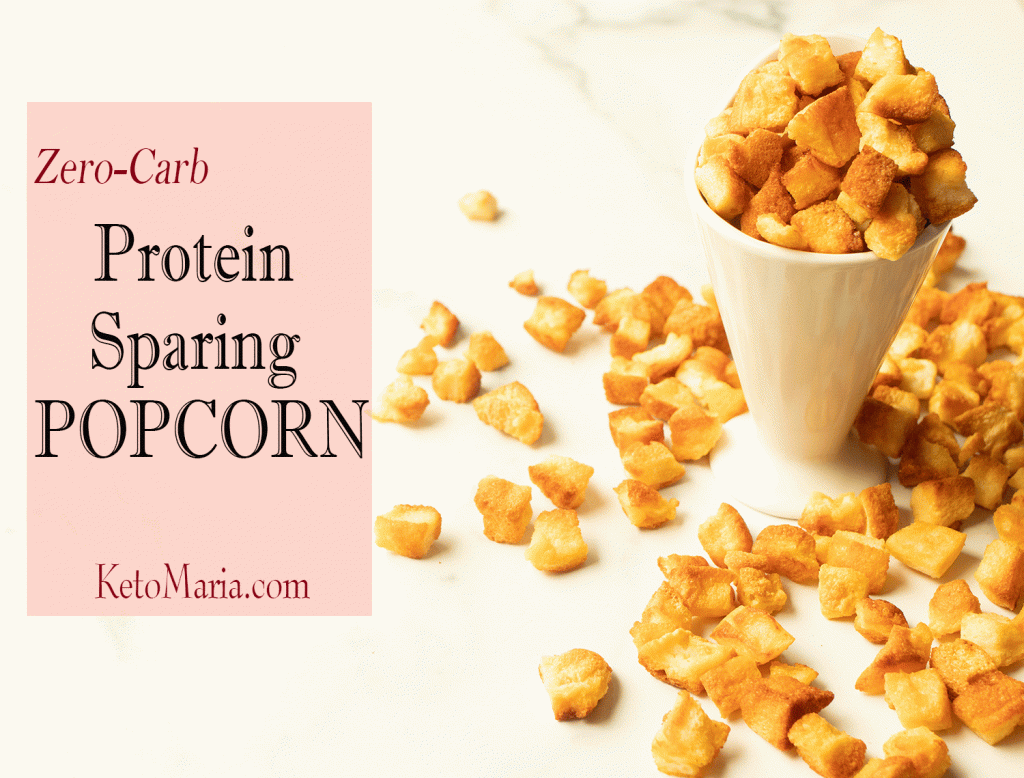 Many of my clients miss popcorn and they beg me for a healthy keto popcorn option.
Marketing geniuses push kettle corn as a healthy snack, but that is far from the truth!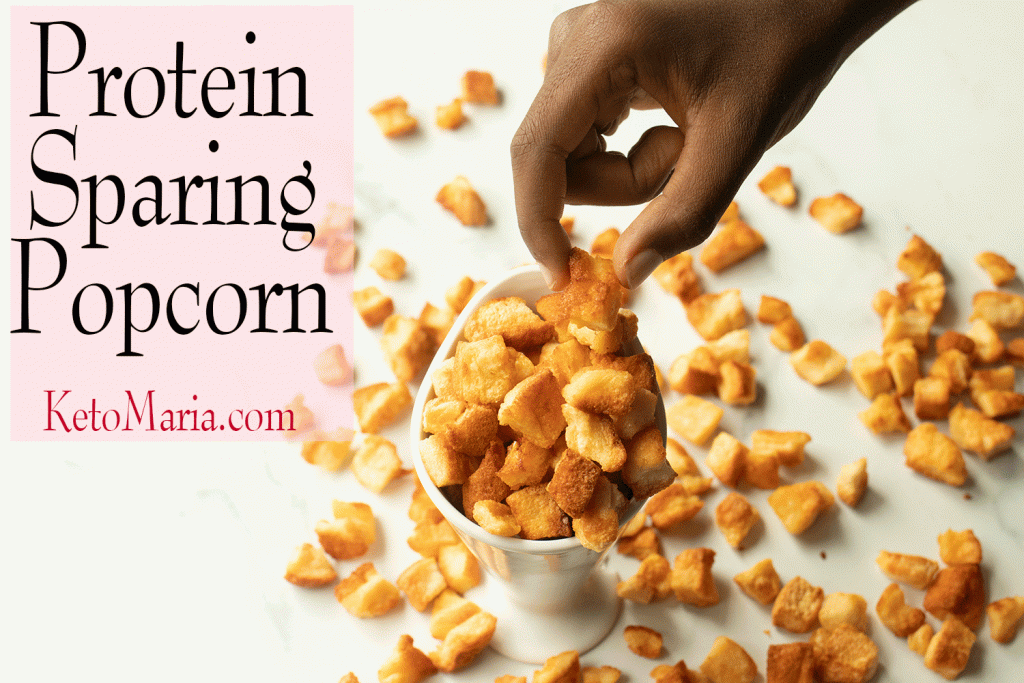 5 cups of air popped popcorn is very low in calories, but it is ALL SUGAR! 38 grams of carbohydrates = 9.5 teaspoons of sugar in our blood, which is way too much!
Complex carbohydrates are just glucose molecules hooked together in a long chain; our body breaks it apart into blood sugar.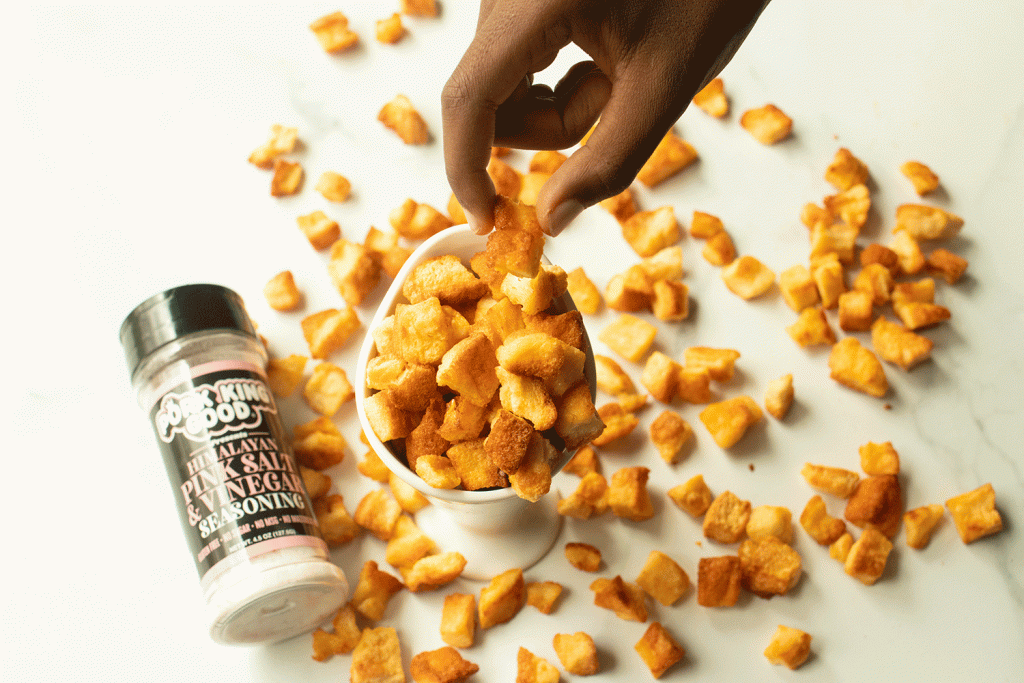 Many clients tell me they really miss popcorn and wish I would come up with a keto popcorn recipe. The truth is, I have had this protein sparing popcorn recipe for over a decade!
I was just too scared to post the recipe because I thought I was the only one who loved my protein sparing bread recipe. Now that everyone is going crazy for my protein sparing bread, I thought it was time to post this delicious protein sparing popcorn recipe!
I also used butter-flavored coconut oil to make my protein sparing popcorn, but if you love bacon fat, feel free to use that instead. I keep protein sparing days dairy free, so no butter or ghee for this popcorn.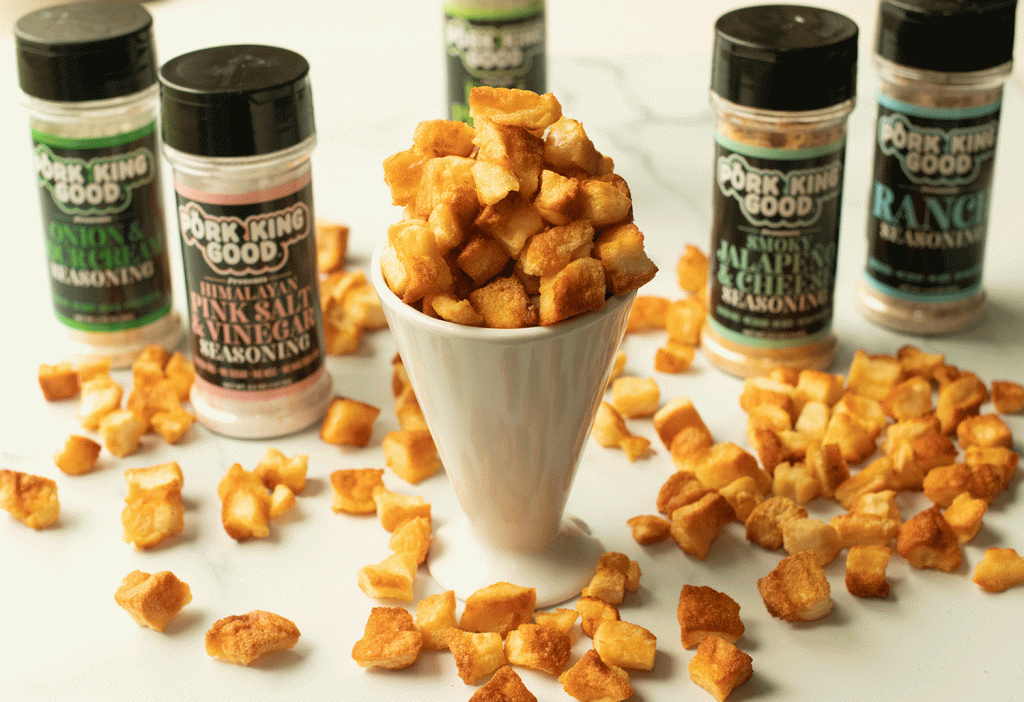 To make this delicious Protein Sparing Popcorn FULL of flavor, I used Pork King Good new seasonings!
Pork King Good seasonings are my absolute favorite pantry item!
Not only do they make my protein sparing popcorn taste delicious, I also LOVE these seasonings to make salad dressings and sauces!
Pork King Good Salt and Vinegar seasoning is out of this world! If you miss Salt and Vinegar Chips on your keto diet, you must order Pork King Good Salt and Vinegar seasoning as well as their pork rinds!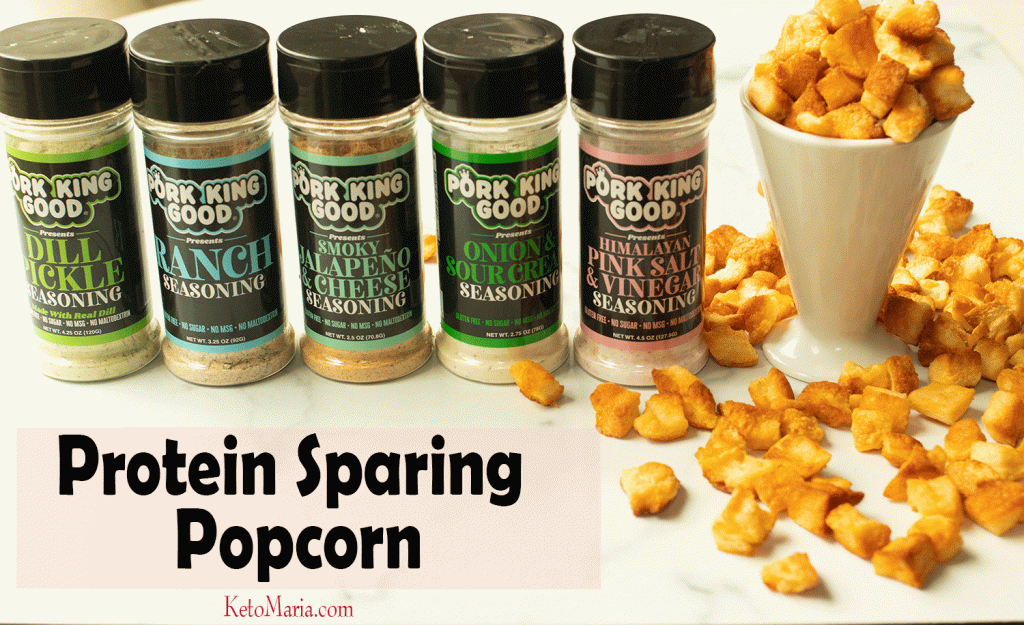 Pork King Good Sour Cream and Onion makes the best sour cream and onion dip and it tastes great on protein sparing popcorn!
I personally do not like spicy food but their Smoky Jalapeno and Cheese seasoning is really good! Not too spicy yet filled with flavor!
Pork King Good Dill Pickle seasoning is also a hit with my kids!  And their Ranch seasoning! What's not to love about Ranch? I use Pork King Good Ranch seasoning to make my homemade Ranch dressing all the time!
Pork King Good is a kind company that is very generous! They are offering a special discount for my readers!
Use code MARIAMINDBODY for 10% off!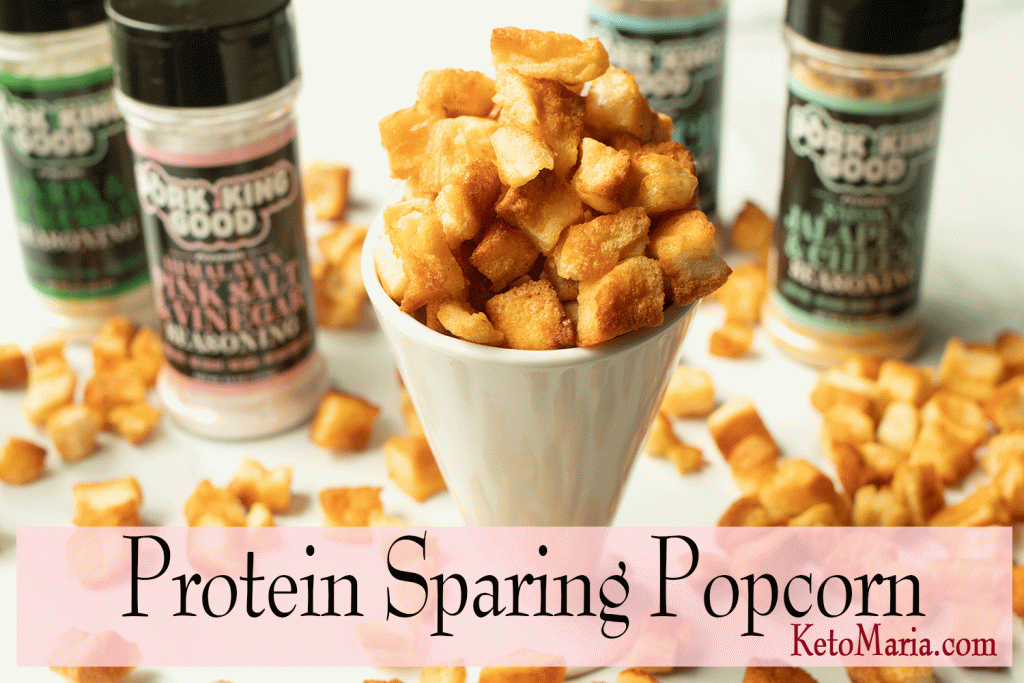 Click HERE to learn more about Protein Sparing Modified Fasting.
PROTEIN SPARING POPCORN
Ingredients
PORK KING GOOD SEASONING OF CHOICE:
Salt and Vinegar

Sour Cream and Onion

Ranch

Dill Pickle

Jalapeno and Cheddar
Instructions
Preheat oven to 350 degrees F.

Place the pieces of popcorn onto a baking sheet lined with parchment paper.

Place the coconut oil into a small bowl and heat until melted.

Use a pastry brush to lightly brush the popcorn with melted coconut oil (or bacon fat).

Season with your choice of PORKKING GOOD seasoning. I suggest the Salt and Vinegar!

Bake for 20-25 minutes, turning after 10 minutes. Cook or until the popcorn is starting to brown and crisp.

Turn off oven and allow to crisp up in the oven for 30 minutes.

Remove from oven and allow to cool completely. Sprinkle with additional PORKKING GOOD seasoning if desired.
Nutrition
Calories:
240
|
Fat:
12
g
|
Protein:
30
g
|
Carbohydrates:
2
g
|
Fiber:
2
g
|
P:E Ratio:
2.5
TESTIMONY OF THE DAY
"Emmerich Keto has changed my life forever. The list of my previous medical concerns ranged from cancer to gall bladder, to celiac, osteopenia, GERD, and on and on and on.
I came across Maria Wojcik Emmerich (or my pixie angel as I refer to her), three years ago this month. With her help and personal health assessment, I was able to lose 86 pounds (and counting) and heal all of my ailments.
My energy has skyrocketed, I learned how to cook as well as eat, and my health is better now at 53 than it was 20 years ago!!!!
There are lots of 'keto' groups out there, but the truly magical one, is the one hosted by Maria and Craig." Leisa
Most people I consult are doing keto totally wrong. Get fast results with the my NEW Keto Packages!