Deep Dish Pizza
My deep dish pizza recipe is just one of the delicious recipes that you will find in my cookbook.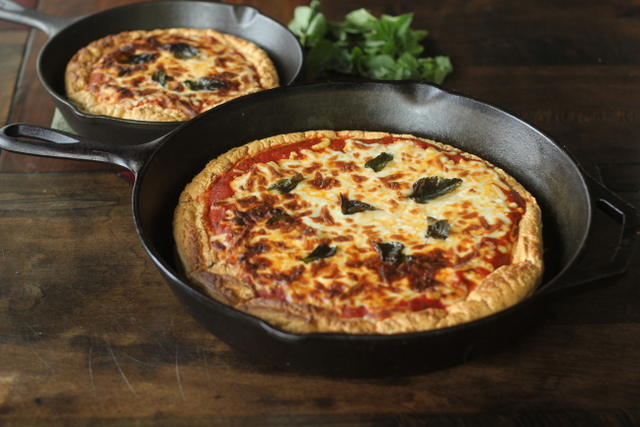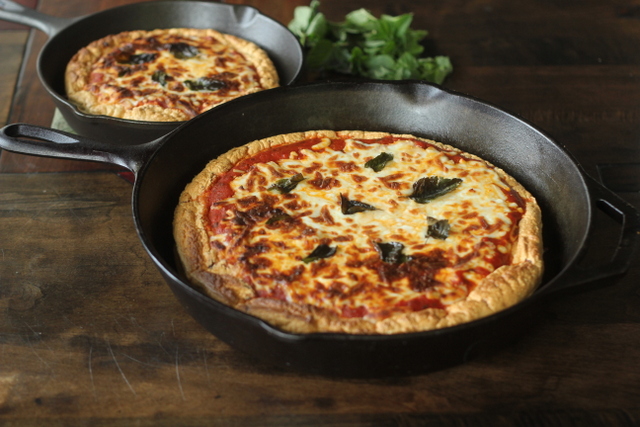 CRUST:
3 eggs, separated
1/2 tsp cream of tartar
1/2 cup unflavored egg white protein
3 ounces cream cheese or sour cream, warmed
Spices (if desired)
Preheat oven to 375 degrees. Separate the eggs and whip the whites and cream of tartar until very stiff (I use a stand mixer and let it go for 5 minutes). Slowly sift in the whey protein to the whites. Using a spatula, gently fold the cream cheese into the whites. Spray a lasagna pan with coconut oil spray and spoon the mixture into it. Bake for 18 minutes. Remove from oven and top with your favorite toppings. *Adapted from Oopsie Rolls on Lighter Side of Low Carb blog. Makes 9 square slices.
After it has baked, Top with your favorite toppings!
Low-Sugar Marinara (Mario Batali = no soybean oil and no sugar)
Bolinski's chicken sausage
Mushrooms
Peppers
Mozzarella Cheese
NUTRITIONAL COMPARISON (per slice):
Pizza Hut Deep Dish = 430 calories, 37 carbs, 2 fiber)
"Healthified" Pizza = 157 calories, trace carbs, 0 fiber
PER PIZZA:
1 Little Caesar's 14″ Deep Dish Crust = 2,417 calories, 304 carbs
1 "Healthified" pizza crust = 584 calories, 8 carbs, 1 fiber, 62g protein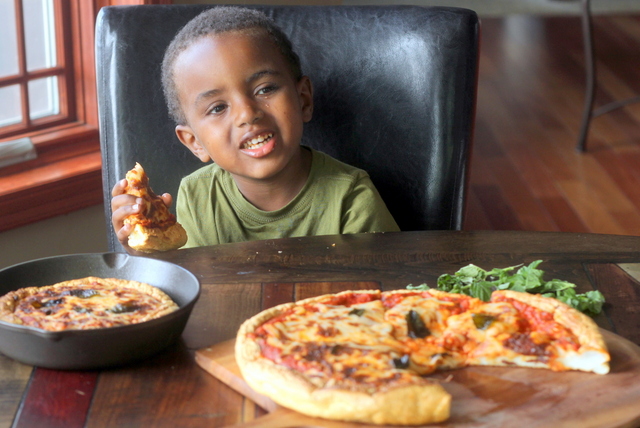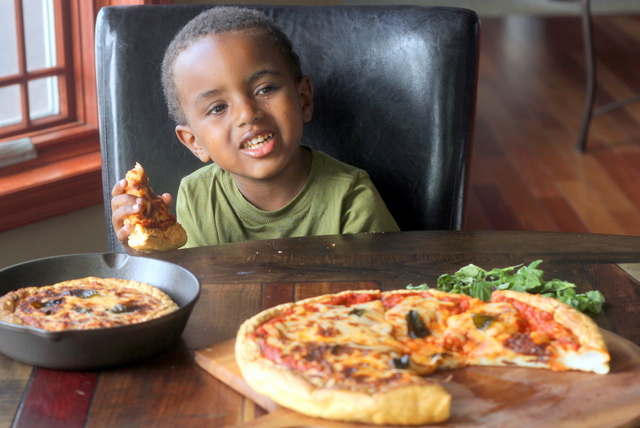 If you would like to help out a small family, rather than a large business, I am happy to announce that you can now get my books as a high-quality ebook that works on any platform. This is an ebook format that works on any computer or mobile device. It is a beautiful pdf that has all the full-color pages and layouts as the printed books with a clickable table of contents and searching capabilities. This is extremely useful when trying to find a recipe. These books are much higher quality than the ebook platforms (kindle, apple). Plus, most of the profits don't go to Amazon or apple! Just go here to get your copy! Just Click HERE or select "My Books" above to get your copy now!


Testimonies of the Day
Dear Craig & Maria, I have been on your 30 days accelerated plan for 1 week and I am thrilled with the results!!!! I have lost between 6-7 pounds in 1 week! This NEVER has happened before, and Craig is right, I am not hungry or having cravings as long as I stick to the plan.
I didn't believe it at first, but I can honestly say now that this 'way of eating' does work. I have avoided all dairy and don't really miss it at this point. I feel better and am experiencing higher energy levels. I noticed that when I ate a little more than the plan suggests or when I didn't exercise or get all my water in, I gained. I just have to make sure to follow the plan as close as I can now and hope for more shedding of pounds.
I made your chili recipe last night and both my husband & I absolutely loved it! ( He said he didn't even miss all the beans because it was so flavorful and tasty! ) Thank you both for your great advice and meal plans! Danielle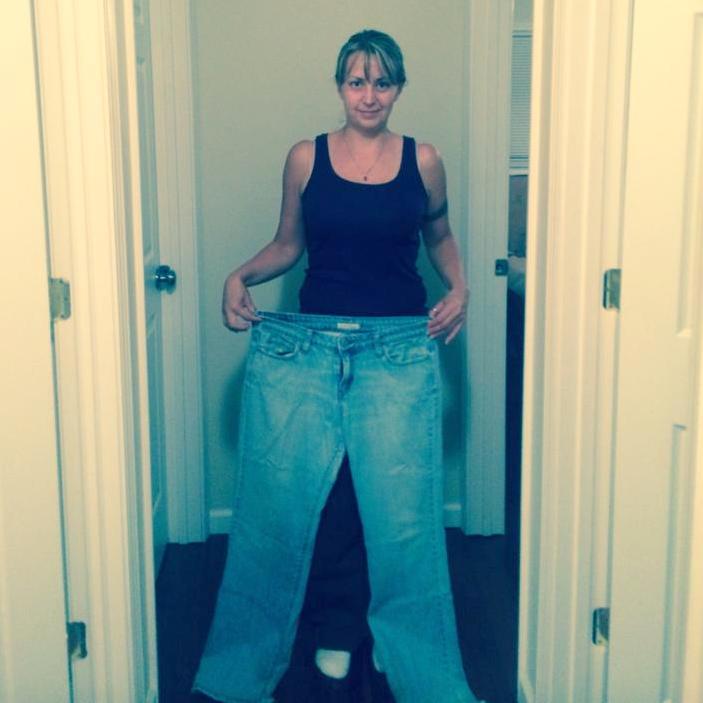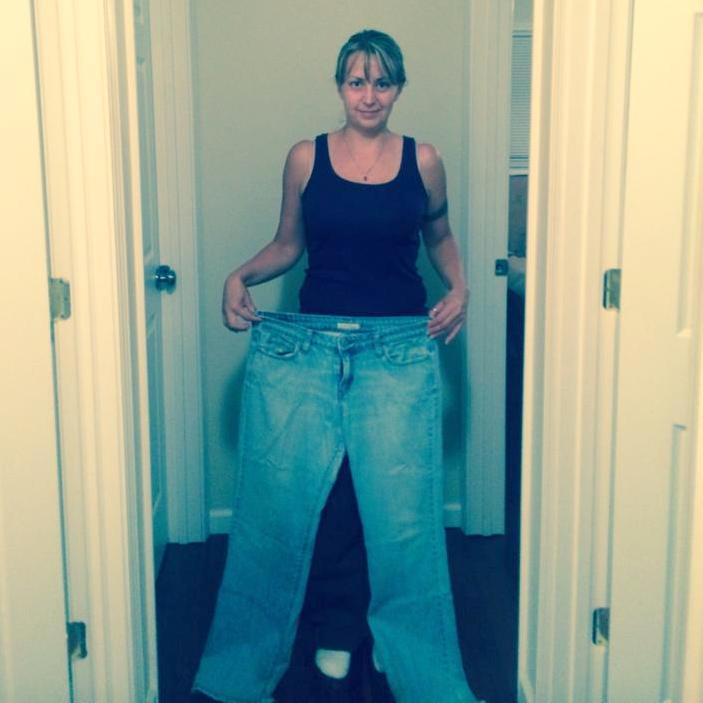 30 Day Accelerated Testimony: "Here is my before and now (not after because I'm not finished yet) I started at 212 and these pants were too tight. My painful acne is gone. Joint and muscle pain are gone. I feel awesome. My journey started when I wanted to clear up my painful cystic acne. I realized it had to come from something I was eating but I didn't know what. My boyfriend would get sick after poker night and drinking beer so we decide to see if gluten was his issue (I was excited he was inboard). After getting the inflammation to improve I decided to keep making changes. That's when I discovered Maria Emmerich and I gave up sugar. I feel amazing.
My friends have noticed and want to know my diet plan. I know now that I will never be able to go back to my old unhealthy eating. This has been such a life-changing (and saving) process for me. Add yoga and Pilates into the mix and I am one centered, happy, and excited girl. I just had my 37th birthday and I feel like I did as a teenager ( light, low stress, and able to take on the world). Thank you both for giving me the tools to make myself a much better me. I love the new me." – Christy
To get started on your path to health and healing, click HERE.