Protein Sparing Dessert Pizza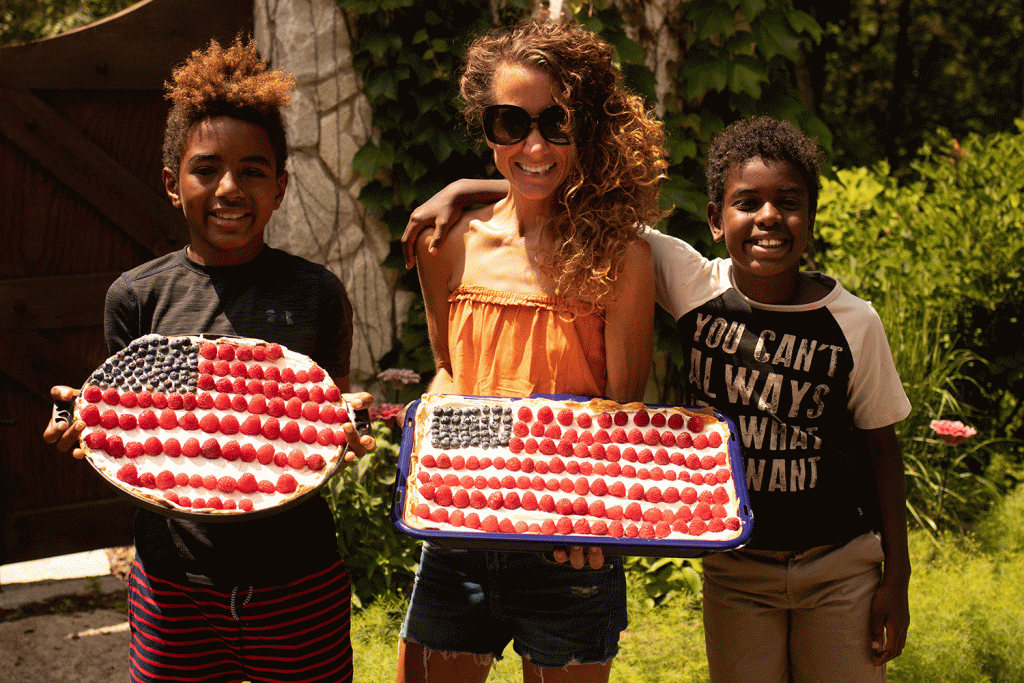 The 4th of July is coming and I thought a beautiful protein sparing dessert pizza with a red white and blue feature would be fantastic for celebrating!
Many of you love my protein sparing pizza so I thought I would modify the pizza crust and add my favorite Wholesome Yum allulose to the crust to make a protein sparing dessert pizza!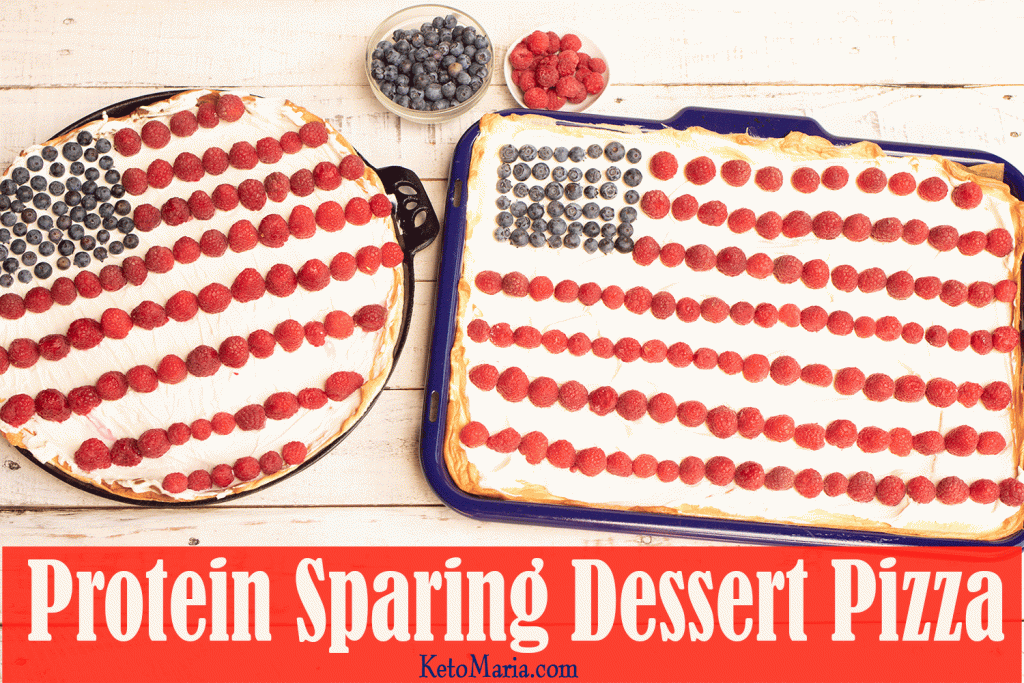 One of the reasons I love protein sparing modified fasting is because it helped me lose weight after being stuck with traditional keto macros.  I had PCOS which can make weight loss very difficult. It wasn't until I added "Pure Protein Days" which is what I called it in one of my first books Keto Adapted. I didn't know it then, but what I was practicing is called protein sparing modified fasting. Protein sparing modified fasting is a practice of lowering the fat and carbs while increasing the protein. This helps the body use body fat for fuel while using the protein to increase metabolic rate while also holding onto muscle. This helps lose body fat but not muscle.
This Protein Sparing Dessert Pizza is a delicious dessert without the guilt!
To make my delicious protein sparing dessert pizza, I added used Wholesome Yum Allulose to make the protein sparing pizza crust!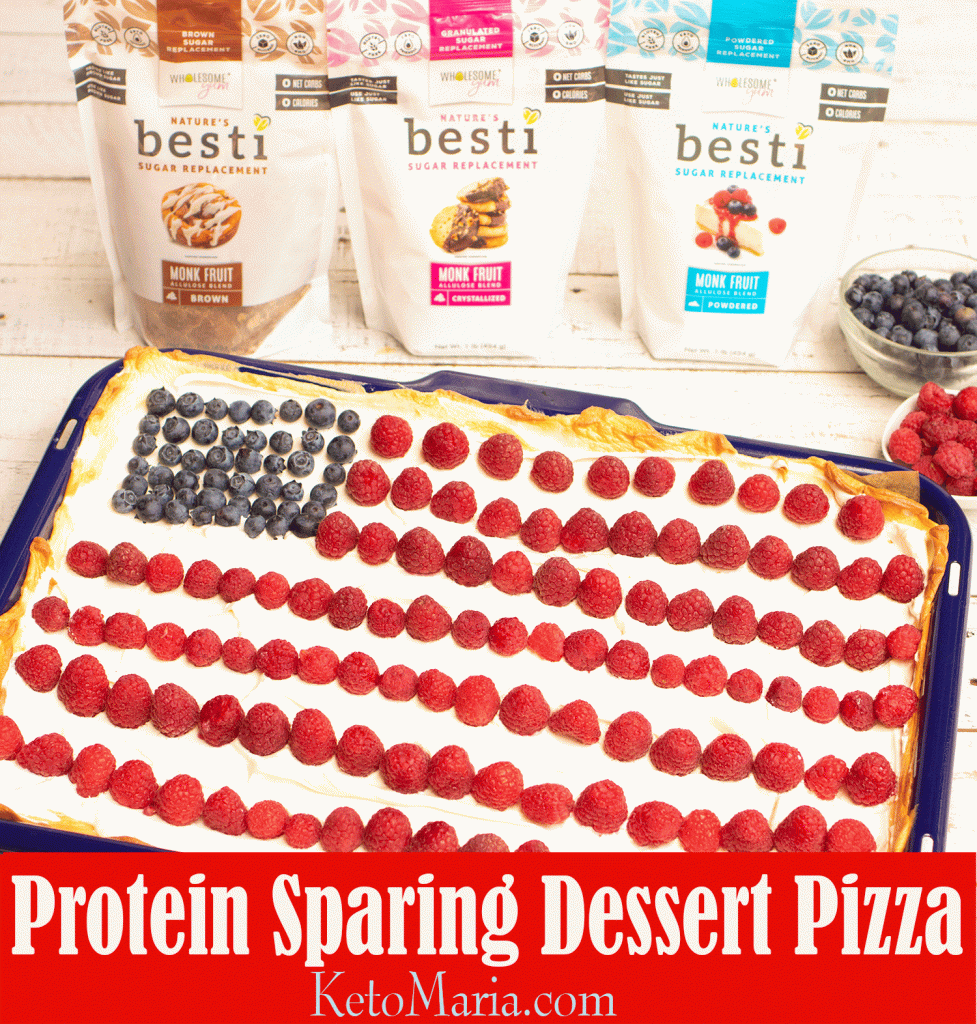 Allulose is a natural sweetener with zero calories and has no impact on blood sugar. Many people prefer this as their keto sweetener because it tastes just like sugar!
I used my protein sparing pizza crust to make this protein sparing dessert pizza. Adding 1/4 cup of Wholesome Yum Allulose to my protein sparing pizza crust recipe gives the bread a softer texture. Other sweeteners will not work. You need allulose because allulose melts and creates a caramel-like protein sparing bread.
I only use Wholesome Yum brand of allulose for many reasons!
Wholesome Yum has the best quality natural sweeteners. Wholesome Yum also doesn't use harmful additives like some brands! I also love Wholesome Yum because they are also a kind small family-owned business. You all know I love supporting small business!

Click HERE to learn more about Protein Sparing Modified Fasting.
Protein Sparing Dessert Pizza
Ingredients
DESSERT PIZZA CRUST:
6 egg whites
2 tablespoons Wholesome Yum powdered monk fruit Allulose blend
¼ teaspoon Redmond Real Salt
DESSERT PIZZA CREAMY LAYER:
OPTION 1: PROTEIN SPARING MACROS
10 eggs whites, scrambled (CHILLED)
¾ cup unsweetened almond milk (or unsweetened cashew milk)
2 teaspoons vanilla extract (or strawberry extract)
⅛ teaspoon fine sea salt
OPTION 2: KETO MACROS
1 (8 oz) package cream cheese, softened (OR Kite Hill dairy free cream cheese)
1 tablespoon unsweetened almond milk
DESSERT PIZZA TOPPINGS:
¼ cup blueberries
1½ cups raspberries
Instructions
Preheat oven to 325 degrees F. Place the egg whites, allulose and salt in the bowl of a stand mixer and whip the whites until very stiff, about 5 minutes. Turn the mixer to low and add the protein powder to the whites. Mix until combined.
Spray a large rimmed baking sheet or 15 inch cast iron skilletwith Primal Kitchen avocado oil spray and spoon the mixture into it. Bake for 10-12 minutes or until golden brown.
Make the protein sparing creamy topping: Place the chilled scrambled egg whites, almond milk, sweetener, extract and salt into a blender and puree until very smooth. Taste and adjust sweetness to your liking. OR make the cream cheese filling by placing the softened cream cheese into a medium bowl. Add the Wholesome Yum allulose and almond milk and stir until combined well. Taste and adjust sweetness to your liking.
Remove the pizza crust from oven and let cool. Then top with the creamy filling.
Place the blueberries onto the creamy filling in the upper left corner and place the raspberries onto the creamy filling in lines like a flag if desired.
Store extras in an airtight container in the fridge for up to 4 days. Serve chilled.
Notes
Nutritional Information:
PSMF filling:

68 calories, 0.3g fat, 11g protein, 4g carbs, 1g fiber
P:E ratio 3.3

Keto Filling:

133 calories, 8g fat, 9g protein, 4g carbs, 1g fiber
P:E ratio 0.8
TESTIMONY OF THE DAY
"Thank you so much Maria! Your (protein sparing modified fasting book) The Art of fat loss has been amazing for me. I watch all your videos and read your blogs. I have stopped extended fasting as much thanks to you and Craig and have been successful in losing weight and maintaining lean mass. Down to 19 percent body fat so now in maintenance mode.
These photos are 3 months difference. I ate clean before but switched to keto March 15 with 2 days Protein Sparing Modified Fasting. For anyone wanting to lose weight and hold muscle… it is the way to go. Thanks so much" – Pam
Most people I consult are doing keto totally wrong. Get fast results with the my NEW Keto Packages!