Protein Sparing Cinnamon Rolls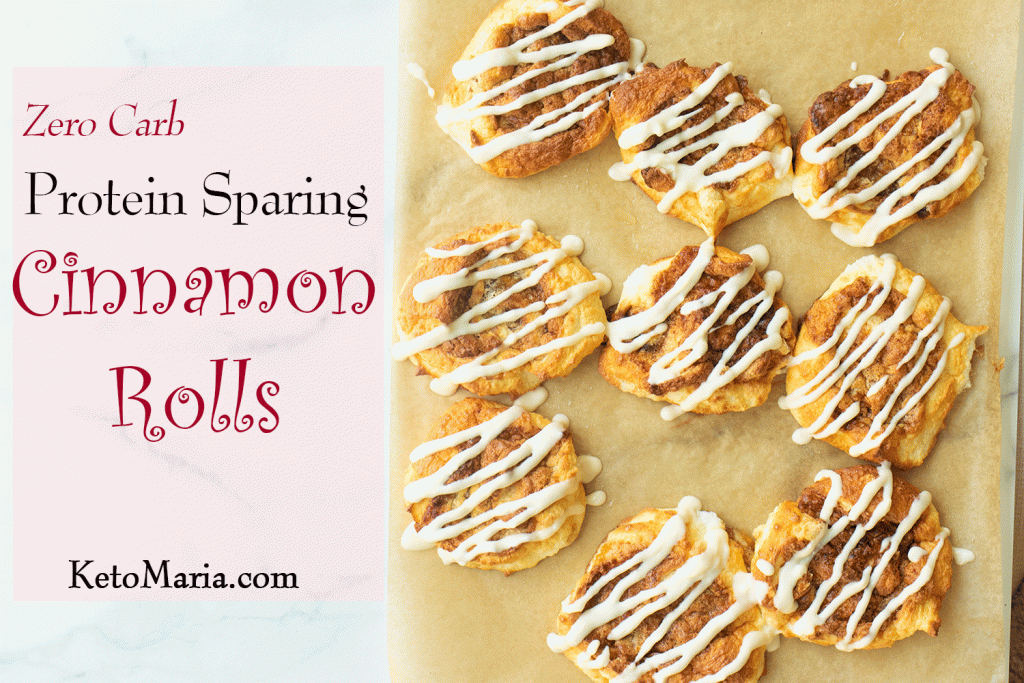 Have you tried my protein sparing bread?
I have been eating my protein sparing bread for more than a decade and have made so many variations of recipes using it and I wanted to share with you my very special recipe making protein sparing cinnamon rolls!

WHERE THE IDEA FOR PSMF CINNAMON ROLLS RECIPE CAME FROM
When I was in high school, I worked at a coffee shop called Uncommon Ground in Medford, Wisconsin. It was the best job ever! It fueled my love for baking. Before school, I would go to the coffee shop to make the scones and the cinnamon rolls and then after school, I would go back to work. At the end of the day, I got to bring home the cinnamon rolls, scones and muffins that didn't sell!
So guess what??? I would make extra cinnamon rolls to make sure I had some to go home with! I ate so many cinnamon rolls, it was unreal; which is also why I was so unhealthy and overweight! Once I was diagnosed with PCOS, I decided to create healthy keto recipes of my favorite things like these protein sparing cinnamon rolls!

HOW TO MAKE PROTEIN SPARING CINNAMON ROLLS
To make these protein sparing cinnamon rolls, I added 1/4 cup Wholesome Yum Allulose! 
Allulose is a natural sweetener with zero calories and has no impact on blood sugar. Many people prefer this as their keto sweetener because it tastes just like sugar!
I used my protein sparing wonder bread dough to make these protein sparing cinnamon rolls. Adding 1/4 cup of Wholesome Yum Allulose to my protein sparing bread recipe gives the bread a softer texture. I'm not sure why but the protein bread ends up even better with allulose and the crust is softer too which makes these keto cinnamon rolls extra delicious!
If you or your kids are sick of eggs for breakfast but you want to find ways to get in your protein, you must pick up Wholesome Yum Allulose and make delicious recipes like my Protein Sparing Cinnamon Rolls!
I love Wholesome Yum allulose products for many reasons!
Not only does Wholesome Yum create the best quality sweeteners without harmful additives like some brands, they are also a kind small family-owned business. You all know I love supporting small business!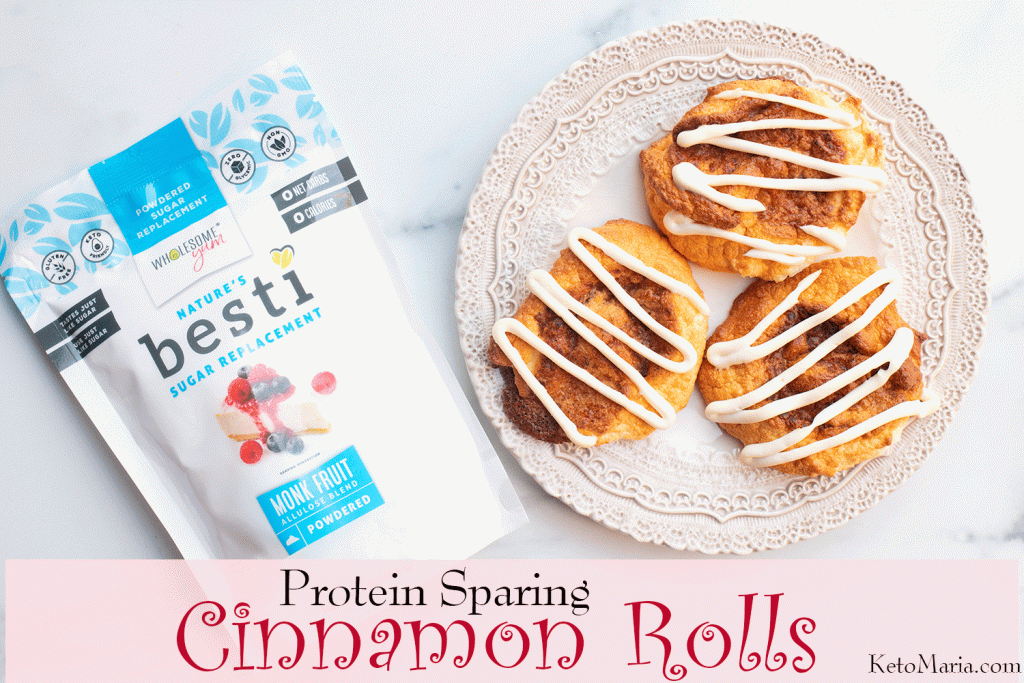 If you want to watch Kai make these delicious protein sparing cinnamon rolls, subscribe to our new YouTube Channel to get updated when the video comes out which will be in a day or two, and comment below on what video recipe we should make next!

If you like this Protein Sparing Flan recipe, you can find many more protein sparing recipes in The Art of Fat Loss! Click HERE to find!
Click HERE to learn more about Protein Sparing Modified Fasting.
NOTE: UPDATED PSMF CINNAMON ROLL DIRECTIONS
I halved the ingredients and rolled the PSMF Cinnamon Rolls just like my Caramel Rolls.
Spread the protein sparing bread mixture onto a baking sheet lined with greased parchment paper. Bake at 325 for 5 minutes or until just cooked through (NOT browned at all).'
Meanwhile make the filling mixture by placing all the ingredients into a small bowl and stir well to combine.
Remove pan from the oven and use a knife to spread with the filling mixture. Use a pizza cutter to cut into 6 strips (cutting from the longer end of the baking sheet). Roll each strip into a roll. Set the rolls into a greased 9 inch pie pan.
Place back into the oven for 10 minutes or until golden brown.
Meanwhile make the frosting.
Remove the PSMF cinnamon rolls from oven and allow to cool a bit before topping with the frosting.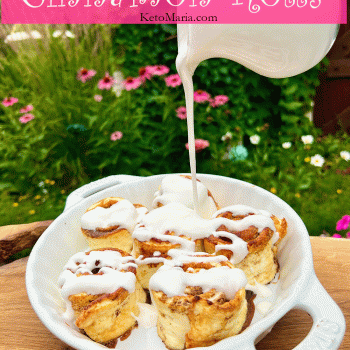 Protein Sparing Cinnamon Rolls
Ingredients
12

large

eggs

separated

1/4

cup

Wholesome Yum powdered allulose

1/2

teaspoon

Redmond Real Salt

1/2

teaspoon

cream of tartar

to help stabilize the whites

1

cup

vanilla egg white protein

vanilla or unflavored

Primal Kitchen Avocado Oil Spray
FILLING:
1/4

cup

butter flavored coconut oil

or butter if not dairy free

2

tablespoons

Wholesome Yum powdered allulose

1

tablespoon

ground cinnamon

2

large

egg yolks
FROSTING OPTION 1:
1/2

cup

cream cheese

softened (or Kite Hill brand if dairy free)

4

tablespoons

Wholesome Yum powdered allulose

1

teaspoon

vanilla extract
PROTEIN SPARING FROSTING: (this makes extra frosting)
2

large

egg whites

1 1/2

cup

Wholesome Yum powdered allulose

1/4

teaspoon

cream of tartar

1/3

cup

cold water

plus more for saucepot

1 1/2

teaspoon

vanilla

or other extract
Instructions
Preheat the oven to 300 degrees F. Place a piece of parchment on 2 large baking sheets. Spray with avocado oil spray and set aside.

Separate the eggs (save the 2 yolks for the filling and the rest of the yolks for another recipe like my keto ice cream, hollandaise, mayo or lemon curd), and place the whites into a large bowl or stand mixer (click HERE to find my 8 quart stand mixer... makes a GREAT gift!). Add the Wholesome Yum allulose, salt and cream of tartar if using and whip the whites for a few minutes until VERY stiff.

Turn the mixer to low and gently mix the protein powder into the whites.

Use a spatula (or THIS ice cream scooper greased well) to scoop out 3/4 cup of the dough and place onto the prepared baking sheets in a round circle about 2 inches in diameter and 3/4 inch high. Place the cinnamon roll dough about 1 inch apart. Repeat with remaining dough until you have 12 cinnamon rolls.

SEE NOTE ABOVE FOR ROLLING UP THE CINNAMON ROLLS.

To make the filling, place the coconut oil into a medium bowl and heat until melted. Add the Wholesome Yum allulose and cinnamon and stir well. Add the yolks and stir well to combine.

Use a spoon to place 1 teaspoon of filling into each cinnamon roll and swirl the filling in a circle around the top of each cinnamon roll.

Place in the oven to bake for 10-15 minutes or until golden brown and cooked through.

While the Protein Sparing Cinnamon Rolls bake, make the frosting.

If you are using traditional frosting, place the cream cheese in a medium bowl and heat until warm. Add the Wholesome Yum allulose and vanilla and stir well to combine. Taste and adjust sweetness to your liking. Set aside until the cinnamon rolls are finished baking. Place in a ziplock and cut a tiny hole in one corner. Drizzle frosting over each cinnamon roll.

To make the Protein Sparing Frosting, Place all the ingredients in a metal bowl that fits inside a saucepot then set the filled metal bowl aside. Bring a saucepot filled 1/3 of the way with water to a soft boil, place the bowl into the saucepot and let the water simmer under the bowl as you mix with an electric hand mixer. As the egg cooks it will thicken. It will take about 7 minutes of mixing. As the mixture gets hot and is thickened, remove the bowl from the saucepan and finish mixing it on the counter. The frosting is ready when the mixture forms stiff peaks when you lift the beaters. Use immediately to frost protein sparing cinnamon rolls. Spread onto each roll with a knife.

Store extras in an airtight container in the fridge for up to 5 days. Can be frozen for up to a month.
Notes
Nutritional Information (with PSMF frosting):
103 calories, 6g fat, 11g protein, 2g carbs, 0.3g fiber
P:E ratio 1.4
Nutrition
Calories:
135
|
Fat:
9
g
|
Protein:
11
g
|
Carbohydrates:
2
g
|
Fiber:
0.3
g
|
P:E Ratio:
1
TESTIMONY OF THE DAY
"Ok well this is my 4th post today.  I'm sorry, but I'm so excited I'm crying!  I mentioned before that I have been keto/ carnivore for 3 years.  I felt amazing but my weight-loss was stalled for the last two years and I couldn't reach my goal.  That's a long frustrating stall.  I thought I was doing everything right and working so hard at it.  When I started Maria and Craig's way I broke my stall! 
Focusing on eating enough protein and lowering my fat has made me more satiated than ever in my life.  I can't believe I'm now one of those people that just isn't hungry.  I'm so over joyed to not be the hungry girl anymore and I know I will reach my goal now. 
Thank you so much Maria and Craig!!!  You are both changing the world in big ways and saving so many lives ️" – Katie
Most people I consult are doing keto totally wrong. Get fast results with the my NEW Keto Packages!