Start Your Healing and Weight Loss Journey!
Want to start your successful weight loss journey? We are here to help!
Over 250 Pounds Gone!
Twila
Lost 270 pounds!
"I'm a lifelong dieter as well. Oh I could lose weight if I severely limited my calories and exercise like crazy but then when I tried to maintain I would gain it all back plus some. I finally quit trying because I was tired of failing. That got me to 410 lbs!! Not good. I agree that knowledge about the Keto diet was key for me. And planning and tracking my food. I've lost 235 lbs with probably another 20-40 lbs to lose. Having the mindset of this is my forever way of eating has helped me. Thanks Maria!" - Twila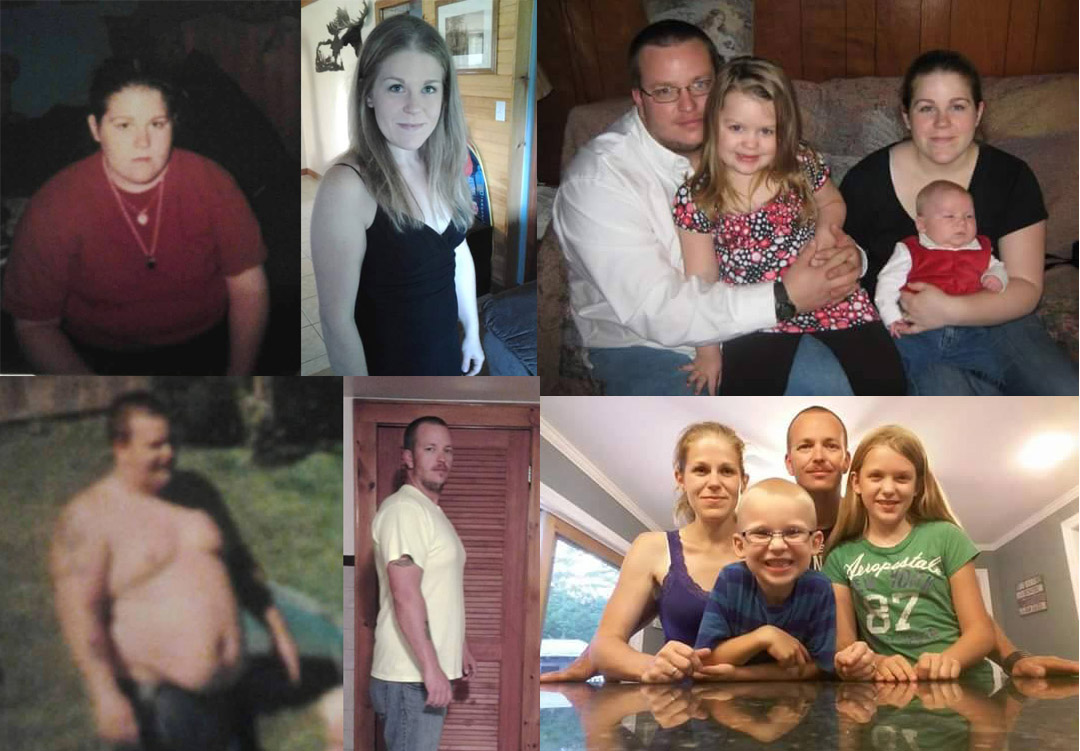 King Family
Joshua 281 Pounds, Wife lost 75 pounds
"It is a long story of why we did it. Other then the obvious. We did it for our daughter who was having issues being over weight as well. From the age of 5 they thought she was going to start puberty. I guess an effect of being obese. So we needed to do it for her. My wife is 35 now and I am 36. Our daughter is now going on 11. Our son is 7. My wife stumbled upon your website one day and we decided to give it a chance. I was about 500 lbs taking heart burn meds and blood pressure meds. My wife was pushing 190 on a little 5 foot 3 frame. The weight started coming off instantly. We have been eating this way for 5 years now. My beautiful wife is now 115 lbs (lost 75 pounds). I no longer take any meds never had heart burn since, and I am down to 219 (LOST 281 pounds). Our daughter no longer has her health issues, and our doctors are so proud of what we accomplished as a family. The use us as "poster child". We have no desire to ever go back. The food is amazing. But most importantly we are healthy. Our daughter is going on 11 and still no puberty. I can't even begin to thank you enough for everything you do and did for us. We are ever great full. Thank you for the amazing recipes you come up with. Thank you Maria for your hard work and desire to help make others life's better." - Joshua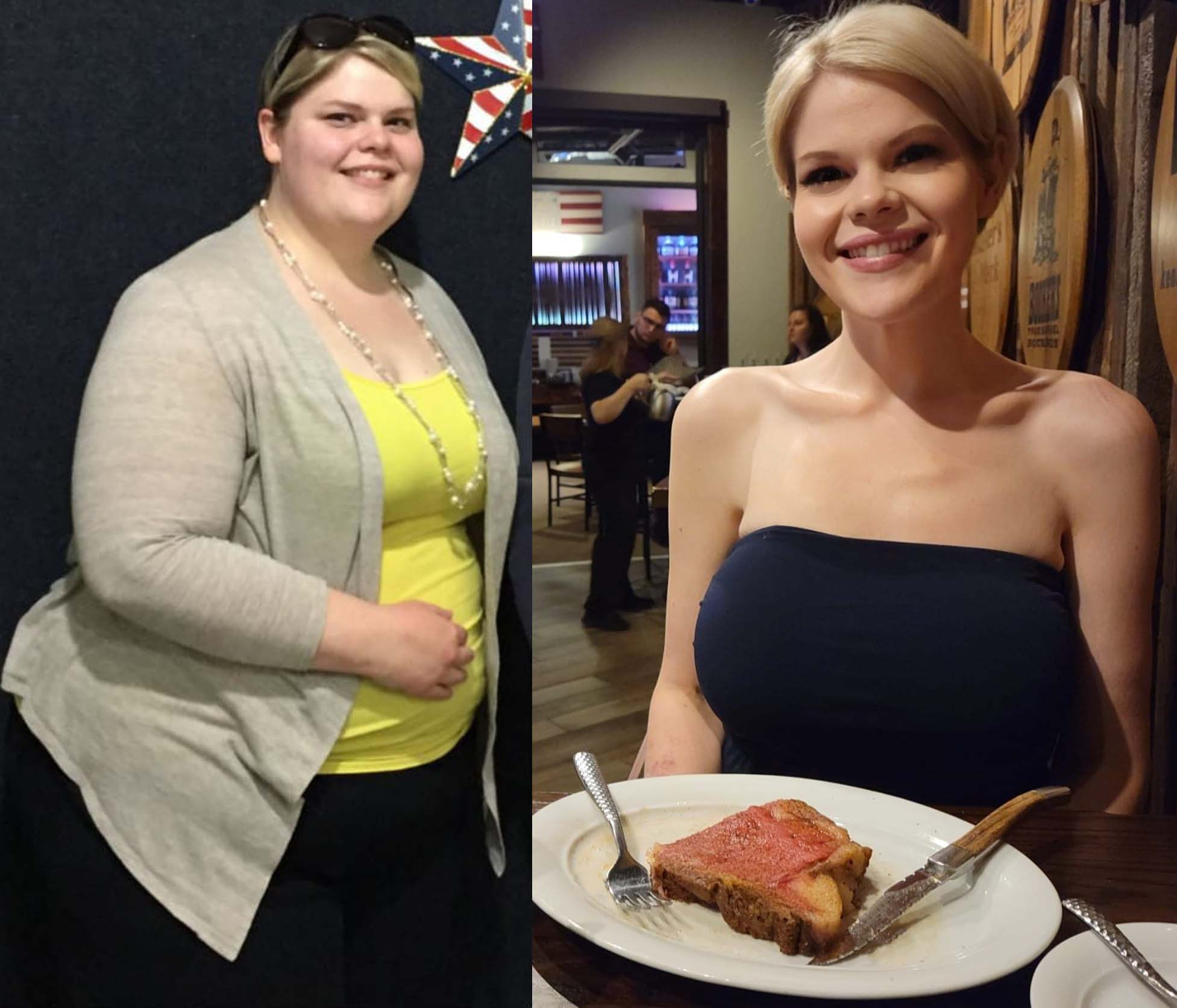 Jessica
Lost 250 pounds!
"Just before Christmas in 2016, I had my first grand mal seizure and was diagnosed with epilepsy. I weighed in at the hospital at 382 pounds. I had a fractured shoulder and was told by the hospital physician that if I were to have another seizure and break my leg that crutches were not an option. I would be bed ridden. I was 31.
Also, I was newly married, in a corporate job working 60+ hours a week, and way sicker than I ever realized. I knew I had to get a handle on my health and begin researching "best diets for neurological health". The ketogenic diet came up repeatedly.
I began following this new way of living with very little guidance purely for the neurological benefits. Many other benefits were almost immediate. My multiple migraines every month were gone; my body and joints stopped hurting from all of the processed food and sugar I was consuming. I slept better than I ever had. But even more than that, my weight was dropping. Steadily.
However, within 6-8 months, I began stalling and struggling. The weight loss wasn't budging and I was following the guidance of strangers through blogs and facebook groups to try and figure out why.On my birthday, I received a cookbook by Maria Emmerich, and decided to start researching Maria's way of following keto.
Everything changed.
Maria understood the connection between food and nutrition for the body. She was passionate about helping others achieve not just a healthy weight but optimal overall health. For the first time, I felt empowered that I had the knowledge to continue on this way of eating for the rest of my life. I went from 406 pounds (at my highest) to 156 pounds. I am transformed and healthy, and attribute a tremendous amount of my success to following Maria.
Maria, thank you from the bottom of my heart for pouring your knowledge and wisdom into others. You helped change and save my life, and I am so thankful. " - Jessica
Over 200 Pounds Gone!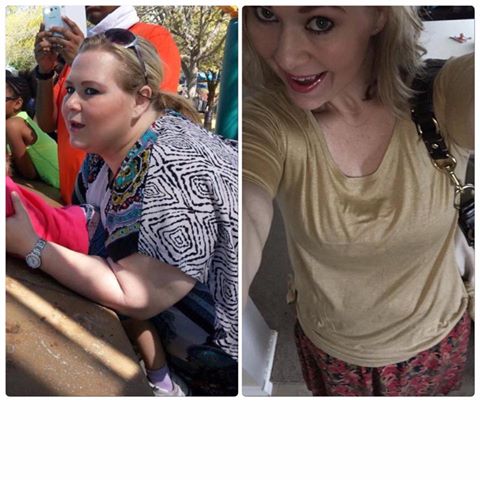 Amanda
Lost 220 pounds
To date I have lost 220 pounds. I have been trying to get my family to eat Keto with me with no success. I will be the first to admit that I didn't want to buy a cook book at all. Especially since I held on to the belief that Pinterest is the answer to everything. Maria Emmerich's Keto Comfort Foods in particular has been the ultimate game changer. My husband hasn't liked any version of mashed cauliflower until Maria's he has now given up mashed potatoes. My 20 month old son will sit for nearly an hour eating it. I am beyond excited as to what the future holds for my family and our Keto lifestyle. I have recommended these books to everyone. Literally every recipe I have made has been fantastic.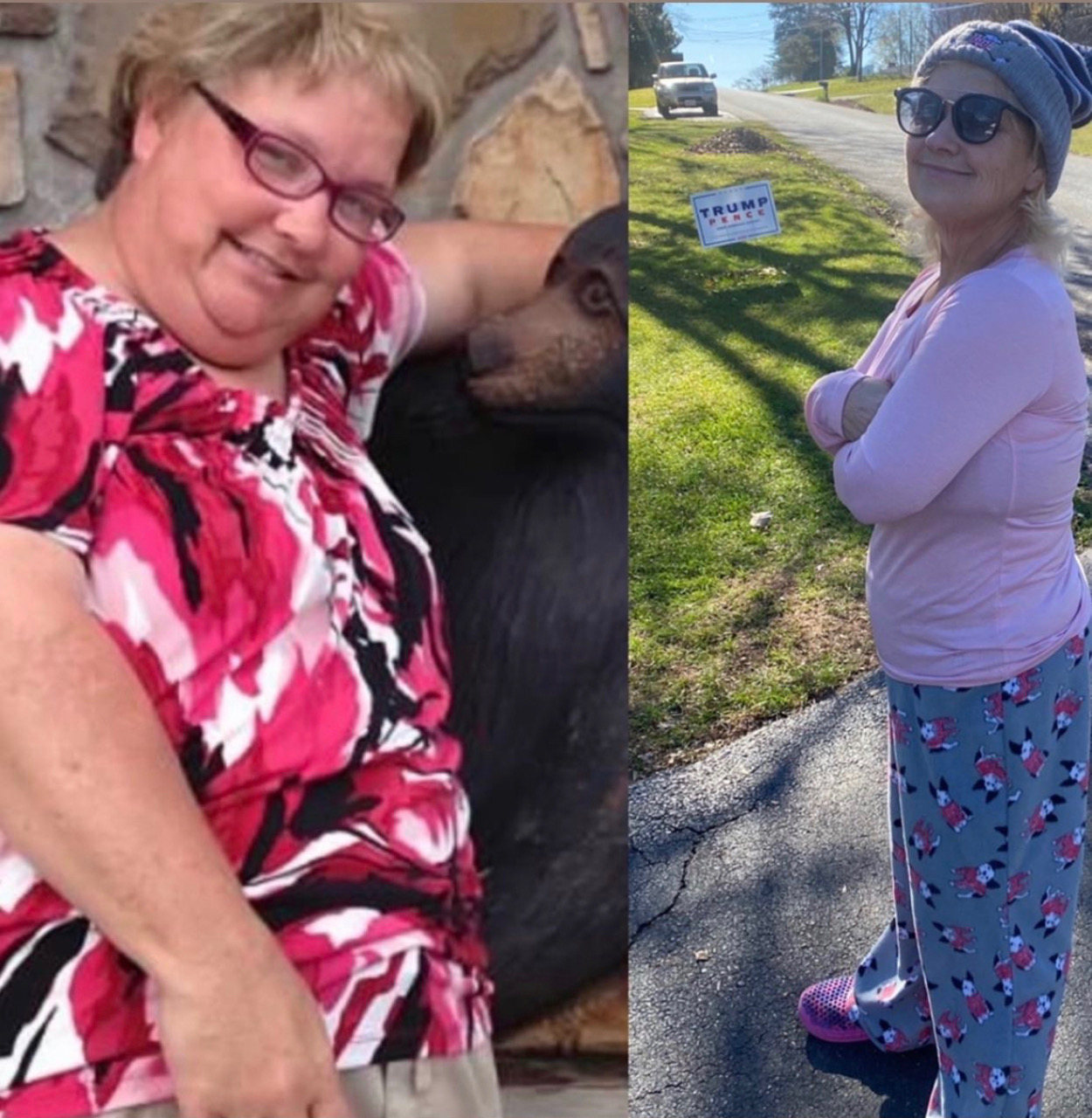 Dr K
Lost over 200 pounds
"Hi Maria Emmerich,
I wanted to say thank you for saving my life!
I had breast cancer and thyroid cancer and w chemo 3X I was fighting losing battle.
I was a crime victim 22 yrs ago gunned down after giving a medical lecture out of state.
I was going to restroom after giving lecture after ordering food to go and I was robbed, assaulted and shot in my right shoulder , destroying my rotator cuff and all bones in my shoulder. 18 reconstructive surgeries since has not given me full range of motion so that's when I decided to focus on Infectious Disease.
It was 2 weeks later I was diagnosed w breast cancer and my hubby w prostate cancer! We were in an OMG moment. Chemo, stress & a sick grandson took its toll. When my own Dr told me "insulin time" I said hell no... time to do this and I did not look back. I tried calorie restrictions, work outs but I encountered adrenal fatigue from no thyroid (thyroid cancer diagnosed while being treated for breast cancer) so I had the metabolism issue.
I was in a size 26 and now size 2!
A1C was 9 now it's 5.2!
My mental clarity returned, my emotional life improved and I found hope!
Thank you for all that you do, you changed my life!" Dr K.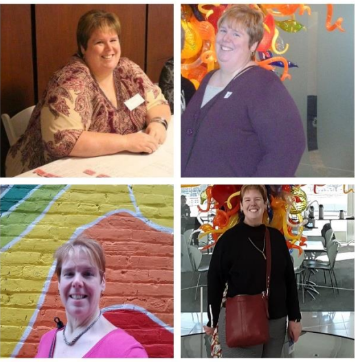 Meredith
Lost 206 pounds
"I have been overweight since second grade. In fifth and sixth grade my parents took me once a week to a children's weight loss clinic, where group weigh ins and talk therapy were the order of the day. I was an active kid, I was on the swim team and I showed horses, it wasn't a lack of exercise. By the time I graduated high school I was wearing a size 22/24.
Over the years my doctor and I had countless conversations about me needing to lose weight, I was put on blood pressure medication when I was 30 and put on antidepressants a year later. Around 35 I was diagnosed with Hashimotos. After the Hashimotos diagnoses I put on more weight, I was up to a size 32. In the Fall of 2016, my doctor talked to me about Metformin. He gave me a prescription that I did not fill until February of 2017. When I saw him in June of 2017, he told me that we needed to talk about insulin, I was 420 pounds.
At this time, I was Googling Keto like a mad woman and reading everything I could find. That is when I came across Keto Adapted. Maria's recipes were impressive! Not only were they not fussy, they worked, made since and more importantly tasted fantastic. On August 21st of 2017 I jumped into Keto full on and have not looked back since. In the first three months I lost 35 pounds, enough for my doctor to say I did not need the insulin (yet). At six months in doctor took me off metformin, and the antidepressants. At nine months in I had lost just shy of 100 pounds, and my doctor cried.
August 21st of 2019 was my two-year Keto anniversary, I have lost 206 pounds and am 20 pounds from goal. Doctor took me off the blood pressure medicines and now the only thing I am still taking is for the Hashimotos, and I am working to get off of that now. I'm now in a size 14/16, I actually bought a size 12 dress the other day, because it fit! I have not worn a size 14/16 since 6th grade.
Maria has helped me greatly while I have been on this journey, I live in Wisconsin and have been lucky enough to have met her in person now 5 times. Every time I see her it amazes me that she remembers me, her warmth and joy inspire me to continue on with my journey. My only regret is that I did not find this way of eating sooner, before I had both knees replaced because I though that was the only way I would find relief from the pain.
Thank you, Maria, from the bottom of my heart, Meredith"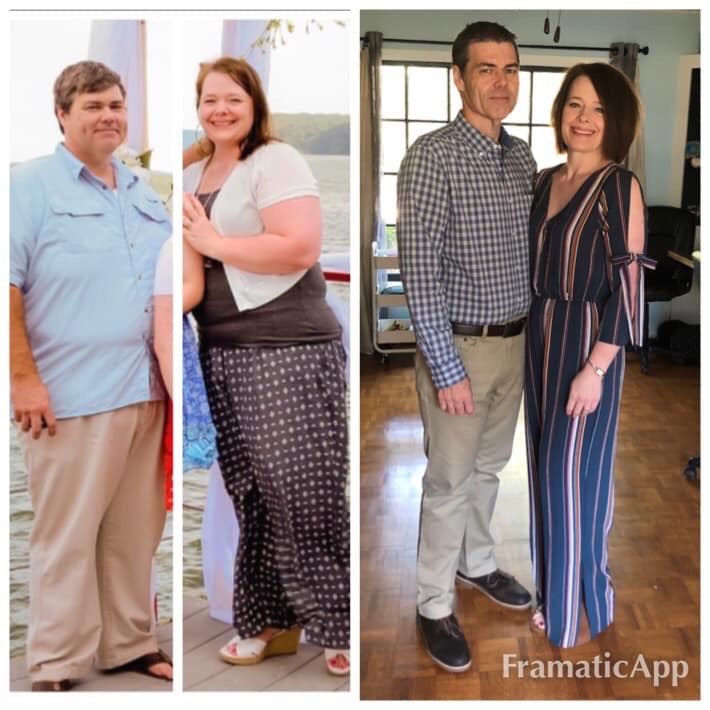 Mandy
Lost over 247 pounds as a couple
" We have been on this journey for almost 3 years & we are both about 20lbs from our goal. We've followed so many FB Keto groups & IG Keto-ers, but none compare to Maria & Craig! I've learned so much from them & this group!! I'm so excited to see our whole family becoming healthy and eating such delicious food!!!
Chad Hopkins & I have lost 247lbs together!! I've heard it's harder to maintain the weight loss than it is to lose it, so I'm a bit nervous, but amazed with the progress we've made! Who knew you could eat yummy food AND lose weight?!?!" - Mandy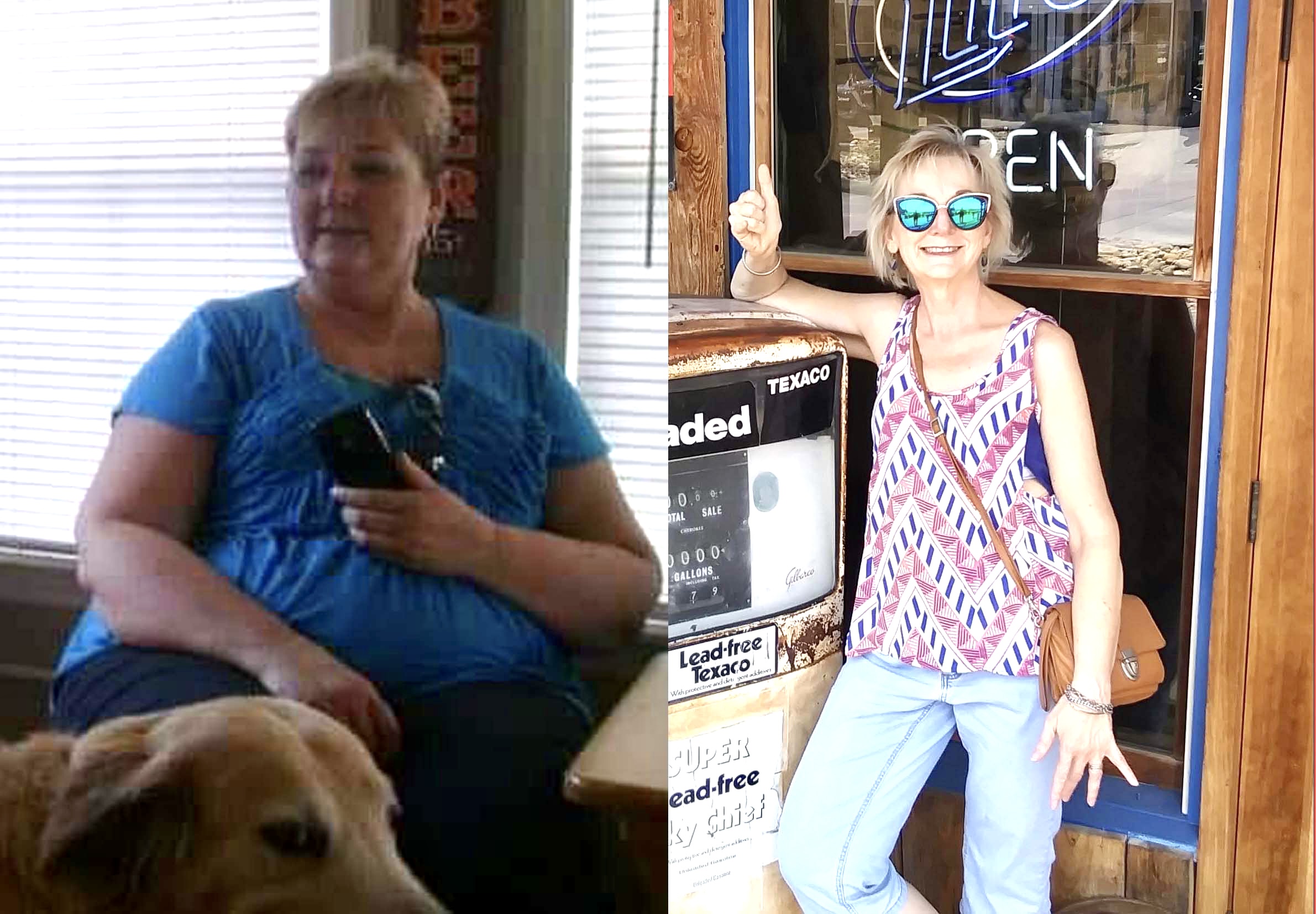 Christina
Lost over 200 pounds
"Good morning, my beautiful friend! A "happy" to start your week...a friend posted this memory on FB this morning. I didn't even recognize it as me at first! Now you know why I say you literally saved my life. I honestly give thanks for you daily 💖 You are a blessing Maria 😘💕" Christina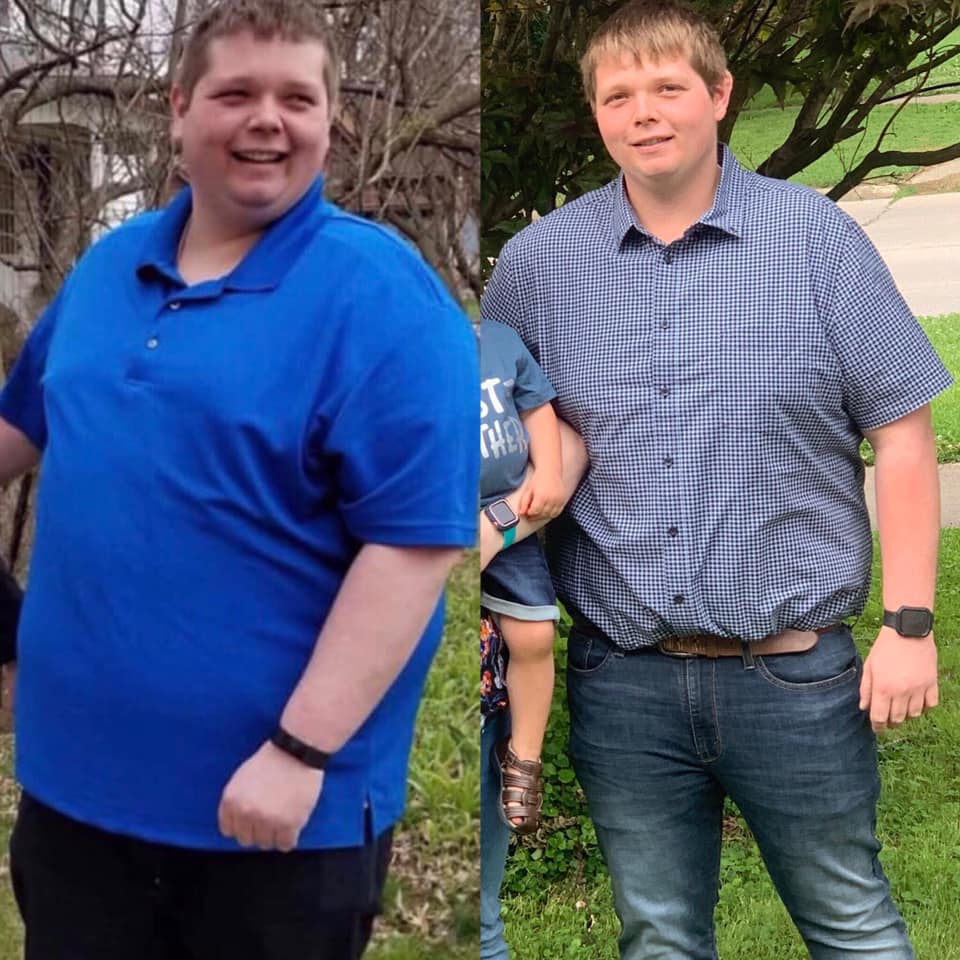 Zachery
Lost over 200 pounds
"I have officially hit 200 pounds of weight loss right before my one year keto anniversary! " - Zachery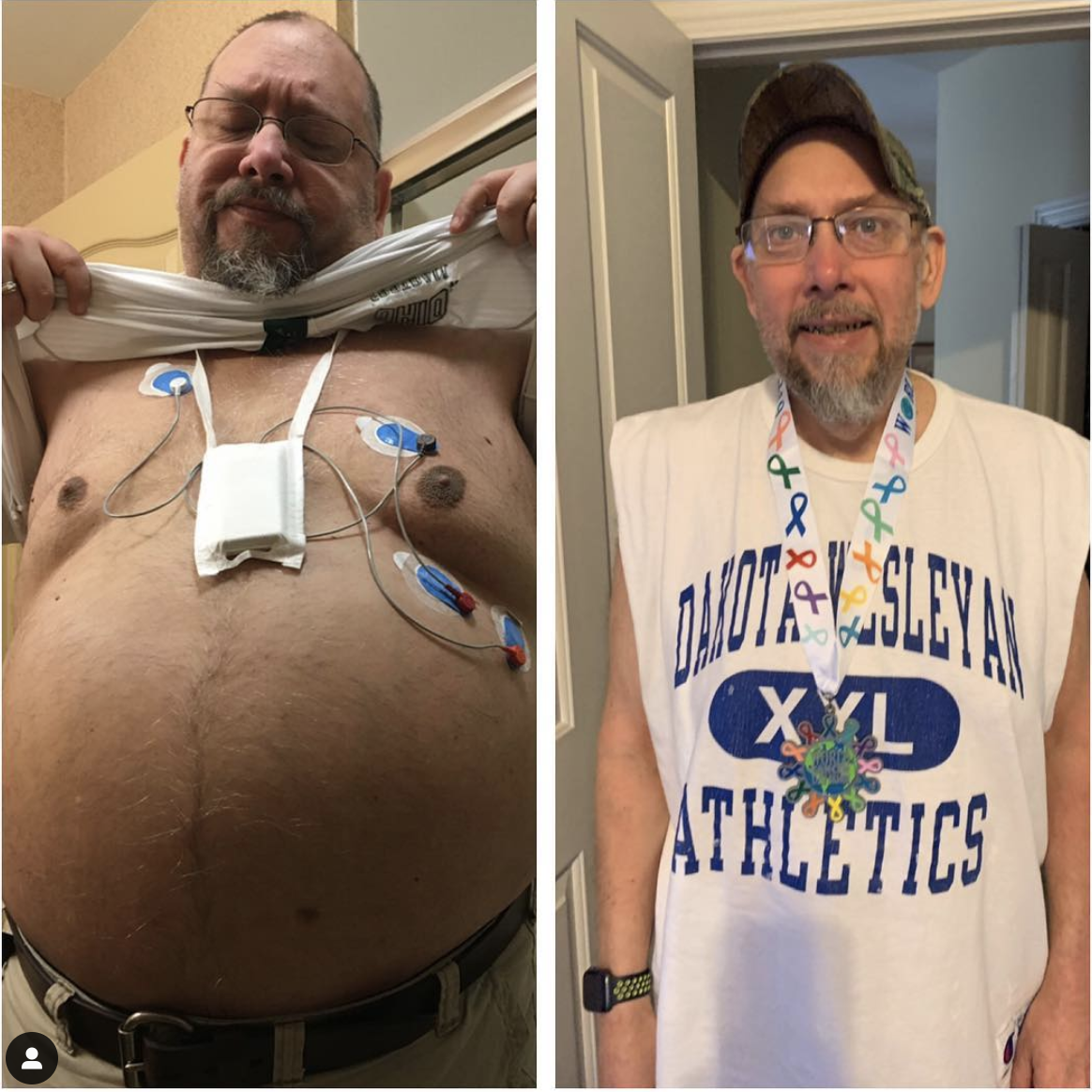 Laurie's Husband
Lost over 200 pounds
"I just have to share my husbands transformation with y'all - he is absolutely incredible! In 18 months he has lost over 200 pounds - from over 400 pounds to 176! He was facing a kidney transplant, had 3 heart attacks, and numerous vascular issues. He is a testicular cancer survivor and the biggest warrior I know! He is strict Keto - no lazy Keto, no carb ups, no eating off plan. It was a matter of life or death - he chose life! He knocked out a 5k for World Cancer Day - I couldn't be more proud. Thanks for your help Maria!" - Laurie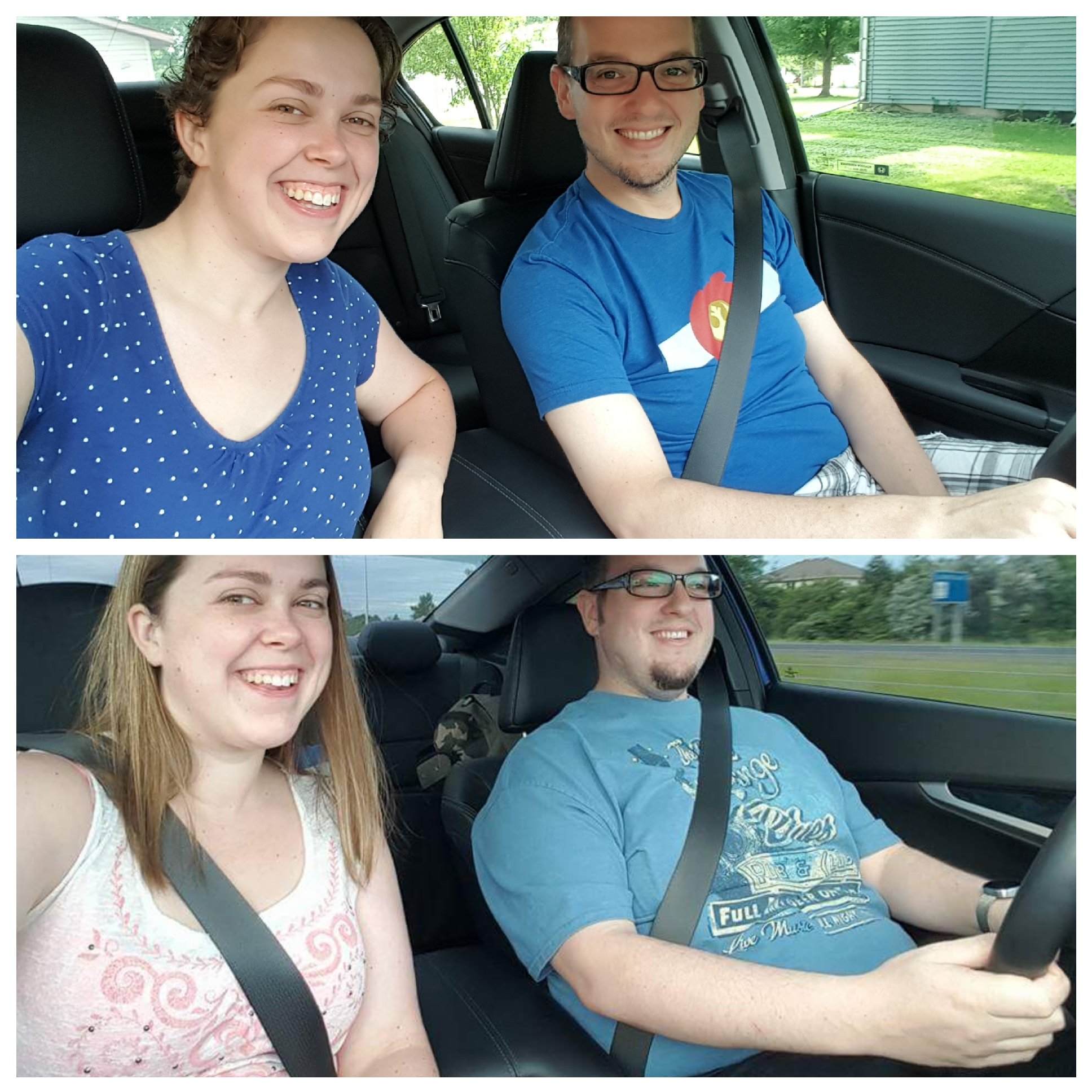 Lena
Lost over 200 pounds as a couple
"We are blessed to have found your books to guide our keto journey Maria. 1 year in with forever to go! This is 200 pounds of weight loss. - Lena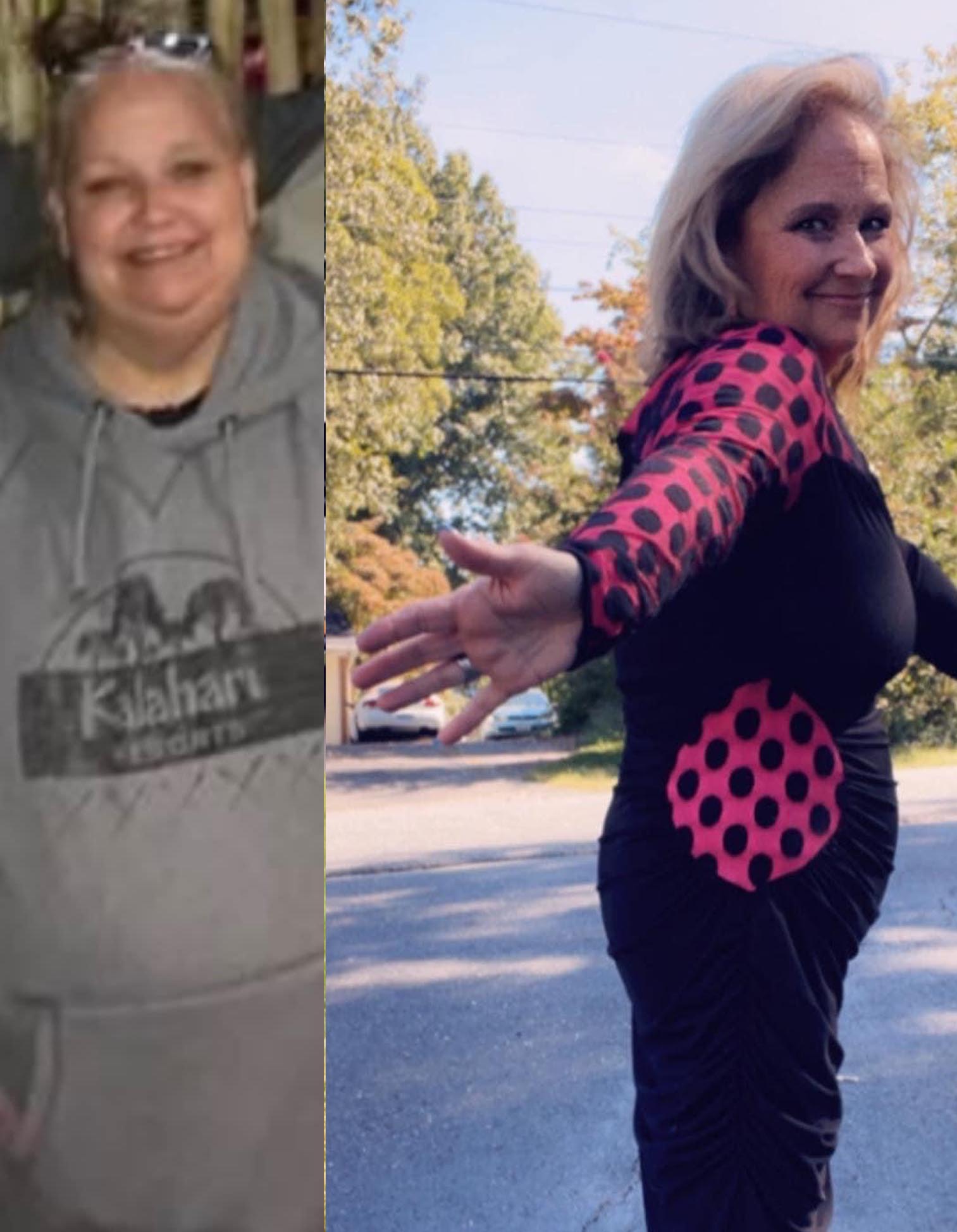 Kim
Lost over 213 pounds
"5/2019 on the left = 329 lbs , multiple medications, diagnosed with hypertension, high cholesterol, diabetes, poor self esteem , insomnia
5/2021 on the right = 116 lbs, NO medications, no more diabetes, no more hypertension, self esteem maxed out , sleeping and happier
Keto changed my life. Thanks Maria!" - Kim
"My son helped me on my keto journey to losing 200+ lbs and now he's lost 100 lbs! So very proud of him! Forrest helped prepare my meals and now he's losing weight , he's lost a 100 lbs this far.. so proud of my son .. the Keto Adapted - Maria Emmerich way is the only way! So grateful to Maria & Craig Emmerich for their guidance" - Kim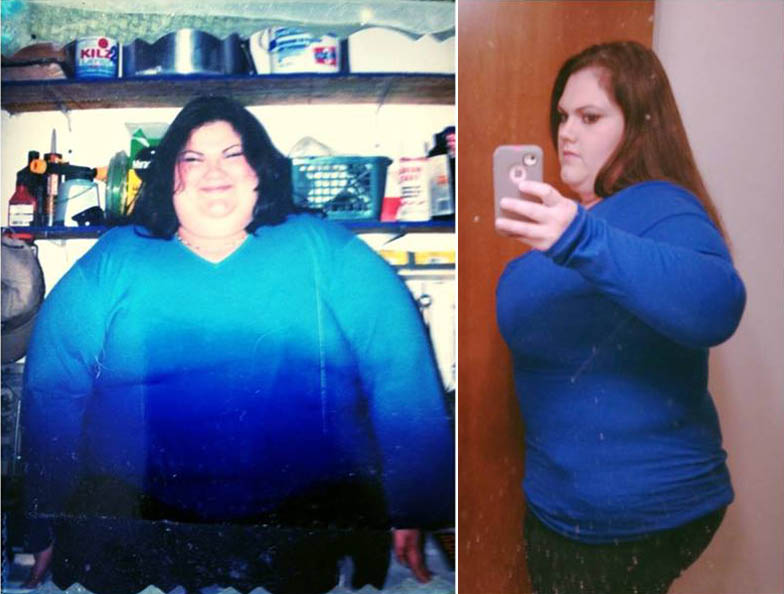 Ashley
Lost over 200 pounds
"My heaviest weight was 456lbs. I needed a total lifestyle change. My heart was enlarging, I couldn't walk very far, hard to breathe, asthma, acid reflux.. The only thing I had on my side was my age.. I was only in my early 20s. I had even dropped out of high school because of my weight. After moving to a new town I focused on myself. I adopted the low carb way of eating and shed so much weight so fast. About 2 years ago I hit a plateau that lasted almost a year. No matter what I changed it wasn't coming off.. I found Maria's blog and learned so much about my body and the way it works. With the help of Maria's knowledge and recipes I broke through my plateau and have shed another 70lbs bringing my total loss to 254lbs to date and still losing... My asthma is gone, my heart is ok now, I can walk with no issues, I actually run 80 minutes a few times a week.. I feel amazing!! This is the best lifestyle for me.. I will continue to follow for the foreseeable future.. Thank you Maria for sharing your knowledge and amazing recipes with us." Ashley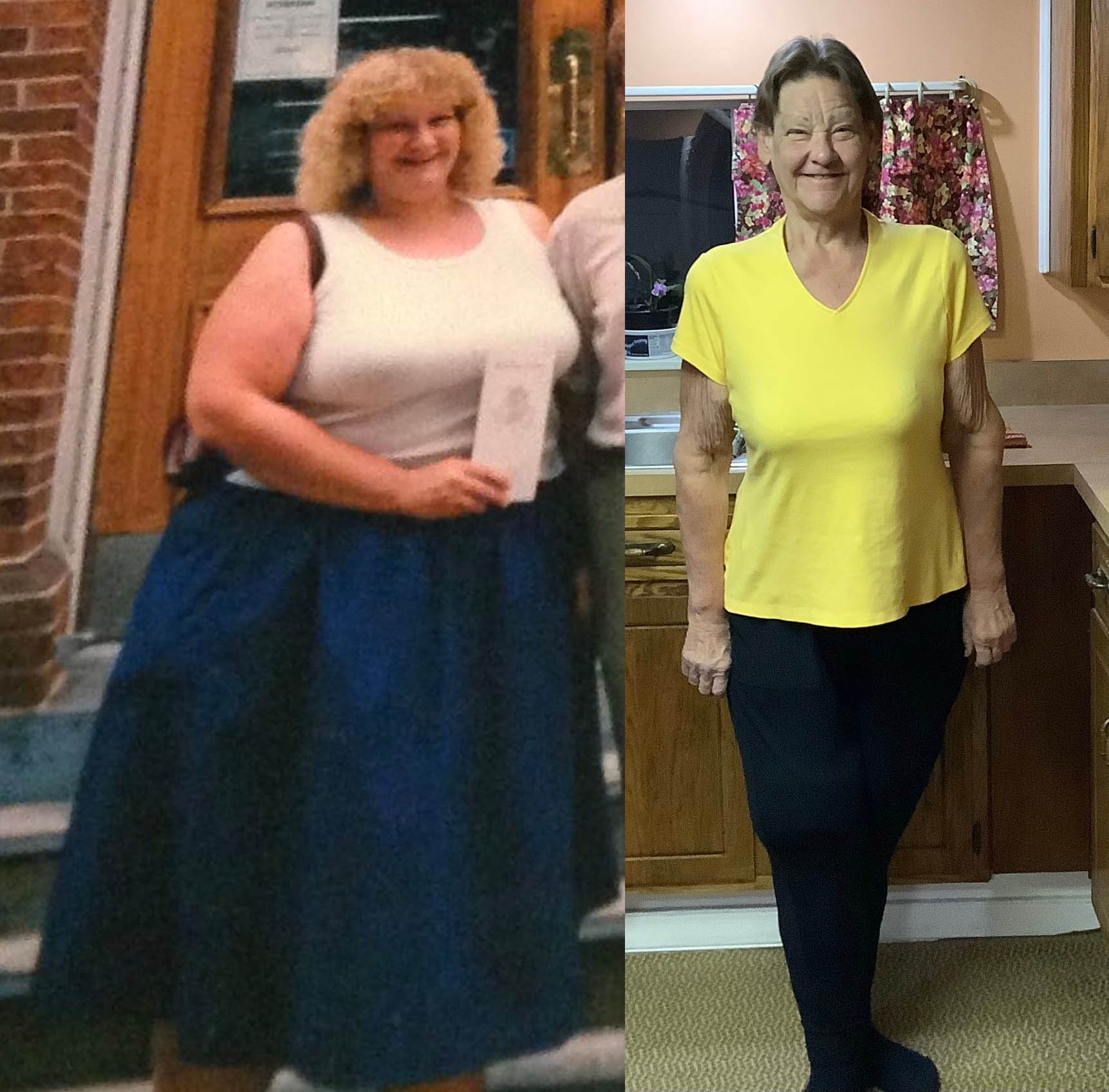 Felicia
Lost 220 pounds
"Celebrating my 63rd Birthday today and still can't believe how my life has changed since I found Maria and Craig Emmerich's books. I never dreamed I could lose 200 lbs. From 420 lbs to 200 lbs. this morning! A simple Thank you will never be enough to express my gratitude! But…THANK YOU!! 💞❤️💞" - Felicia
Over 150 Pounds Gone!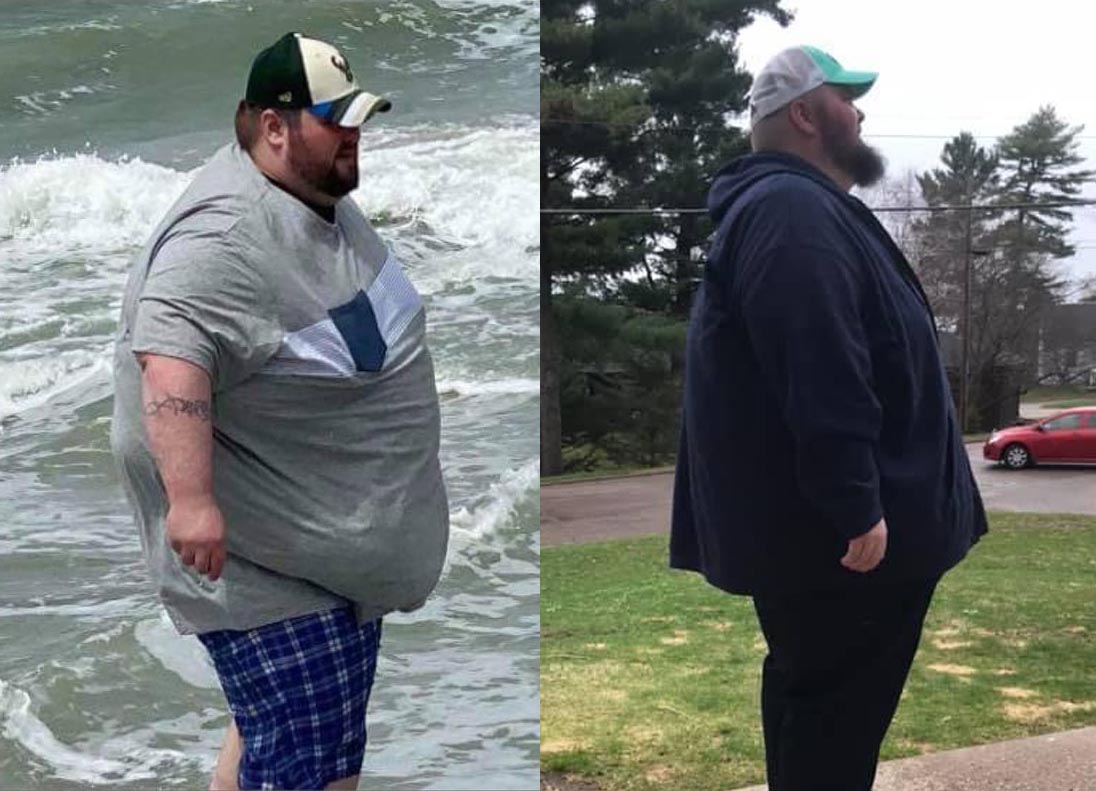 Tyler
Lost 160 pounds
"I truly owe my life to you Craig.. from the first DM I sent you on Facebook I never thought you would reply.
A few months ago I was 647 pounds. Truth be told being down 160 pounds and eating Emmerich Keto has allowed me to get off all pain meds for a herniated disc. ( yes I still take Advil from time to time) By pain meds I mean Vicodin. The doctor has also reduced my depression and anxiety medication. Tapering off a little every month." - Tyler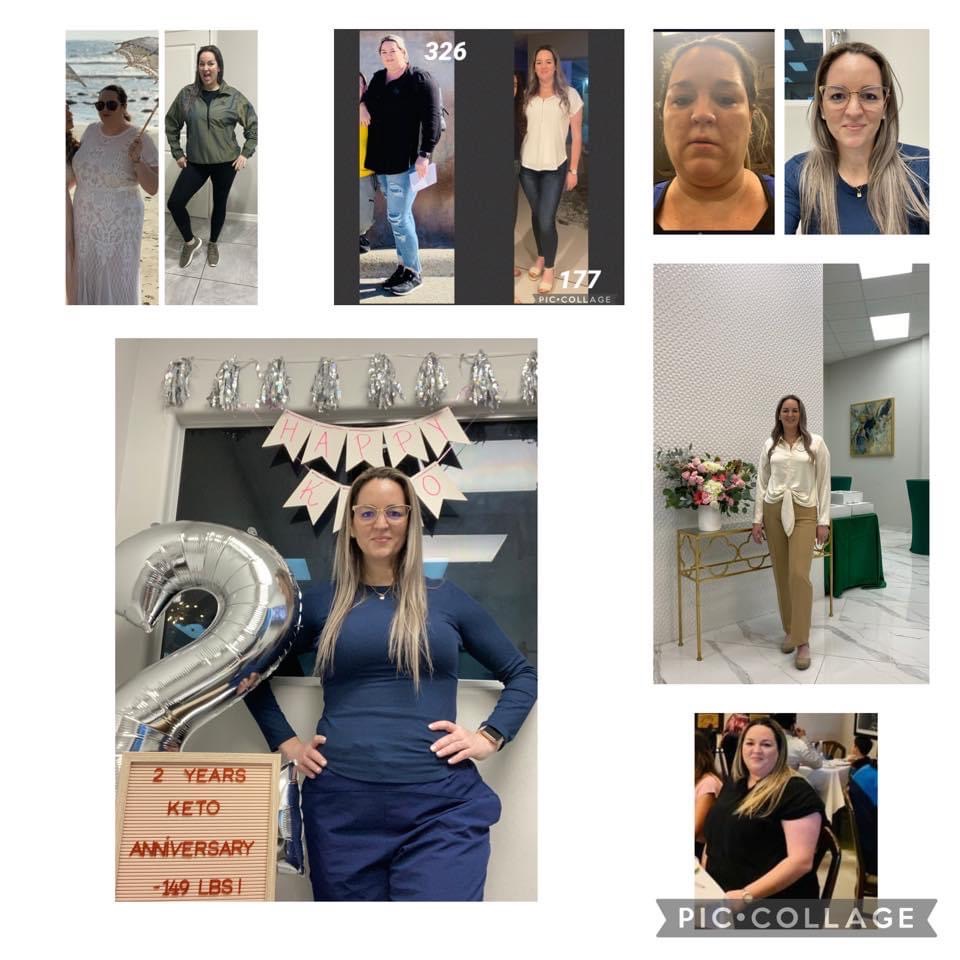 Alice
Lost 150 pounds
"Keto Adapted - Maria Emmerich I can't thank you ENOUGH!! I'm a completely new person now thanks to you! I never thought this could work but I am here now 2 years later, -149lbs keto strong! 💪🏻 thank you, thank you, thank you!!! 😘" - Alice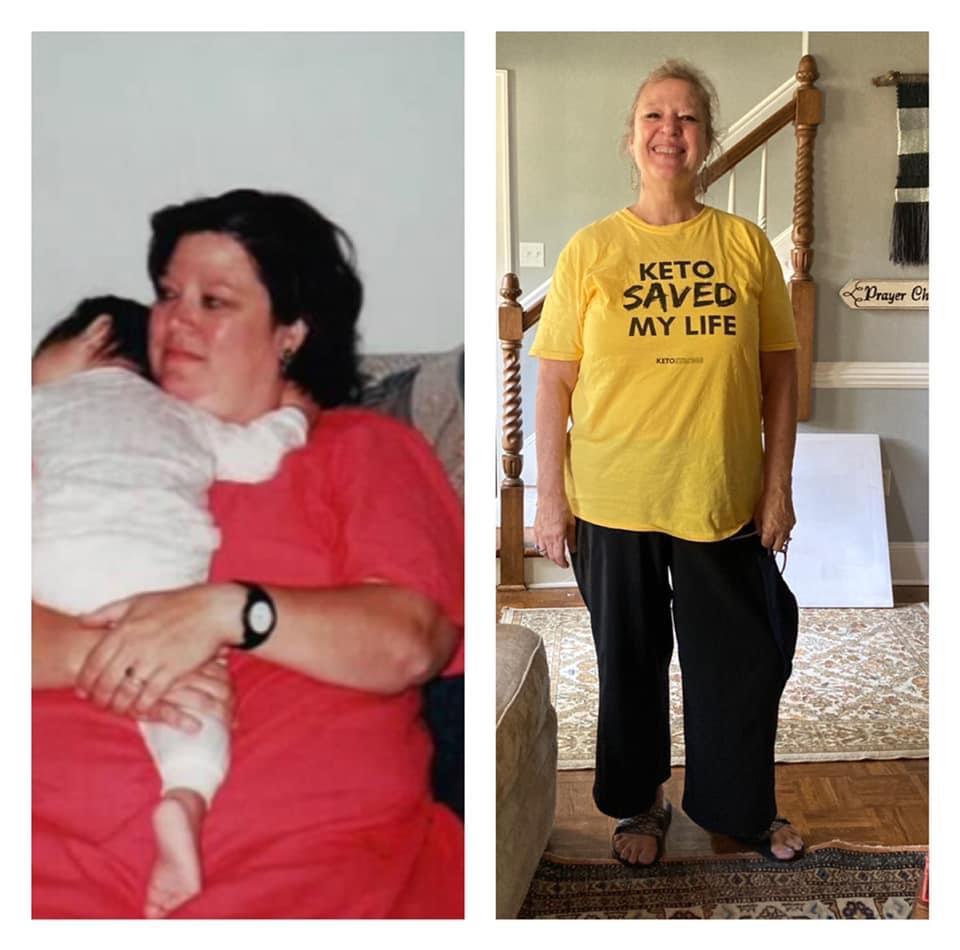 Carol
Lost 180 pounds
" A picture is truly worth 1,000 words. I am healthier at 62 than I have ever been. Starting A1C 13.8. Now 5.7. Stroke level BP which is now continually in a normal range. 180# gone. 50# more to go. Thank you Maria and Craig , Y'all have been a huge influence in my life. I keep reminding myself that the joy is in the journey! KETO FOR LIFE!" - Carol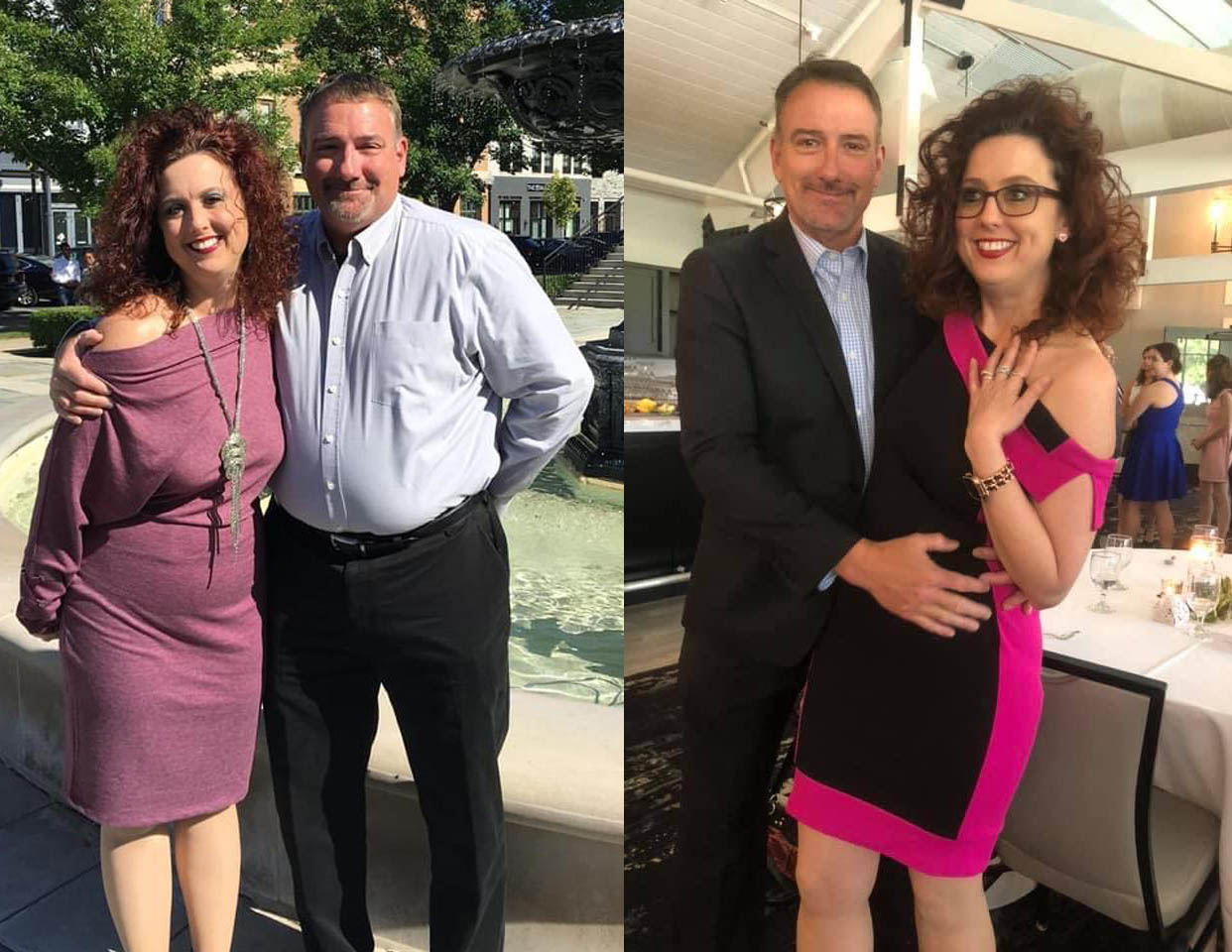 Amy
Lost 160 pounds as a Couple
"I just want to say I'm so incredibly proud of this man. He decided to go keto with me just 1 short year after I decided to start on my journey. You may remember a few months ago I successfully went off my blood pressure meds. We have the same doctor and our doctor has decided to approve to wean him off of his blood pressure meds after seeing my success and his now 80 lb weight loss. I'm so pumped that we have gotten keto healthy together and are reducing our medications as a result. A true testament that eating keto works! Together we have lost a total of 160 lbs!
Craig, I forgot to mention My husband Dennis has MGUS which is the precursor to Multiple Myeloma. The amazing thing is since going Keto he goes to the oncologist and his protein marker has actually decreased instead of increased which means he is reducing his chances that his MGUS will develop into Multiple Myeloma which is an incurable blood cancer. Once his Mspike protein levels reach a certain level he will have to be on Chemo the rest of his life. I truly believe Keto is life changing and possibly saving his life!!!" - Amy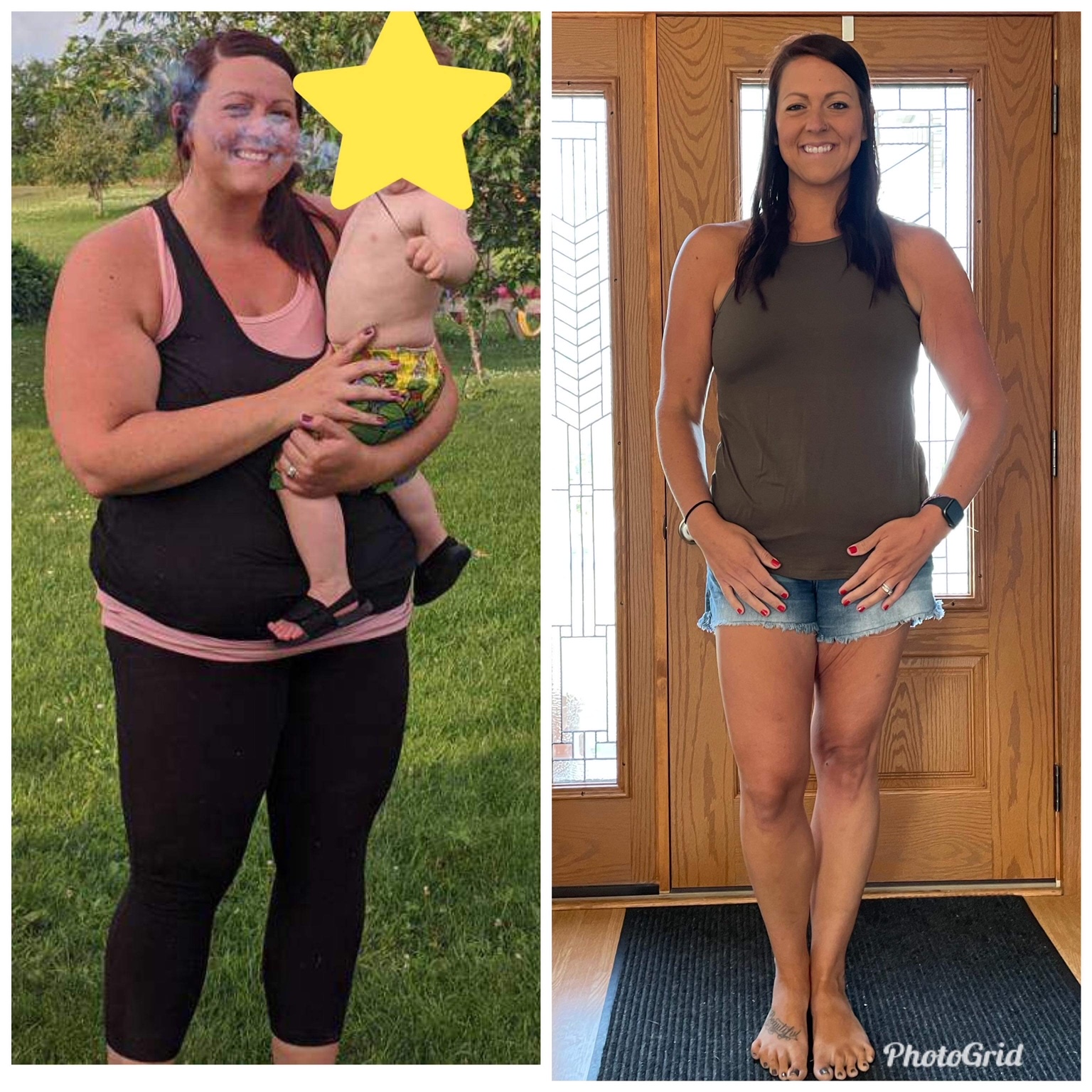 Kalia
Lost 150 Pounds
"These photos were taken 1 year apart. I have lost 150 pounds in 15 months. People whom I haven't seen in months don't even recognize me. I feel amazing. It's all thanks to Maria's knowledge. Seriously this lifestyle change is so easy and I don't miss eating the junk and FEELING like junk. I sometimes forget what I looked like and then a picture like this shows pops up in my photo memories and my jaw drops. Crazy how far I've come. I have 10-15 more pounds to go to get to my goal weight. If I can do it, anyone can! Thank you so much, Maria!!" Kaila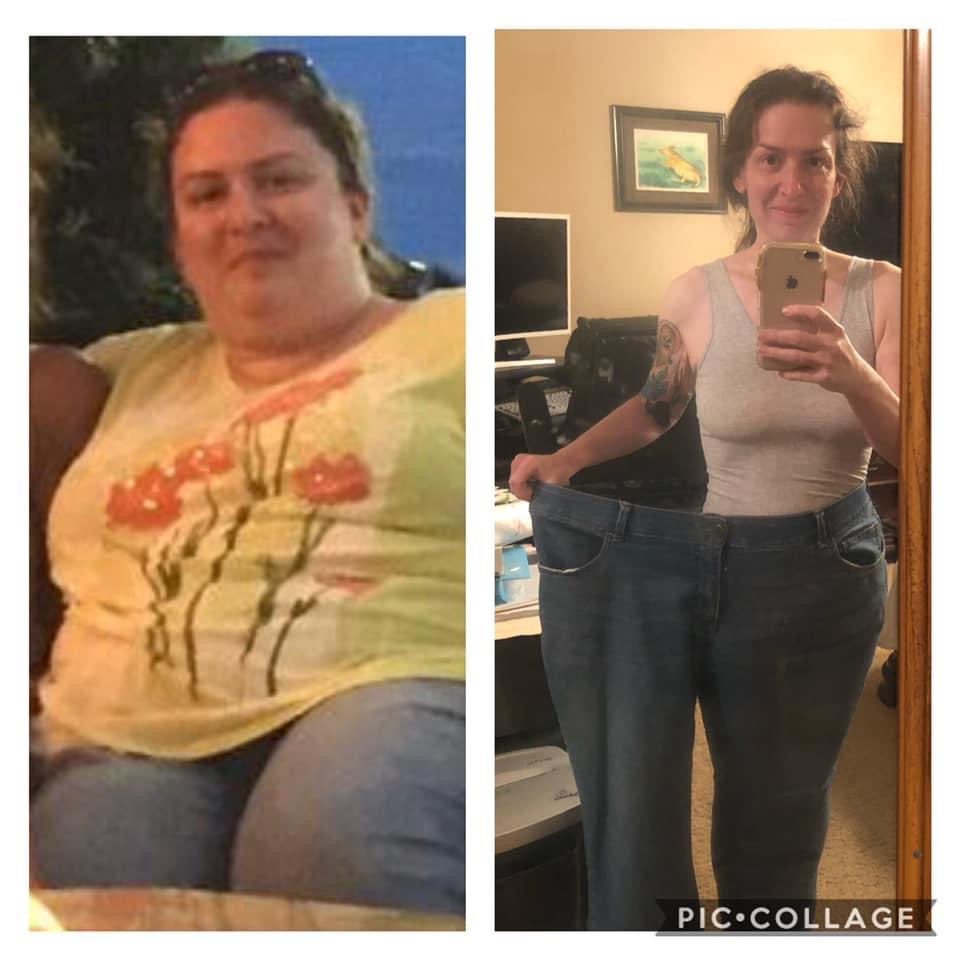 Rebecca
Lost 160 Pounds
"I decided to get a DEXA scan because I love measuring things and I wanted to know how my body is composed after following a ketogenic way of eating and losing so much weight (160 pounds) over the last 3 years. I wanted to make sure that I'm doing everything I need to do to be as healthy as possible and even though I'm thin I did not want to be "skinny fat" or lose a bunch of muscle or bone. I'm SO pleased!!! I have about 20% body fat which is freaking awesome like athlete/fitness level for women and my bone mass is 1.5 standard deviations *above* what a 30 year old at peak bone health would have and 2 standard deviations above women my own age!! This is with almost 0 exercise as I have just now added exercise within the last few months alone (I have multiple sclerosis and was not able to do very much before) and it is nothing super strenuous. Totally Geeking Out over this report!!!!! 🤘🏻💪🏻" - Rebecca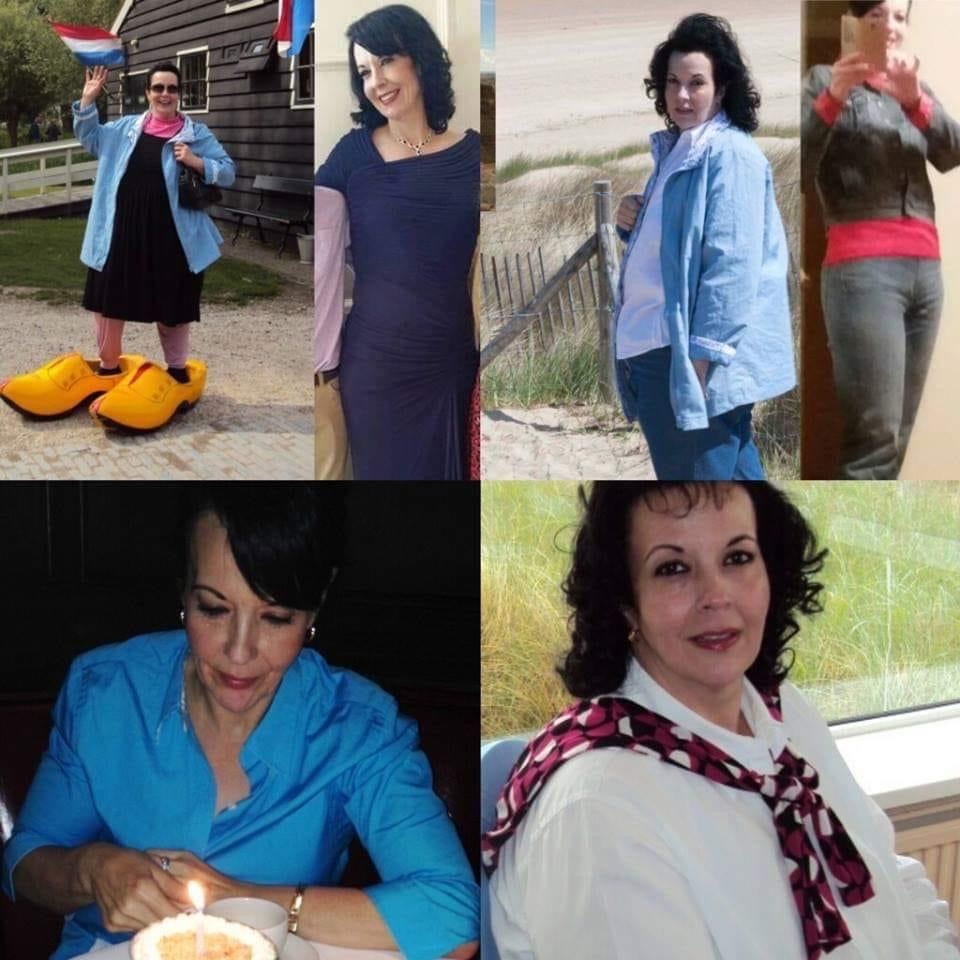 Amy
Lost 175 pounds
"Check our these amazing results! Susan lost 175 pounds on keto!
Craig, I failed to mention a follower of Maria too. Made many of her recipes over the years with cheese Danish recipe my fav to date. I've lost almost 200lbs. Keto was great but stalled. Carnivore has made a drastic change in my joints. Just last year was considering hip replacement, but happy to say that's water under the bridge. Never realized what oxalate did to your body until traveling down the carnivore road. Energy level through the roof, just a whole new person in that manner. Attached is my blood work done on 3/19/20 day before my 58th birthday....I only feel 28" - Susan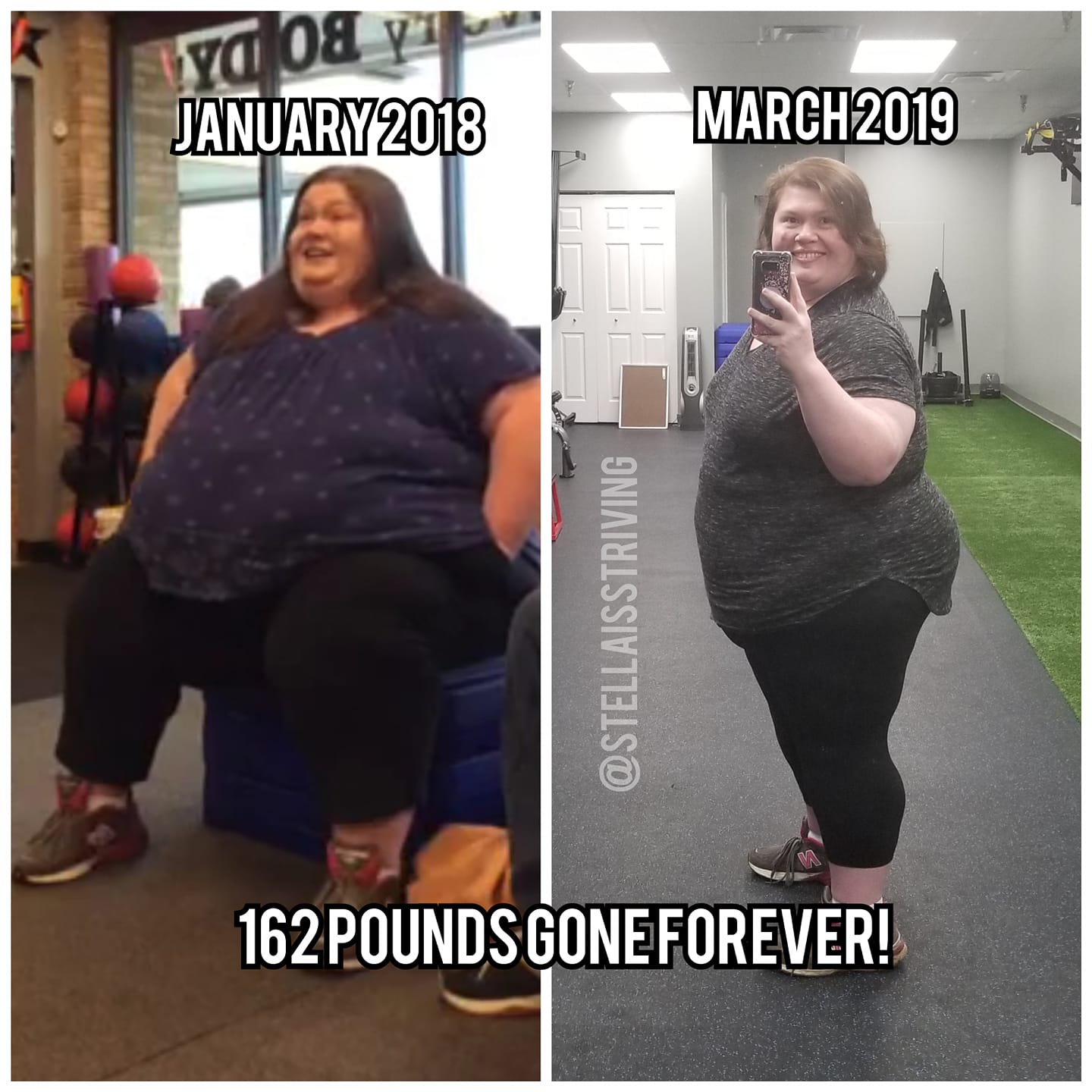 Stella
Lost 160 pounds
"I'm down 164 since January 2018." - Stella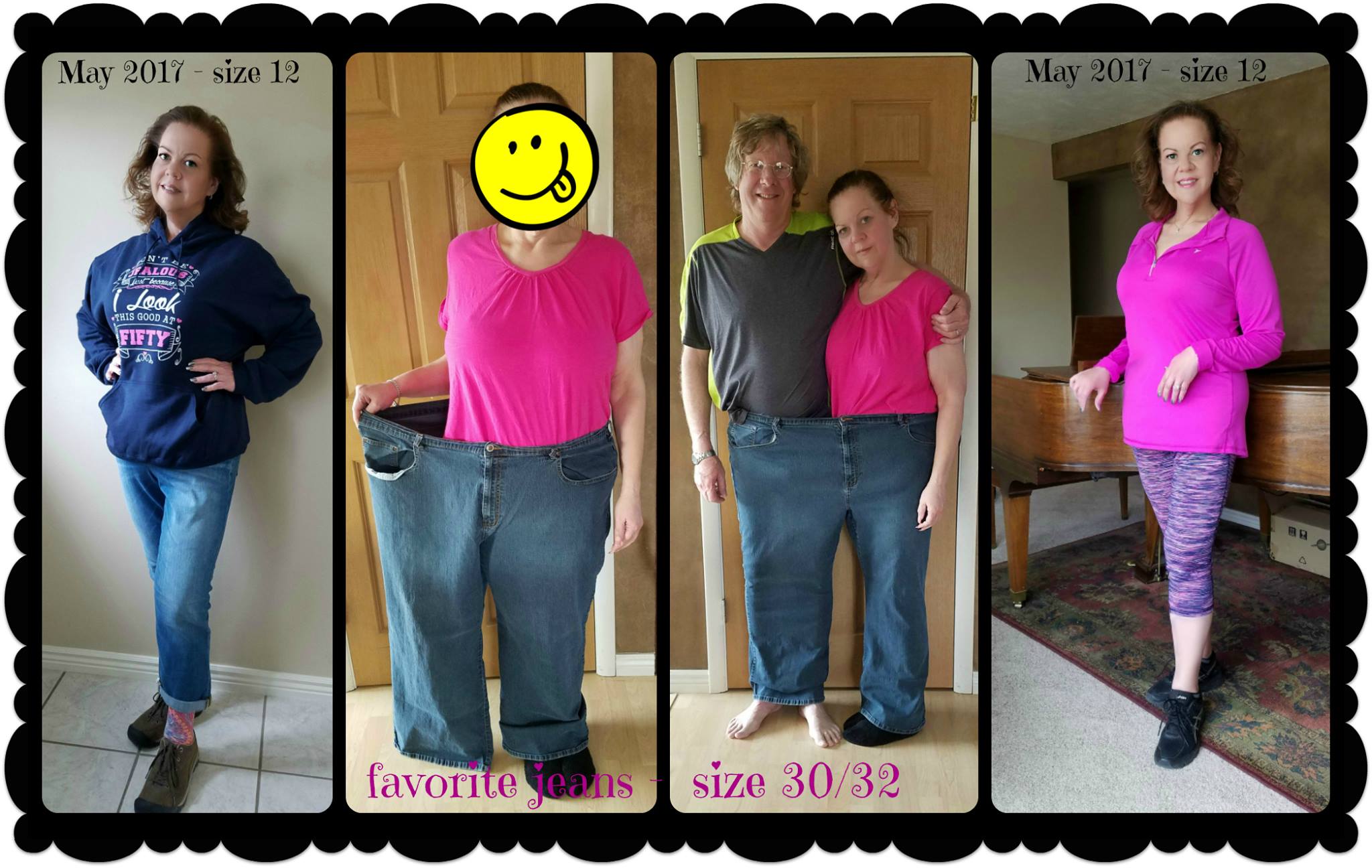 Rita
Lost 194 pounds
"Keto has helped me lose 194lbs!!! No more walker/cane, less pain, less meds..." - Rita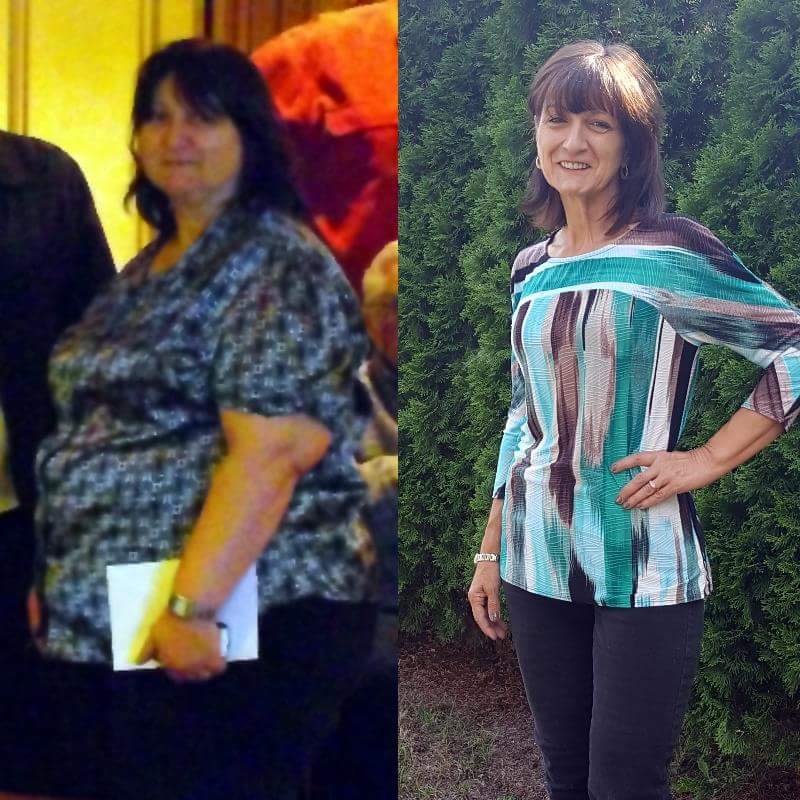 Minnie
Lost 185 pounds
I wanted to thank you for the inspiring talk that you gave at the Ann Arbor, MI book signing! I've been grain free and sugar free for five and a half years. Have made many of Maria's recipes! I've lost 185 pounds from my high weight of 310 pounds but this year I started regaining a few pounds back. I saw a quote my Dr. Ted Naiman this year about eating less dietary fat...lightbulb moment. Found Marty Kendall's group...learned even more. Then read a post from Craig about the new Keto book. I quit smoking in June and that uncovered some food issues and trigger foods. I am cutting dairy and nuts to see if that helps. Thank you for giving me new direction on my lifelong journey to good health!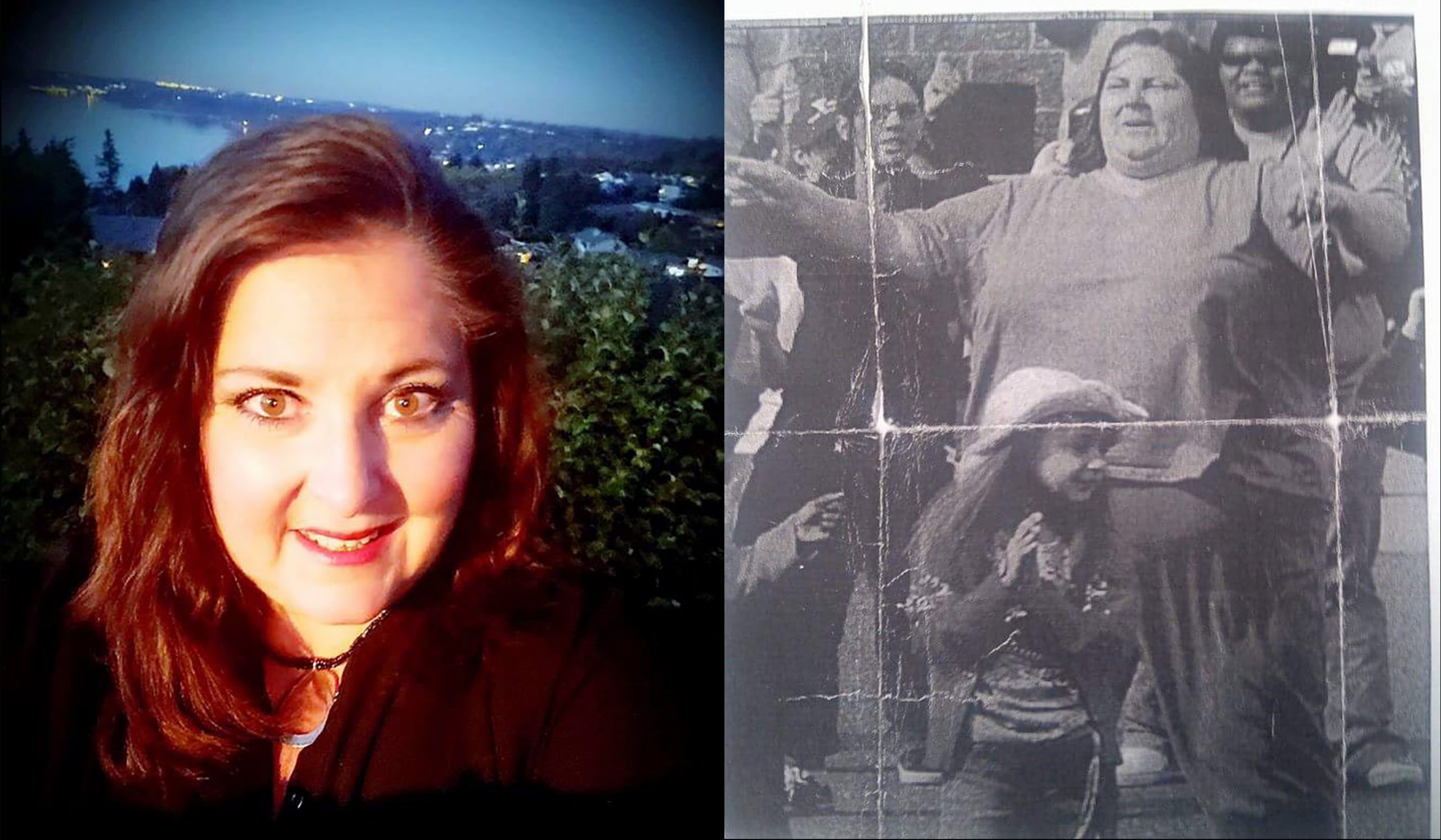 Jackie
Lost 160 pounds
"I'm kind of hard headed. It takes a lot to get my attention. I was 398 pounds at my heaviest in 2010. I had struggled with my weight for most of my life, although I often saw myself as being bigger than I really was. Until I really was. I was unhappy and struggled with depression. Food was my everything. Of course in my mind, I didn't see it correctly because it never betrayed me. It was there to make me "feel better". Of course we know that's a lie. But I wanted as much as I could get. I was struggling so hard with daily functioning. The toll on my body was horrid. I was so ashamed of myself that I neglected self and annual exams for years. My shame was stronger than my sense of self preservation. I was literally killing myself, one bite at a time.
I imagine on some level I might struggle for the rest of my life. But I have found such a sense of support and community here. I have broken some lifelong bad habits and found something that will sustain me and I'm so grateful for each and every one of you. My story, is still being written. But I can tell you that the glow that someone referred to on my face is what happens when you learn to love yourself and if you can't do that nothing else really matters." - Jackie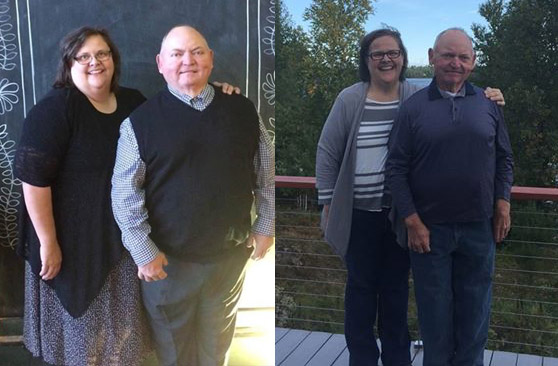 Jenny
Husband lost 150, Jenny lost 100 pounds
"The Before Picture is from Nov. 2016 and in Progress is Sept. 2018. Anthony started in March 2017 by eliminating food he was sensitive to and I started Keto in May 2017 due to high blood sugar (I was having trouble with my vision and fortunately decided I should maybe check my blood sugar- so glad I did and I have not had sugar since). My fasting blood sugar is finely 95 (with PCOS and insulin resistant that has taken 18 months of strict keto to finally have under 100 readings consistently! I have lost 150 pounds (and have about 90 more, and my body continues to heal and repair itself. My husband, Anthony joined me on Keto about 6 months ago and he has lost almost 100 pounds but more importantly, his arthritis is considerably better, He has reduced his blood pressure medicine, his heart often would go into a-fib, but since eating keto he has not had an episode. His kidneys are functioning better too. We feel better (less aches and pains) and are so much healthier! We love this way of eating and are so glad we found Maria and Craig early on our journey!" - Jenny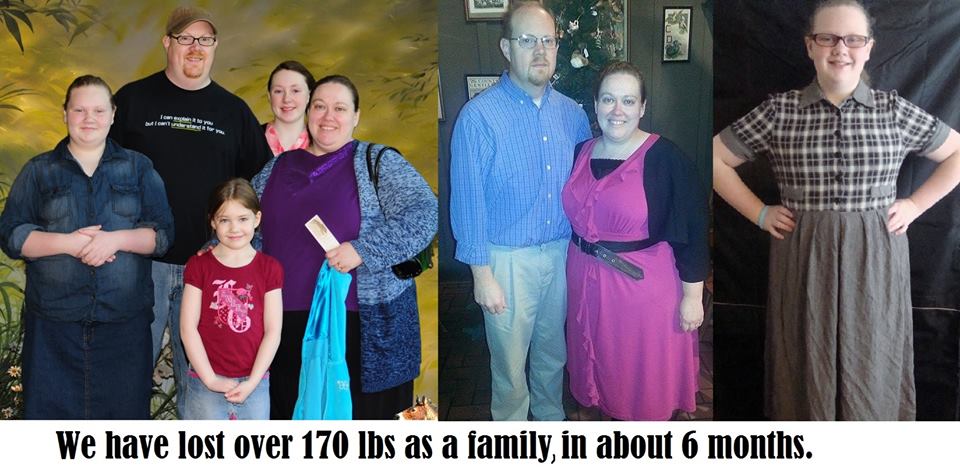 Robyn
Family Lost 170 pounds
"I started in mid-June and my family all joined me in July. My husband lost 67 lbs and went from a size 38 to a size 32 pants. He is off of bp meds and his cpap, and fixed his cholesterol.
I have lost 63 lbs. I started at a whopping 320 (only 5 foot tall) and am down to 256.6. I have fibromyalgia and eating this way helps my pain so much! I feel so much healthier, no more glue in my gut, and no more insatiable hunger.
My daughter was told she was borderline insulin resistant, adhd, and had a behavior disorder. She has lost 38 lbs, and no longer has any symptoms of any of her conditions. She sleeps better at night and has amazing grades in school this year, her first year in Junior high."
My oldest daughter also lost around 12 lbs, which was all she needed to lose. My husband is at his goal. I have a long way to go yet, but I'm going to keep on trucking. Keto is the way to go." - Amanda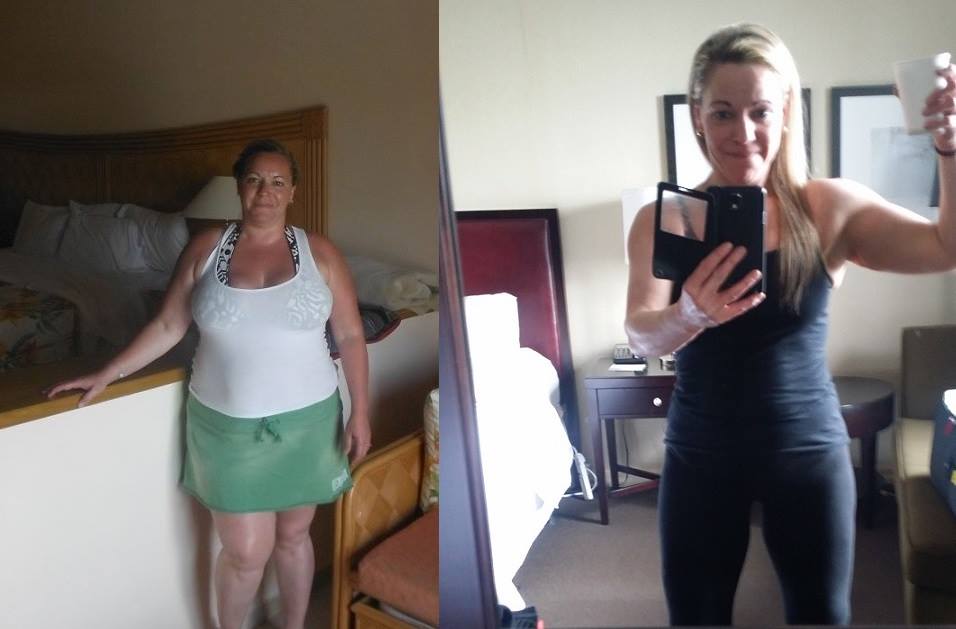 Robyn
Lost 150 pounds
"This is what your help has done for me...a mom of 5, and business owner with employees...parents that depend on me. I reversed, super high bp, pre-diabetes, hormone imbalance (badddd) , pre-arthritis, insomnia and a slew of other things. I must give people your website information at least once a week. Ive lost 150 in fat and massed about 20 lbs in muscle. XOXOX" -Robyn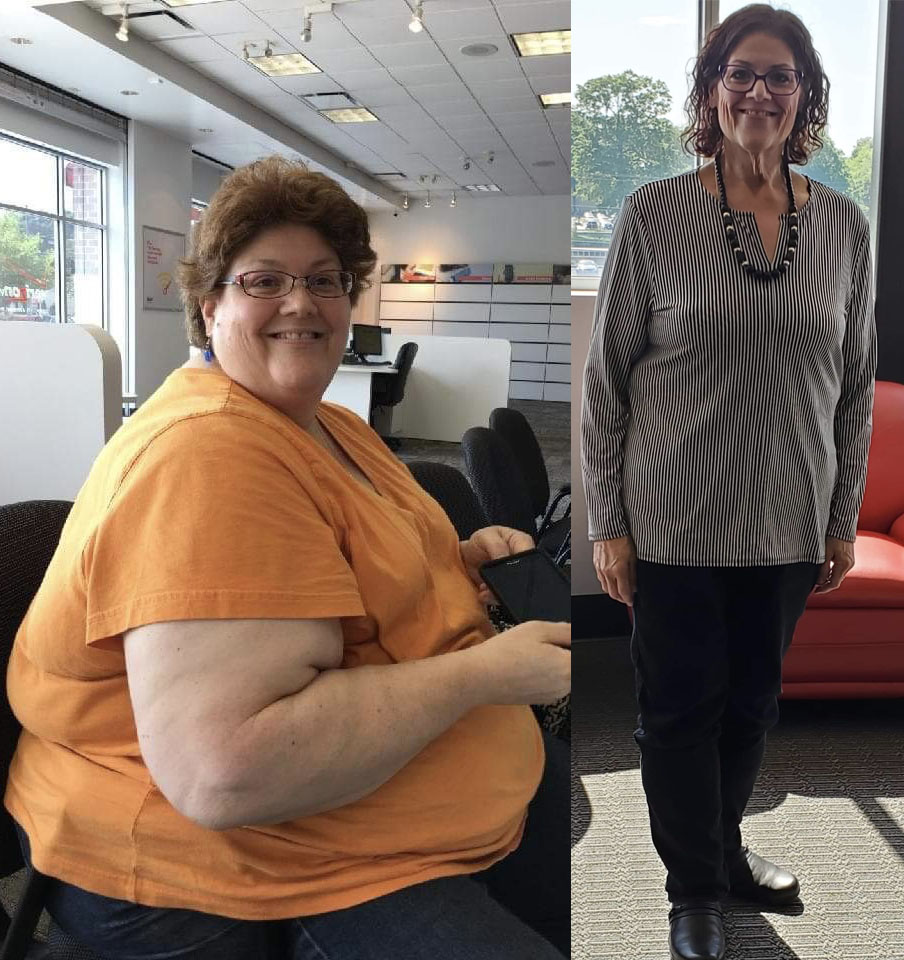 Jane
Lost 170 pounds
"Today was a good day and I wanted to share. This morning I had my quarterly checkup and my doctor took me off that darn statin and decreased my BP med by 1/2!
BP was 120/54 this morning. I'm so excited to be rid of that statin and I think in 3 months, I'll be rid of the blood pressure medication also.
I'm only 28 pounds from my goal weight having lost 170 so far. NONE of this would have been possible without Maria Wojcik Emmerich and Craig Emmerich!
Thank you for giving me my life back! ❤" Jane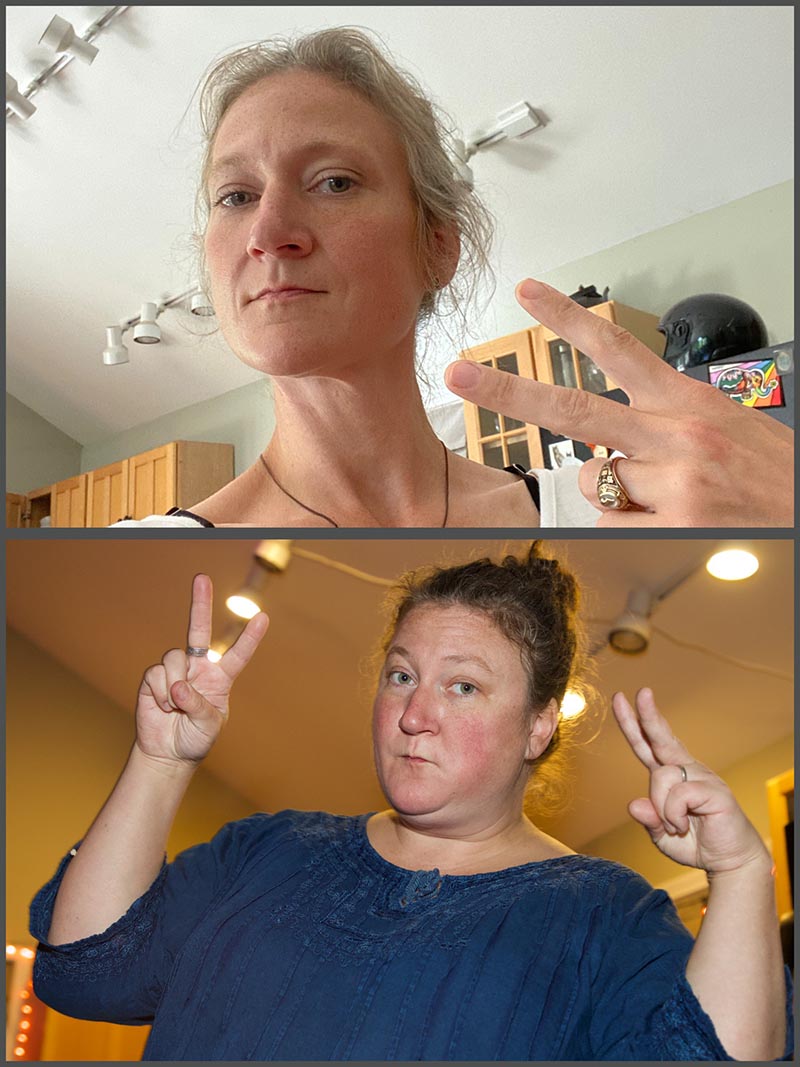 Sarah
Lost 150 pounds
"I am so thankful for the Emmerich's and their healthy approach to keto and clean eating. I started my journey February of last year and today I am not only 150 pounds lighter, but in the best shape of my life. Keto on, trust the process, and keep moving 🙂
I DID IT! Fall of 2019 I told my son Ben that I would run to the school from our house a year later, by Halloween of 2020, (it is about 2 miles). I knew I needed to be healthier and I wanted to give myself a goal to shoot for. Well 2020 came and went, and let's just say that I did not run to the school that fall. Or the fall after that...Last February of 2021 I said enough is enough and I changed my eating habits and started moving. Well today, July 9th, 150 pounds less, and 2.5 years after my promise to my son, I not only ran to the school, but around the parking lot, around the center of town, and back to my house . Over 4 miles! 🙂 Feels good ❤️ (I can't believe I am sharing this, but here is a photo too from that same fall that I made my promise to Ben, and today)" - Sarah
Healing Stories!
Here are just a few of the amazing healing testimonies we have received over the last 20 plus years!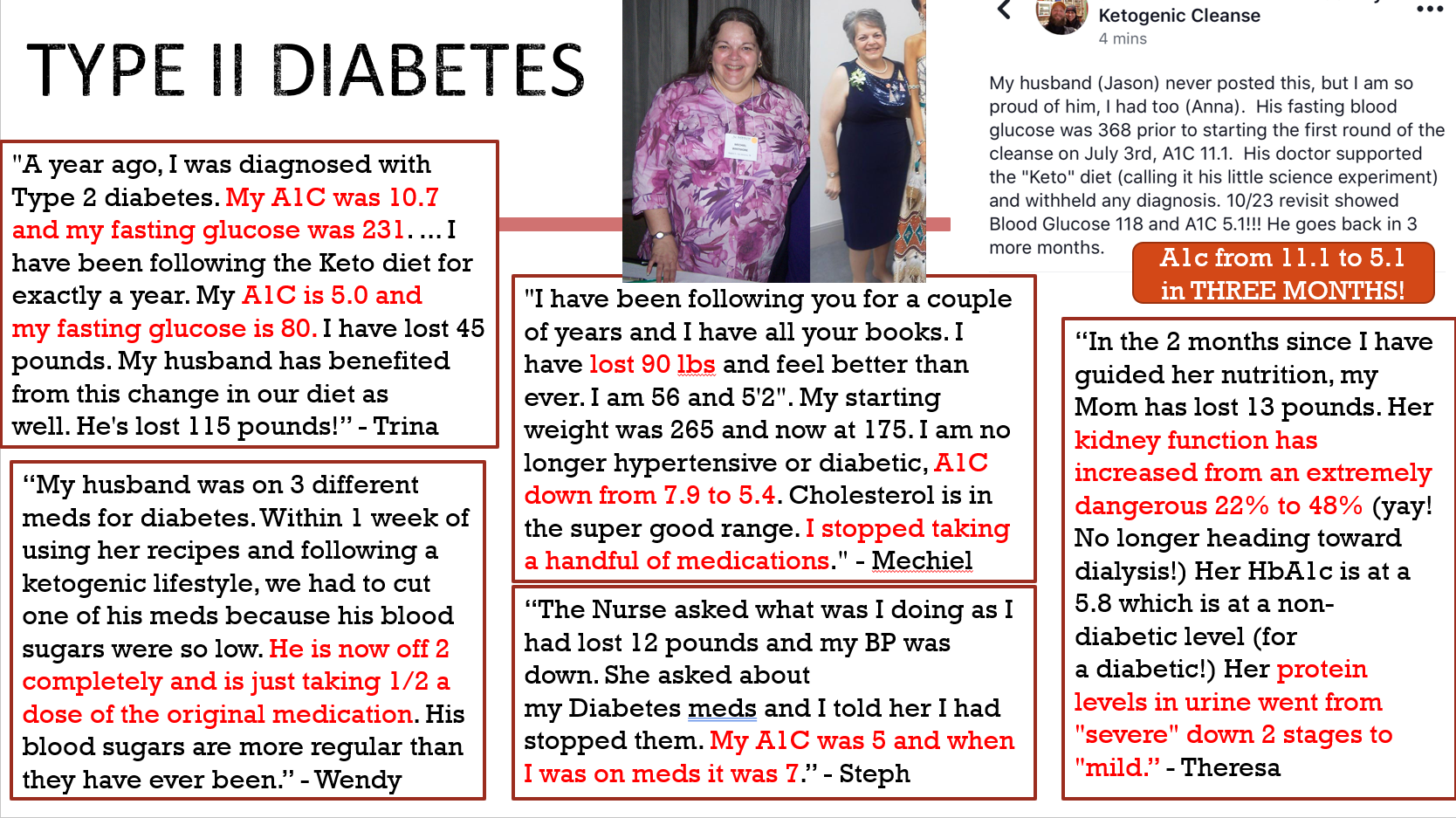 Type 2 Diabetes and Metabolic Syndrome
Reversing Type 2 Diabetes, High Blood Pressure and Metabolic Syndrome
"A year ago, I was diagnosed with Type 2 diabetes. My A1C was 10.7 and my fasting glucose was 231. ... I have been following the Keto diet for exactly a year. My A1C is 5.0 and my fasting glucose is 80. I have lost 45 pounds. My husband has benefited from this change in our diet as well. He's lost 115 pounds!" - Trina
"My husband was on 3 different meds for diabetes. Within 1 week of using her recipes and following a ketogenic lifestyle, we had to cut one of his meds because his blood sugars were so low. He is now off 2 completely and is just taking 1/2 a dose of the original medication. His blood sugars are more regular than they have ever been." - Wendy
"I have been following you for a couple of years and I have all your books. I have lost 90 lbs and feel better than ever. I am 56 and 5'2". My starting weight was 265 and now at 175. I am no longer hypertensive or diabetic, A1C down from 7.9 to 5.4. Cholesterol is in the super good range. I stopped taking a handful of medications." - Mechiel
"The Nurse asked what was I doing as I had lost 12 pounds and my BP was down. She asked about my Diabetes meds and I told her I had stopped them. My A1C was 5 and when I was on meds it was 7." - Steph
"In the 2 months since I have guided her nutrition, my Mom has lost 13 pounds. Her kidney function has increased from an extremely dangerous 22% to 48% (yay! No longer heading toward dialysis!) Her HbA1c is at a 5.8 which is at a non-diabetic level (for a diabetic!) Her protein levels in urine went from "severe" down 2 stages to "mild." - Theresa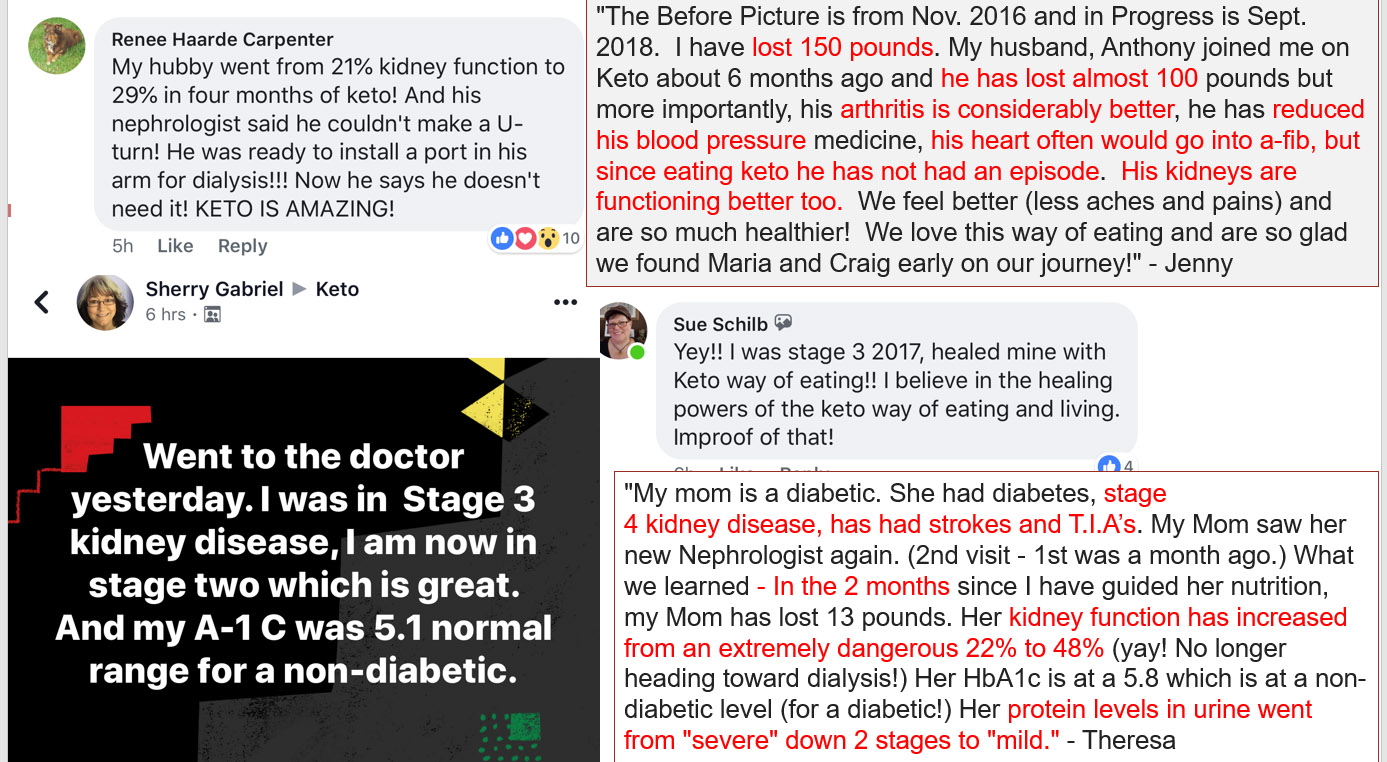 Kidneys
Reversed Kidney Disease and Improved Kidney Health
"My mom is a diabetic. She had diabetes, stage 4 kidney disease, has had strokes and T.I.A's. My Mom saw her new Nephrologist again. (2nd visit - 1st was a month ago.) What we learned - In the 2 months since I have guided her nutrition, my Mom has lost 13 pounds. Her kidney function has increased from an extremely dangerous 22% to 48% (yay! No longer heading toward dialysis!) Her HbA1c is at a 5.8 which is at a non-diabetic level (for a diabetic!) Her protein levels in urine went from "severe" down 2 stages to "mild." - Theresa
"The Before Picture is from Nov. 2016 and in Progress is Sept. 2018. I have lost 150 pounds. My husband, Anthony joined me on Keto about 6 months ago and he has lost almost 100 pounds but more importantly, his arthritis is considerably better, he has reduced his blood pressure medicine, his heart often would go into a-fib, but since eating keto he has not had an episode. His kidneys are functioning better too. We feel better (less aches and pains) and are so much healthier! We love this way of eating and are so glad we found Maria and Craig early on our journey!" - Jenny
"My hubby went from 21% Kidney function to 29% in four months of keto! And his nephrologist said he couldn't make a U-turn! He was ready to install a port in his arm for dialysis!! Now he says he doesn't need it! KETO IS AMAZING!" - Renee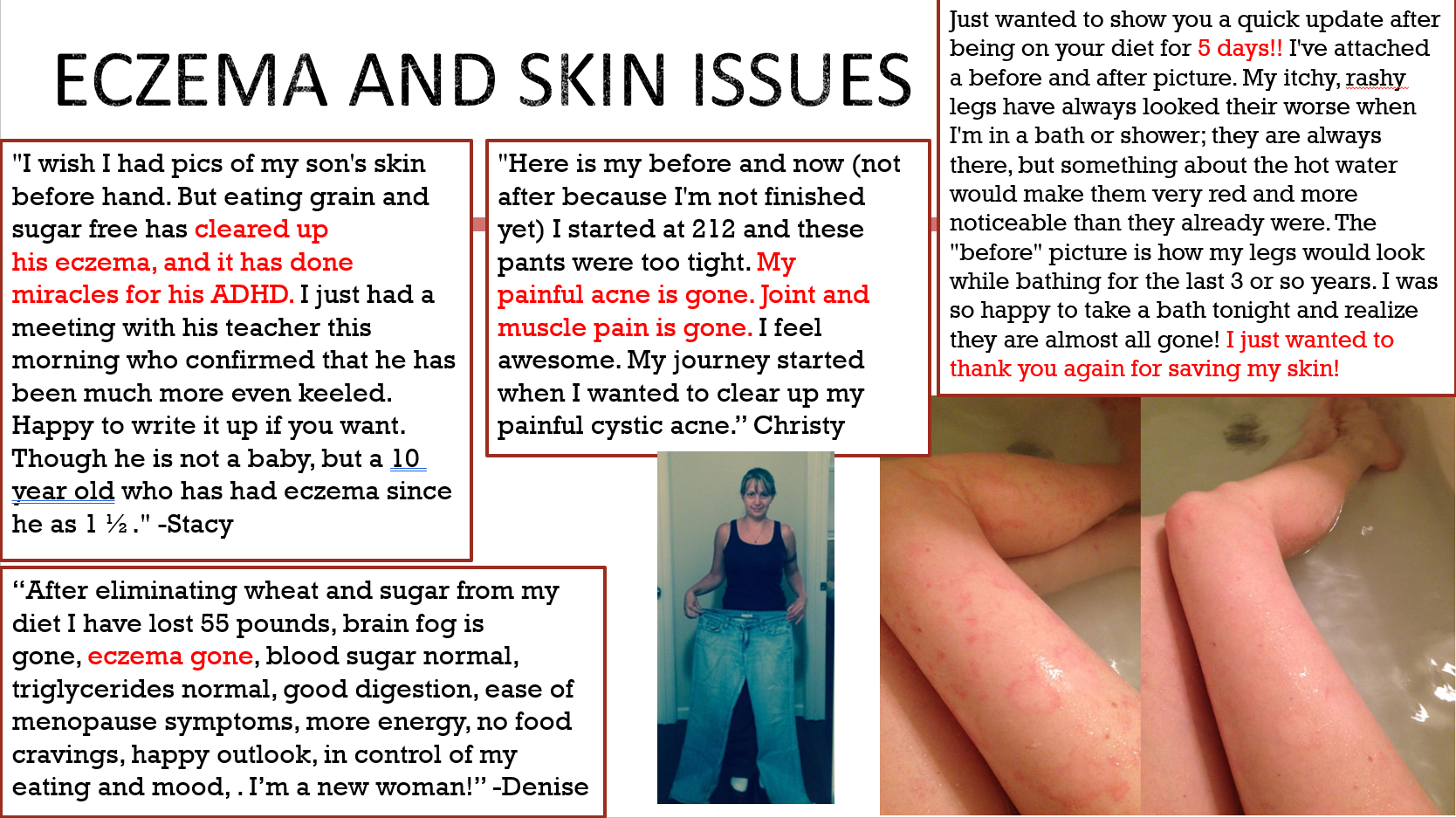 Skin Issues
Reversing Eczema, Psoriasis and other Skin Issues
"I wish I had pics of my son's skin before hand. But eating grain and sugar free has cleared up his eczema, and it has done miracles for his ADHD. I just had a meeting with his teacher this morning who confirmed that he has been much more even keeled. Happy to write it up if you want. Though he is not a baby, but a 10 year old who has had eczema since he as 1 ½." -Stacy
"After eliminating wheat and sugar from my diet I have lost 55 pounds, brain fog is gone, eczema gone, blood sugar normal, triglycerides normal, good digestion, ease of menopause symptoms, more energy, no food cravings, happy outlook, in control of my eating and mood, . I'm a new woman!" -Denise
"Here is my before and now (not after because I'm not finished yet) I started at 212 and these pants were too tight. My painful acne is gone. Joint and muscle pain is gone. I feel awesome. My journey started when I wanted to clear up my painful cystic acne." Christy
Just wanted to show you a quick update after being on your diet for 5 days!! I've attached a before and after picture. My itchy, rashy legs have always looked their worse when I'm in a bath or shower; they are always there, but something about the hot water would make them very red and more noticeable than they already were. The "before" picture is how my legs would look while bathing for the last 3 or so years. I was so happy to take a bath tonight and realize they are almost all gone! I just wanted to thank you again for saving my skin!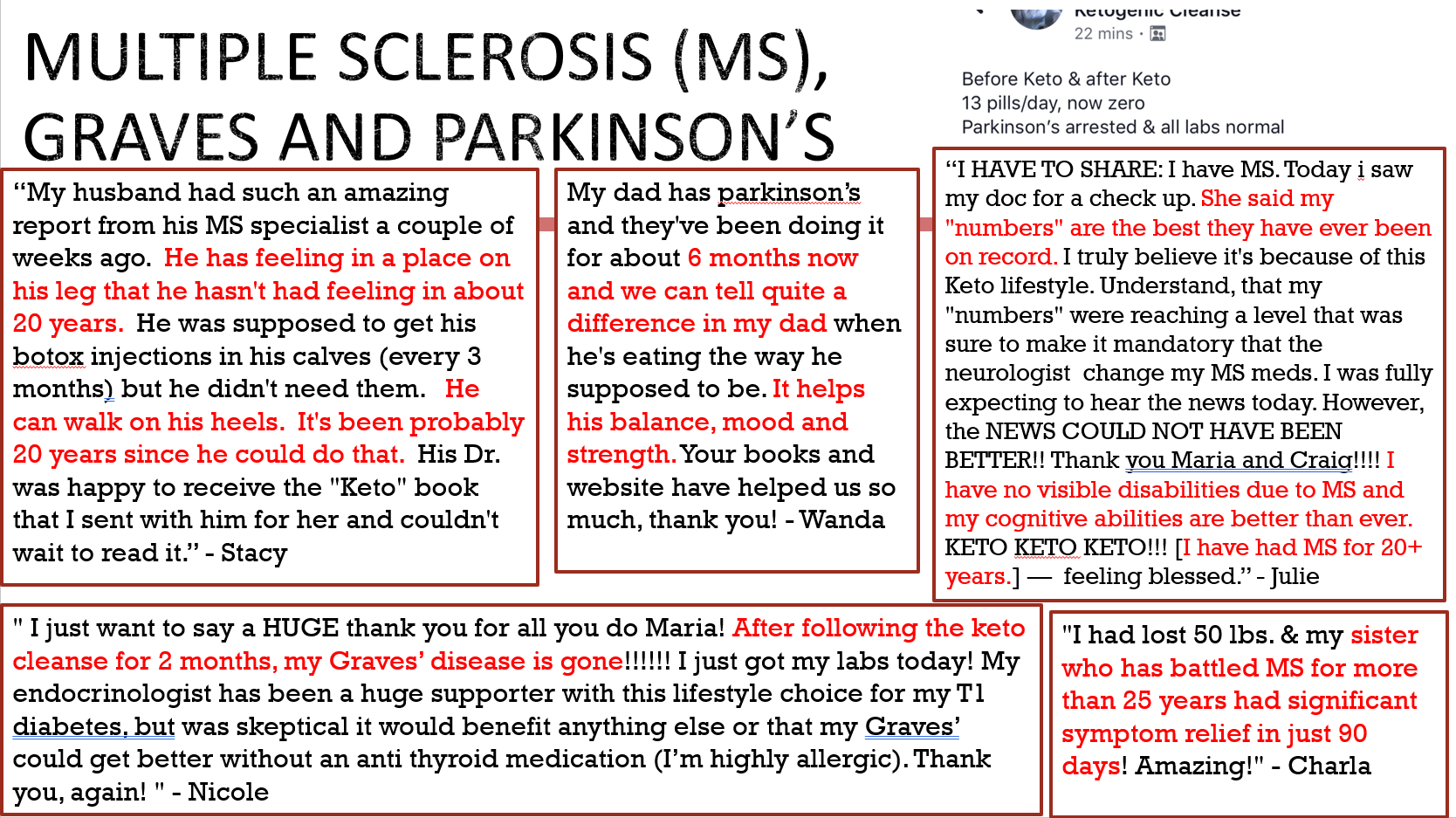 MS, Graves and Parkinsons
Amazing Improvements!
"My husband had such an amazing report from his MS specialist a couple of weeks ago. He has feeling in a place on his leg that he hasn't had feeling in about 20 years. He was supposed to get his botox injections in his calves (every 3 months) but he didn't need them. He can walk on his heels. It's been probably 20 years since he could do that. His Dr. was happy to receive the "Keto" book that I sent with him for her and couldn't wait to read it." - Stacy
" I just want to say a HUGE thank you for all you do Maria! After following the keto cleanse for 2 months, my Graves' disease is gone!!!!!! I just got my labs today! My endocrinologist has been a huge supporter with this lifestyle choice for my T1 diabetes, but was skeptical it would benefit anything else or that my Graves' could get better without an anti thyroid medication (I'm highly allergic). Thank you, again! " - Nicole
My dad has parkinson's and they've been doing it for about 6 months now and we can tell quite a difference in my dad when he's eating the way he supposed to be. It helps his balance, mood and strength. Your books and website have helped us so much, thank you! - Wanda
"I HAVE TO SHARE: I have MS. Today i saw my doc for a check up. She said my "numbers" are the best they have ever been on record. I truly believe it's because of this Keto lifestyle. Understand, that my "numbers" were reaching a level that was sure to make it mandatory that the neurologist change my MS meds. I was fully expecting to hear the news today. However, the NEWS COULD NOT HAVE BEEN BETTER!! Thank you Maria and Craig!!!! I have no visible disabilities due to MS and my cognitive abilities are better than ever. KETO KETO KETO!!! [I have had MS for 20+ years.] — feeling blessed." - Julie
"I had lost 50 lbs. & my sister who has battled MS for more than 25 years had significant symptom relief in just 90 days! Amazing!" - Charla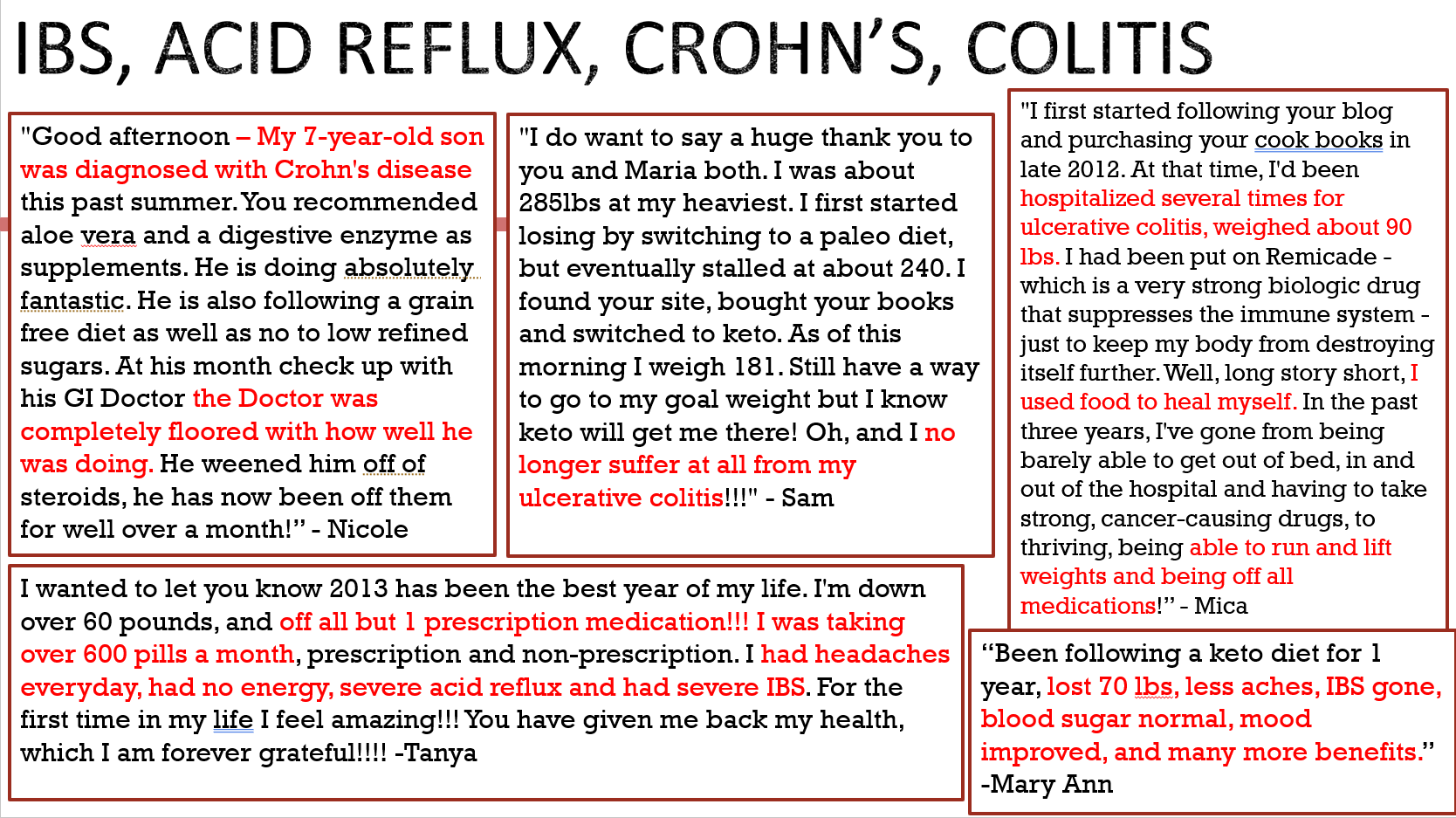 Digestive Health
Reversing IBS, Acid Reflux, Crohn's and Colitis
"Good afternoon – My 7-year-old son was diagnosed with Crohn's disease this past summer. You recommended aloe vera and a digestive enzyme as supplements. He is doing absolutely fantastic. He is also following a grain free diet as well as no to low refined sugars. At his month check up with his GI Doctor the Doctor was completely floored with how well he was doing. He weened him off of steroids, he has now been off them for well over a month!" - Nicole
"I do want to say a huge thank you to you and Maria both. I was about 285lbs at my heaviest. I first started losing by switching to a paleo diet, but eventually stalled at about 240. I found your site, bought your books and switched to keto. As of this morning I weigh 181. Still have a way to go to my goal weight but I know keto will get me there! Oh, and I no longer suffer at all from my ulcerative colitis!!!" - Sam
I wanted to let you know 2013 has been the best year of my life. I'm down over 60 pounds, and off all but 1 prescription medication!!! I was taking over 600 pills a month, prescription and non-prescription. I had headaches everyday, had no energy, severe acid reflux and had severe IBS. For the first time in my life I feel amazing!!! You have given me back my health, which I am forever grateful!!!! -Tanya
"I first started following your blog and purchasing your cook books in late 2012. At that time, I'd been hospitalized several times for ulcerative colitis, weighed about 90 lbs. I had been put on Remicade - which is a very strong biologic drug that suppresses the immune system - just to keep my body from destroying itself further. Well, long story short, I used food to heal myself. In the past three years, I've gone from being barely able to get out of bed, in and out of the hospital and having to take strong, cancer-causing drugs, to thriving, being able to run and lift weights and being off all medications!" - Mica
"Been following a keto diet for 1 year, lost 70 lbs, less aches, IBS gone, blood sugar normal, mood improved, and many more benefits." -Mary Ann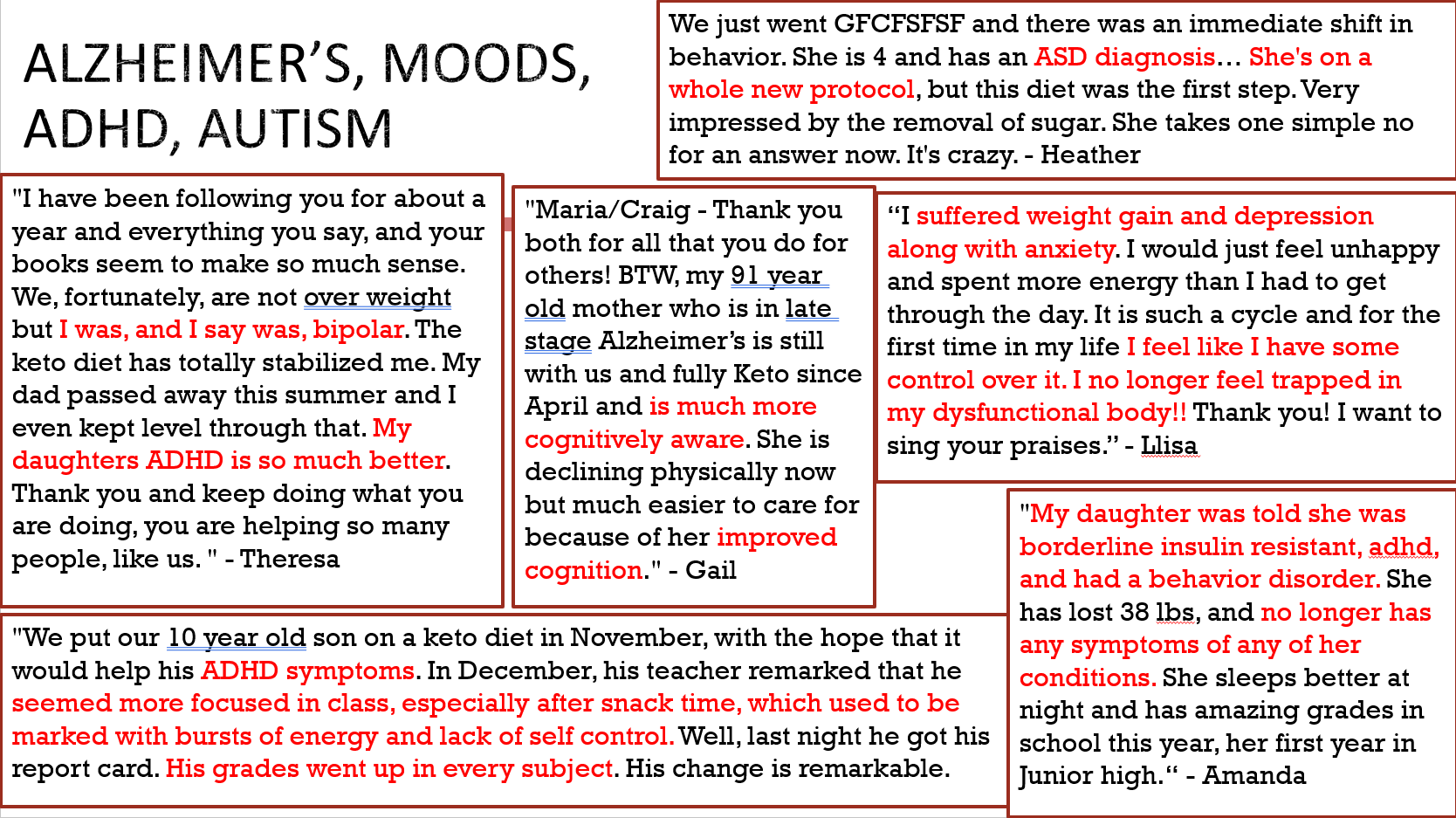 Brain Health
Alzheimer's, Mood Disorders, ADHD, Autism
"I have been following you for about a year and everything you say, and your books seem to make so much sense. We, fortunately, are not over weight but I was, and I say was, bipolar. The keto diet has totally stabilized me. My dad passed away this summer and I even kept level through that. My daughters ADHD is so much better. Thank you and keep doing what you are doing, you are helping so many people, like us. " - Theresa
"Maria/Craig - Thank you both for all that you do for others! BTW, my 91 year old mother who is in late stage Alzheimer's is still with us and fully Keto since April and is much more cognitively aware. She is declining physically now but much easier to care for because of her improved cognition." - Gail
"We put our 10 year old son on a keto diet in November, with the hope that it would help his ADHD symptoms. In December, his teacher remarked that he seemed more focused in class, especially after snack time, which used to be marked with bursts of energy and lack of self control. Well, last night he got his report card. His grades went up in every subject. His change is remarkable.
We just went keto and there was an immediate shift in behavior. She is 4 and has an ASD diagnosis… She's on a whole new protocol, but this diet was the first step. Very impressed by the removal of sugar. She takes one simple no for an answer now. It's crazy. - Heather
"I suffered weight gain and depression along with anxiety. I would just feel unhappy and spent more energy than I had to get through the day. It is such a cycle and for the first time in my life I feel like I have some control over it. I no longer feel trapped in my dysfunctional body!! Thank you! I want to sing your praises." - Llisa
"My daughter was told she was borderline insulin resistant, adhd, and had a behavior disorder. She has lost 38 lbs, and no longer has any symptoms of any of her conditions. She sleeps better at night and has amazing grades in school this year, her first year in Junior high." - Amanda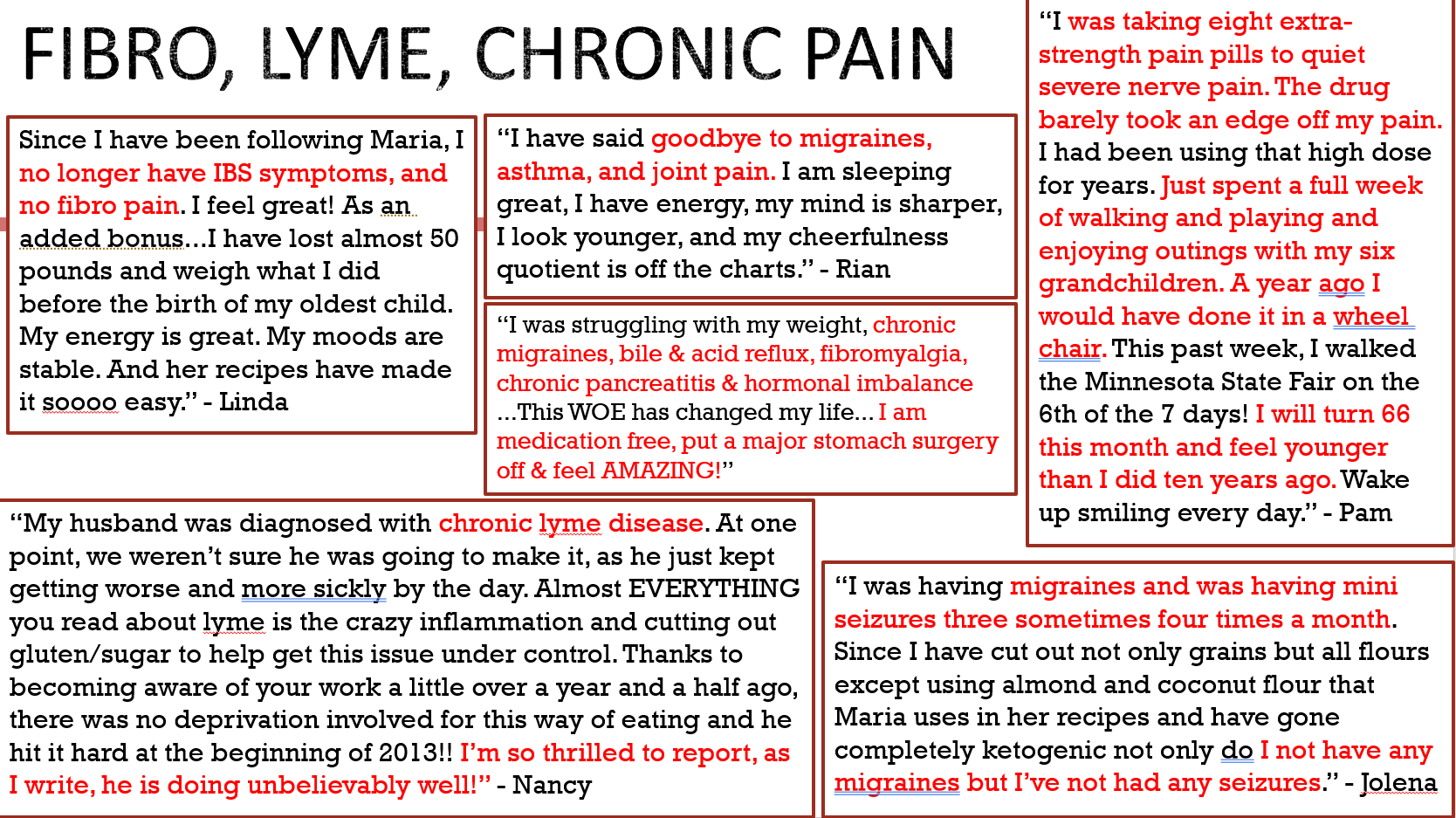 Chronic Pain
FIbro, Lyme, Chronic Pain
Since I have been following Maria, I no longer have IBS symptoms, and no fibro pain. I feel great! As an added bonus...I have lost almost 50 pounds and weigh what I did before the birth of my oldest child. My energy is great. My moods are stable. And her recipes have made it soooo easy." - Linda
"I have said goodbye to migraines, asthma, and joint pain. I am sleeping great, I have energy, my mind is sharper, I look younger, and my cheerfulness quotient is off the charts." - Rian
"I was struggling with my weight, chronic migraines, bile & acid reflux, fibromyalgia, chronic pancreatitis & hormonal imbalance ...This WOE has changed my life... I am medication free, put a major stomach surgery off & feel AMAZING!"
"My husband was diagnosed with chronic lyme disease. At one point, we weren't sure he was going to make it, as he just kept getting worse and more sickly by the day. Almost EVERYTHING you read about lyme is the crazy inflammation and cutting out gluten/sugar to help get this issue under control. Thanks to becoming aware of your work a little over a year and a half ago, there was no deprivation involved for this way of eating and he hit it hard at the beginning of 2013!! I'm so thrilled to report, as I write, he is doing unbelievably well!" - Nancy
"I was taking eight extra-strength pain pills to quiet severe nerve pain. The drug barely took an edge off my pain. I had been using that high dose for years. Just spent a full week of walking and playing and enjoying outings with my six grandchildren. A year ago I would have done it in a wheel chair. This past week, I walked the Minnesota State Fair on the 6th of the 7 days! I will turn 66 this month and feel younger than I did ten years ago. Wake up smiling every day." - Pam
"I was having migraines and was having mini seizures three sometimes four times a month. Since I have cut out not only grains but all flours except using almond and coconut flour that Maria uses in her recipes and have gone completely ketogenic not only do I not have any migraines but I've not had any seizures." - Jolena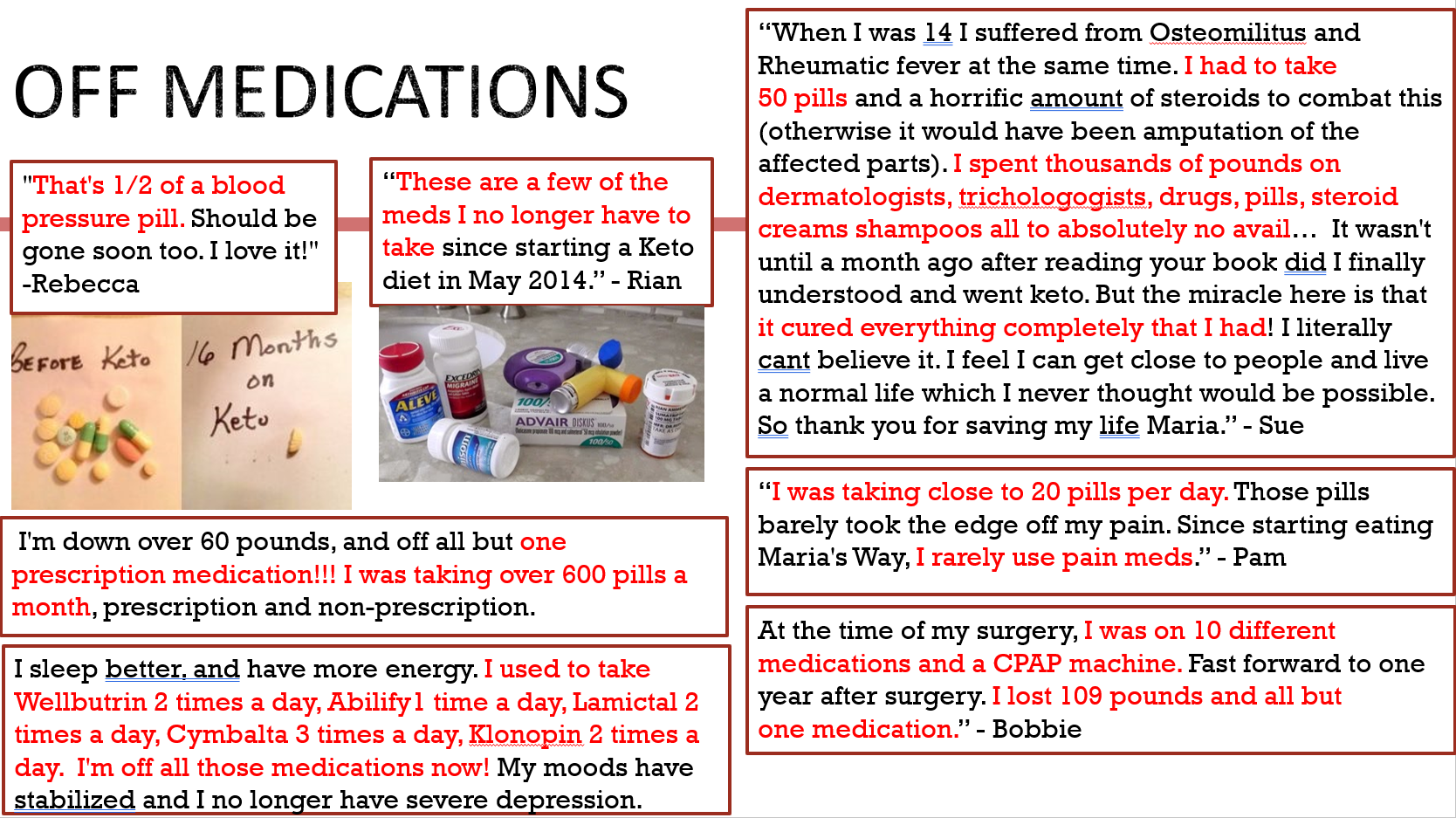 Off Prescriptions
Elimination of Prescription Medications.
"That's 1/2 of a blood pressure pill. Should be gone soon too. I love it!" -Rebecca
"These are a few of the meds I no longer have to take since starting a Keto diet in May 2014." - Rian
I'm down over 60 pounds, and off all but one prescription medication!!! I was taking over 600 pills a month, prescription and non-prescription.
I sleep better, and have more energy. I used to take Wellbutrin 2 times a day, Abilify1 time a day, Lamictal 2 times a day, Cymbalta 3 times a day, Klonopin 2 times a day. I'm off all those medications now! My moods have stabilized and I no longer have severe depression.
"When I was 14 I suffered from Osteomilitus and Rheumatic fever at the same time. I had to take 50 pills and a horrific amount of steroids to combat this (otherwise it would have been amputation of the affected parts). I spent thousands of pounds on dermatologists, trichologogists, drugs, pills, steroid creams shampoos all to absolutely no avail… It wasn't until a month ago after reading your book did I finally understood and went keto. But the miracle here is that it cured everything completely that I had! I literally cant believe it. I feel I can get close to people and live a normal life which I never thought would be possible. So thank you for saving my life Maria." - Sue
"I was taking close to 20 pills per day. Those pills barely took the edge off my pain. Since starting eating Maria's Way, I rarely use pain meds." - Pam
At the time of my surgery, I was on 10 different medications and a CPAP machine. Fast forward to one year after surgery. I lost 109 pounds and all but one medication." - Bobbie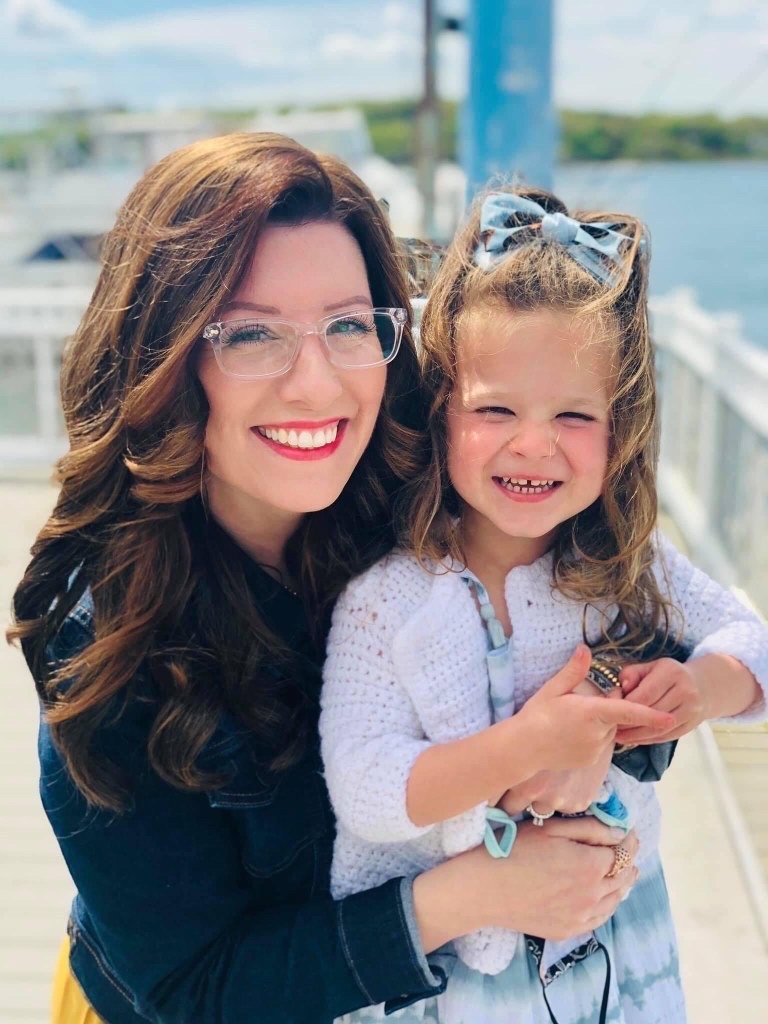 Fertility
Reverse PCOS, Improved Fertility, got Pregnant
"Maria, thank you from the bottom of my heart for all of the love, sweat and tears that you put into creating your amazing books. My husband and I suffered for 10 years with infertility and I know that finding keto and intermittent fasting was an integral part in healing my body and helping me conceive our miracle baby. The books you create make it so easy and enjoyable to live a keto lifestyle. Thank you for all you do! Sincerely, Lisa Curra"
"Hi all! I've been strict Emmerich Keto since January 1st and I've had incredible success. I have lost 50+ lbs and balanced my PCOS afflicted hormones. So much so that after 2 long years of trying to conceive my husband and I are now expecting a baby! Something we truly were beginning to believe was not possible for us." - Kathleen
"Hi Maria, I've been a follower of your blog for awhile now, and have been following a ketogenic diet for 1.5 years now (because of your valuable books and blog), which has helped me recover from significant adrenal fatigue problems, and also manage my PCOS and thyroid disease, allowing me to get pregnant at age 35. I had a healthy ketogenic pregnancy and found your blog and cookbooks a staple in my new diet and health journey. Thanks for your input and for all the work you do!"- Leah
"It took years of painful infertility struggles to finally get diagnosed with PCOS. I was able to have my first child with the help of fertility drugs but did not have the same luck when I wanted a second child. I googled natural remedies for PCOS and that was my first introduction to Keto. I immediately started following it and got pregnant naturally with my daughter within 3 months. I have continued to follow the keto diet ever since (4 years now) and thanks to your recipes and helpful info I continue to feel better than ever at age 38. Thank you!" -Allison
"We tried for 8 years and after lots of testing it looked like we couldn't conceive either. I stuck with low carb for the last 2 years of those 8 and got pregnant too! then we had our second child too! It's amazing! My cycle totally evened out in that time, my skin cleared up, energy balanced out, and I slept so good! Things just worked." - Myra
" I can share my amazingly awesome keto pregnancy! With my first baby I had severe nausea, blood sugar issues, and anemia due to eating fruit and whole grains. It was so bad i had to have iron infusions. I thought eating iron fortified cream of wheat was the way to go. Wrong!!! With baby 2, I was keto adapted and had an amazing experience. My recovery took about 3 days!! And my baby was healthier. The nurse would always scold me because she would see small amounts of ketones in my urine dip. I would just smile and go on about my business. Not even worth trying to explain!" -Emily
Thousands more clients testimonies of healing and disease remission!
Start Your Healing and Weight Loss Journey!
Want to start your successful weight loss journey? We are here to help!