Outer Aisle GIVEAWAY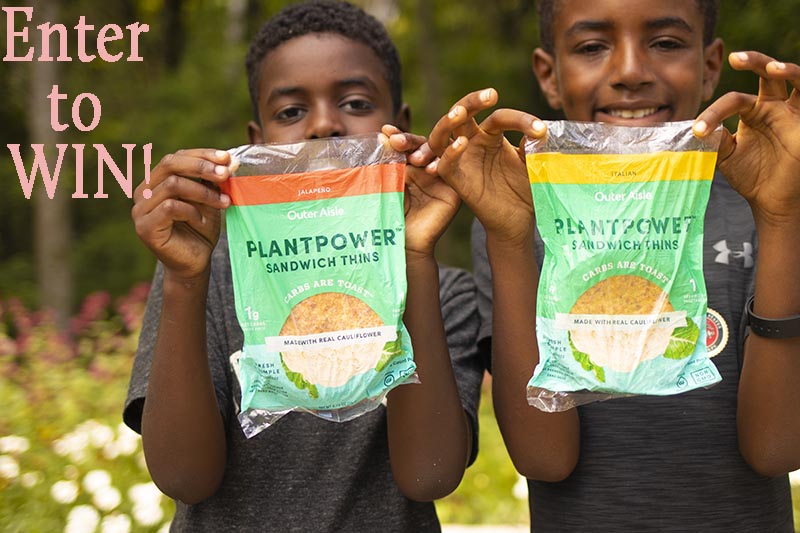 Today is my birthday! Nothing makes me happier than giving gifts to my readers! So today I wanted to celebrate by giving away gift cards to Outer Aisle Gourmet cauliflower crusts!!!
When we were at KetoCon this past July, my boys caught a whiff a delicious smell coming from a booth nearby. We wandered over to the booth to find sandwiches, wraps and pizzas being made from a cauliflower crust made by Outer Aisle. The boys basically had a meal with how many samples they ate!
Outer Aisle has gone against the grain and gluten-free and they have made pizza crusts, tacos and sandwich thins. Outer Aisle has rolled up their sleeves, chopped up a bunch of veggies, cracked a few eggs and baked up a revolutionary bread-like alternative that nourishes your body and satisfies your biggest cravings.  They now made Jalapeno and Italian Sandwich Thins and Cauliflower Pizza Crusts and Taco Shells!
Outer Aisle Gourmet products are 100% grain free, keto friendly, vegetarian, Gluten Free, Non GMO, No Additives or Preservatives, No soy, and no artificial ingredients. Outer Aisle crusts are also 63% cauliflower.
If you want to make a delicious keto sandwich, pizza or taco, use code MARIA for 10% off!
ENTER TO WIN
HAPPY BIRTHDAY GIVEAWAY! Enter to win one of the 2 $100 gift cards to Outer Aisle!!!! 
If you would like to WIN, it is easy to enter!
1. Like my Keto private facebook group called KETO.
2. Follow me on Instagram @mariaemmerich and @outeraislegourmet
3. Share this post on Facebook and/or Instagram (and tag me)!
4. Comment below on what your favorite recipe of mine is (and a link where others can find it)!
Winner will be chosen Sept 15th! Good Luck!
TESTIMONY OF THE DAY
"Eight years ago I was absolutely miserable, but didn't understand why.  I ate fruits and veggies and got my daily grains in.  My typical breakfast was a banana and a protein shake.  I was a runner, so I ate plenty of carbs—bc when you run that's what you're "supposed" to do, right?  Little did I know I was fighting a disease I didn't even know I had.  I knew I was very sick, but couldn't have imagined that food was the culprit.
About a year and a half ago I was diagnosed with celiac disease.  I went gluten free, but still felt awful.  I was continuing to eat all the fruits, veggies, and tons of processed gluten free goodies.  Enter keto.
I made the decision on December 31st, 2018 to follow Maria Wojcik Emmerich's keto WOE.  I went all in.  No sugar, no grains, no alcohol, no caffeine, no processed foods.  I gave up all fruits, and only eat veggies very sparingly.  I've lost 28lbs since December, and 48lbs in total.  This photo comparison speaks miles in my opinion.  I was swollen, I was sick, I was smiling through pain and despair.  Today, I'm simply HAPPY, HEALTHY, KETO, ME 🖤
Thank you Maria and Craig!  I never could have done this without your knowledge and support!"