Instant Pot Pumpkin Cake
Did you hear the news? I have a new cookbook out called Keto Instant Pot Recipes book! But this is not just any Instant Pot cookbook. This keto cookbook has almost 200 recipes with BOTH Instant Pot directions AND slow cooker directions! I also started an Instagram account on my favorite Keto Instant Pot Recipes and giveaways called @KetoInstantPotRecipes!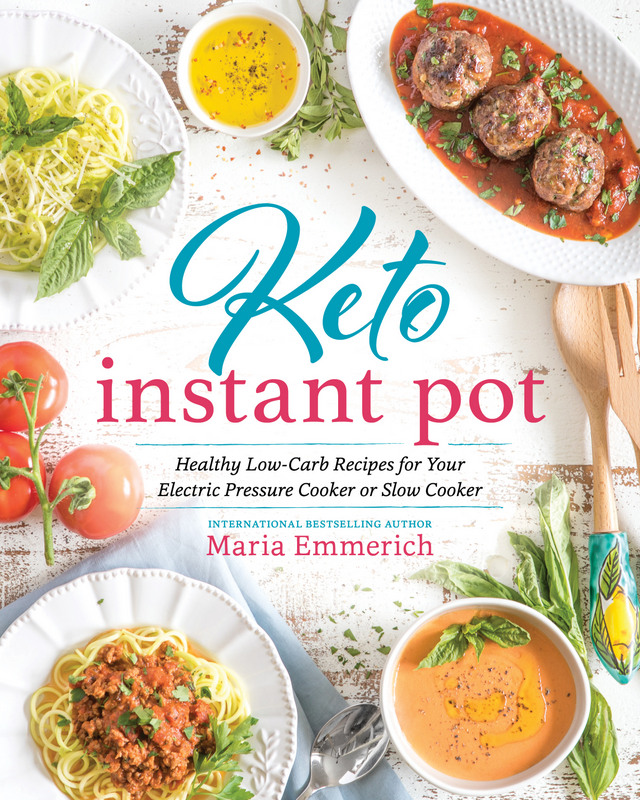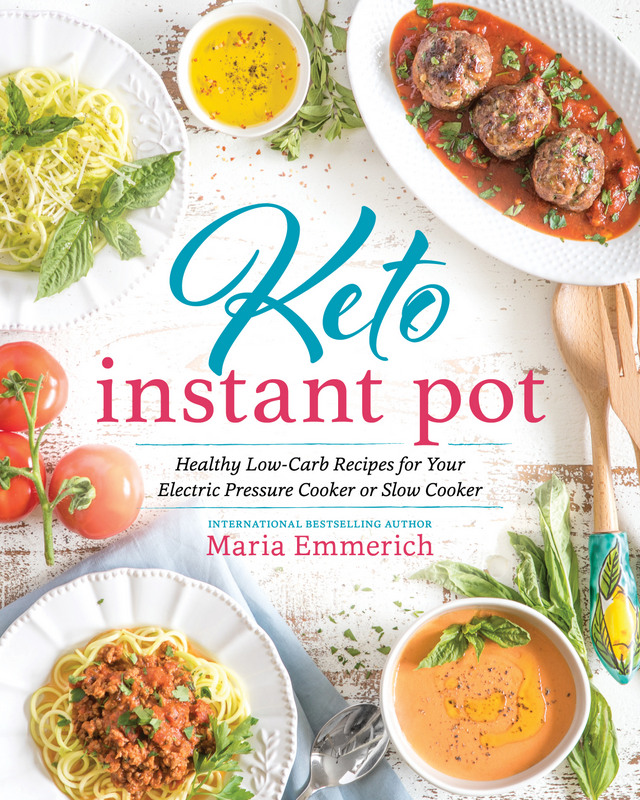 If you do not have an Instant Pot yet, I have to tell you, I am not a gadget girl and I adore my slow cooker. I like the idea of filling my slow cooker the night before, place the shell in the fridge overnight and turning it on in the morning and allow the meal to cook while I am working or exploring nature all day. However, the Instant Pot was easy to fall in love with. It is also a slow cooker! And on days when I forget to plan ahead, I can make a delicious meal in minutes. Click HERE to find the Instant Pot I love.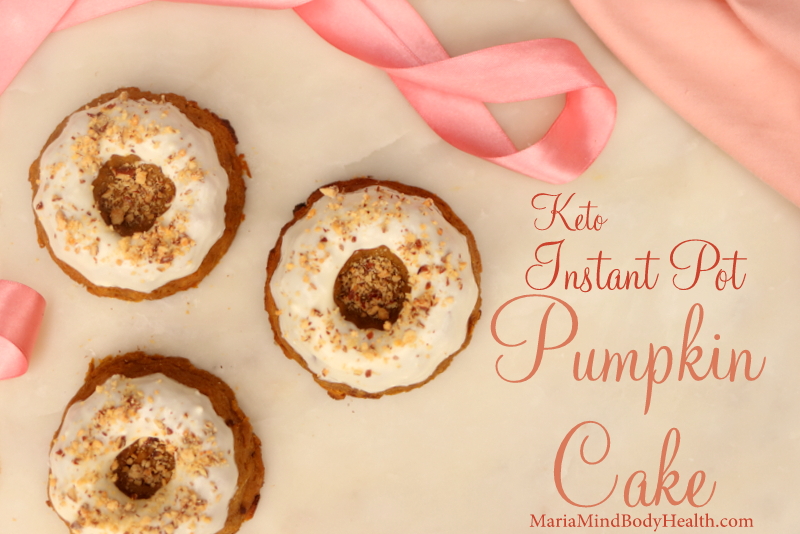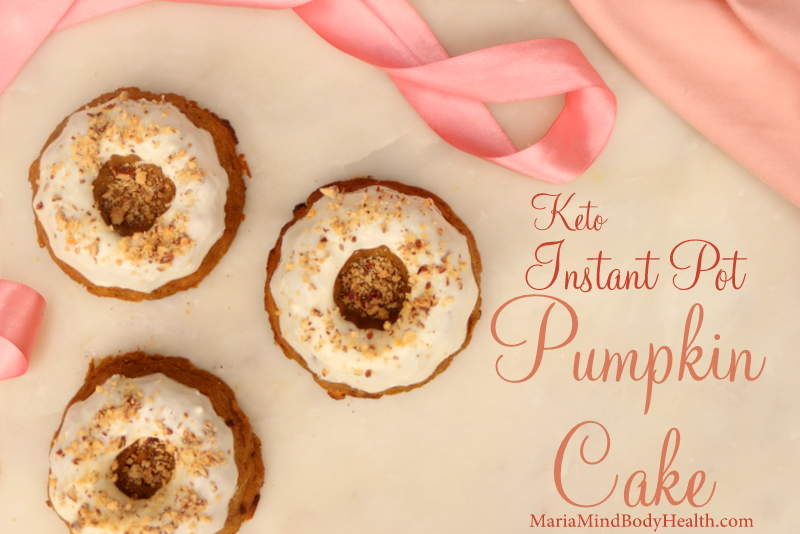 One of the recipes is a Instant Pot Pumpkin Bundt Cake! This isn't the recipe in the book but it is a twist on the recipe so you can get a feel on how yummy the recipes are! I hope you enjoy!
Instant Pot Bundt Cake
Equipment
Ingredients
CAKE:
3

cups

blanched almond flour

1

teaspoon

baking soda

½

teaspoon

Redmond Real salt

3

teaspoons

Pumpkin Pie spice blend

6

large

eggs

2

cups

pumpkin puree

1

cup

Natural Sweetener

¼

cup

butter

or coconut oil for dairy-free, softened
FROSTING:
1/2

cup

butter

or coconut oil for dairy-free, melted

1/2

cup

cream cheese

kite Hill brand if dairy free

½

cup

Natural Sweetener

1

teaspoon

Maple extract

or vanilla extract
OPTIONAL GARNISH:
Crushed pecans or walnuts
Instructions
Place the almond flour, baking soda, salt, and spices in a large bowl and whisk to combine. Put the eggs, pumpkin, sweetener, and butter in another large bowl and mix until smooth. Stir the wet ingredients into the dry ingredients.

Grease a 4 mini Bundt pans Ior 1 6-cup Bundt pan (see Note below)). Pour the batter into the prepared pans and cover with a paper towel and then with aluminum foil.

Set a trivet in a 6-quart Instant Pot and pour in 1 cup of water. Place the Bundt pans on the trivet. Stacking on top of each other.

Seal the lid, press Pressure Cook or Manual, and set the timer for 15 minutes (35 minutes if using a 6 cup bundt pan). Once finished, let the pressure release naturally. Allow to cool in the Instant Pot for 10 minutes before removing.

While the cakes are cooling, make the glaze: Mix the frosting ingredients together in a small bowl. Spoon the frosting over the warm cakes. Garnish with crushed nuts if desired.

SLOW COOKER METHOD: Complete Steps 1 and 2. Pour 2 cups of water into a 6-quart or larger slow cooker. Place the Bundt pans in the slow cooker, making sure that the water goes halfway up the side of the pans. Cover and cook on high for 2 hours or until a toothpick inserted in the middle of the cake comes out clean. Allow to cool in the slow cooker for 10 minutes before removing. Proceed to Step 5.

STORAGE: Store in an airtight container in the fridge for up to 5 days or in the freezer for up to a month.
Nutrition
Calories:
527
|
Fat:
47
g
|
Protein:
15
g
|
Carbohydrates:
15
g
|
Fiber:
6
g
|
P:E Ratio:
0.3
TESTIMONY OF THE DAY
"As of this Saturday morning I have officially lost 100 pounds. (100.2 to be exact)!
Keto literally has saved my life. My whole life. I struggled for over a year to lose 31 pounds on Weight Watchers. I don't want to crap on that program, it works for some people. But for me, yes I slowly lost weight, but I didn't feel good. At all. In fact, I was drowning. I was a mess. My anxiety and depression was one teeny tiny step away from being medicated for it and I was asking my boss to reduce my hours at work. Those who know me know that panic attacks came often for me. I was crying at work at times, miserable and not performing the way I knew I should have. I just couldn't deal.
So come March, in my pathetic state, I started researching Keto (on the suggestion of my father and backed up by a nutritionist auntie) and decided it was worth a shot. I stumbled the first 2 weeks; carbs are tough to quit, my friends. But I persevered. And I noticed that with the weight loss, my mental fog was clearing. My mood was improving and I was actually feeling a lot happier and able to handle things better It's like the weight loss was just the side effect to eating this way. I eat a pretty clean keto, I have cut dairy and pretty much all fake foods. Turns out dairy is an inflammatory food for me and when I cut it out I wondered "ok great, what do I do now?" But my auntie showed up camping with lemon curd and hot fudge sauce and said it was keto and shared Maria Emmerich's book The 30 Day Ketogenic Cleanse book that is Dairy Free and I was hooked. No dairy? No problem. Not as hard as I thought. I cook at home, I rarely eat out. I would like to stress that I have done this without any sort of keto supplements, protein shakes, prepackaged meals or starvation methods.  These things are not necessary to lose weight, so beware of those telling you they are, you're just fattening their wallet. I got into ketosis with my own foods and have maintained it without buying anything other than regular groceries. I am a single mom and do it on my fairly tight budget and make it work. It's not all butter and bacon as the mug would suggest but they definitely can be enjoyed on keto.
People ask me what my goal weight is and I don't have one. I always wanted to be 155 because that's what the BMI chart said I "should" be. I always wanted to be skinny and when it didn't happen fast enough I bailed. I was eating processed foods and fake sweeteners because it was allowed on whatever program I was on but it wasn't a fix, it wasn't healthy and what I want is my health. And on my way to an even better state of health. My blood pressure is considered "optimal" and my blood sugars are normal. My weight dropping has taken stress off of my heart and I am sleeping better and am able to move around more and I have more energy; for goodness sake, I go to the gym now and actually work out and I actually look forward to it. I'm not saying it's been easy, but nothing worth it ever is. But this is worth it to me. Having my life back, more years with my kid is worth all the work. PS-I refuse to compare my journey with anyone else. Weight loss is a deeply personal thing and once you start competing and comparing, check yourself to make sure you're doing it for the right reasons. I do not center my life around my diet, it has simply become the way I eat. If you revolve your life around it, it won't work. Eat good food for fuel, make room for treats and enjoy eating with friends and family. Remember that weight loss has tons of ups and downs and you will have stalls and gains for no apparent reason, it's just all part of the process.
I get asked a lot what I eat and I eat the same things you do, just prepared a little differently. My pantry has gone from stocked with chips and crackers to stocked with ingredients to make delicious food-it's more appreciated when it's worked for.
Its honestly tough to look back at old photos and remember feeling the way I felt then, a lot of pain covered by a smile.
100 pounds lost, an entire life gained!
PS-my 9 year old weighs 89 pounds so I've lost one of him now plus the 11 pounds he was as a baby, sometimes perspective is nice." Candice
Most people I consult are doing keto totally wrong. Get fast results with the my NEW Keto School!