Dutch Baby Pancakes
I love being in the kitchen and creating new recipes like this Dutch Baby Pancake, but I also spend a lot of time woking with clients and answering questions from all of you! When I am answering your questions and comments, I wanted you to get a picture of what it is like in the life of Maria and Craig! The boys are my little helpers too!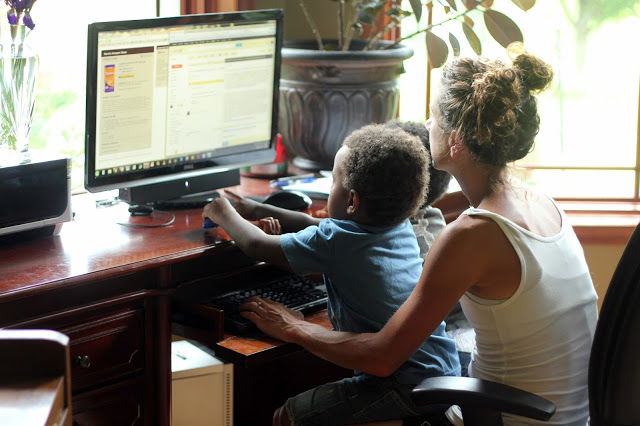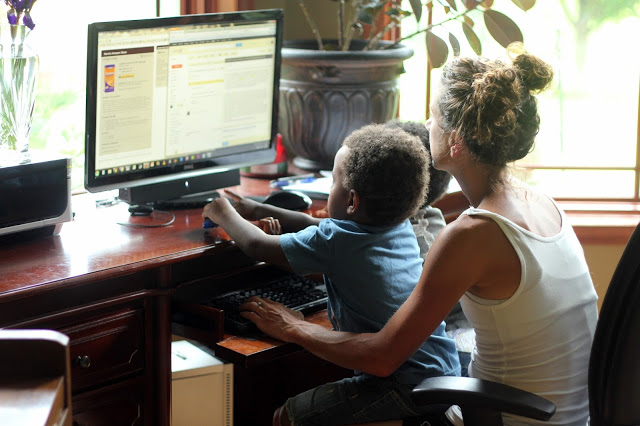 Pantry and Supplement List
Last night I spoke with a weight loss group and one of the questions was how do I make life easier and what tips do I have when shopping. Well, I rarely go to the grocery store! I get most of my items online.
You may have seen me mention this before, but we do not have advertisements on my blog. I get approached all the time to have advertisements on my website and I get offered thousands of dollars a month for it, but you know what? I tried it for a few days and I was horrified to see "healthy" chips and things that I would never recommend for people to eat. I found it so intrusive and it covered up the message I want you to leave my website with.
I ADORE that I now can fast forward commercials on the tv shows I record because right before bed I swear they always show foods like pizza and even though I wasn't hungry, I wanted pizza after I saw it. I don't want you to see temping junk food on my website. I want my website to be a safe place to be educated and encouraged on your ketogenic lifestyle. Not tempted by junk.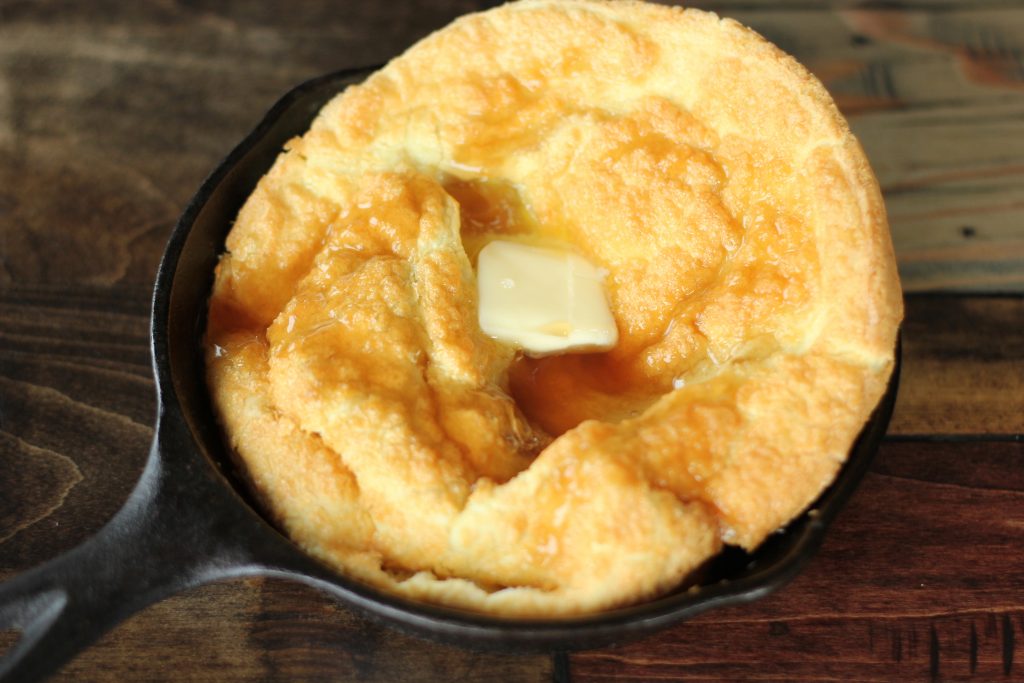 Here is a video of me and Kai making this pancakes!
"HEALTHIFIED" Dutch Baby PANCAKES
3 large eggs
3/4 cup unsweetened almond milk
1/4 cup vanilla egg white protein powder
1 tsp baking powder
1/4 tsp fine sea salt
1/2 tsp vanilla
1/2 tsp stevia glycerite (or 1/4 cup Swerve)
1 TBS butter or coconut oil
Place an 8 inch cast iron skillet into the oven and preheat oven to 425 degrees F (400 degrees F in convection ovens). Make sure the skillet preheats and gets very hot.
In a blender, combine the eggs, almond milk, protein powder (any flavor will work… strawberry??? yum!), baking powder, salt, vanilla, and natural sweetener. Blend for about 1 minute or until foamy.
Using an oven mitt, remove the skillet from the oven and place the coconut oil into the skillet. Swirl the skillet to coat the inside of the skillet.
Pour the batter into the skillet. Bake for about 18-20 minutes or until the pancake is puffed and golden brown. TIP OF THE DAY: POKE HOLES IN THE Dutch Baby with a toothpick about 5 minutes before they finish baking to release moisture so they don't shrink.
Remove the pancake from the oven, spread additional butter or coconut oil on the pancake, cut into wedges and enjoy! Makes 2 servings.
NUTRITIONAL COMPARISON (per serving)
Traditional Dutch Baby = 378 calories, 22.3g fat, 15g protein, 28.6g carbs, 0.8g fiber
"Healthified" Dutch Baby = 227 calories, 14g fat, 20g protein, 3g carbs, 1g fiber
Click HERE to find my favorite homemade sauce or follow this dairy-free option:
"HEALTHIFIED" DAIRY FREE CARAMEL SAUCE
1 can (2 cups) coconut milk
1 cup Swerve
2 TBS coconut oil
1/4 tsp vanilla
Bring coconut milk and natural sweetener to a boil and vigorously simmer for 40-60 min until slightly brown in color. The longer you simmer, the thicker it will become.  Remove from heat and mix in oil and vanilla. Cool. Makes 12 servings.
NUTRITIONAL COMPARISON (per serving)
Traditional Caramel = 120 calories, 9g fat, trace protein, 39g carbs, trace fiber (39 effective carbs)
"Healthified" Caramel = 66 calories, 7g fat, 0.5g protein, 1.1g carbs, trace fiber (1.1 effective carbs)
TESTIMONY OF THE DAY
"This photo can show you some of my journey, and the Maria and Craig way of keto helped me get off of thyroid medicine.
In December 2020, not sleeping more than and a few hours, and my heart rate was constantly high. I had blood work down and i was off the charts hyperthyroid and my autoimmune system went crazy with ignoring my gall bladder issues for 8 months.
I fought hard to keep my thyroid and avoid radiating it.  It's not my first rodeo fighting to keep it. I always tell them I refuse to have it out because I will never feel normal if you only treat me based on lab numbers. To some 2.5 is a normal TSH but honestly it makes me feel like a slug and my autoimmune is under control better at 0.5-1.0.
I was put on hyperthyroid medicine, and with 2 weeks gained 10 pounds.
April 2021 my numbers were a little high for me to feel normal so I cut back to every other day. This was the month I found PSMF and started the Maria and Craig way of keto.
August: 2 months med free, 4 months 85-90% consistent eating the Maria and Craig Emmerich's way, about 2 days a week of PSMF.
December 2021: back to normal lab results, still pretty consistent with Maria and Craig way of keto. High protein, moderate fat and ~30 grams of total carbs a day. Can't wait to have the conversation with the doctor on me being off all the medication again soon.
Maria helped me get off of my thyroid meds, and feel like myself again.  Always fight for what you feel is best. I know I would have given in on a thyroid removal or radiating it I would not be on where I am today.
Cheers to 2022 and to start back to PSMF days for a few moths for a cut." – Tiffany
Most people I consult are doing keto totally wrong. Get fast results with the my NEW Keto Packages!