Dutch Baby Pancakes
I love being in the kitchen and creating new recipes like this Dutch Baby Pancake, but I also spend a lot of time woking with clients and answering questions from all of you! When I am answering your questions and comments, I wanted you to get a picture of what it is like in the life of Maria and Craig! The boys are my little helpers too!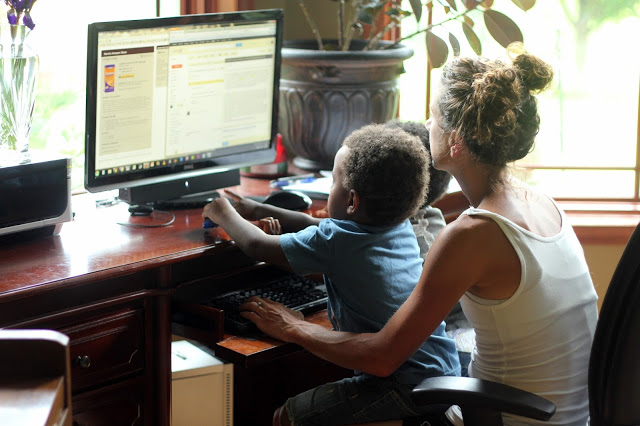 Pantry and Supplement List
Last night I spoke with a weight loss group and one of the questions was how do I make life easier and what tips do I have when shopping. Well, I rarely go to the grocery store! I get most of my items online.
You may have seen me mention this before, but we do not have advertisements on my blog. I get approached all the time to have advertisements on my website and I get offered thousands of dollars a month for it, but you know what? I tried it for a few days and I was horrified to see "healthy" chips and things that I would never recommend for people to eat. I found it so intrusive and it covered up the message I want you to leave my website with.
I ADORE that I now can fast forward commercials on the tv shows I record because right before bed I swear they always show foods like pizza and even though I wasn't hungry, I wanted pizza after I saw it. I don't want you to see temping junk food on my website. I want my website to be a safe place to be educated and encouraged on your ketogenic lifestyle. Not tempted by junk.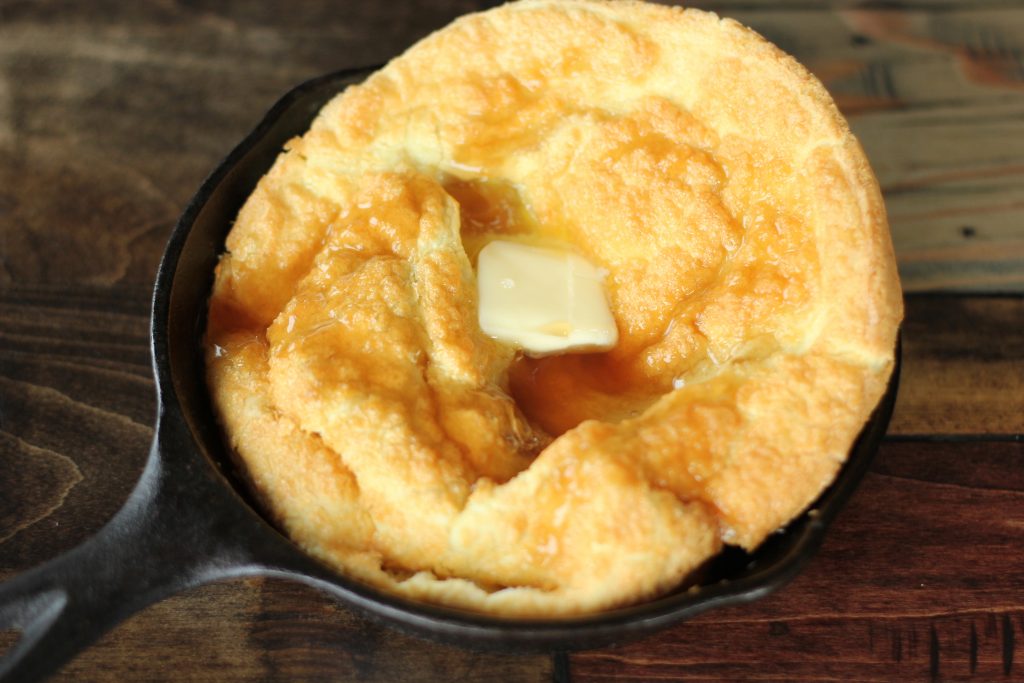 Here is a video of me and Kai making this pancakes!
"HEALTHIFIED" Dutch Baby PANCAKES
1 TBS butter or coconut oil
3 large eggs
3/4 cup unsweetened almond milk
1/4 cup Jay Robb vanilla egg white protein powder
1 tsp baking powder
1/4 tsp fine sea salt
1/2 tsp vanilla
1/2 tsp stevia glycerite (or 1/4 cup Swerve)
Preheat oven to 425 degrees F (400 degrees F in convection ovens). In a medium cast iron skillet, melt 2 tablespoons butter over medium heat and set aside. In a blender, combine the eggs, almond milk, protein powder (any flavor will work… strawberry??? yum!), baking powder, salt, vanilla, and natural sweetener. Blend for about 1 minute or until foamy. Pour the batter into the skillet. Bake for about 18-20 minutes or until the pancake is puffed and golden brown. TIP OF THE DAY: POKE HOLES IN THE Dutch Baby with a toothpick about 5 minutes before they finish baking to release moisture so they don't shrink.
Remove the pancake from the oven, spread additional butter or coconut oil on the pancake, cut into wedges and enjoy! Makes 2 servings.
NUTRITIONAL COMPARISON (per serving)
Traditional Dutch Baby = 378 calories, 22.3g fat, 15g protein, 28.6g carbs, 0.8g fiber
"Healthified" Dutch Baby = 227 calories, 14g fat, 20g protein, 3g carbs, 1g fiber
Click HERE to find my favorite homemade sauce or follow this dairy-free option:
"HEALTHIFIED" DAIRY FREE CARAMEL SAUCE
1 can (2 cups) coconut milk
1 cup Swerve
2 TBS coconut oil
1/4 tsp vanilla
Bring coconut milk and natural sweetener to a boil and vigorously simmer for 40-60 min until slightly brown in color. The longer you simmer, the thicker it will become.  Remove from heat and mix in oil and vanilla. Cool. Makes 12 servings.
NUTRITIONAL COMPARISON (per serving)
Traditional Caramel = 120 calories, 9g fat, trace protein, 39g carbs, trace fiber (39 effective carbs)
"Healthified" Caramel = 66 calories, 7g fat, 0.5g protein, 1.1g carbs, trace fiber (1.1 effective carbs)
TESTIMONY OF THE DAY
"Hi Maria! I want to thank you for the miracle! 
I have ulcerative colitis, but this is the best I have been in 35 years, and for the last seven months, I have been symptom-free!!! Your testimonial to the anti-inflammatory diet inspired me to try it.  I have 3 of Maria Emmerich's books, at your recommendation, and love The 30 Day Ketogenic Cleanse and the Easy Dairy Free Ketogenic Recipes cookbook the best.  I am making breakfast chili today. We also love the sloppy joe's.
As a completely unexpected bonus, I lost 50 pounds and have only 15 more to go to be at my ideal weight…size 14 to 8 now!  I say bonus, because this just started to happen EASILY when I started to eat correctly.
The doctor said I do not need the new meds he was going to prescribe (they had so many potentially awful side-effects), and he said not to change anything I am doing because he said my colonoscopy showed excellent improvement! 
Without you, this would not have happened, so I thank God for you Chris!"
Most people I consult are doing keto totally wrong. Get fast results with the my NEW Keto Packages!