Carnivore Cake
My birthday is coming up so I thought I would make a savory delicious Carnivore Cake for celebrating!
When I travel, I usually get a savory dessert and so do many of my Keto traveling friends! A cheese plate is common in Europe so I thought this carnivore cake would be a wonderful twist on dessert for my family and friends!
I love everything creamy, I love hard boiled eggs and I love Italian prosciutto. Prosciutto and Italian meats remind me of my favorite vacation in Italy with MilleVie travel! In Italy, the first course is often prosciutto and one evening we stayed in a castle outside of Rome. The dinner was absolutely delicious. The first course was a prosciutto and burrata salad with a hard boiled egg! We are going back to Italy May 30, 2020 and it can't come soon enough! But anyway, I thought I would incorporate my favorites into a carnivore cake!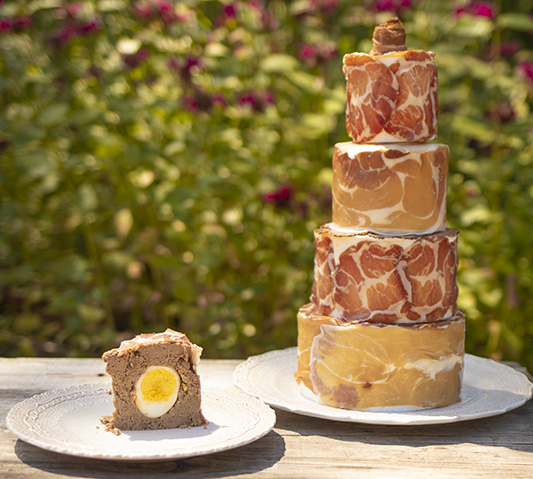 There are a few fillings you could do in this Carnivore Cake. A savory cheesecake would work but for my dairy free carnivores, I made pate. Since pate can get expensive to fill a whole layered carnivore cake, I used peeled hard boiled eggs in the pate which made it extra yummy!
It is hard to find bacon without sugar and when you do it is VERY expensive! That is why I order Butcherbox bacon! It is sugar free and it is mailed to my front door!
If you LOVE bacon like my son does, you are going to want to check this out!
Butcherbox is doing a special deal when you sign up now!
If you're an existing ButcherBox member I've got deals for you too.
Skip the stores with all the temptations and get quality food mailed to your front door!
Click HERE to access member deals and specials. You'll find exclusive and limited time offers as well as new product launches like lobster, ground bison, seafood sampler, cast-iron favorites, their legendary bacon blast (10 packs of bacon for just $5/pack), and so much more. Their member deals are constantly changing so be sure to click HERE!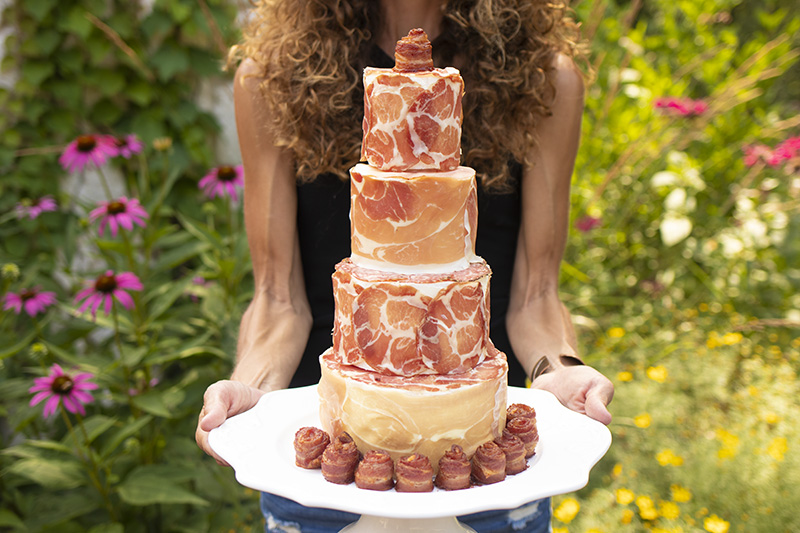 If you want to make a layered carnivore cake like I did, you could do a different filling for each layer. I did a savory cheesecake in one layer. For those of you who are dairy free, here is the bottom layer recipe of the carnivore cake that is filled with a pate and hard boiled eggs!
Carnivore Cake
Ingredients
BRAUNSCHWEIGER:
1 ¼

pounds

pork or beef liver

1/2

pound

pork shoulder

or beef tongue

3/4

pound

pork back fat

3

teaspoons

Redmond Real Salt

4

large

hard boiled eggs
Instructions
Cut the pork liver, pork shoulder and fat into cubes. Place into a food processor or blender and puree until you have a smooth puree.

Pack the puree into a 7-inch (spring-form works best) cake pan and cover tightly with foil making sure the foil lines the pan so the water doesn't get in. Place the pan in a roasting pan with an inch boiling water and bake at 300 degrees F for 2 hours or until meat is cooked but not browned; cook until the internal temperature of the meat reads 160 degrees F.

Remove loaf pan from the roasting pan. Use a spoon to 4 egg-sized holes into the meat. Place the hard boiled eggs into the meat and pat the meat back over the eggs. Let it completely cool in the cake pan. Refrigerate 1 to 2 days before using.

Remove the Braunschweiger from the cake pan. Prosciutto is often sticky enough to hold to the Braunschweiger. Use your hands to form the prosciutto around the meat cake.

Meanwhile make the bacon roses. Click HERE to find the Bacon Roses recipe.

Store in air tight container in the fridge for up to 6 days.
Nutrition
Calories:
409
|
Fat:
34
g
|
Protein:
24
g
|
Carbohydrates:
2
g
|
Fiber:
0
g
|
P:E Ratio:
0.7
I love carnivore so it was sad to see people that think it is a limited diet. It can be if you aren't inventive. So I jumped into the kitchen to create the most delicious carnivore recipes!
If you have been looking for my Carnivore Lasagna recipe or my Carnivore Quiche, it is in this Carnivore ebook!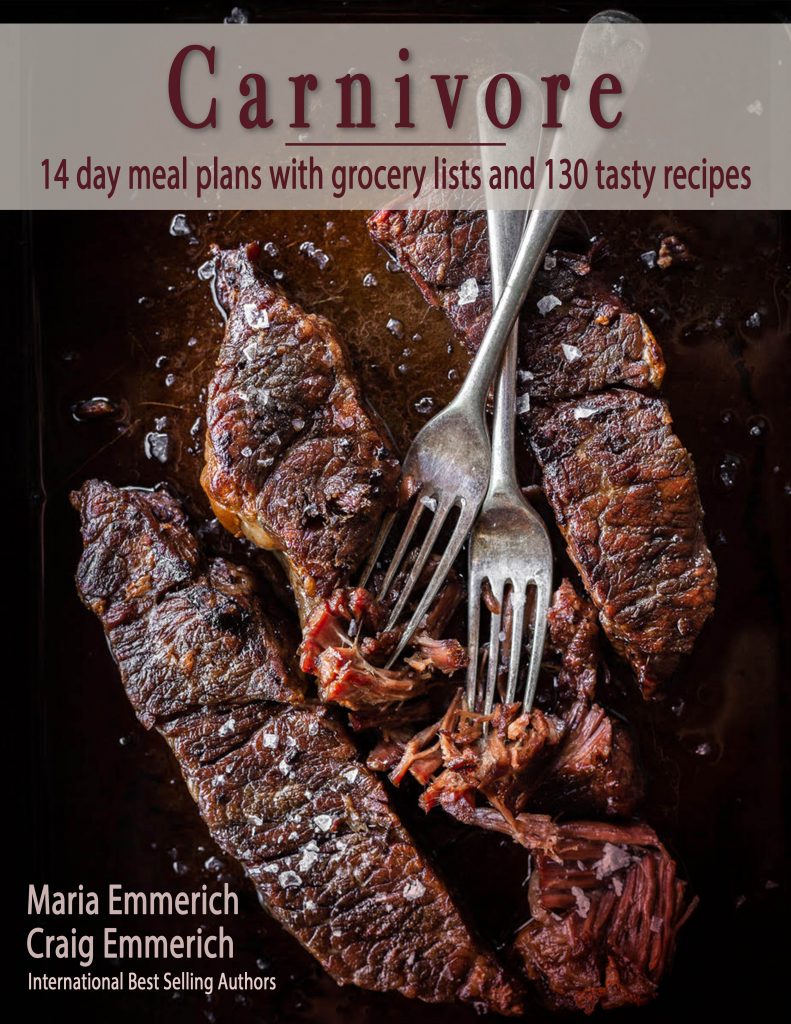 If you would like to make a difference and support a small family rather than making a minuscule sale for a large company, I am happy to announce that you can now get my books as a high quality ebook that works on any platform (all done by my wonderful husband!). This is an ebook format that works on any computer or mobile device. It is a beautiful pdf that has all the full color pages and layouts as the printed books with click-able table of contents and searching capabilities. This is extremely useful when trying to find a recipe. These books are much higher quality than the ebook platforms (kindle, apple). Plus, most of the profits don't go to Amazon or apple!
Thank you for your support!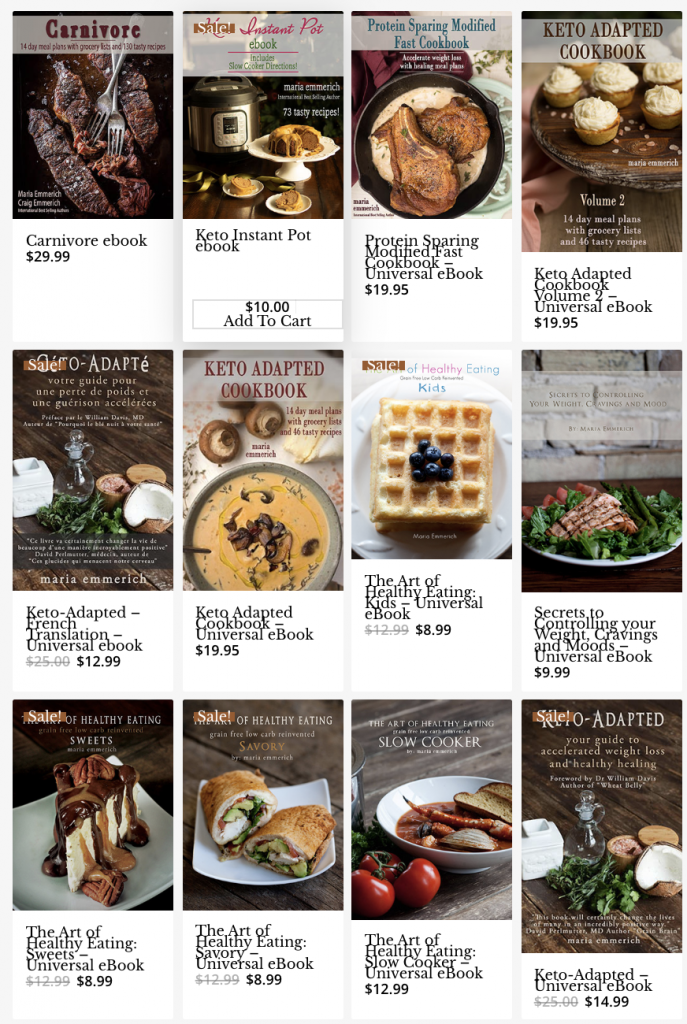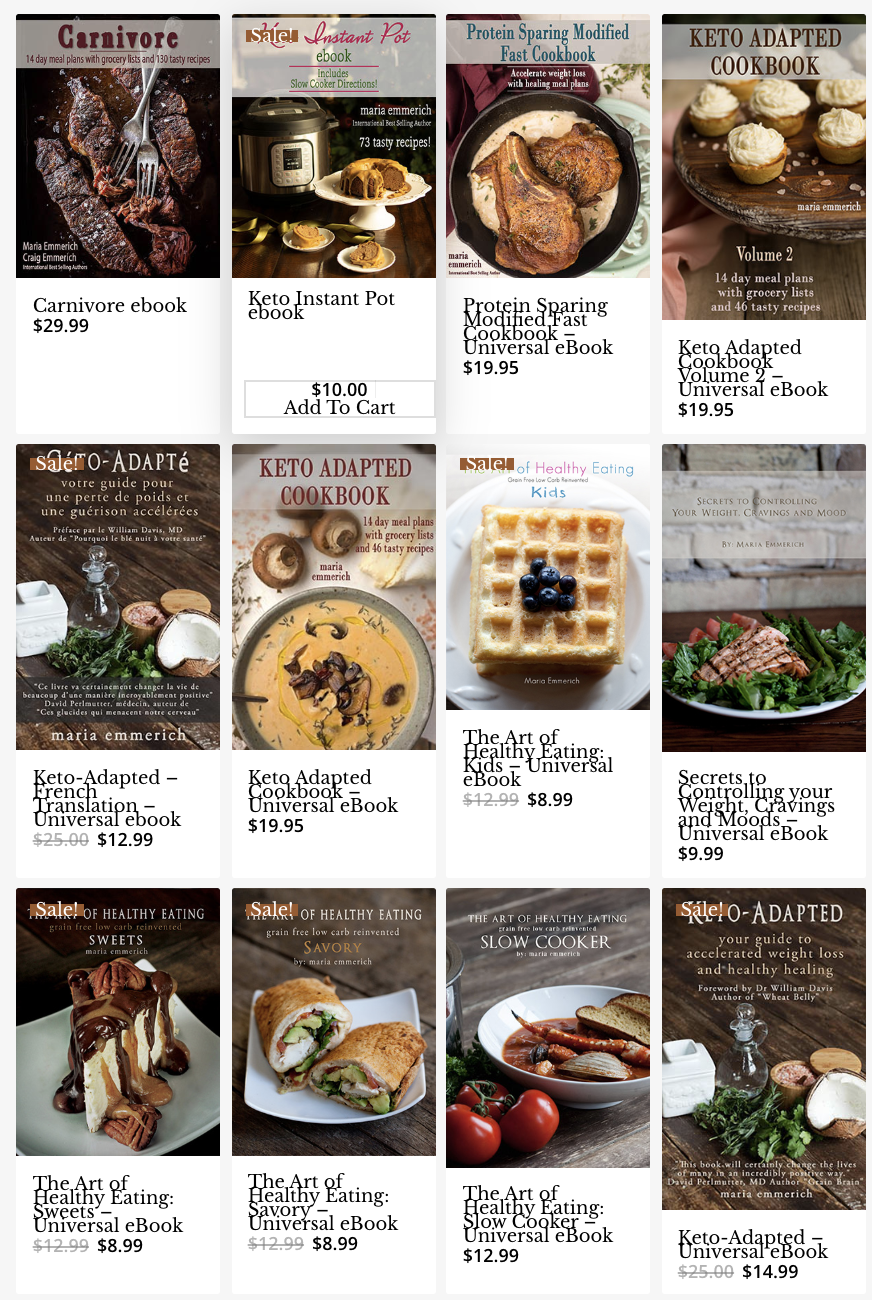 TESTIMONY OF THE DAY
"Good Morning Maria and Craig!
I am writing you with tears in my eyes, happy tears. I just came back from my 2nd Dr. Appointment since committing full time to Keto January 2nd and recently beginning Carnivore. Last year I was on 3 different injections and Metformin Pills for my type 2 an 2 different blood pressure medications. My A1C was 10.5 at one point. October of last year it was 7.5 At today's visit she took me off of all injections and 1 of my blood pressure medications. And she said that by my next visit I will be off of all medications.
I can not Express how thankful I am for having you two in my life. You are my daily inspiration and I love you for all you do! Thank You for all you do!!!!
Have a beautiful weekend" Barbara
Most people I consult are doing keto totally wrong. Get fast results with the my NEW Keto School!