LOW CARB BAGEL
Are you trying to eat gluten free and not feeling so well? Maybe flu-like, depressed, irritable? There are 2 main reasons why this happens.
1. Some people do go through "flu" like symptoms when their fat cells are shrinking because this is where the toxins are stored. When you start to lose the fat, the toxins are released into the bloodstream causing ill-feelings. Not pleasant, but it is the truth.
2. The more serious issue is the opiates in wheat that cause withdrawal symptoms when people cut wheat out of their lives, which is also "flu-like"…tiredness, crabby, depression…. The issues comes in when people decide to be 80% good on the diet. Most clients are determined enough to eat gluten-free during the week, but they allow themselves to have "cheat days" on the weekends. Well, it takes your body 4-6 days to get the withdrawal symptoms out before you feel AMAZING (no joint pain, no hunger between meals, TONS of energy), BUT if you cheat every weekend, you get re exposure symptoms. Every time you cheat, the wheat increases dopamine just like heroin.  This is why people complain of "low carb" diets and lack of energy.
To prove the problem of the opiates in wheat, they are even coming out with a new weight loss drug that is a version of what heroin addicts take to lessen the withdrawal symptoms! The more comfort foods you eat, the less dopamine receptors in the brain, which causes a vicious cycle of addiction. You can rebuild your dopamine receptors after a lifetime of dopamine killers (aspartame, cigarettes, alcohol, wheat) but you need to take theraputic doses of amino acids which come from protein (l-tyrosine and l-phenylalanine). Animal protein is the building blocks for dopamine.
Even the wheat germ you may sprinkle onto your food for fiber is a perfect poison not a perfect health food. The lectins in wheat is a neurotoxin. Causing colitis problems. It causes lesions and open intestines exposing dangerous proteins to the bloodstream causing auto immune and inflammatory diseases… Hoshimotoes, Type 1 diabetes, Acid reflux, Rheumatoid Arthritis. Things like acid reflux will clear up within days of being gluten free, but more serious inflammatory conditions like arthritis can take many months…it is a long term effort.  To read more on how detrimental wheat can be, this book is a must read!  Dr Davis is a heart surgeon that has reversed the effects of heart disease by wheat!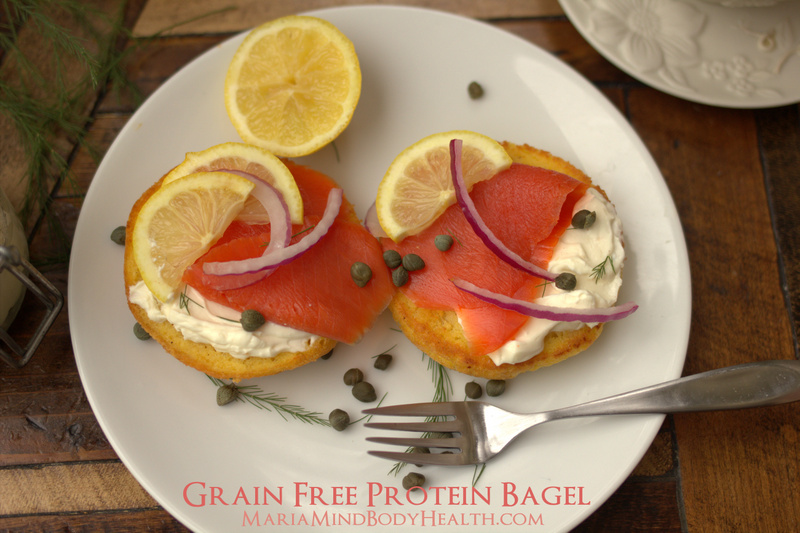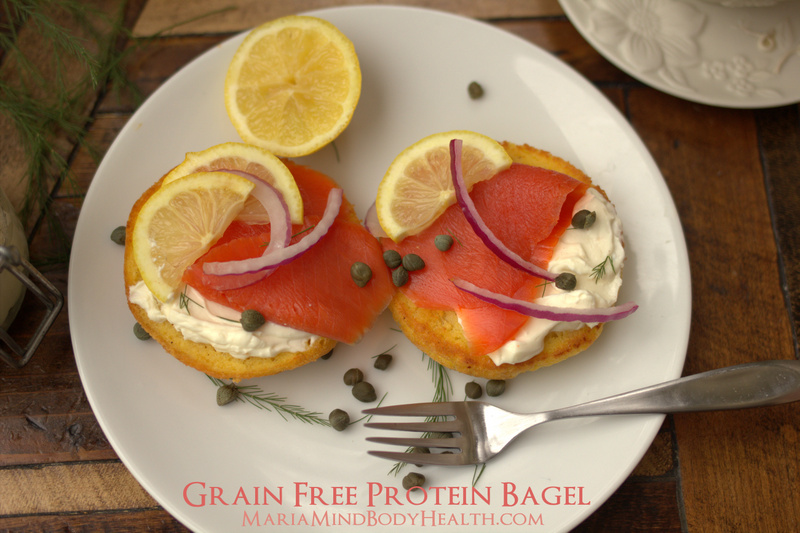 I make a quadruple batch of my bagels and store in the freezer for easy breakfasts on-the-go!
MY FAVORITE Breakfast is my bagel with Sizzlefish wild-caught smoked salmon!
Click HERE to get quality seafood mailed to your door! 
"HEALTHIFIED" BAGELS OPTION 1:
1/4 cup coconut oil or butter, melted
1/4 cup coconut flour
1/4 cup unflavored whey protein (or 2 tablespoons unflavored egg white protein)
5 eggs
½ tsp Celtic sea salt
1 tsp aluminum free baking powder
OPTIONAL: 1 tsp guar gum or xanthan gum (chewy texture: see below)
Preheat the oven to 325 degrees F. Blend together eggs, coconut oil/butter, salt, and spices if using. In a separate bowl, mix coconut and whey with baking powder and guar gum. Blend the dry mixture into the wet until smooth. Grease a donut pan (click HERE to find) with coconut oil spray. Bake for 15 minutes. Makes 6 bagels.
VARIATIONS:
"EVERYTHING" Bagel: add 1/2 tsp dill, 1/2 tsp dried chives
1/2 tsp dried parsley, 1/2 tsp onion powder, 1/4 tsp garlic, 2 TBS parmesan cheese
Onion bagel: add 1 tsp dried onion flakes
Cinnamon: add 2 tsp cinnamon, 1 tsp stevia glycerite and 1 tsp vanilla (and use vanilla whey instead of unflavored)
NUTRITIONAL COMPARISON (per bagel)
Lender's New York Bagel = 270 calories, 4g fat, 6g protein, 55 carbs, 8 g fiber
"Healthified" Bagel = 161 calories, 13g fat, 8g protein, 2.9 carbs, 1.7 g fiber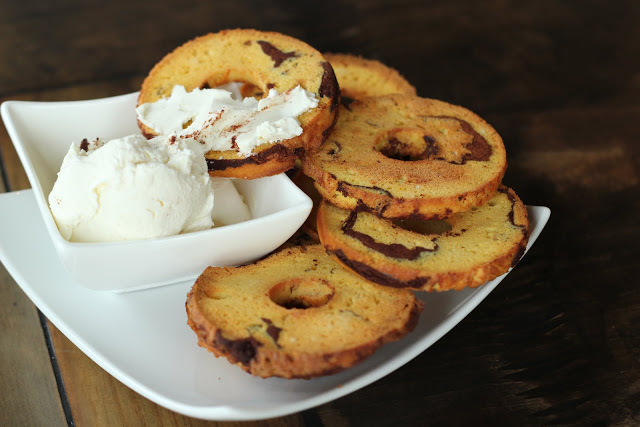 OPTION 2 (Nice and Chewy):
6 egg whites, whipped
3 TBS psyllium husk powder (no substitutes)
2 TBS coconut flour
4 TBS cream cheese, softened
OPTIONAL: additional spices
Preheat oven to 350 degrees. Separate the eggs and save the yolks for a different recipe (such as Craig's favorite…creme brule!). In a large dry bowl, whip the egg white until VERY stiff. Slowly sift in the psyllium husk and coconut flour. Gently stir until well encorporated. Slowly add in the cream cheese (and spices if desired). Grease a donut pan (click HERE to find) with coconut oil spray. Dollop the dough into the pans (it will not rise much, so put a lot into the pan!) Bake for 17-20 minutes. Once totally cool, cut in 1/2 and store in the freezer for easy breakfast options! Makes 4 bagels.
NUTRITIONAL COMPARISON (per bagel)
Lender's Bagel = 270 calories, 4g fat, 6g protein, 55 carbs, 8 g fiber
"Healthified" Bagel = 104 calories, 4g fat, 7g protein, 11.6g carbs, 8.8g fiber (2.8 effective carbs)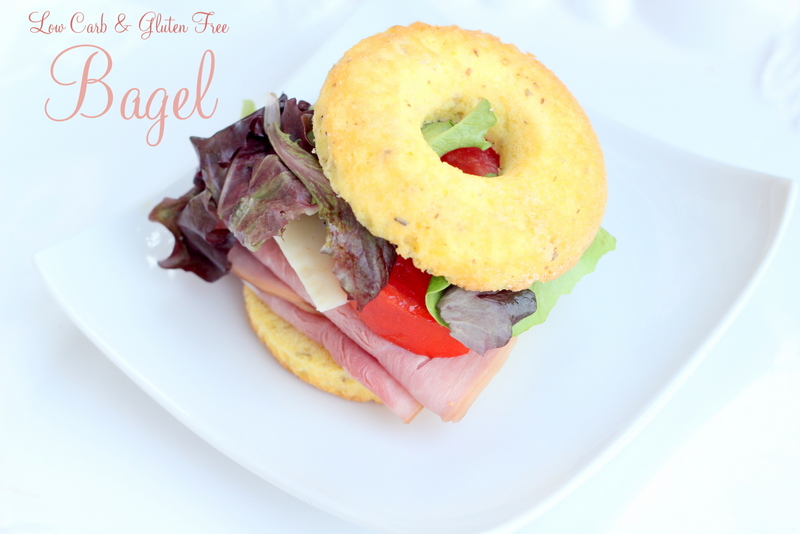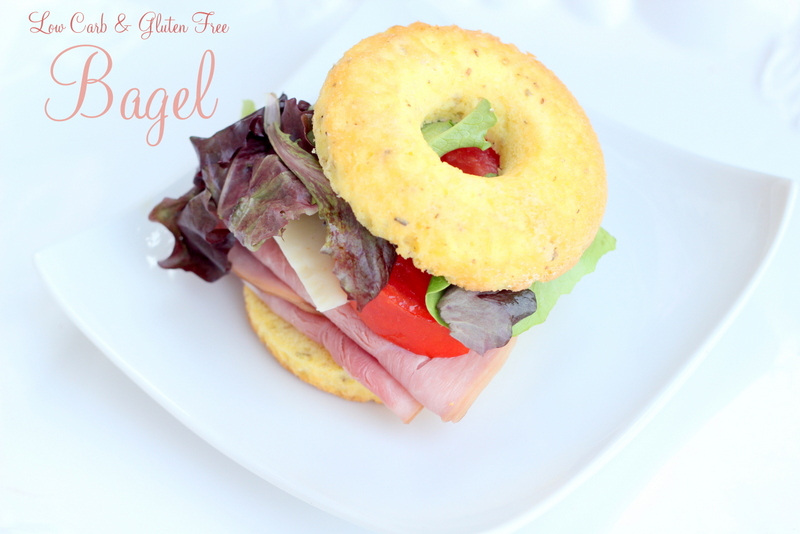 Another great testimonial about this lifestyle.  
"Good morning Maria, I had to share some exciting news with you! This morning I weighed myself like I always so and for the first time in over three years, I weighed UNDER 200lbs. 199!!! It's been three and a half weeks since I started eating your way and reading your metabolism book. I just got your assessment over the weekend and finally just got all the supplements in the mail yesterday. I have lost 24lbs in 3.5 weeks but most of all I feel incredible and have a healthy happy relationship with food that I have never had before. I know this is just the beginning, but I had to share my milestone with you! I had many days before I found you that I thought I would NEVER weigh under 200 again. You have given me hope and empowered me to take back my health. Thank you!! With my warmest regards, Shauna"
Click HERE to get your 30 day meal plans and start your transformation!