The EASIEST Protein Sparing Bread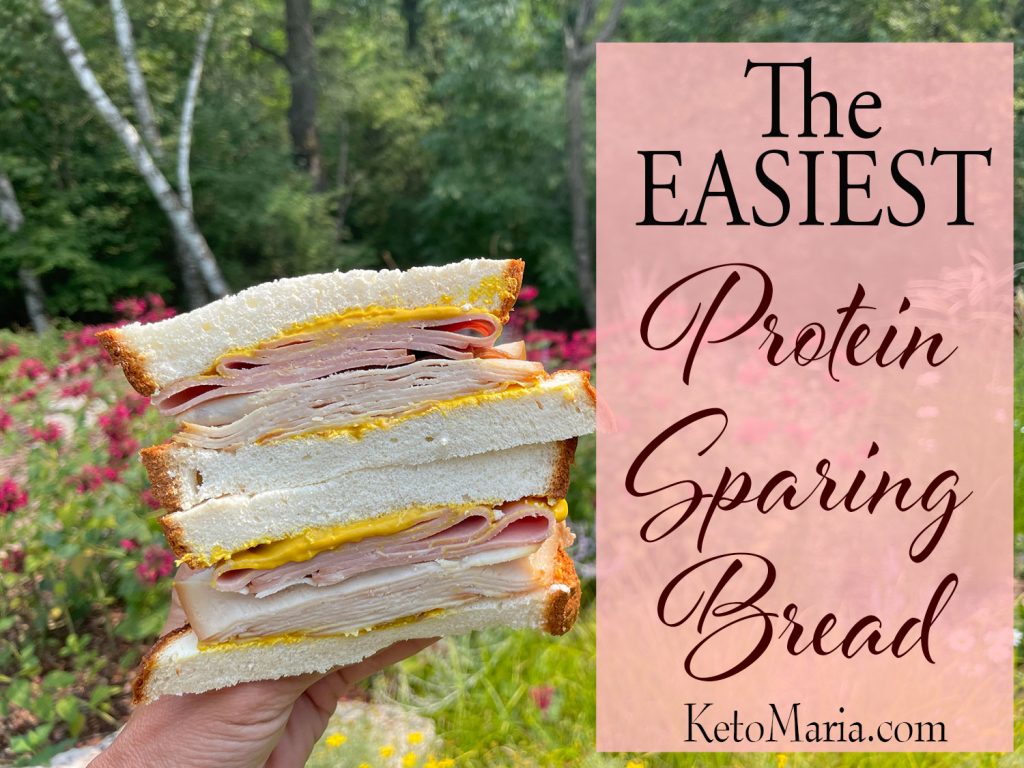 Have you made my protein sparing bread and do not like to whip the egg whites?
I have the EASIEST protein sparing bread recipe for you!
I am about to be on a Netflix series and I wanted to find a way to make my zero carb protein sparing bread even easier so I did! I hope you love it as much as we do!
You no longer have to whip the whites before adding the protein powder!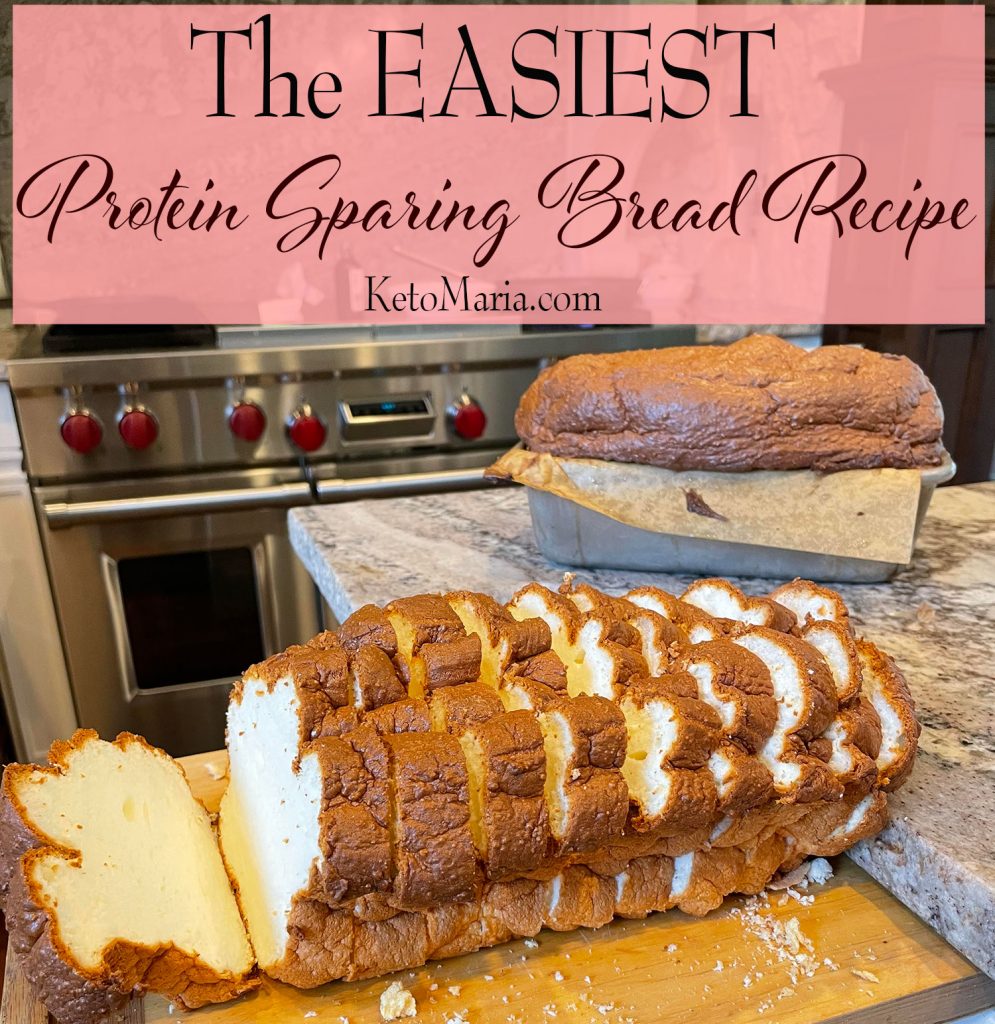 This recipe for my protein sparing bread is so easy, you just put the ingredients for the easiest protein bread recipe into the bowl of your stand mixer or any large bowl. Stir to combine, then add water and whip the mixture until stiff peaks form!
Click HERE to find my new egg white protein powder to make the best protein sparing bread! 

Makes a great gift!
NOTE: To make into protein sparing buns or sub sandwiches, line 2 large baking sheets with parchment paper. Spray the parchment with avocado oil spray.
Use a spatula to place a 4 inch round by 4 inches high ball of dough. Repeat until you have 12 buns. Bake for 15 minutes or until golden and cooked through.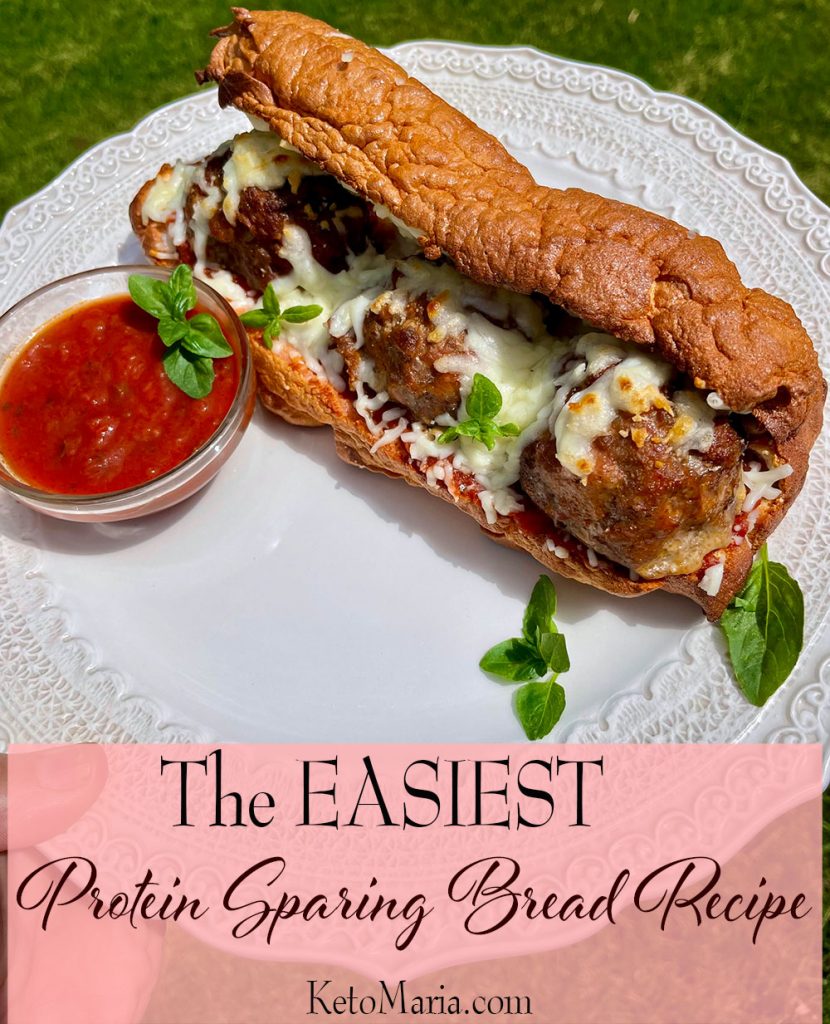 The EASIEST Protein Sparing Bread
Ingredients
1½ cups egg white protein
¼ cup allulose (optional)
½ teaspoon Redmond Real salt
½ teaspoon cream of tartar
1½ cups water
Option: 1-3 tablespoons egg yolk powder or whole egg yolks
Instructions
Preheat oven to 325 degrees F. Grease a bread pan with avocado oil spray. Set aside.
Place the egg white protein, allulose, salt, and cream of tartar into the bowl of your stand mixer (or any large bowl). Stir to combine well.
Add the water. Turn the mixer to high (or a hand mixer on high speed) and whip for at least 5 minutes or until stiff peaks form. Click HERE to find the 8 quart stand mixer I have so I can make 2 loaves of psmf bread at once! Makes a GREAT gift!
Bake for 15 minutes or until golden and cooked through for buns. Bake for 30 minutes or until cooked though and golden brown for a loaf.
Remove from the oven and cool completely before slicing.
Click HERE to watch a very helpful video on Protein Sparing and how to do PSMF properly and avoid the weight loss mistakes I see all the time!
Notes
Nutritional Information:
44 calories, 0g fat, 9g protein, 0.5g carbs, 0g fiber
P:E ratio 18.0
NOTE: you can add 2-3 tablespoons of egg yolk powder to improve texture and flavor but it will increase the fat  just add yolk powder after the whites are whipped stiff and lightly combine.
OPTIONS: You can make this into a loaf of bread, or use as the bread base in any of my other recipes like the cinnamon rolls HERE or my danish recipe HERE or my Pizza Cust HERE to have a softer bread. 🙂
Loaf: just place in a loaf pan and bake!
Sweet recipes (Cinnamon rolls, danish, etc): Replace the bread with this recipe (minus the pineapple extract) and continue with the rest of the recipe.
TESTIMONY OF THE DAY
"Maria Emmerich I can't thank you ENOUGH!! I'm a completely new person now thanks to you! I never thought this could work but I am here now 2 years later, -149lbs keto strong!
thank you, thank you, thank you!!!
"
– Alice
Most people I consult are doing keto totally wrong. Get fast results with the my Mind-blowing Keto School!