Air Fryer Bread
Yes, the rumors are true! I wrote a Keto Air Fryer book!
If you have little children or grandchildren, hold them close and hug them every chance you get. My boys are growing up too fast. There's a lovely children's book called Tuck Everlasting where a family drinks from a magic well and they stay that age. If I could, I would have us drink from the well. I love the age Micah and Kai are at. They are 8 and 9. They are funny, we love to play board games together every night, they can help me in the kitchen
When I finished my last book, Keto Instant Pot, my plan was to take a break and slow down so I can enjoy my family more. But I've been told this many times, "if you want to hear god laugh, tell him what you have planned!" And it couldn't be more true in many aspects of my life.
When my publisher, called to discuss a Keto air fryer book, I couldn't say no. I already use my air fryer almost daily so to be honest, a Keto Air Fryer book was a destiny!
I had the most fun time playing in the kitchen with my boys creating the most delicious Keto air fryer recipes. Sure, there weren't as many games of Boggle or Monopoly played but we adapted and had a great time!
If you want to see all the delicious recipes that will be in the Keto Air Fryer cookbook, check out @keto_air_fryer on Instagram! 

AIR FRYER BREAD
One of the recipes my boys wanted me to make was my psyllium bread made into hamburger and hotdog buns in the air fryer! It is so easy to make, we made a helpful video of us making Air Fryer Bread for you!
If you are looking for a psyllium powder that doesn't make your air fryer bread purple, click HERE.
I have had MANY different air fryers! My favorite is the Cuisinart air fryer toaster oven! Click HERE to find it on SALE!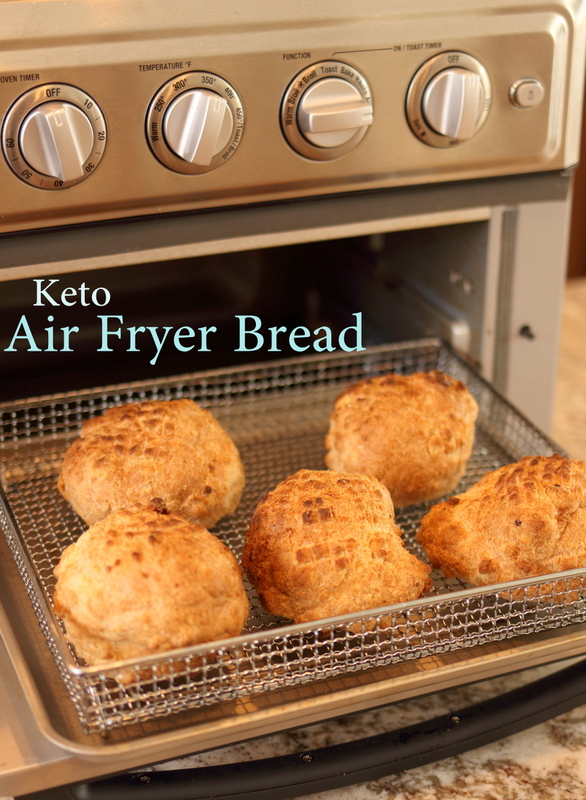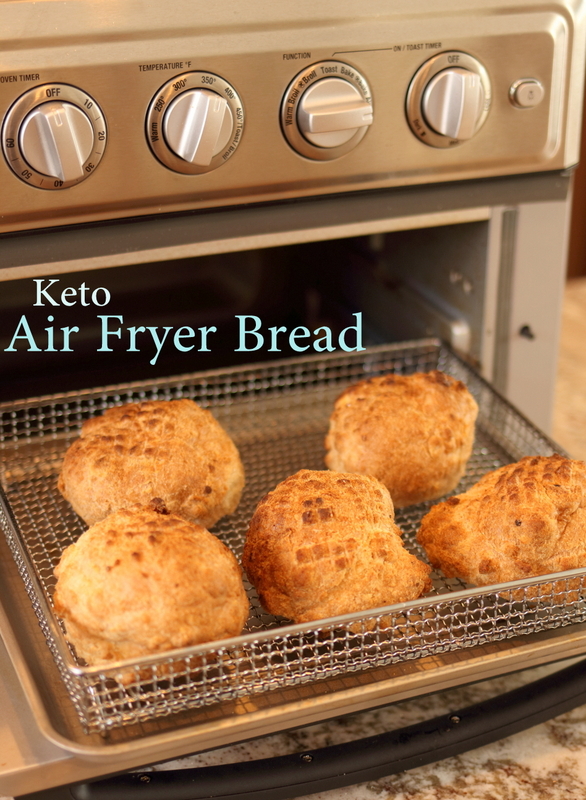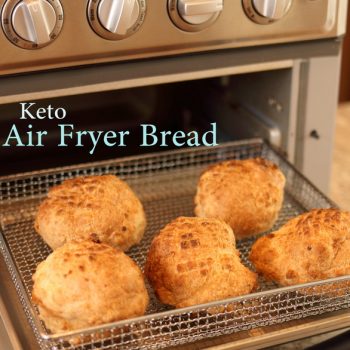 Air Fryer Bread
Equipment
Ingredients
1 1/2

cup

blanched almond flour

5

tablespoons

psyllium husk powder

no substitutes (must be a fine powder)

2

teaspoons

baking powder

1

teaspoon

Redmond Real Salt

2 1/2

tablespoons

apple cider vinegar

3

large

egg whites

1

cup

BOILING water or bone broth
Instructions
Spray a 7 inch pie plate or casserole dish that will fit into your air fryer with avocado oil spray. Preheat air fryer to 325 degrees F. In a medium-sized bowl, combine the flour, psyllium husk powder, baking powder and salt. Stir in the vinegar and eggs and combine until a thick dough forms. Add the water or broth and mix until well combined. Let sit for 1 to 2 minutes, until the dough firms up.

Divide dough into 8 equal balls. Form each ball into a bun or hotdog shape. Place the buns into the greased pie dish about one inch apart. Place into the air fryer and cook for 20-25 minutes, flipping after 15 minutes. Cook until buns are puffed and cooked through. Store in air tight container in the fridge for up to 5 days. Can be frozen for up to a month.
Nutrition
Calories:
145
|
Fat:
11
g
|
Protein:
6
g
|
Carbohydrates:
10
g
|
Fiber:
7
g
|
P:E Ratio:
0.4
TESTIMONY OF THE DAY
"I just have to share my husbands transformation with y'all – he is absolutely incredible! In 18 months he has lost over 200 pounds – from over 400 pounds to 176! He was facing a kidney transplant, had 3 heart attacks, and numerous vascular issues. He is a testicular cancer survivor and the biggest warrior I know! He is strict Keto – no lazy Keto, no carb ups, no eating off plan. It was a matter of life or death – he chose life! He knocked out a 5k for World Cancer Day – I couldn't be more proud." – Laurie
Laurie is now one of my certified Keto Coaches! Click HERE to find her for coaching!
If you want to be a Keto Coach, click HERE. Registration fills fast!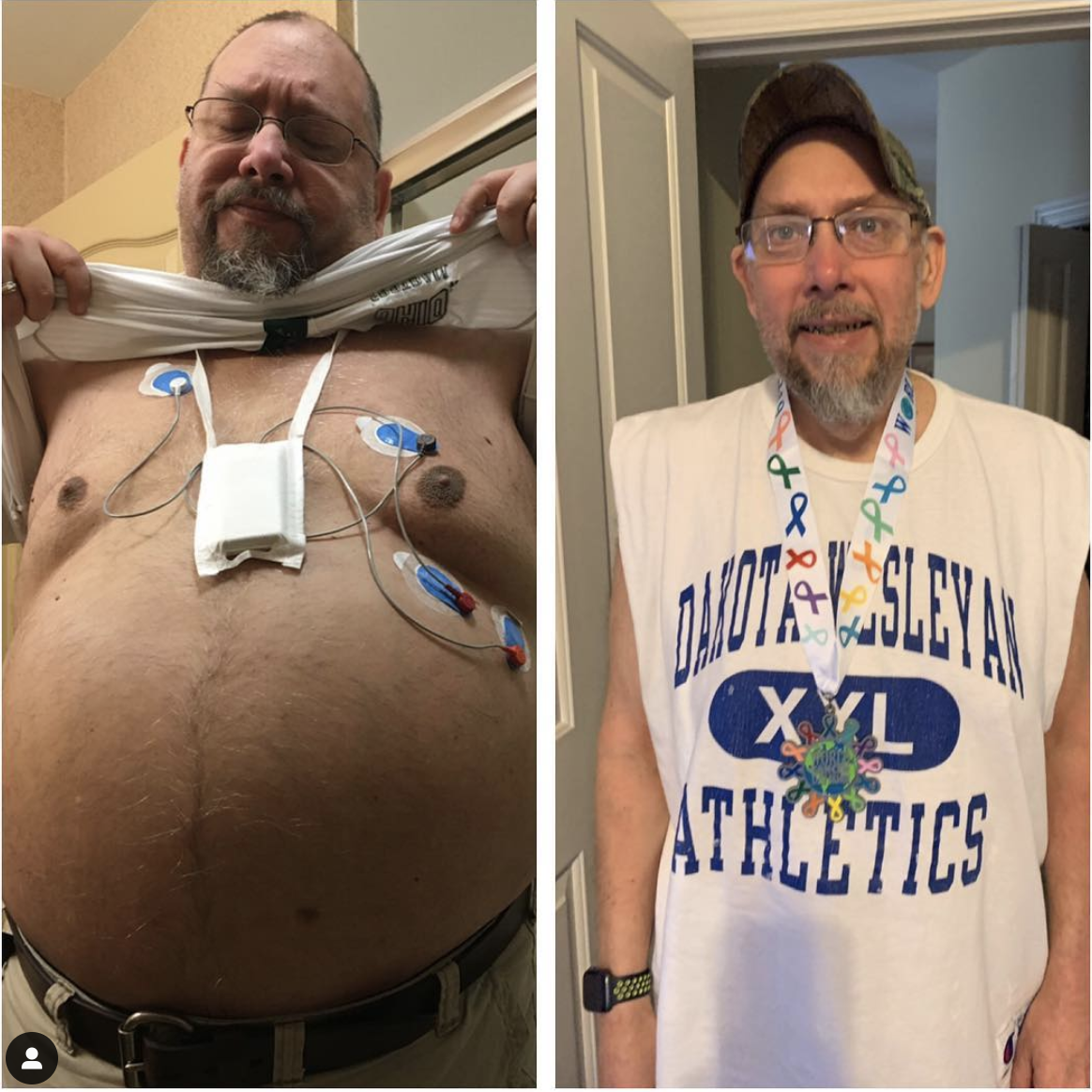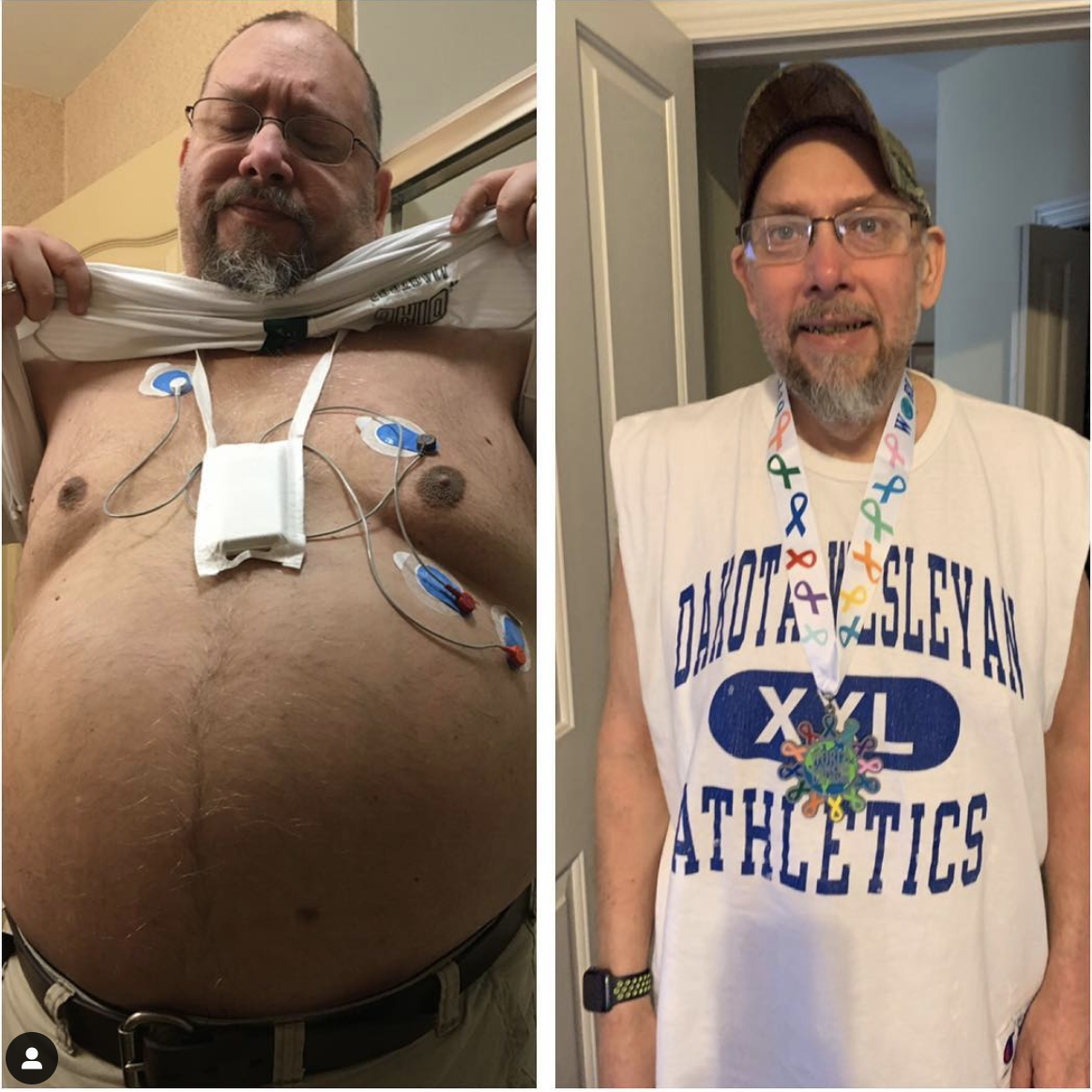 Most people I consult are doing keto totally wrong. Get fast results with the my NEW Keto School!