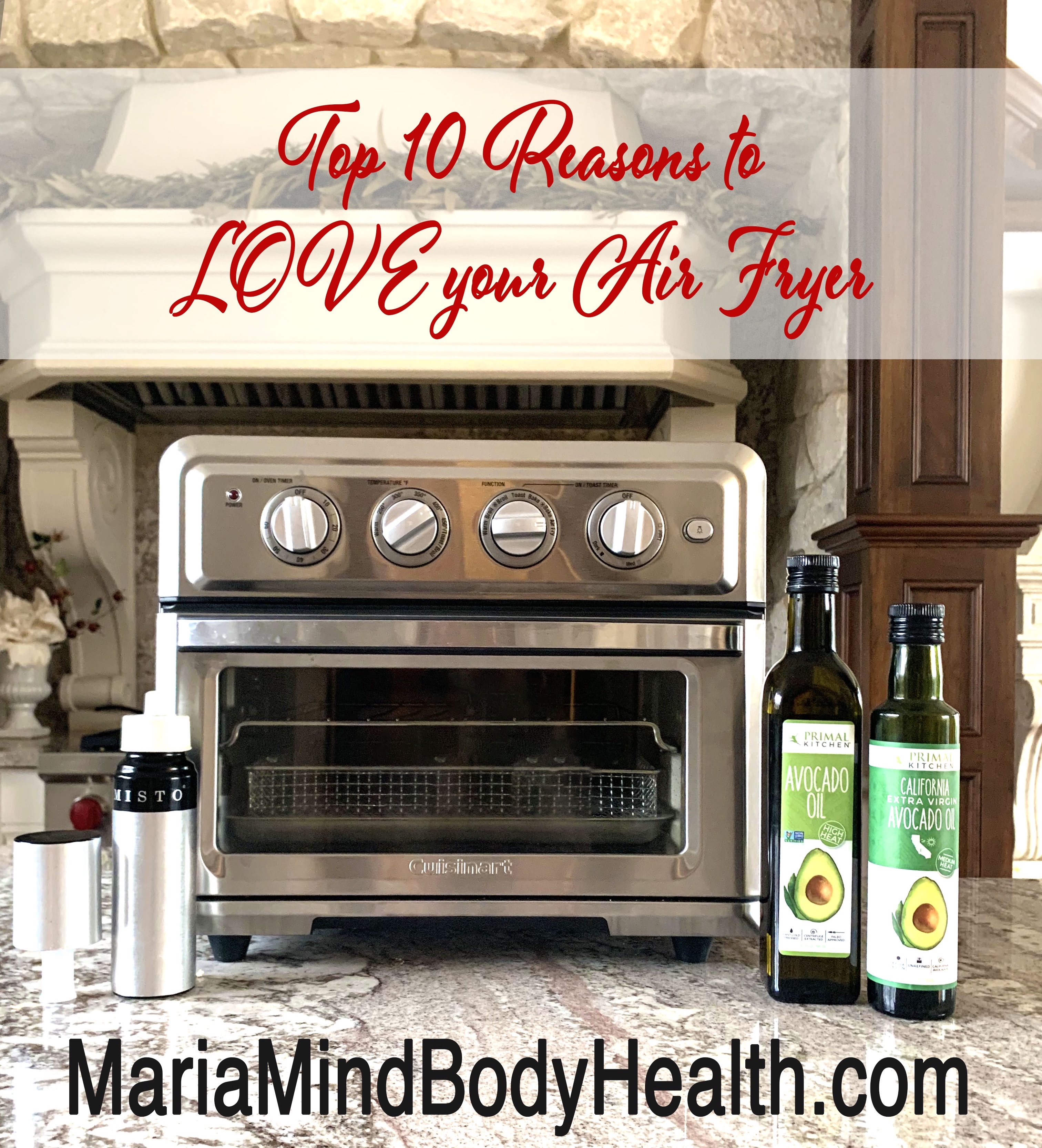 If you didn't know already, I am working away at writing Keto Air Fryer cookbook! AND I worked so hard on it, the book is releasing 2 MONTHS EARLY! You can pre-order it HERE.
If you have little children or grandchildren, hold them close and hug them every chance you get. My boys are growing up too fast. There's a lovely children's book called Tuck Everlasting where a family drinks from a magic well and they stay that age. If I could, I would have us drink from the "magic well." I love the age Micah and Kai are at; they are 8 and 9. They are funny, we love to play board games together every night, they can help me in the kitchen, they are the light of my life!
When I finished my last book, Keto Instant Pot, my plan was to take a break and slow down so I can enjoy my family more and focus on my Keto Coaching students. But I've been told this many times, "if you want to hear god laugh, tell him what you have planned!" And it couldn't be more true in many aspects of my life.
When Erich, my publisher, called to discuss an air fryer book, I couldn't say no. I already use my air fryer almost daily so to be honest, a Keto Air Fryer book was a destiny!
If you would like to see the recipes in the book, check out @keto_air_fryer on Instagram!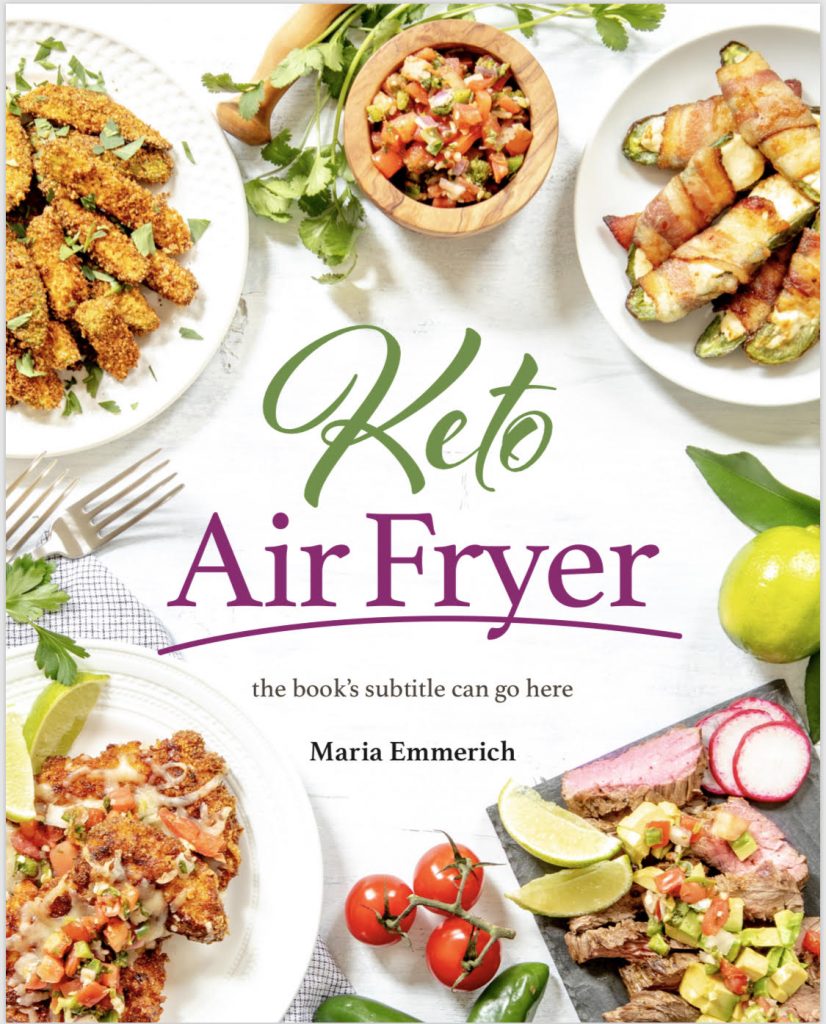 If you want to see all the delicious recipes that will be in the Keto Air Fryer cookbook, check out @keto_air_fryer on Instagram! 
You are probably saying, "Air fryer book? I thought keto was high fat? Why not use a deep fryer". This is a common misconception about ketogenic diets. If your body is already "High Fat" your diet doesn't need to be. To understand this check out the Fat Flux chapter in my book Keto: The Complete Guide to Success on the Ketogenic Diet. 
TOP 10 Reasons to LOVE your Air Fryer!
1. Easiest way to reheat leftovers!
If you want to ditch using a microwave to reheat leftover, the air fryer is perfect! Never soggy crusts on Keto pizzas again!
AND if you love Real Good Pizza but don't love how soggy the crust can be, put it in your air fryer! It helps the crust get crispier! Click HERE to get Real Good pizza delivered like we do (and use code: Maria for 10 % off)!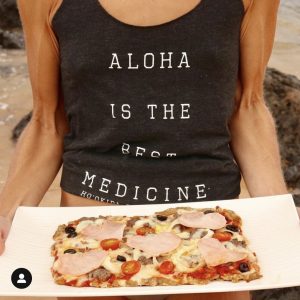 2. Makes crispy veggies in no time!
I love charred veggies and the air fryer makes perfect veggies with a nice caramelized outside! My favorite is air fried Brussels sprouts!
3. Makes the juiciest hamburgers in an instant!
I love hamburgers! Many of you know I prefer to have one every day! I make a ton of hamburger patties (I've even frozen some). All I have to do is season with my keto burger seasoning and toss a few in the air fryer for an easy family dinner! TIP OF THE DAY: I don't season until right before I cook the burgers because salt draws out moisture.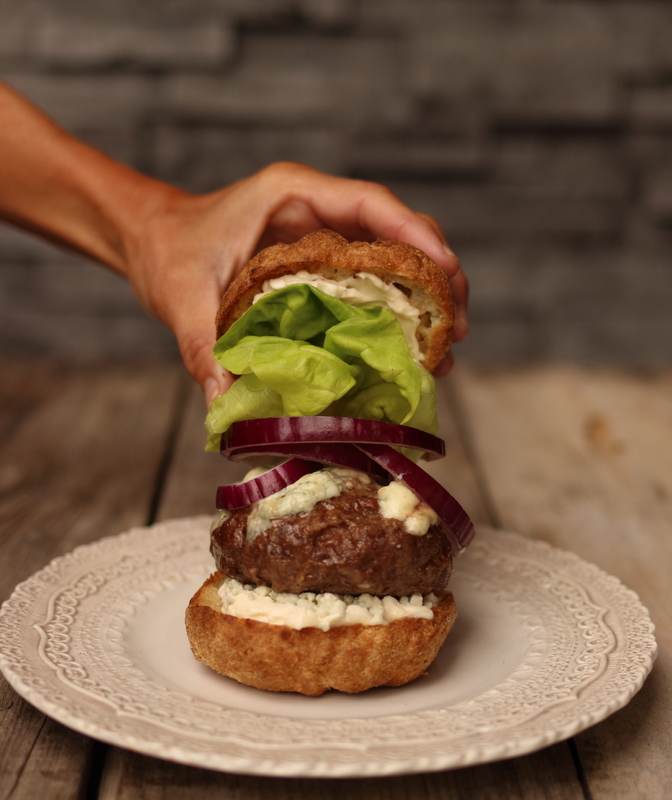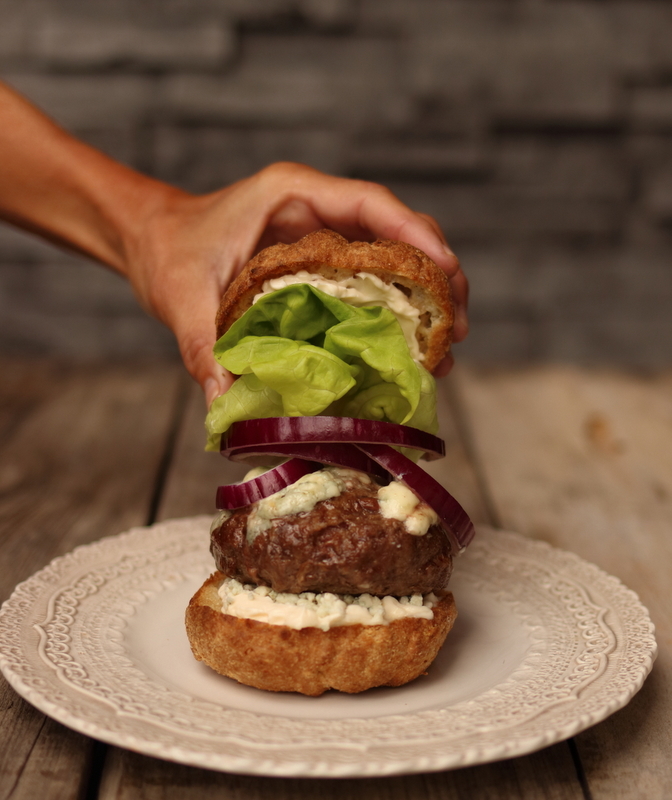 4. It makes amazing bacon without a mess!
My son likes his bacon chewy where I like mine crispy. I remove his about 90 seconds before mine and it's perfect!
5. It doesn't heat up the house on hot summer days!
My husband often jokes that I'll turn my oven on to make keto bread when it is 99 degrees F out! But now it isn't big deal because I use my Cuisinart Air Fryer! I love how it doesn't heat the house up! We even use have one in Maui at the Keto Condo!
6. Saves TIME and ENERGY!
The cool thing about air frying is that you do not have to preheat the air fryer if you don't want to; however, if you do pre-heat the air fryer, it only takes a fraction of the time to heat up compared to a large oven. Makes meal time even faster AND you save on energy!
7. Makes delicious steaks with crispy outsides!
Enough said…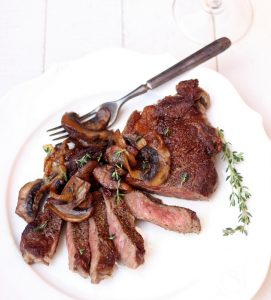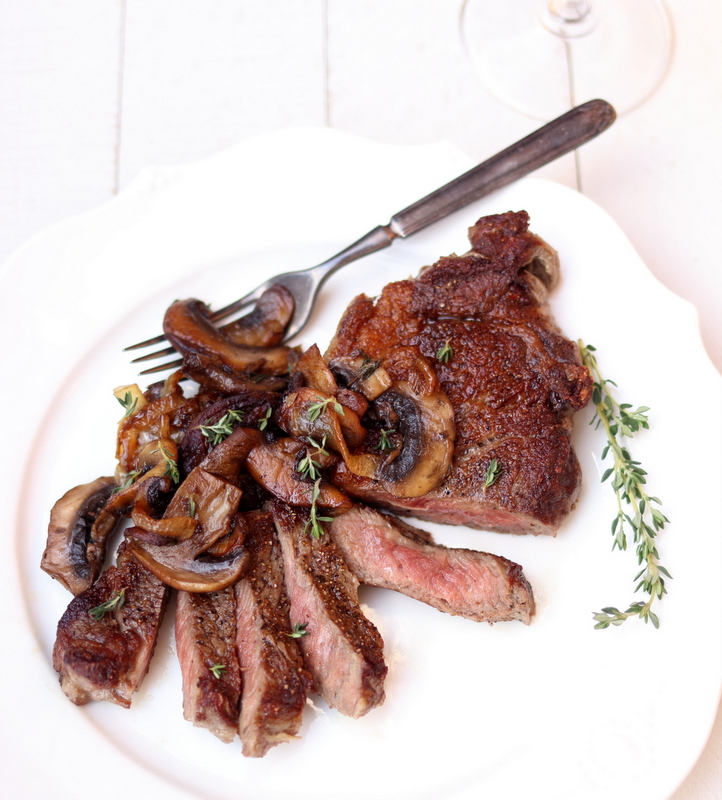 8. You can easily make your favorite oven recipes in the air fryer.
No matter what you want to make, just about every recipe that you typically make in the oven can be made in the air fryer. The only thing I'm not a huge fan of making in my Cuisinart Air Fryer are cheesecakes. Since air frying is using a high-powered convention cooking method where air is being pushed around, it causes lots of cracking in cheesecakes. The fans dry out the top of the cheesecake and you want it to stay moist. Anything that contains a lot of eggs you need top to stay moist while interior is still rising and setting otherwise you will get the infamous cheesecake crack.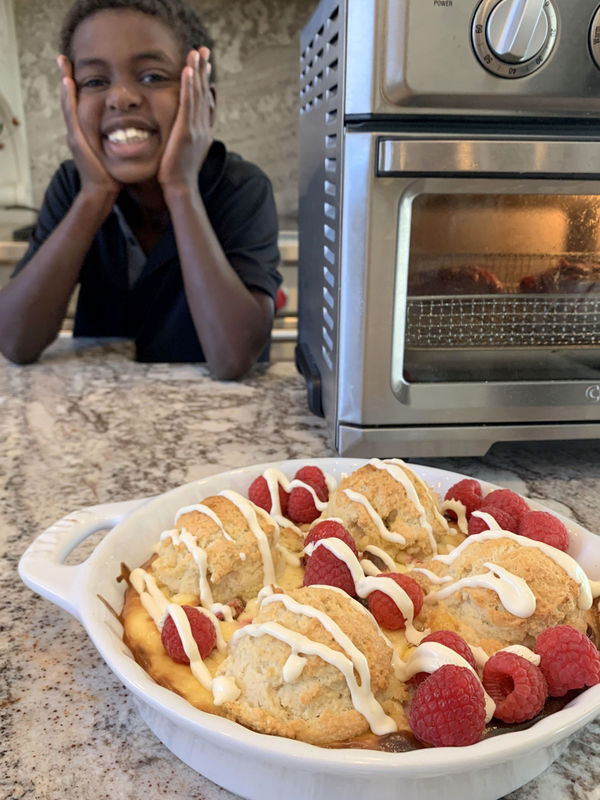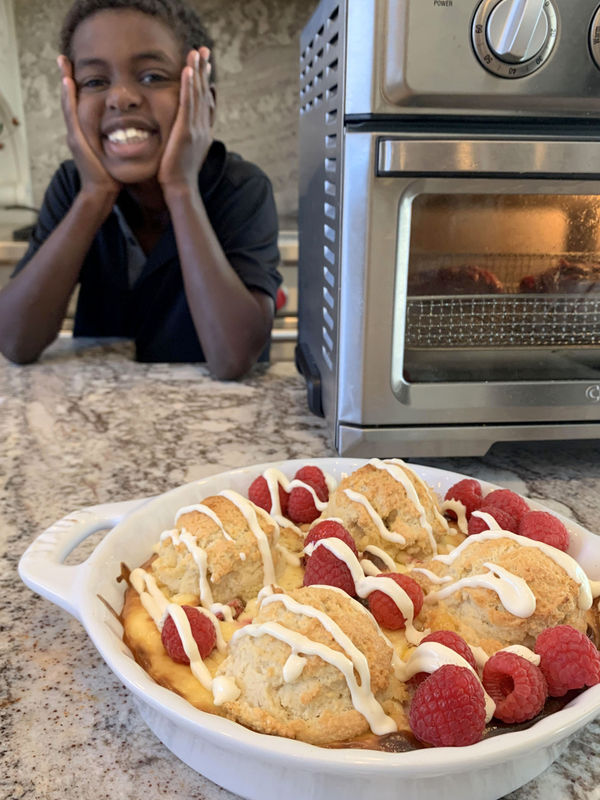 9.  Easy cleaning!
I once would fry some of the recipes that I now do in my Air Fryer in a cast iron skillet with oil and the clean-up was a hassle! Not to mention the smell of deep frying consumed my house for days! I had oil splatters everywhere including my hood range which was impossible to clean. With air frying, there is really no mess to clean up!
10. Kid Friendly!
My son loves to make bacon and my keto English Muffin pizzas in the air fryer and he can do it without my help! Kids can easily make my keto recipes in the air fryer. It's a great tool to help get kids interested in making homemade meals!
I also love that my son can make his favorite snack of Real Good Foods keto Enchiladas in the air fryer! I love that we no longer use our microwave!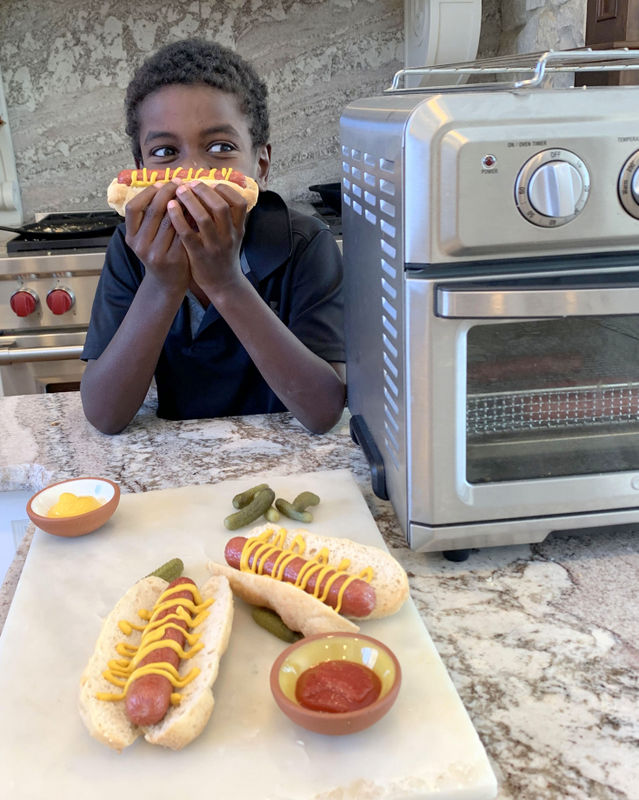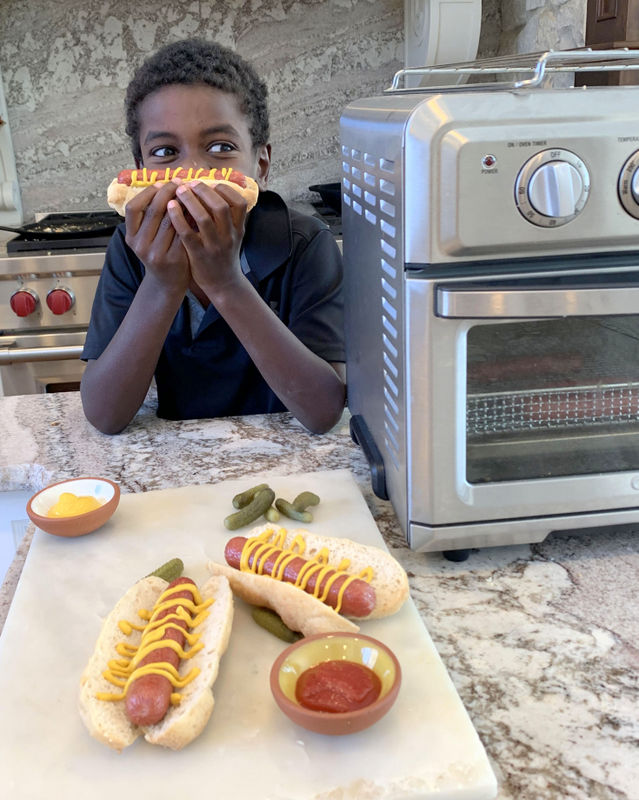 11. BONUS reason: You can pack it camping!
As long as you have a campsite with electricity, you can use your air fryer when you go camping! You know I love camping and prefer to go in a tent, but with Craig's illness, we often go in our RV. What I love about RV camping is that I have an air fryer with me and it makes meal in an instant!
The BEST Air Fryer
I have tried MANY different air fryers and I started with a small basic air fryer which was fine however, more often than not, I was disappointed at how I had to work in batches because the air fryer was too small to fit enough for my whole family. So, if you are in the market for a new air fryer, I highly suggest getting the Cuisinart TOA-60 (click HERE to find). It is large enough to fit all my recipes however it isn't heavy (I could move it from my pantry to kitchen with ease) and it looks cool! Cuisinart does not pay me to say this! In all honesty, I love the Cuisinart brand because if I ever do have an issue with one of their products, they are quick to respond and one time I broke my beloved Cuisinart Ice Cream maker because of overuse and they sent me a new one for FREE!

TESTIMONY OF THE DAY
"Hi Maria! I want to encourage everyone to not give up!!!!! I've been eating Keto for 21 months and with good success. But the past 4 months my weight loss has stalled. I only have 20 pounds left to lose after a 215 pound loss, 135 of that eating Keto!
This morning I dropped another lb. I didn't stress, I didn't give up, I just kept doing what I had been doing. I your Protein Sparing Modified Fast and recalculated my macros. I'm really doing this for life, and the last pounds will come off in time!
Meanwhile I feel great, off all meds except for a lower dose of thyroid meds and looking like I did in 1988!" – Twila
Most people I consult are doing keto totally wrong. Get fast results with the my NEW Keto School!