Protein Sparing Bread Corn Dogs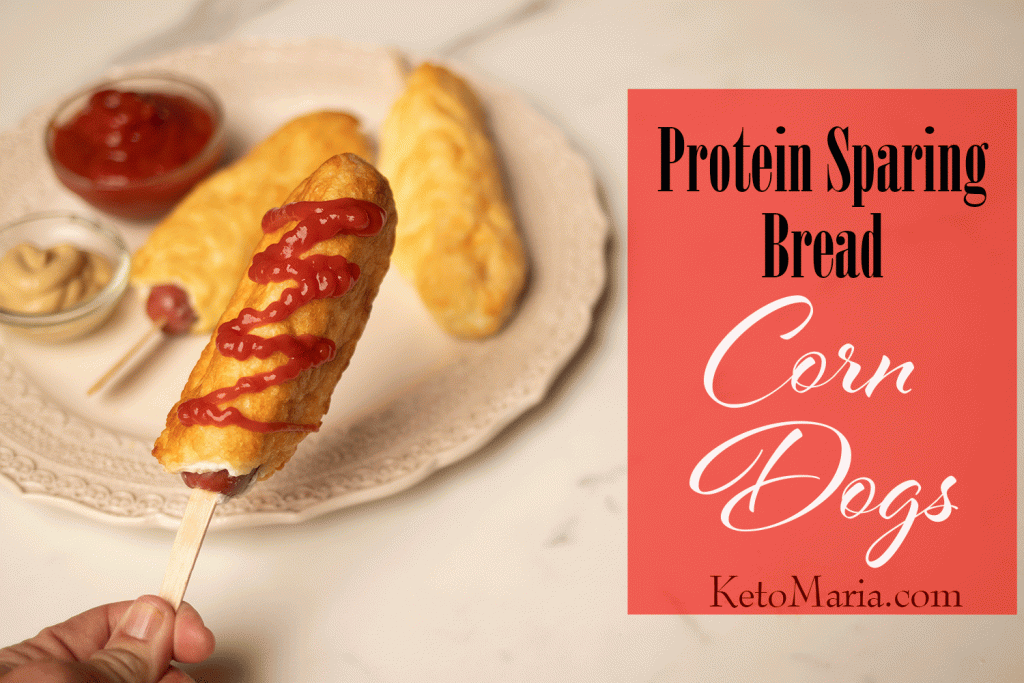 The Minnesota State Fair is coming and one thing I miss are corn dogs!
My keto corn dog using my protein sparing bread recipe as the coating for the corn dog is super delicious!

HOW TO MAKE PROTEIN SPARING BREAD CORN DOGS
To make my protein sparing bread corn dogs, I fried them in Primal Kitchen Avocado Oil!
My protein sparing bread corn dogs are extra delicious when you serve them with Primal Kitchen NEW Squeeze Ketchup and Organic Dijon Mustard!
If you miss a corn dog at your state fair, load up on Primal Kitchen Avocado oil because you are going to want to make these all summer long! Primal Kitchen Avocado oil is perfect for frying and their new squeeze bottle ketchup is always in our fridge!
You are going to love this protein sparing bread recipe! Who doesn't love a corn dog?
Primal Kitchen is SO generous that they are doing a special discount for all of my readers! Use code: Maria for 20 % off!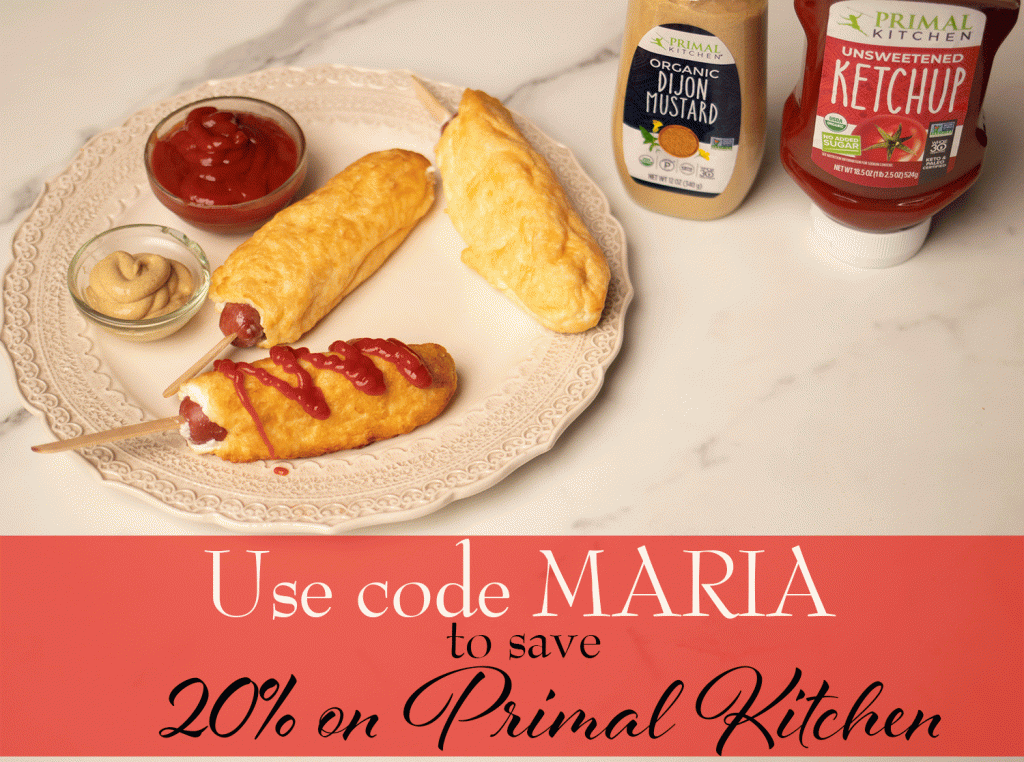 Protein Sparing Bread Corn Dogs
Ingredients
3

large

egg whites

3

tablespoons

Further Food gelatin

1/2

teaspoon

Redmond Real salt

3

tablespoons

KetoChow egg white powder

1/2

teaspoon

Sweet Corn flavoring

optional

4

hot dogs

Primal Kitchen Avocado Oil

Primal Kitchen Ketchup

Primal Kitchen Dijon or Brown Mustard
Instructions
Place the egg whites, gelatin and salt in a large bowl. Use a hand mixer to beat on high heat until stiff peaks form. Gently stir in the egg white powder and sweet corn flavoring if using.

Place a Popsicle stick into each hot dog.

Use a knife to form a layer of dough around each hot dog that is about 1/2 centimeter thick.

Heat a large non-stick skillet to medium high heat. Add a few tablespoons of Primal Kitchen Avocado Oil into the skillet. Once the oil is hot, add the coated hot dogs and carefully rotate the corn dogs as the coating cooks.

Once the coating is cooked through, remove from the skillet. (NOTE: If they are not completely cooked through, place on a baking sheet in a 325 degree F oven for 3-5 minutes or until completely cooked through).

Serve with Primal Kitchen Ketchup and Mustard.

AIR FRYER OPTION: Place the coated corn dogs onto a piece of parchment paper in an air fryer. Air fry at 400 degrees F for 10 minutes, flipping the corn dogs after 5 minutes. Cook until coating is cooked through.
Nutrition
Calories:
168
|
Fat:
10
g
|
Protein:
18
g
|
Carbohydrates:
1
g
|
P:E Ratio:
1.6
TESTIMONY OF THE DAY
"I have to give a shout out Maria Emmerich.

Your life will improve by leaps and bounds one keto meal at a time.

I just got my blood work results from my nephrologist for April.  My kidneys have improved three more points to 30 eGFR, which now puts me into stage three chronic kidney disease.

Less than 6 months ago I was nearing stage five, at 24 eGFR.

In December I improved three points to 27 eGFR and now I've improved three more points to 30 eGFR.

Protein is curing my kidney disease!!!

PSFM days are healing my kidneys and my body. It's a lifestyle that is working. I am also taking the recommended supplements Maria suggests (I did a personal health assessment).

 I have also lost over 85 pounds and too many inches to count since October. 

I did all this by doing 3 PSFM days a week. The food is delicious, nutritious and so satisfying. Even though I wish I would have lived this lifestyle many years ago, I now know that many things can be repaired and reversed. Stay the course. This is your life and you can do it!    IN PSMF" Wendy