Protein Sparing Chicken Nuggets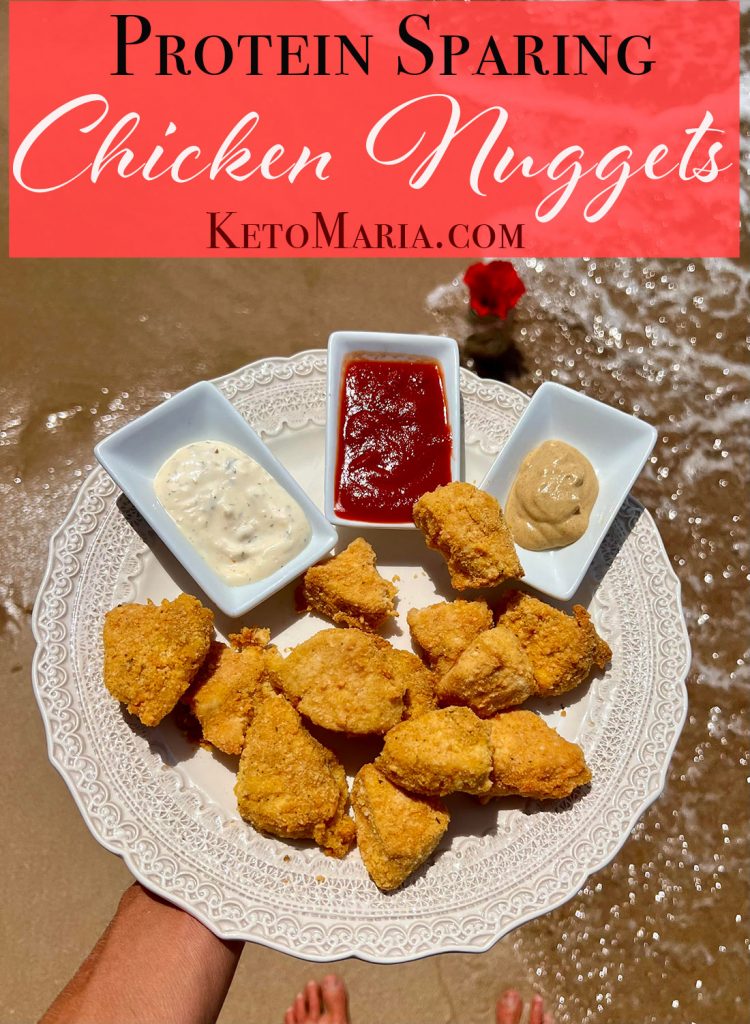 Anyone else LOVE chicken nugget day at school?
I did!
If you want to be the happiest grown up kid-at-heart, jump into the kitchen and make my protein sparing chicken nuggets!
MAN! I'm serious! When I made these, I was taken back to my childhood when I would eat chicken nuggets! They tasted just like school lunch chicken nuggets but without the carbs!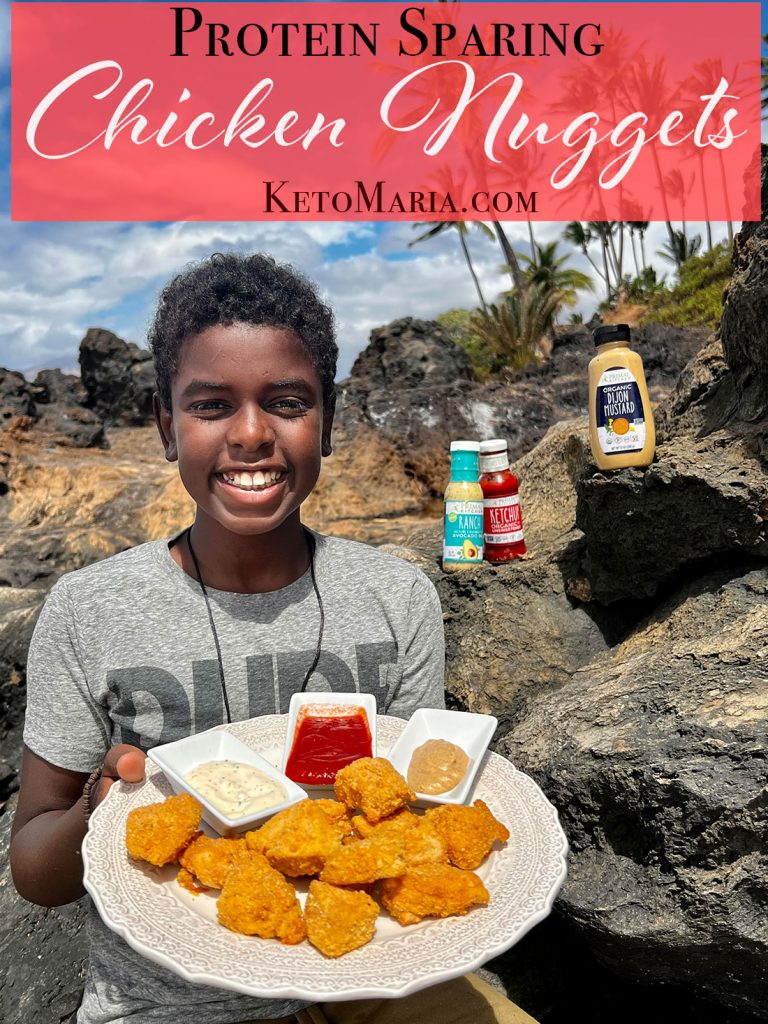 HOW TO MAKE PROTEIN SPARING CHICKEN NUGGETS
To make my protein sparing chicken nuggets, I used Primal Kitchen avocado oil spray and we always serve these yummy nuggets with lots of Primal Kitchen Ketchup, Ranch and Dijon Mustard!
I always have a pantry filled with Primal Kitchen Dijon mustard, Ketchup and Ranch Dressing! Primal Kitchen makes my life so much easier! I once made my own mustard, ketchup and ranch dressing but now I love that I can save time and use quality Primal Kitchen sauces!
You are going to love these protein sparing chicken nuggets!
Primal Kitchen is SO generous that they are doing a special discount for all of my readers! Use code: Maria for 20 % off!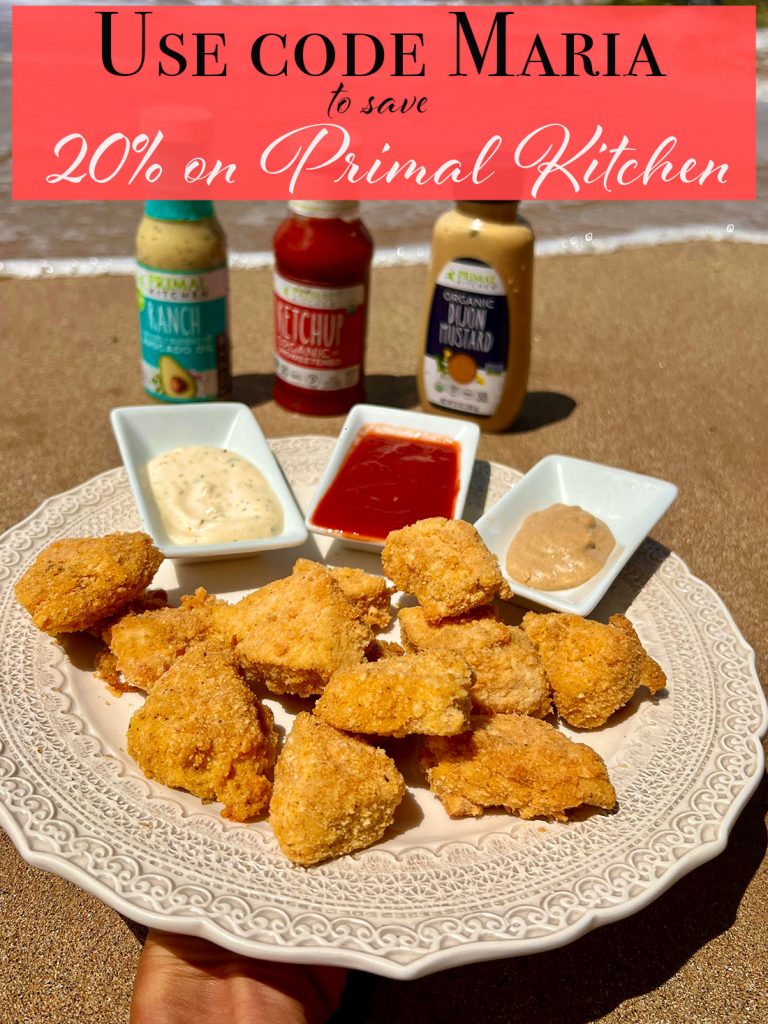 Protein Sparing Chicken Nuggets
Ingredients
2

large

eggs

1

cup

protein sparing flour click HERE

1

teaspoon

season salt

1

pound

boneless

skinless chicken thighs or breasts, cut into 1½-inch pieces

Primal Kitchen Avocado Oil Spray
FOR SERVING:
Primal Kitchen Ketchup

Primal Kitchen Dijon or Spicy Brown Mustard

Primal Kitchen Ranch
Instructions
Preheat the oven to 350°F (or air fryer). Line a rimmed baking sheet with parchment paper.

In a medium-sized bowl, lightly beat the eggs. In another medium-sized bowl, place the protein sparing flour and season salt.

Dip the chicken nuggets into the eggs, then into the protein sparing flour. Use your hands to coat each nugget well. Place on the prepared baking sheet and spray with Primal Kitchen Avocado Oil Spray. Bake for 20 minutes, or until golden brown, flipping 1/2 way through.

Transfer the chicken to a platter and serve with Primal Kitchen Ketchup, Primal Kitchen Spicy Brown Mustard and Primal Kitchen Ranch.

Store in an airtight container in the refrigerator for up to 4 days. To reheat, place on a rimmed baking sheet in a preheated 350°F oven for about 3 minutes, until heated through.

NOTE: You can also pan-fry the nuggets by heating ½ inch of Primal Kitchen Avocado Oil in a cast-iron skillet over medium heat to 375°F. Once the oil is hot, fry the nuggets in batches until golden brown on all sides and cooked through, about 6 minutes.
Nutrition
Calories:
166
|
Fat:
5
g
|
Protein:
31
g
|
Carbohydrates:
1
g
|
P:E Ratio:
5.2
TESTIMONY OF THE DAY
"Every morning when I get up I thank God for Maria and Craig Emmerich !

I will never be able to convey my thanks for showing me the way to lose weight. I tried every diet possible, I was in TOPS (Take Off Pounds Sensibly)at the age of 12, I tried WW, and a few other well known diet programs. None of them ever worked long term. I'd lose a few pounds and gain it right back.

Wish I could send you a huge bouquet of flowers Maria, but once again I will just send you my thanks and deepest gratitude!

I don't have many pictures of myself at 420+ pounds. So I have to go way back to find pictures to share. Hit 200 pounds this morning. I have to say it feels unbelievable!" – Felicia