Protein Sparing Bread Grilled Cheese and Easy Tomato Soup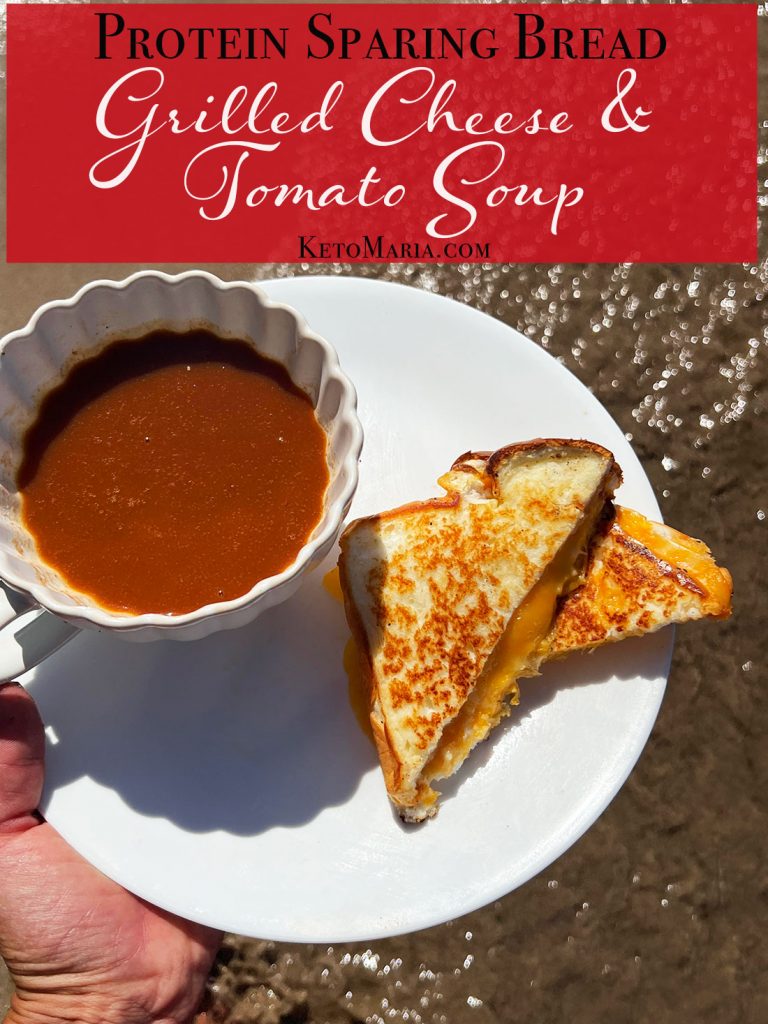 If you are looking for a delicious protein-packed meal and you are sick of meat, you must try my protein sparing grilled cheese and tomato soup! Even the tomato soup is packed with protein!
I grew up eating grilled cheese and tomato soup all the time! Personally, I still love this recipe for dinner!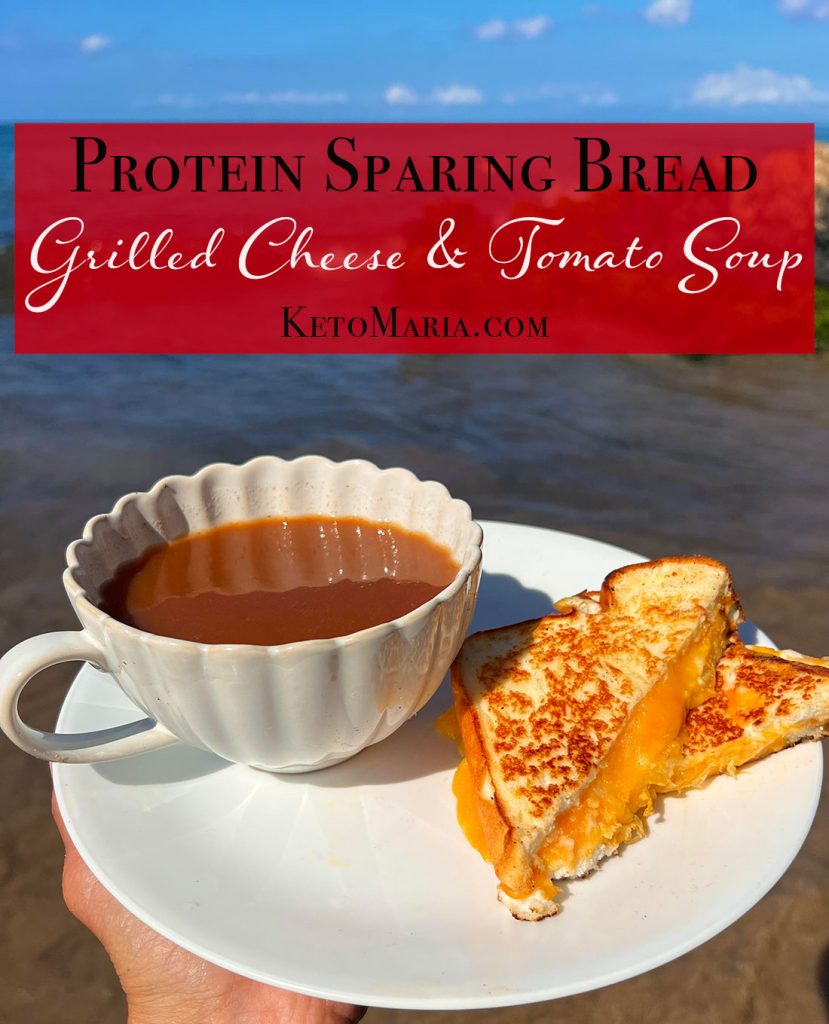 The tomato soup is so easy! It is basically only 3 ingredients!
I LOVE Keto Chow for my protein sparing bread! But not only does Keto Chow make the BEST egg white powder, they also make my favorite mineral drops, liquid magnesium and electrolyte drops! Click HERE to find!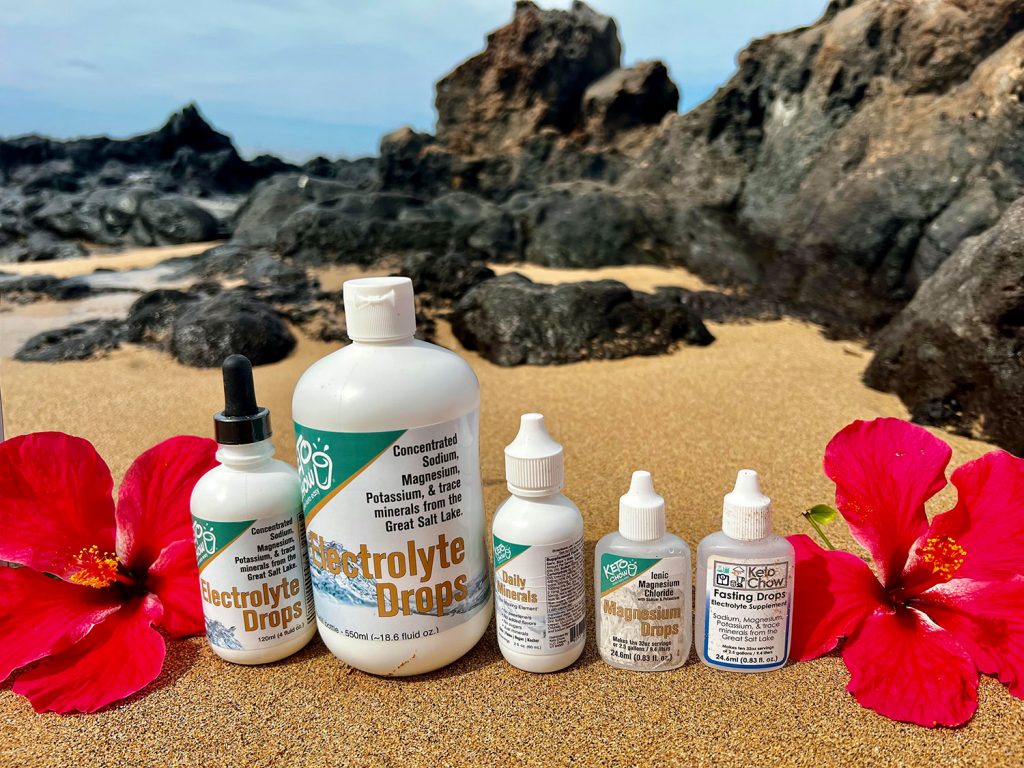 Keto Chow is owned by Chris and Miriam Bair. Click HERE to read their story on why they started the keto diet to help their child!
I LOVE supporting small companies like Keto Chow! It is cool to know that you can support a small family and get healthy while using their products!
Click HERE stock up and order their products! 
Protein Sparing Bread Grilled Cheese and Tomato Soup
Instructions
To make the protein sparing grilled cheese, preheat a skillet over medium heat.
Spread ½ tablespoon of butter one side of a slice of protein bread. Place the slice of protein bread butter-side-down onto the skillet and add a slice of cheese. Butter the second slice of protein bread on one side and place butter-side-up on top of the cheese. Grill until lightly browned, flip the sandwich and continue grilling until cheese is melted and the protein bread is golden brown and toasted. Repeat with remaining bread and cheese.
To make the protein tomato soup, place the beef broth and tomato sauce into a soup pot and heat over low heat until warm (or pour into a bowl and heat in the microwave for 60 seconds). Taste and add salt and dried basil if desired. Add stevia glycerite if desired.
Pour tomato soup into 2 bowls and serve with the grilled cheese sandwiches.
Best served fresh.
Notes
Nutrition:
301 calories, 20g fat, 23g protein, 7g carbs, 1g fiber
P:E Ratio 0.9
TESTIMONY OF THE DAY
"Hi Maria! I am feeling so grateful that I found you and how my life has changed for the better!!
I know I sent you a message a few weeks ago about how my IBS and fibromyalgia are so much better but I also wanted to share with you that I feel better now at 51 then ever have before!
I have lost over 34 pounds which I never thought was possible!
So happy I followed your personalized supplement plan and the suggestions you had for me. I went from being a M/L to an xs/xxs!! Thank you! Thank you! Thank you!! Michelle
Most people I consult are doing keto totally wrong. Get fast results with the my Mind-blowing Keto School!