TESTIMONY OF THE DAY
PHOTO TESTIMONY: "Hiya Maria and Craig! My name is Whitney Bray, and though we have never had a conversation before- you have changed my life.

I grew up in a paycheck to paycheck households that lived on microwave dinners and fast food. I was not encouraged to join sports or do outdoor activities and was often told that my weight was 'genetic' and 'inevitable'. I spent 22+ years of my life believing that.
I had tried a few things like name-brand diets, high-end diet pills that I had seen my mom take, nothing worked and I was completely miserable. At 5′ 2″ I weighed in at over 225lbs and I was very weak. My digestive system was a wreck, I couldn't jog down to the end of the driveway, and I was miserable.
Then after a journey of learning to love me, instead of hating myself, a friend told me about Keto. And it wasn't long after that, that I found your book Keto-Adapted. I had already read two other books first- but they were not easily accessible. They didn't truly explain the importance of being keto-adapted, and how to get there, and didn't address pre-existing problems caused by carb intolerance. Your book was a miracle in my life. I bought all of your cookbooks for my kindle app on my phone and I check your site almost daily!! I make your low carb bread and fudge cookies almost weekly for my 2-year-old son and my husband.
Since eating the Maria Way I've lost 50lbs!!! And more importantly, I feel better than ever before!! I am doing things I never thought I'd do. I went from trying my hand at yoga and being timid that my weight would keep me from gaining anything from the practice- to doing Aerial Yoga every week! So it's not just about the fat loss, it's also about how much I've gained from improving my health.
So thank you, thank you so very much for giving me confidence in providing my son with a much healthier beginning than I had when I was growing up, for helping my husband repair his leptin response and aid him in his new journey to do powerlifting competitions, and thank you from the bottom of my heart for showing me what it feels like, to be healthy.
Forever grateful, Whitney Bray"
If you want to get past your plateau, click HERE to get started!  You deserve it!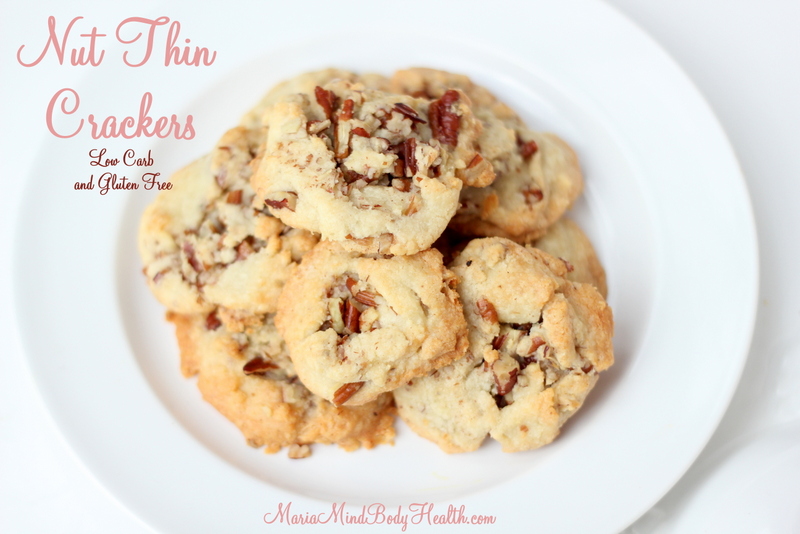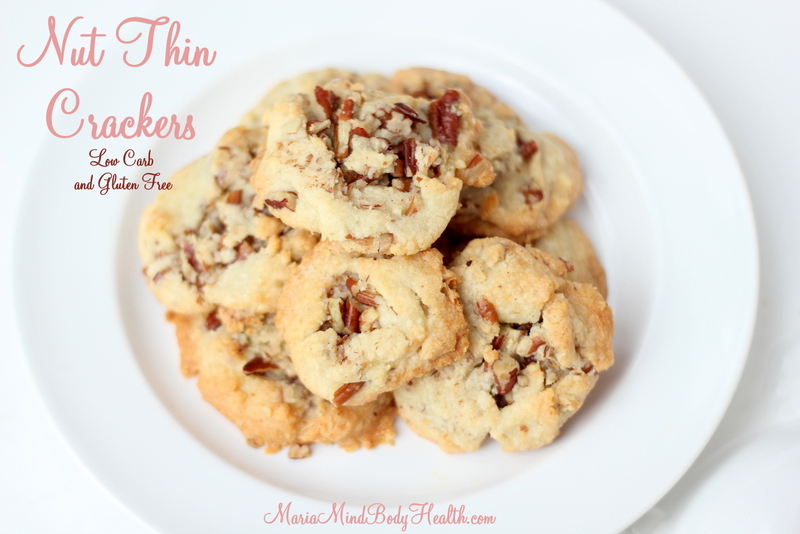 Here is a great "gluten-free" cracker that is WAY better for you than anything coming from a box. If the first ingredient is RICE FLOUR, stay AWAY. I love making these to take camping. They pack well and no additional cheese needs to be packed along; these are SO flavorful! They also make a great addition to a side of veggies.
1/4 cup butter, softened at room temperature
8 oz crumbled blue cheese
1 1/2 cup blanched almond flour
1/2 cup finely chopped pecans or walnuts
Pinch of Celtic sea salt (optional)
In a large mixing bowl, use a mixer to beat butter and cheese until smooth. Add almond flour, and salt and mix until well-combined. Dump the dough onto a piece of parchment or a greased piece of plastic wrap, roll it out into a thin 12-inch long square.. Spread the walnuts in a square on the dough, pressing lightly, and distributing them evenly on the dough. Roll up the dough into a log. Wrap in plastic and refrigerate for at least 30 minutes or for up to 4 days.
Meanwhile, preheat the oven to 350 degrees F.
Cut the log 3/8ths-inch thick with a small, sharp knife and place the crackers on a sheet pan lined with parchment paper. Bake for 22 minutes until very lightly browned. Rotate the pan once during baking. Cool and serve at room temperature. Makes 18 servings (36 crackers).
NUTRITIONAL COMPARISON (per serving):
Traditional Nut Thins = 130 Calories, 2.5g fat, 3g protein, 23 carbs, trace fiber
"Healthified" Nut Crackers = 145 calories, 12g fat, 6g protein, 2.6 carbs, 1.2g fiber