Mexican Chicken Wings
I have GREAT news!!! Butcherbox now has wings! Yes! Organic wings mailed right to your front door!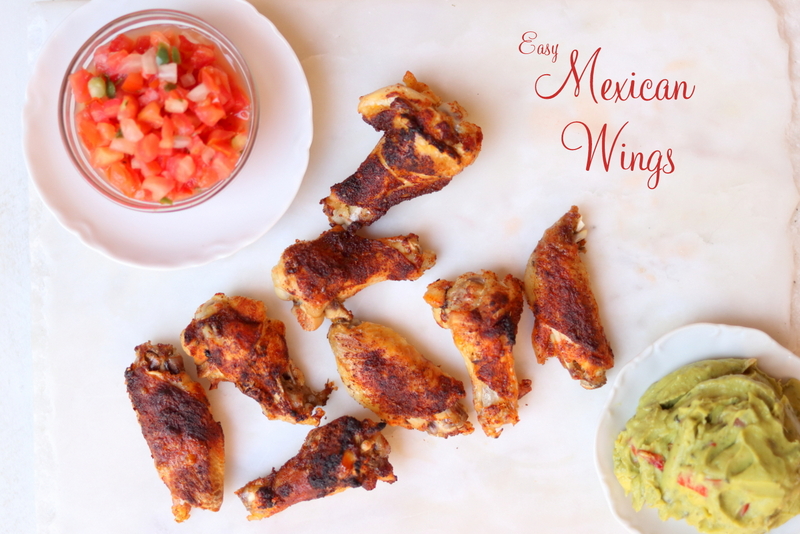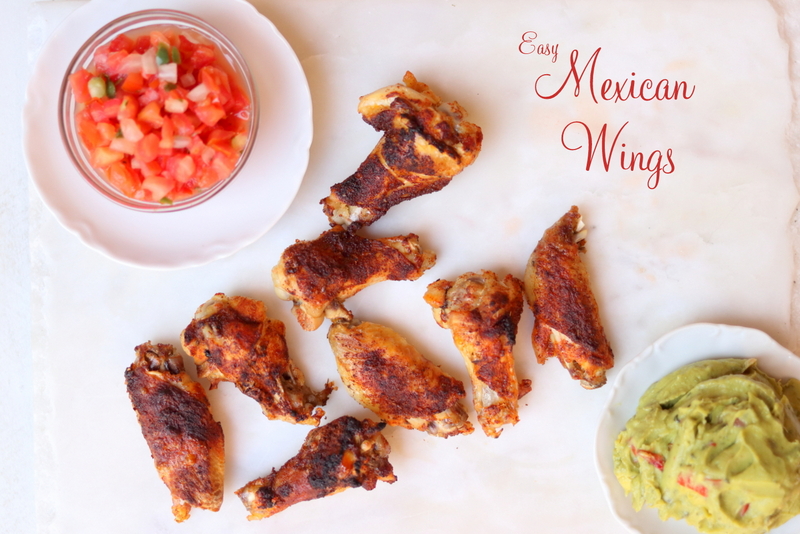 The other night we made wings using my Taco Seasoning and they were absolutely fantastic!
You may be wondering why you couldn't just use store bought taco seasoning. Let me tell you why. Even at Trader Joe's, read the ingredients…nothing but fillers and corn starch, sometimes maltodextrin (and you all know how that has a glycemic index of 110 compared to sugar at 56!).
My Taco Seasoning tastes great on ribs, chicken and even my dairy-free Taco Salad dressing! We recently sprinkled it on healthy Pork Rinds and served it with salsa and guacamole and our guests absolutely loved it!~
Mexican Chicken Wings
Ingredients
5

teaspoons

Taco Seasoning

30

chicken wings

or drummies (Click HERE)

3

tablespoons

coconut oil

melted (or bacon fat)
FOR SERVING:
1/4

cup

pico de gallo or Salsa

1/4

cup

guacamole
Instructions
Preheat the oven to 450°F.

Place the chicken wings or drummies in a large bowl. Pour the melted oil or fat over them and turn to coat the chicken. Then sprinkle the seasoning on all sides and turn to coat. Place on a rimmed baking sheet.

Bake for 20 to 25 minutes or until chicken is cooked through and no longer pink inside. Serve with salsa and guacamole.

Store extras in airtight container in fridge for up to 4 days. To reheat place on a baking sheet in a 400°F oven for 5 minutes or until heated through.
Nutrition
Calories:
547
|
Fat:
40
g
|
Protein:
43
g
|
Carbohydrates:
2
g
|
Fiber:
1
g
|
P:E Ratio:
1
TESTIMONY OF THE DAY
"I'm just beside myself with joy this morning! I started at 190.8 the Saturday before Mother's Day (I found this site, ordered the 30 Day Ketogenic Cleanse book), and had my first cleanse meal Mother's Day afternoon with my family, they had ribs, my husband and I had Reuben pork chops (and my youngest who hates meat on the bone). Anyway, 10 1/2 weeks later, I stepped on the scale to see 160.8, 30 pounds GONE! I'm 10.8 pounds away from my first big goal of weighing what my driver's license says I do. Ha ha!
I was 150 when I got pregnant with my first child who turned 25 in May (had bad morning sickness for 4 weeks and lost 13 pounds), 152 when I went into deliver, less than 135 when I came home from the hospital! The last big diet that I did, 173 was the largest I'd ever been, I went down to 132.5 (fully dressed, middle of the day), not sure if I can do that again, but I'll see how I feel at 150. =)
Honestly, for anyone doubting they can do this and change their cravings, etc. this is the easiest thing I've ever done! I feel great and can easily go 20+ hours between dinner and breakfast. My husband LOVES the cleanse recipes so much, he asked if we could do it again. Silly man, he's had food from the other books too, they are all "keepers". =)" Sally