ButcherBox
Grass Fed Beef, Poultry and Pork:
Butcherbox makes top quality grass fed meats delivered each month to your door at prices that are less than many grocery
stores! This monthly deliver keeps you stock with top quality proteins.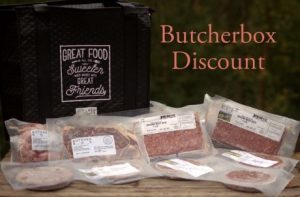 If you're an existing ButcherBox member I've got deals for you too.  Skip the stores with all the temptations and get quality food mailed to your front door! 
Click HERE: 
bchrbox.co/mariamember 
to access member deals and specials. You'll find exclusive and limited time offers as well as new product launches like ground bison, seafood sampler, cast-iron favorites, their legendary bacon blast (10 packs of bacon for just $5/pack), and so much more.