Healthy Fried Meatloaf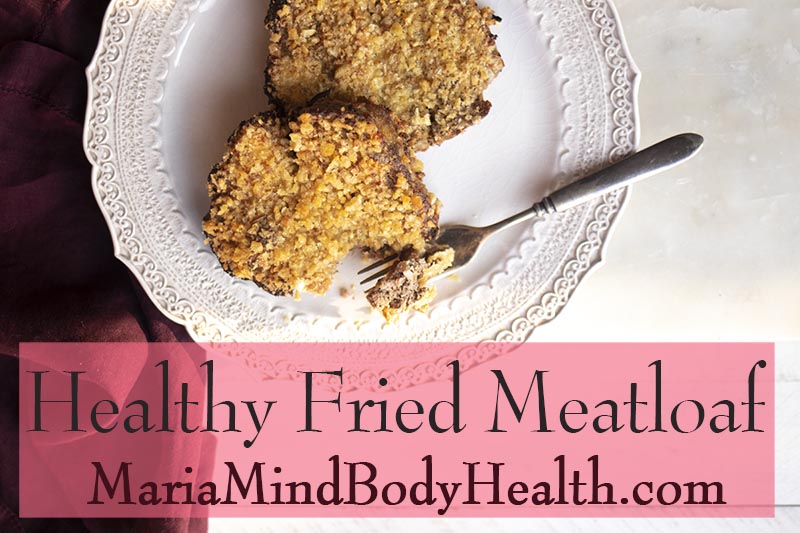 While we were in Germany, we saw Fried Meatloaf on many menus. I thought, I MUST make this with my healthy meatloaf recipe!
To make this Healthy Fried Meatloaf, I used my Swedish Meatloaf recipe from my book Keto Air Fryer, but you could use any of my Keto Meatloaf recipes! It is so delicious my boys asked for 2 pieces!
If you are looking for a special gift for a keto friend, I highly suggest my favorite Air Fryer with my Keto Air Fryer cookbook! I've had many brands or air fryers and Cuisinart is the best! It is also VERY light in weight so it is easy to move.
Click HERE to find it on sale!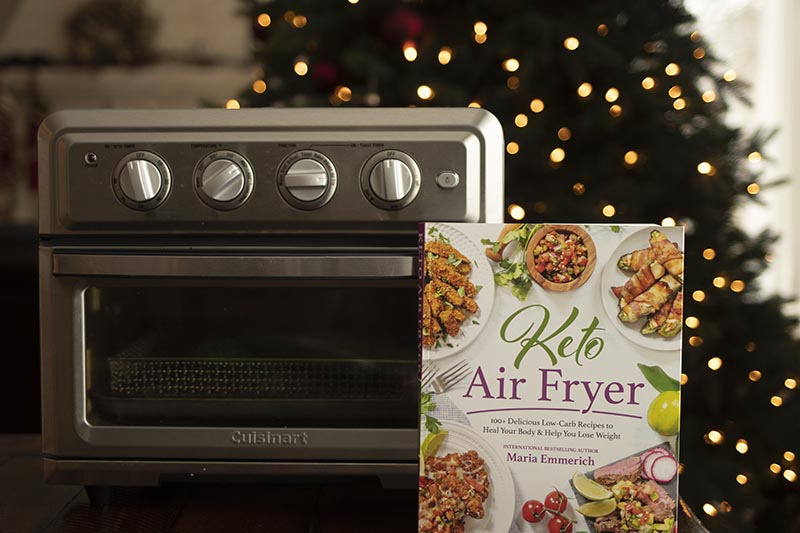 I used Pork Panko brand for a coating because they are not fried in vegetable oils. While we were traveling, we read a very interesting study stating that the obesity epidemic is more about the high vegetable oil consumption and how those oils change the structure of our cells, making the body unable to process sugar essentially making us extremely unhealthy. That is also why I use Duck Fat Spray! It is delicious and healthy!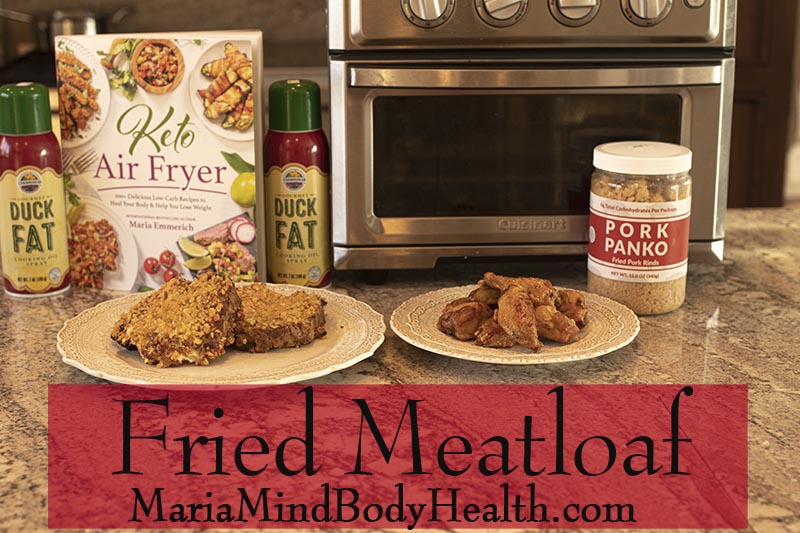 Fried Meatloaf
Ingredients
MEATLOAF CORDON BLEU:
2

pounds

ground beef 85% lean

1/2

cup

chopped mushrooms

1/2

cup

parmesan cheese

shredded

1

small onion

chopped

2

large

eggs

beaten

1/8

teaspoon

garlic powder

1

teaspoon

Redmond Real Salt

1

teaspoon

pepper

4

ounces

thinly sliced cooked ham

4

ounces

provolone cheese

sliced
BREADING:
1/2

cup

powdered Parmesan cheese

or more pork panko if dairy free

1

large

egg

1

cup

Pork panko crumbs

or crushed pork rinds

Duck fat spray
Instructions
Meatloaf Cordon Bleu:

Preheat the oven to 350 degrees F (175 degrees C).

In a medium bowl, mix together the ground beef, Parmesan, mushrooms, eggs, and onion. Season with garlic powder, salt and pepper. Pat the meat mixture out onto a piece of waxed paper, and flatten to 1/2 inch thick.

Lay slices of ham onto the flattened meat, and top with slices of cheese. Pick up the edge of the waxed paper to roll the flattened meat up into a log. Remove waxed paper, seal the ends and seam, and place the loaf into a 9×5 inch loaf pan.

Bake for 1 hour and 15 minutes in the preheated oven, or until the loaf is no longer pink inside.

Fried Meatloaf:

Preheat air fryer to 400 degrees F.

Set three wide, shallow dishes (such as pie plates) in a row on the counter. Put the powdered Parmesan in the first dish. Crack the egg into the second dish and beat it lightly with a fork. Put the pork panko or crushed pork rinds in the third dish.

Working with one slice at a time, dredge the meatloaf first in the powdered Parmesan and then in the egg, coating it on all sides and shaking gently after each dip to knock off the excess. Lay the meatloaf in the pork panko, scatter some crumbs on top of the slice, and press gently to adhere. Flip and repeat once or twice with the crumbs to coat really well; be sure to get the edges as well. As you finish each slice, set it on a tray.

Spray the coated slices of meatloaf with duck fat spray. Place slices into the air fryer 8 minutes, flipping with a spatula after 4 minutes or until slices are golden brown. Serve hot.
Nutrition
Calories:
486
|
Fat:
34
g
|
Protein:
42
g
|
Carbohydrates:
3
g
|
Fiber:
0.3
g
|
P:E Ratio:
1.1
If you are looking for a different meatloaf recipe, I have several options HERE.
TESTIMONY OF THE DAY
"Two years ago today I woke up in tears. I had not slept much the past several days due to chronic pain and I was quickly approaching my breaking point. I was taking NSAIDS and opioids in an attempt to numb the pain that constantly haunted my body. I was pretty sure, at 56 years old that I was going to end up as a cripple and/or a junkie, which ever came first. At that point though I really didn't care. Doctors had already removed everything from my body that I didn't really need and started replacing things I did. Both hips had been replaced and I was looking at knees next. I was over 300 pounds which didn't help my situation. I had fatty liver disease with critical high liver enzymes, IBS, osteoarthritis, ADHD, dumping syndrome due to an unsuccessful gastric bypass surgery 20 years prior, degenerative disc disease, acid reflux … well … the list went on and on. I was taking enough medication to sink a boat and was at my proverbial bottom. All I wanted to do was sleep but I couldn't because of the pain. If my body didn't cripple me, the depression certainly would. I was all out of hope. At this point there was nowhere to go but up … or down about 6 feet. I was a mess … a big, fat, sick, depressed, hot, mess.
That morning, as I hobbled through the living room with my walker, I saw something on the TV that caught my attention. There was a woman on a morning show who had lost 50 pounds and healed her chronic pain by eating Keto and practicing intermittent fasting. There was no special foods to eat, no drugs to take and no special supplements. She just eliminated grains, sugar and processed foods and ate real, whole, nutrient based meat, eggs and vegetables. It couldn't be that easy! Could it … really???
The more I listened, the more interested I became. I knew that I HAD to do something. I wasn't living. I was just … alive. And to be honest, I didn't want to live like this any longer. So I started reading everything I could get my hands on concerning Keto. Good and bad… I wanted to know it all. Within a few days, I had my fridge and pantry cleaned out and I was keto compliant. I logged everything that went into my mouth and allowed the food to be the ingredient. I ate simply but very nutriously.
Before I knew it, I was off the walker and the pain started going away. The weight just FELL off. Soon I found I no longer needed the pain medication. Within a few months I was off of all medication including my Adderral for ADHD. Suddenly my thoughts were no longer muddled and erratic. My memory improved and the brain fog was completely GONE. Every day was better. No special foods or programs, no boot camp exercise, no shakes, shots or pills!! I was eating the healthy foods I liked and I was never hungry nor did I ever feel deprived. It was definitely a HUGE "ah ha" moment.
I read textbooks and journals on nutrition which led me to go back to school and get a certification from Cornell University in Human Nutritional Science. And then later obtain a Keto coach and separate supplement certification through Maria and Craig Emmerich. The more I learned, the more I wanted to. I have became a sponge for knowledge on how the body works. And I want EVERYONE to know what I did and be able to experience what I have. I became a self professed, keto evangelist, talking Keto to anyone that would listen and probably even a few that really didn't want to. But regardless, I felt that if I changed just one person's mind about prioritizing their health it was worth it. That really was what spurred my decision to become one of Maria's coaches. I wanted to help others experience what I have by changing how I eat.
I think about all of the years of yo yo dieting and the misery and torment I put my body through. I had been doing it all wrong. Very, VERY wrong. Fast forward two years today, I feel better both mentally and physically than I remember ever feeling in my entire life. My fatty liver disease is gone. I now have normal liver enzymes. My ADHD is virtually nonexistent and my memory and mental state is better than it has ever been. My cholesterol is great and I have the energy to enjoy my grandkids and life in general. I feel like I have been reborn and everything is falling into line. I'm still a work in progress. I feel when we stop working on improving ourselves, we stop growing both physically and emotionally. This is not a program with a start and stop date. It is a process that grows and evolves as we do. It is my life and what a great life it now is!
If you are still on the fence about going clean keto, please wait no longer! I am 58 years old and wish every single day that I would have had the insight and knowledge to do this when I was 30 … or even 20!! Is it always easy? No it's not. But it's SO worth it. Every single second of it. Never doubt that. And each day gets easier to the point that you no longer even have to think about it. You just eat that way because it becomes your new normal and you actually WANT to. I have absolutely no doubt this saved my life. It has had that much of a profound effect on my life.
Happy 2 year Ketoversary to me.
I am a warrior."
 Elle Douglas
Most people I consult are doing keto totally wrong. Get fast results with the my NEW Keto Packages!