TESTIMONY OF THE DAY
"Before I met Maria, I felt lost when it came to food! I had read so many conflicting reports the only foods I felt "healthy" eating fruits and 3 bananas a day! I was ALWAYS hungry within the hour of eating, so I was ALWAYS eating! I would "crash" quickly and feel distracted and nervous until I could eat my next "meal." I allowed myself to eat only a few nuts and/or nut butter, a teeny tiny amount of cheese and a few bites of meat (I was terrified of all of the warnings of high fat and calories of these foods). FOOD WAS A MAJOR STRESS IN MY LIFE!!! After learning the facts about nutrition from Maria, my life has changed dramatically!!!!
2. I LOVE food and eating and preparing my food!
3. I always feel so satisfied and satiated after eating. I have no trouble going hours without food! (I never dreamed that to be a possibility)
4. I LOVE my body! I feel so good about myself and feel so healthy!
5. My periods are finally healthy and normal (a big change!).
6. My hair and nails grow so quickly! My hair also feels thicker.
7. My grocery bill has decreased dramatically! I used to spend $150.00 a week buying "healthy cereals" for my kids throughout the week. Now I don't even need to go to the store! I buy my staples online and I buy my meats from the farmers. I've estimated an annual savings of at least $2,000 possibly more!
8. I am so happy not having to go to the store every week! It is so much less stressful!
9. My favorite preparation of meat are Maria "healthified" crock-pot ideas! Cannot get any easier than that!!!"
10. My triglycerides are 14!"
To get started on your transformation, click HERE.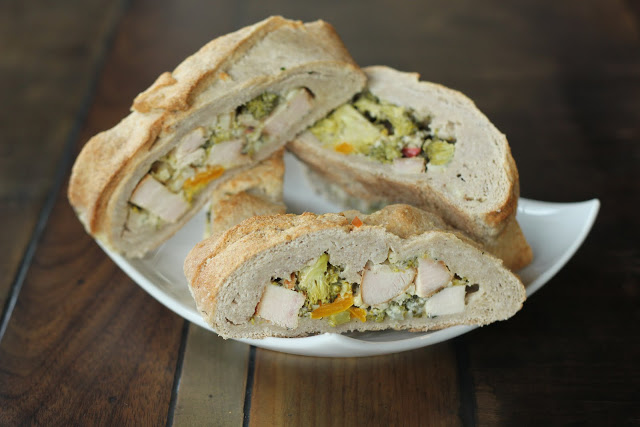 "HEALTHIFIED" Broccoli Braid
2 cups diced, cooked chicken meat
1 cup fresh broccoli, chopped
1/2 cup red bell pepper, chopped
1 clove crushed garlic
1 cup shredded white Cheddar cheese
1/2 cup organic mayo
2 tsp dried dill weed
1/4 tsp Celtic sea salt
2 TBS slivered almonds
1/4 cup diced onion
BRAID:
1 1/2 cup blanched almond flour (5 oz) (or 1/2 cup coconut flour or 2.5 oz)
5 TBS psyllium husk powder (no substitutes) (45 grams) (must be a fine powder, not whole husks)
2 tsp baking powder
1 tsp Celtic sea salt
2 1/2 TBS apple cider vinegar (1 oz)
3 egg whites (6 egg whites if using coconut flour) (about 3.5 oz for almond flour option, 7 oz for coconut flour)
7/8 cup (a little less than a cup) BOILING water (or MARINARA – for more Tomato Basil Bread!) (7 oz)
Preheat the oven to 350 degrees F. In a large bowl, mix together chicken, broccoli, red bell pepper, garlic, Cheddar cheese, mayonnaise, dill weed, salt, almonds, and onion. Set aside.

In a medium-sized bowl, combine the flour, psyllium powder (no substitutes: flaxseed meal won't work), baking powder, and salt. Mix until dry ingredients are well combined.  Add in the eggs and vinegar and mix until a thick dough. Add boiling water or marinara into the bowl. Mix until well combined and dough firms up.
In a medium-sized bowl, stir together the coconut flour, psyllium husks, salt, and spices. Add the butter or coconut oil. Stir continuously as you add the hot broth or water, it will melt the butter or oil. Combine until very smooth. Place the dough onto a piece of greased parchment paper (I used THIS coconut oil spray). Using a rolling pin, roll the dough out in a rectangle shape with even thickness throughout. Using a knife or scissors, cut 1 inch wide strips in towards the center, starting on the long sides. There should be a solid strip about 3 inches wide down the center, with the cut strips forming a fringe down each side. Spread the chicken mixture along the center strip. Fold the side strips over chicken mixture, alternating strips from each side. Pinch or twist to seal.
Brush braided dough with the egg white. Bake in the preheated oven 28 to 30 minutes, or until golden brown. Makes 8 servings. Option: Make in individual oven-safe soup bowls (bake for 23 minutes).
NOTE!  If you are having an issue with a bubble, try weighing your ingredients as listed above.  I use this kitchen scale. 🙂
NUTRITIONAL COMPARISON (per serving)
"PAMPERED CHEF" Broccoli Braid = 247 calories, 13g fat, 12.5g protein, 17g carbs, trace fiber (17 effective carbs), AND TRANS FAT!
"Healthified" Broccoli Braid = 229 calories, 13g fat, 16.5g protein, 11.6 carbs, 5g fiber (6.6 effective carbs)