Testimony of the Day
"I am a health and wellness professional and am exposed to various diets and nutrition plans. Through my own research, personal trials or client experience, I have a strong understanding of how one can gain control of their weight and establish a healthy relationship with food. Of course, not one nutritional profile works for everyone and I highly advise individuals to do their own research and application to find what fits for their lifestyle and goals.
As a pro figure competitor, I have run the gamut when it comes to using nutrition in order to strip away body fat while preserving muscle mass. For many years, I followed the advice of most competition prep coaches—six to seven meals a day with a typical mix of lean proteins, complex carbohydrates and healthy fats adding up to near 1800 calories. The first few times following this stringent clean eating plan, with an occasional 'cheat' meal, worked wonders as my body responded in an expected way. However, as I tried to maintain this lifestyle it became less and less effective. I always felt hungry and unsatisfied, I experienced cravings—mostly for sweets, and emotionally I wasn't feeling my best.  Worst of all, I wasn't seeing the results I desired while preparing for another competition.  I hit a plateau in my process that I couldn't seem to get around resulting in a disappointing finish on show day.
After struggling for a few more months trying to continue this way of eating, I began to pay more attention to what Maria Emmerich was posting on social media and then borrowed a few of her books from a friend. I was skeptical at first, thinking her method was very extreme but realized I had nothing to lose at attempting ketosis. I transitioned away from my complex carbs (sweet potatoes, oatmeal, brown rice, and quinoa) slowly, eliminating one serving at a time and introducing more fats (butter, coconut oil, etc.). Once the grains were completely eliminated, I began to notice a change. This change was not only physical but emotional. I felt more satisfied with my meals, a reduction in cravings and overall balance with my mood.
My body responded in a way that was better than ever before. I never felt deprived throughout my most recent competition prep and did not follow a typical deplete the week before the show. My strength only continued to improve throughout the process, whereas in the past it always decreased during this process. After all other competitions, the following days or weeks are difficult finding a balance with 'treats' and 'normal' eating. This last time around, I felt a strong sense of control and minimal urge to stray from the Maria way. I was happy and knew that I had found something I could maintain, not only for show prep but for life.
I still continue to model my nutrition after Maria's recommendations and have maintained my figure with more stability and less fluctuation. I don't often feel as though I am missing out on anything and know that including plenty of healthy fats in my diet, rather than a focus on complex carbs, has helped this change occur. I am able to maintain high energy and strength to fuel my day and my workouts using ketosis.
To me, after reading and researching Maria's ketosis method, it makes complete sense and will not be turning back!" Sienna
To get started on your transformation, click HERE. http://mariamindbodyhealth.com/my-services/
Human Growth Hormone
If you have read any of Suzanne Somers' books, you already have read about the amazing properties of human growth hormone. She is a huge advocate increasing this hormone and injects it into her body every night. I also believe that we need to increase this awesome hormone, but unlike Susan, I have tips and tricks on how to boost it through diet and exercise; which come with no scary side effects. Human growth hormone, also known as hGH, is an amazing hormone that is produced by the pituitary gland in the brain. This hormone stimulates cell production and is responsible for increasing height, building muscle mass, keeping bones healthy, controlling sugar and insulin levels, absorption of calcium, reducing fat as well as helping numerous other functions that are fundamental for growth.
The human growth hormone is produced at full-speed when we are young but the pituitary gland slows down the production as the body ages; usually around age 30 it really starts to decline. The level of hGH peaks during puberty when there is a growth spurt. The levels continue to decline throughout our adult life. This decrease in the levels of HGH is what causes elasticity in our skin, wrinkles, increase issues with diabetes, depression, loss of energy, and loss of muscle mass. Increasing the levels of human growth hormone can make you look young and feel healthy.

Foods play a huge role in the secretion of HGH, as well as WHEN you eat and types of exercise, sleep and hydration. To read more on this awesome hormone, check out my chapter on Hormones in Secrets to a Healthy Metabolism, which you can now also get in audio form!
Thank you for your support!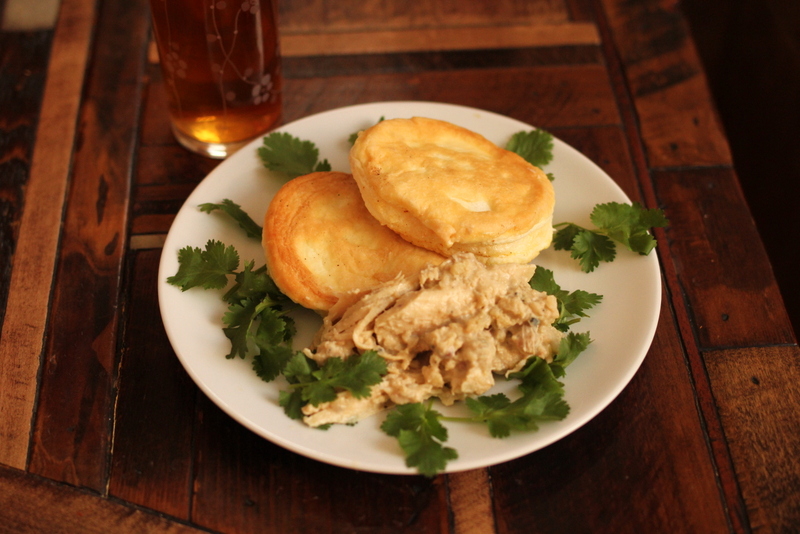 CREAMY CHICKEN:
3 TBS butter or coconut oil
1/4 large sweet onion, chopped
2 poblano chile peppers, seeded and diced
3 garlic cloves, minced
8 skinned and boned chicken breast halves, cut into bite-size pieces
1 tsp Celtic sea salt
1/2 tsp pepper
1 serving HOMEMADE cream of mushroom soup
1 (8-ounce) container sour cream
1 (8-ounce) block sharp Cheddar cheese, shredded
Cornbread Pancakes (recipe below)
Melt butter in a Dutch oven. Add onion, chile pepper, and garlic; sauté 5 minutes. Add chicken, salt, and pepper; cook, stirring often, 8 to 10 minutes or until chicken is done. Stir in the rest of the ingredients (except cheese) and stir until smooth. Add cheese, and cook 7 to 8 minutes or until cheese is melted. Serve over Pancakes.
PANCAKES:
3 eggs, separated
1/2 tsp cream of tartar
1/4 cup unflavored egg white protein or whey
OPTIONAL: 1 tsp spices of your desired taste
Separate the eggs (save the yolks), and whip the whites in a clean, dry, cool bowl for a few minutes until VERY stiff). Blend in the protein powder, cream of tartar and the reserved yolks and spices if using.
Heat the oil in a frypan on medium-high until a drop of water will sizzle. Once it is hot, place a circle of dough on the pan. Fry until golden brown on both sides. Remove from heat and place on a plate. Enjoy! Makes 6 servings.
NUTRITIONAL COMPARISON (per serving)
Traditional Pancakes = 312 calories, 46 carbs, 1.9g fiber, 3.4g protein
"Healthified" Pancakes = 168 calories, 0.8 carbs, 0 fiber, 4.6g protein
NUTRITIONAL COMPARISON(per serving):
Traditional Dish = 853 calories, 35g fat, 60g protein, 65 carbs, 4.9g fiber
"Healthified" Dish = 497 calories, 29g fat, 51g protein, 4 carbs, 3g fiber