The Dirty Burger 
I have GREAT news for those of you who are busy like me but love tasty food! I despise wasting time going to the grocery store. Being able to have quality grass-fed meats mailed to my home at a good price from BUTCHERBOX is something that I LOVE! It helps me do things I love like kayaking instead of driving to the store and waiting in line!
I LOVE hamburgers! I especially love dirty hamburgers that are juicy and messy with lots of sauce!
Most of the time, I make my burgers with my brown butter cheese sauce, but I thought this dirty burger should feature my Comeback sauce for those of you who like spice! I however, am a traditional German girl who isn't a fan of spice, but if you are, this Dirty Burger is the BOMB!  This Comeback sauce smothered all over the Dirty Burger is a classic in Mississippi! It literally means it is so good you will comeback for more! It tastes great on hamburgers, coleslaw or anything fried! In the South they use Chili Sauce to make this but since that often has corn syrup we are using chili powder.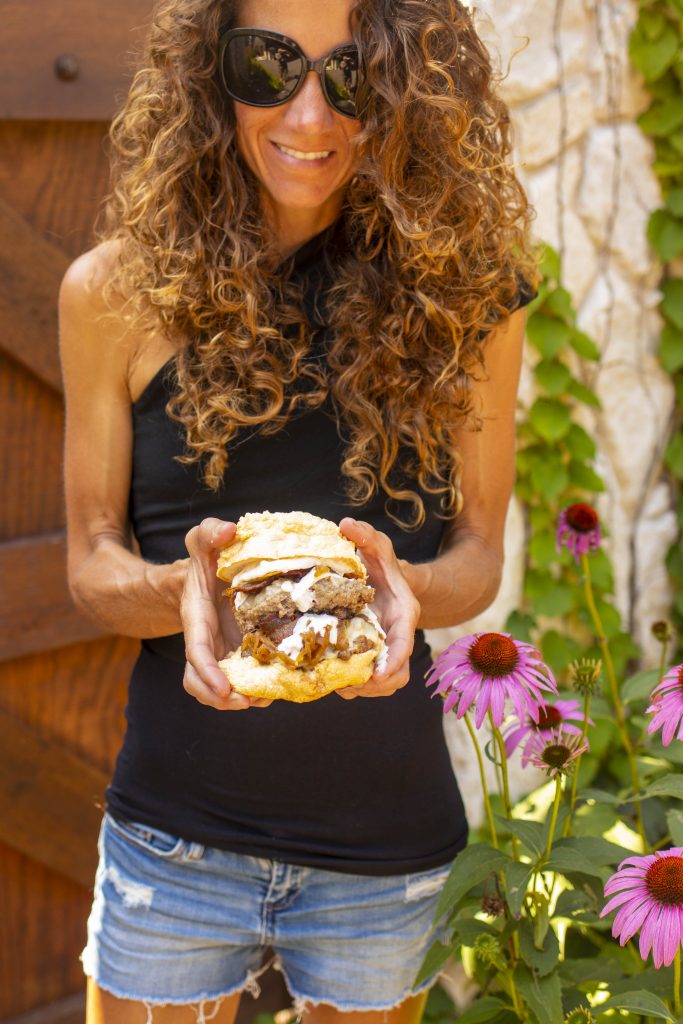 If you prefer, you could also use my homemade Ranch Dressing instead of Comeback Sauce, click HERE to find.
The Dirty Burger
Ingredients
COMEBACK SAUCE:
1

cup

Primal Kitchen mayonnaise

1/4

cup

tomato sauce

4

tablespoons

Natural Sweetener

or equivalent

1

tablespoon

lemon juice

2

teaspoons

wheat free Tamari/soy sauce

or coconut aminos

1

teaspoon

smoked paprika

1

teaspoon

Franks hot sauce

more or less depending on how hot you prefer

½

teaspoon

chili powder

1/2

teaspoon

Redmond Real Salt

1/2

teaspoon

garlic powder

1/2

teaspoon

onion powder

¼

teaspoon

ground allspice
Instructions
Make the Comeback sauce by placing all the ingredients in a bowl and stir well to combine. Taste and adjust seasoning as desired. Cover and store in fridge for up to 4 days. Can be made 4 days ahead.

Place the bacon t in a large cast-iron skillet over medium-high heat. Cook for 2 minutes per side or until cooked to your liking. Remove the bacon and set aside, while leaving the drippings in the skillet. Add the onions to the skillet and cook until the onions are soft and golden brown, about 7 minutes. Season with 1/4 teaspoon salt, then remove from the pan.

Meanwhile, place the ground beef in a mixing bowl and sprinkle it with the fish sauce (if using). Using your hands, mix the meat and fish sauce together to evenly distribute the sauce, then form the meat into four ¾-inch-thick patties. Season the outsides of the patties with the remaining salt.

Fry the burgers on both sides in the skillet over medium-high heat until cooked to your desired doneness. Remove from the pan and set aside. Crack 4 eggs into the skillet and season with 1/4 teaspoon salt. Cook until whites are cooked and yolks are soft. Remove from pan.

Place the burgers on a serving platter. Top with fried onions, bacon and a fried egg! Make it a double stack if desired! These burgers are best served fresh.
Nutrition
Calories:
839
|
Fat:
74
g
|
Protein:
36
g
|
Carbohydrates:
5
g
|
Fiber:
1
g
|
P:E Ratio:
0.5
TESTIMONY OF THE DAY
I was lucky enough to meet Leah on the Low Carb Cruise and at KetoCon! I ADORE her and her husband!
"Maria,
As I sit here and try to put into words what you have done for me, I get all teared up because I know I can not do it justice. In 2013 I was living overseas and going through a very hectic time in my life but still working out and eating what I believed to be "clean" food, nothing processed. I was following one of those work out plans where the food is a big part of the program but it just wasn't working for me…something was wrong. Being that my husband, Steve and I wanted to get even more serious about our health journey we decided that extra hormones like birth control wasn't something I needed in my body anymore. Within 7 days of having it removed I gained 10 lbs then 15, 20, 25, and it increased until 60 lbs in a few weeks. I was on every blog, post and website trying to figure out the correlation between hormones/birth control and weight gain but came up more frustrated and depressed as I had never had major issues like that before. A coworker whom you worked with told me about how you were helping her husband from abroad and so I thought, why not?! I have nothing to lose but all this weight and frustration! The weekend prior to starting, Steve and I went on a short vacation to Poland where we ate all the meats and pierogi's we could get our hands on…but on 1 May, I woke up and said enough was enough and started. That first day was eye opening! The only thing at the breakfast buffet were eggs and lunch meat and so my journey began….That was a little over 3 years ago.
Since then, using your amazing books, website and social media sites, particularly the 30 Day Ketogenic Cleanse book, I have lost 60 lbs and gained muscle! I am no longer pre-diabetic, no longer on metformin and have never felt better! My husband also has lost 20 lbs and has seen an increase to his performance in the gym and riding dirt bikes.
Keto has become such a lifestyle to us that we can't help but tell everyone about our story, your websites and groups. I have hosted so many information sessions during my lunch breaks and brought in some recipes to show and tell friends how simple it can be to go low carb. So many of them are doing well and losing fat!
Some of our friends and family think we're crazy for going on the low carb cruise this past May (where we first met) and then again, last weekend at KETOCON (where we also got to meet Craig!), but it's such a passion of ours and we love our Keto tribe which of course you are a major part of! I can't thank you enough for everything you have done for the Keto community. Looking forward to the next event you'll be at, your family is wonderful.
PS: we definitely want to make it to Italy and the Keto Condo!!!!
Here are the pics again from the cruise, KetoCon and my before/after pics. I have more but I think this tells the story in great pics!" – Love, Leah
Most people I consult are doing keto totally wrong. Get fast results with the my NEW Keto School!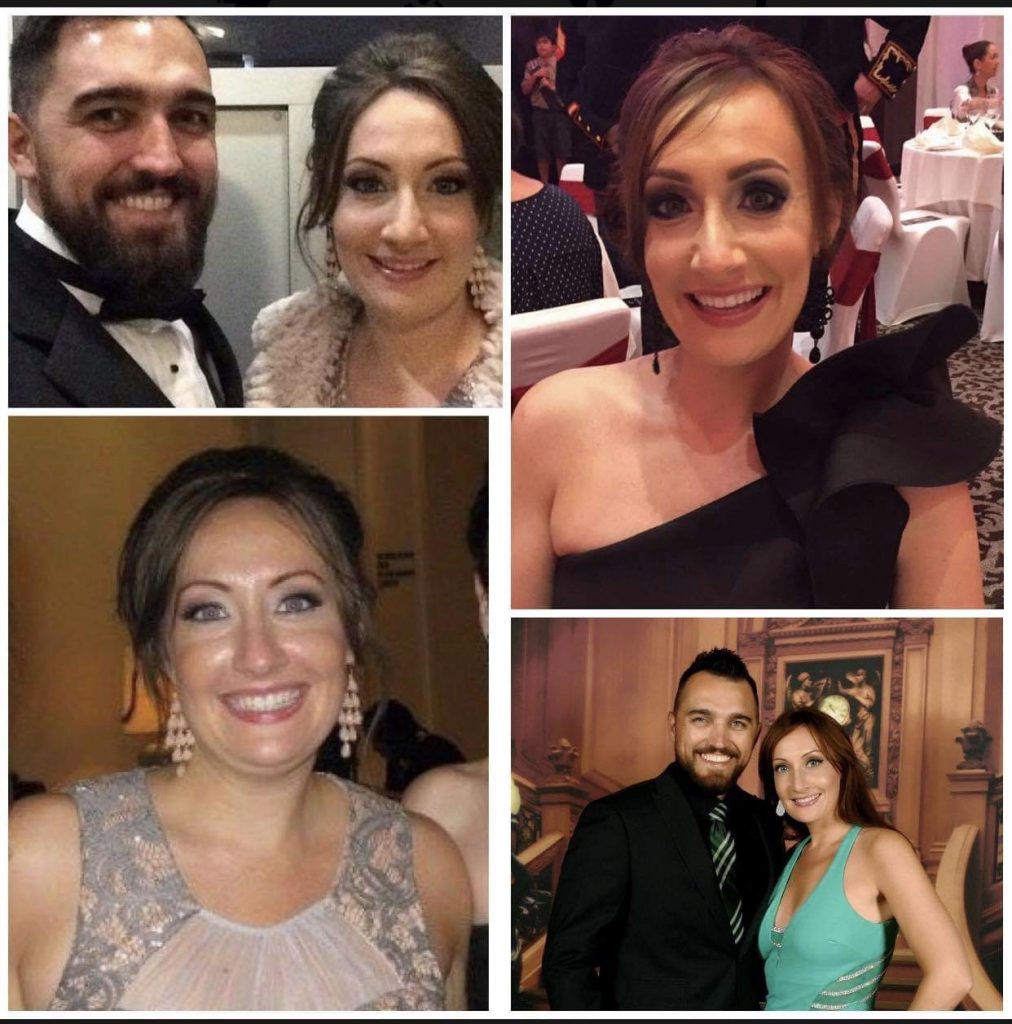 </scrip