Strawberry Cheesecake Santas
GREAT NEWS!
I updated my Keto Shopping Guide and Supplement List with COUPON CODES! I also included what hair products I use since I get asked that all the time.
I often get asked where I get certain products. And you may have seen me mention this before, but we do not have advertisements on my blog. I get approached all the time to have advertisements on my website and I get offered thousands of dollars a month for it, but you know what? I tried it for a few days and I was horrified to see "healthy" chips and things that I would never recommend for people to eat. I found it so intrusive and it covered up the message I want you to leave my website with.
Also, I only list things I approve of. I don't support things like the monthly delivery boxes, etc since they often have junk ingredients, flax, etc.
Why am I expressing this? Instead of doing advertisements, Craig and I researched and found healthy foods and products to keep you in ketosis and heal your body from the inside out. Every company we endorse (such as ButcherBox, BeautyCounter) are companies that really care about your health and not only that, they are super kind business owners that we love to support!
By purchasing through my Keto Shopping Guide, you help this blog with free information and recipes going! I'll never add those annoying pop-ups and advertising! Instead, I hope you consider my shopping guide!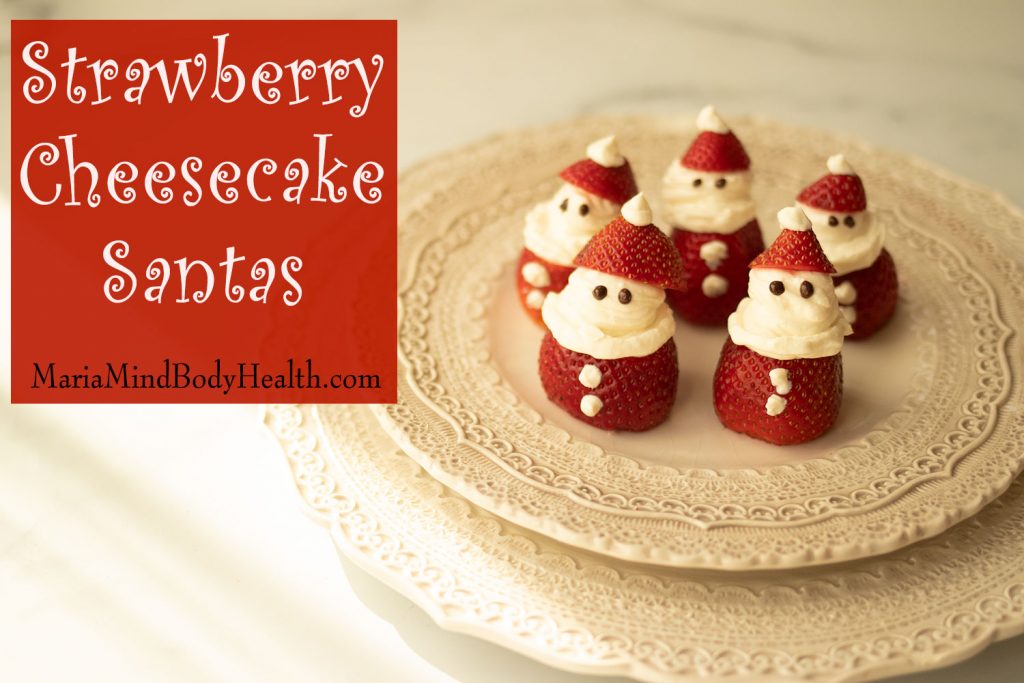 How cute are these Strawberry Cheesecake Santa's???
If you are dairy free, do not skip on by this recipe!
I have GREAT news for my dairy free friends! My son is dairy free and you can use Kite Hill brand of cream cheese spread to make these cute Strawberry Cheesecake Santas!
These sugar free Strawberry Cheesecake Santas are really delicious yet so simple! They are a little tedious, I'm not the best artist; however, these Santas are a fun Christmas food craft to make with your kids!
As we gathered in the kitchen making these Strawberry Santas, we talked about life and it was a really fun time!
If you make these Strawberry Cheesecake Santas with your kids, please tag me in your photos making them! They warm my heart!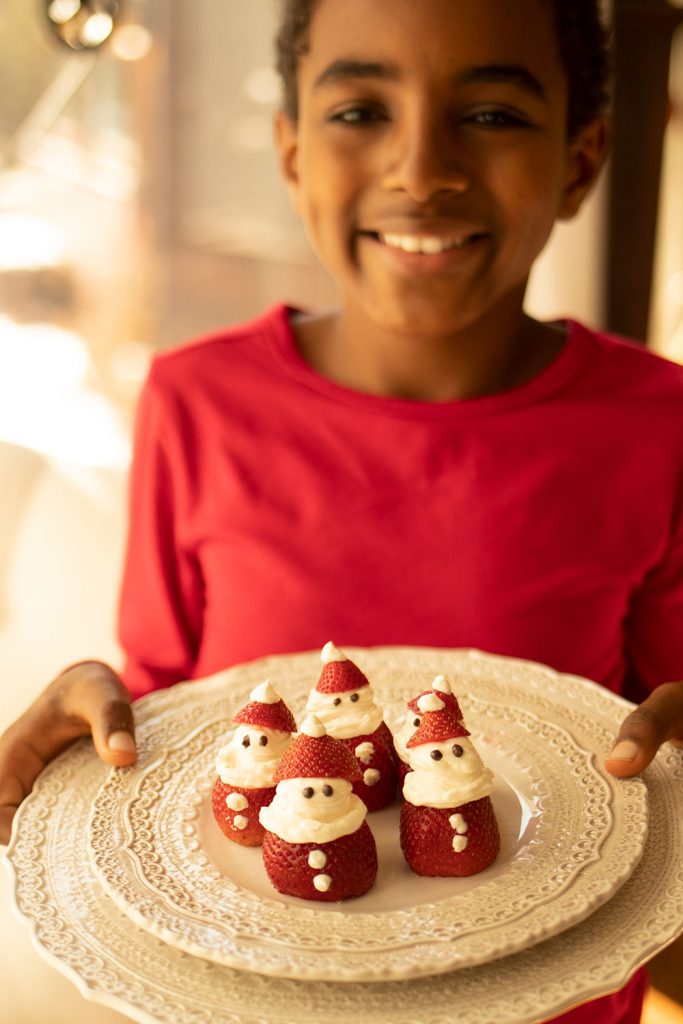 I get asked all the time to write a Keto Kids Cookbook that includes cute food like these Strawberry Santas! Actually, my Kids cookbook was one of the first books that I wrote!
All our ebooks are on sale! From our super popular Protein Sparing Modified Fast cookbook to our new Carnivore ebook, all are on sale. You can get 25% off any ebook by using the coupon code: BLK2020
If you would like to make a difference and support a small family rather than making a minuscule sale for a large company, I am happy to announce that you can now get my books as a high quality ebook that works on any platform (all done by my wonderful husband!). This is an ebook format that works on any computer or mobile device. It is a beautiful pdf that has all the full color pages and layouts as the printed books with click-able table of contents and searching capabilities. This is extremely useful when trying to find a recipe. These books are much higher quality than the ebook platforms (kindle, apple). Plus, most of the profits don't go to Amazon or apple!
If you prefer print books over ebooks, I suggest printing the books out and put the pages in a 3 ring binder! You can organize pages and recipes as you like! I put my favorite recipes in the beginning!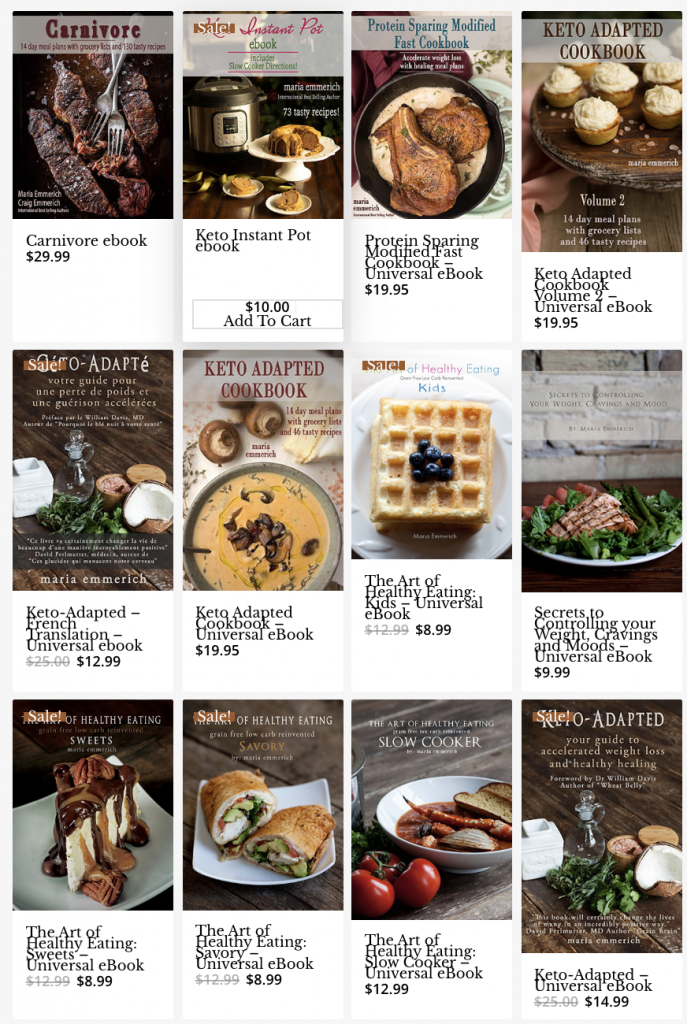 Not that you will have ANY leftovers of these cute Strawberry Cheesecake Santas, but do not plan on freezing any. When frozen strawberries thaw, their texture change and you won't have the cute Santas that you started with.
Strawberry Cheesecake Santas
Ingredients
24

large

strawberries

8

ounces

cream cheese

or Kite Hill cream cheese if dairy free, warmed

4

tablespoons

Natural Sweetener

or a few drops stevia glycerite

1

teaspoon

vanilla extract

1

square ChocoPerfection chocolate

melted OR The Good Chocolate
Instructions
Using a sharp knife, slice the stem off the strawberry. Cut it as even as possible since the Santa-strawberries will use that as a base.

Cut the top third of the strawberry, which will be the Santa "hat".

In a medium bowl, place the warm cream cheese, natural sweetener, and vanilla. Combine well. Taste and adjust sweetness to your liking.

Place cream cheese mixture inside a zip bag and cut a small 1/2 inch hole in one corner.

Place the widest end of the sliced strawberry face down as the base. Top the strawberry with the cream cheese mixture, top with the strawberry hats.

Next, snip the opposite corner of the Ziplock with a 1/8 inch hole. Use this end to decorate "Santa's" scarf by going around the lower part of his face, dot 2 dots for jacket buttons and squirt one dollop on the top of his hat.

Place the chopped chocolate in a small heat-safe bowl and heat gently until melted. Stir well. Place into a Ziplock bag. Cut a very small hole in one corner. Use to make Santa eyes in the cream cheese face.

Serve immediately or store in the refrigerator up to 3 days.
Nutrition
Calories:
82
|
Fat:
6
g
|
Protein:
2
g
|
Carbohydrates:
4
g
|
Fiber:
1
g
|
P:E Ratio:
0.2
TESTIMONY OF THE DAY
"Hi Maria! You have helped me live life again! I had to show you how much I have healed with your help! That's 1/2 of a blood pressure pill. Should be gone soon. I love it!" -Rebecca
Most people I consult are doing keto totally wrong. Get fast results with the my NEW Keto Packages!