Protein Sparing Tortilla Quesadilla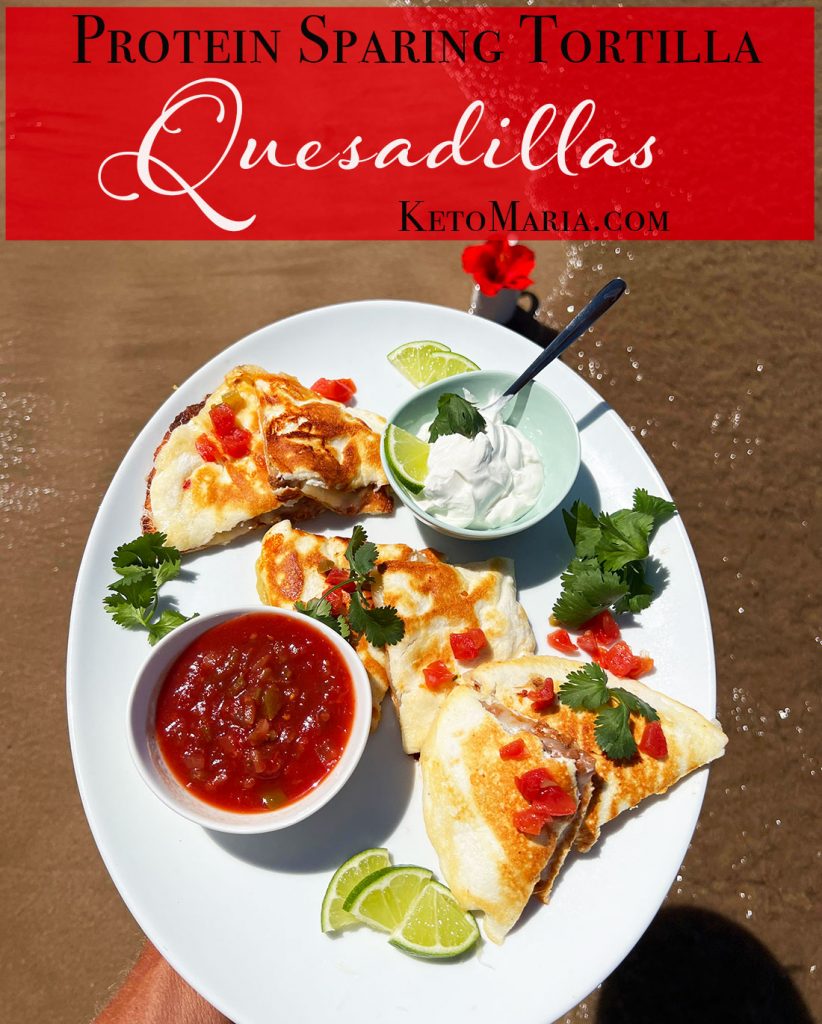 I store extra protein sparing tortillas in my freezer for easy meals like these delicious keto quesadillas!
This recipe for my protein sparing quesadillas has been on my website Keto-Adapted.com for my clients and one women messaged me, "I am Hispanic and am blown away by the recipe Genius, Maria!!!!! This Protein Sparing Tortilla and Quesadilla recipe is amazing and I am in LEGAL healthified BREAD Heaven! Thank YOU Maria – my sista!" Gina
My recipe is so delicious, I made a double batch so both Kai and I could devour the quesadillas! If you want to watch me make these easy protein sparing tortilla quesadillas, go to my Instagram Wall @mariaemmerich to watch my video!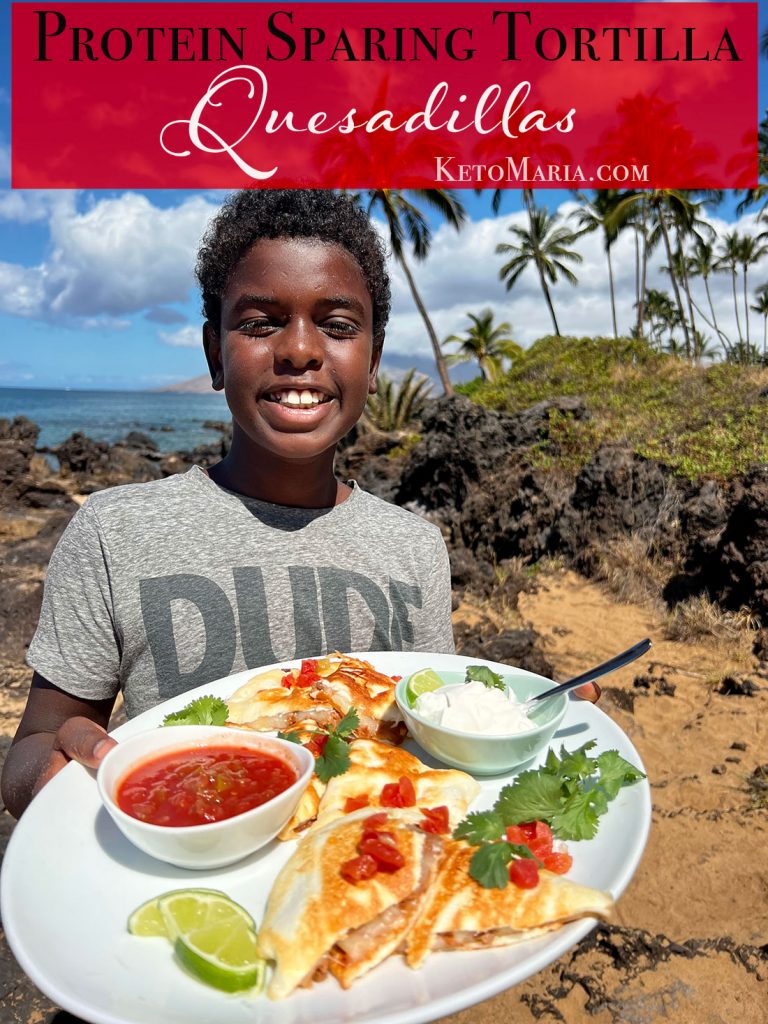 For a protein sparing quesadilla, omit the cheese in these protein sparing tortillas and use Kite Hill cream cheese spread. In my protein sparing quesadilla, I put Kite Hill dairy free cream cheese and my protein sparing taco meat! SO DELICIOUS! You won't even miss the cheese!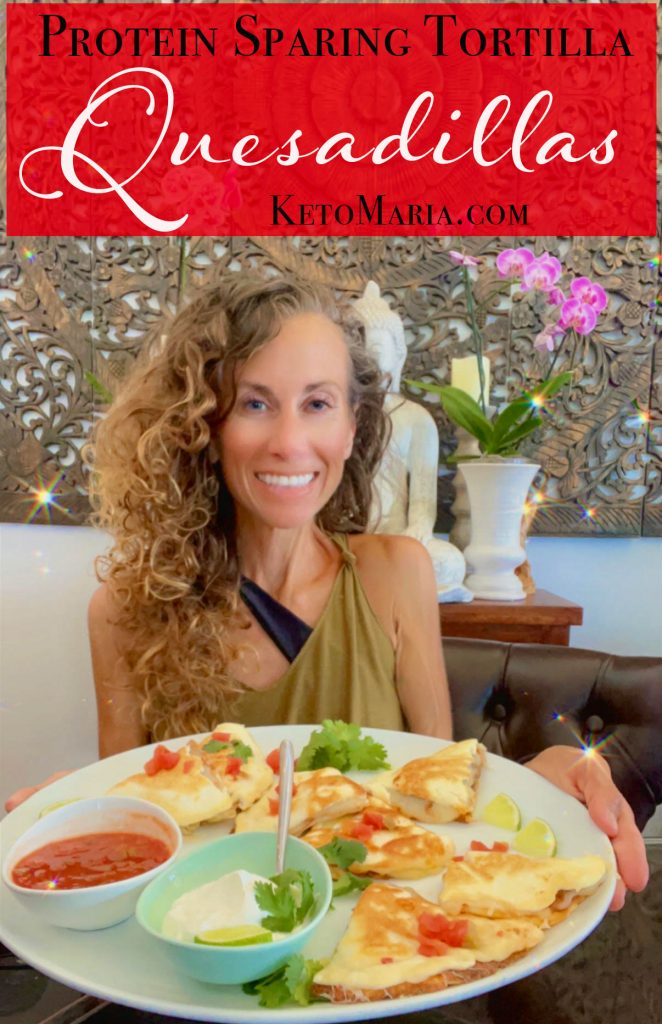 To make my protein sparing tortillas for these keto quesadillas, I used Wholesome Yum allulose monk fruit blend! Other sweeteners like erythritol will not work to make my psmf tortillas. Allulose melts and creates a soft tortilla.
Wholesome Yum brand of allulose is the best quality allulose and they even ship to Canada!
Wholesome Yum has the best quality natural sweeteners. Wholesome Yum also doesn't use harmful additives like some brands!
I also love Wholesome Yum because they are also a kind small family-owned business. You all know I love supporting small business!

Protein Sparing Tortilla Quesadilla
Ingredients
PROTEIN SPARING TORTILLA:
QUESADILLA:
2

teaspoons

butter

or butter-flavored coconut oil

1/4

cup

shredded cheese
OPTIONAL SERVING:
Protein Sparing Sour Cream

click HERE

Salsa

Lime Wedges

Sliced Black Olives
Instructions
Preheat oven to 325 degrees F. Line baking sheets with parchment paper. Spray the parchment with avocado oil spray.

Place the egg whites, gelatin, cream of tartar, salt and allulose in the mini food processor or a medium bowl.

Turn the food processor on high (or hand mixer on high) and whip the whites until double in size and there are SOFT peaks. Add the egg white powder and blend until just combined. (NOTE: If you want a thinner wrap like EggLife wraps, just mix until combined then pour onto a pan and fry until cooked)

Use a spatula to spread half of the mix out on each of the prepared baking sheets as thin as you can, about 1/8 inch thick.

Place into the oven to bake for 6-8 minutes or until cooked though.

Remove from the oven and allow to cool completely. Once cool, gently peel the paper off.

To make the quesadillas, heat a non-stick skillet to medium heat. Add 2 teaspoons of butter or butter-flavored coconut oil. Place one of the protein sparing tortillas onto the skillet. Top with the cheese (or other fillings) and top with the other protein sparing tortilla. Cook for 2 minutes or until the tortilla is golden brown. Flip and cook another 2 minutes or until golden brown. Remove from the skillet and cut into quarters. Serve with protein sparing sour cream, salsa and black olives if desired.
Nutrition
Calories:
358
|
Fat:
29
g
|
Protein:
24
g
|
Carbohydrates:
2
g
|
Fiber:
1
g
|
P:E Ratio:
0.8
TESTIMONY OF THE DAY
I LOVE getting email updates from phone clients like this!!! Doesn't Jess look AMAZING? I'm so proud of her!
"A little over a month apart and over 20lbs lost!!!

How did I do it?

I made a choice to go all in and sign up with Maria Emmerich and I did a phone consult!

I follow everything she tells me…and the weight is falling off.

Can't wait to see where I am next month!!" Jess

Most people I consult are doing keto totally wrong. Get fast results with the my Mind-blowing Keto School!