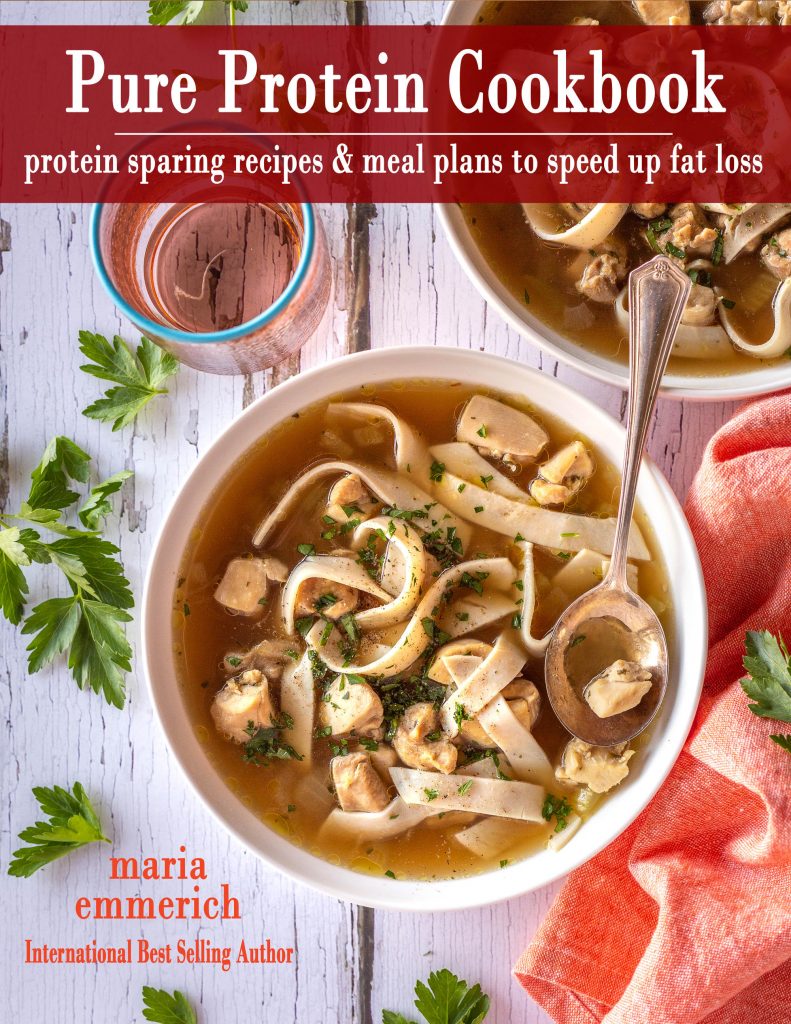 I have great news!
So many of my clients are having AMAZING results following my pure protein meal plans, I made a pure protein cookbook!
These recipes are 100% dairy free and gluten free and perfected for weight loss and healing! They are all NEW recipes that are not in any other protein sparing cookbook!
The Pure Protein Cookbook is filled with Protein Sparing recipes and meal plans to help you get to your goals faster!
I decided to call this The Pure Protein Cookbook because 15 years ago, I didn't call it protein sparing days when I was losing weight, I called it my "Pure Protein" days. This is where I ate lean proteins 3 days a week to help with my weight loss while maintaining my muscle.
I couldn't be more proud of this Pure Protein Cookbook! It is filled with more recipes than most ebooks and it also has meal plans! Not only that, but these are the BEST protein sparing (or Pure Protein) recipes ever! This doesn't feel like a diet when you get to eat such delicious meals!
This ebook has over 85 recipes (30% more than our last ebook)!
If you are wondering what recipes are included in the Pure Protein Cookbook, here is my list:
Break"Fast"
Pumpkin Spice Dutch Baby 16
Chocolate Waffles 17
Breakfast Burrito 19
Cinnamon Rolls 20
Snickerdoodle Pudding 22
Protein Sparing Blender Crepes 23
Savory Crepes 24
Cherry Danish 25
Basics & Sauces
Protein Sparing Cottage "Cheese" 27
Protein Sparing Sour Cream 28
Ranch Vinaigrette 29
Creamy Chipotle Lime Sauce 30
Louie Salad Dressing 31
Tortillas 32
Easy Protein Sparing Marinara 33
Easy Protein Sparing Bread 34
French Onion Dip 36
Main Dishes
Slow Cooker Sloppy Joes 38
Grilled Sweet and Sour Chicken 40
Beefy Soft Tacos 41
Mama Maria's PSMF Meatballs 42
Meatball Sub 43
Slow Cooker BBQ Chicken Wraps 45
Triple Decker Wrap 46
Slow Cooker Chicken Burrito 47
Reuben Burgers 49
Sweet n Sour Chicken Meatballs 50
Grilled Tuna Steaks 51
Party Sub 52
Saucy Enchilada Bake 53
Grilled Surf n Turf 55
Bourbon Shrimp 56
BBQ Tenderloin 57
BBQ Flatbread 58
Protein Sparing Pad Thai 60
Salmon in Ramen broth 61
Easy Pot Roast over "Rice" 63
Slow Cooker BBQ Pork Wraps 64
Easy Taco Lettuce Wraps 65
Ranch Chicken Kabobs 66
Unagi Salmon 67
Italian Fish Packets 68
Spaghetti Bolognese 69
Mama Maria's Italian Beef 70
SLOW COOKER BARBACOA 71
Simple Thai Chicken 72
Cilantro Lime Chicken Tenders 73
Braised Chicken and Mushrooms 74
Protein Sparing Salisbury Steak 76
Spaghetti and Meatballs 77
Protein Sparing Reuben 78
Slow Cooker Corned Beef 80
Egg Foo Young 82
Mama Maria's Italian Meatloaf 83
Italian Meatloaf Sandwich 84
Kung Pao Chicken Bowl 85
Slow Cooker Reuben Chicken 86
Sesame Chicken 88
Mexican Egg Salad Wraps 90
Tikka Masala 91
Sides
Savory Fry Bread 93
Protein Sparing Chips 94
Nutty Chicken Soup 95
Simple Italian Chili 96
Chicken "Noodle" Soup 97
Protein Noodle Ramen 99
Asian Beef Soup 100
Protein Sparing Egg Drop Soup 101
Crab Louie Salad 102
Chef's Salad 103
Grilled Romaine Steak Salad 104
Protein Popcorn 105
PSMF "Rice" 106
Sweet Treats
Protein Sparing Chocolate Sauce 108
Maple Syrup Frosting 109
Meringue Roll ala Roulette 110
Strawberry Shortcake 111
Chocolate Ice Cream 113
Protein Sparing Flan 114
Wendy's Frosty 116
Root Beef Float Ice Pops 117
Dessert Pizza 118
Chocolate Soufflé 120
Pumpkin Spice Bread 121
Pumpkin Spice Sorbet 123
Meal Plans
Meal Plan Week 1 125
Day 1 125
Day 2 125
Day 3 125
Grocery List Week 1 126
Meal Plan Week 2 127
Day 1 127
Day 2 127
Day 3 127
Grocery List Week 2 128
Meal Plan Week 3 129
Day 1 129
Day 2 129
Day 3 129
Grocery List Week 3 130
Meal Plan Week 4 131
Day 1 131
Day 2 131
Day 3 131
Grocery List Week 4 132
Thank you for your kindness and support!