Protein Sparing Garlic Bread
If you haven't noticed, I do not allow advertising on my site.
I just didn't agree with some of the products that were advertised. They were keto products, but they were unhealthy and I would never personally eat most of the products. It was hard to say no to blog advertisements; they pay thousands of dollars a month, but I just felt uncomfortable about having the products I didn't recommend on my website.
Instead, I have created a shopping list where you can find all the healthy ingredients that are difficult to find in the grocery store (and if you do find them, they are often very expensive).
I have done a lot of detective work and found the lowest prices on for all of the products I use and love. Everything from food, pantry items, kitchen tools, supplements, and skin products are on my list.
I rarely waste time in the grocery store because I find everything online for a way better price!
All you have to do is click on the words in my recipes and it will take you right to the correct item. If you add them to your cart I get a tiny commission that helps me afford to keep practicing recipes (Recipe experimenting can costing me a fortune!…but I love helping!).
I also have GREAT HOLIDAY GIFT IDEAS on the list!
Happy Shopping and THANK YOU for all your support!!!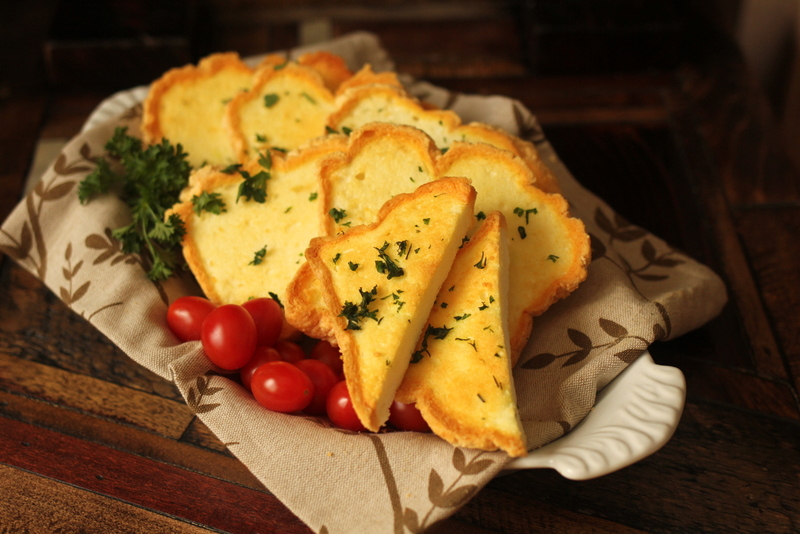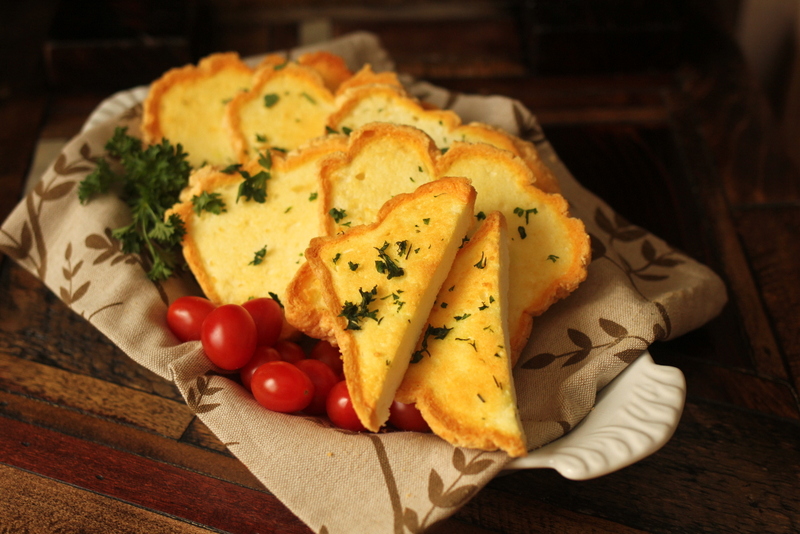 Protein Sparing GARLIC BREAD
6 eggs, separated
1 tsp cream of tartar
1/2 teaspoon Redmond Real Salt
1/4 cup unflavored egg white protein powder
3 tablespoons butter, softened
1 garlic clove, minced
Garnish with fresh parsley if desired
Preheat oven to 325 degrees F. Grease a small bread pan with avocado oil spray and set aside. Separate the eggs, and whip the whites with the cream of tartar for a few minutes until VERY stiff.
Very slowly add in egg white protein. Fold the reserved yolks and seasonings to the whipped whites.
Spoon the mixture into the pan and smooth the top with a spatula. Bake at 325 degrees F for 30 minutes until lightly browned. Cool completely before cutting. Once cool, cut into 12 pieces. Place the butter and garlic into a small bowl and stir well. Spread the butter evenly onto each slice. Sprinkle with Parmesan if desired. Place on a baking sheet and broil for 3 minutes until butter is bubbly and lightly browned. Garnish with fresh parsley if desired
NUTRITIONAL COMPARISON:
Pepperidge Farm Garlic Bread = 170 Calories, 7g fat, 4g protein, 24g carbs, 2g fiber
Protein Sparing Garlic Bread = 43 calories, 2g fat, 5.6g protein, 1g carb, 0g fiber
NOTE: Whipping the white properly is tricky, do not under whip or this won't turn out.
TESTIMONY OF THE DAY
"Together we've lost over 200+ pounds! We've been following Emmerich Keto for 4 years. And have become one of Maria Emmerich's' Certified coaches!!
And my whole family feels the same about you guys!
If it weren't for your Personalized Health Assessments & recommending certain labwork we never would've known about my middle daughter's thyroid issue! So…what a blessing YOU are Maria Emmerich !
I also have a 12 year old son that wanted your Sugar Free Kids cookbook just because of your boys helping in your YouTube videos!" Mandy
Most people I consult are doing keto totally wrong. Get fast results with the my Mind-blowing Keto School!