Protein Sparing Bread Chex Party Mix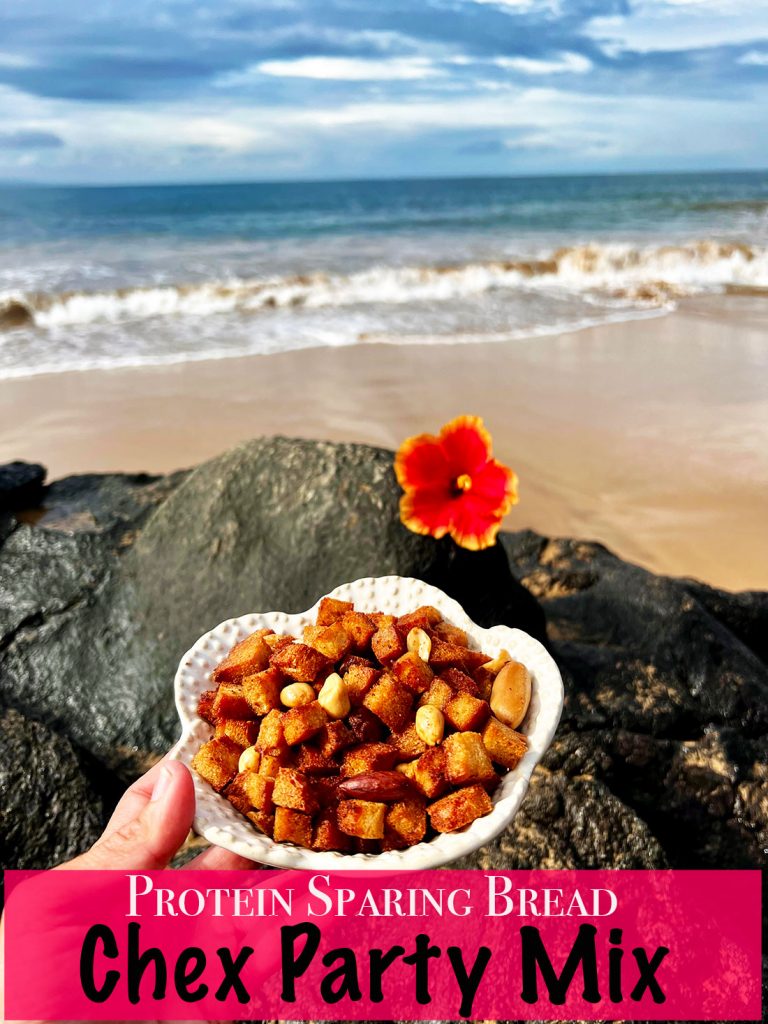 I have GREAT NEWS! I just made the BEST recipe for The Original Chex Party Mix made with my protein sparing bread!
Growing up, we always had the Original Chex Party Mix for Super Bowl parties and holiday gatherings!
I haven't thought about it much until I used Redmond organic Season Salt! 
The combination of seasonings make this healthy protein sparing bread recipe for Chex Party Mix really delicious and tastes just like the original Chex Party mix recipe!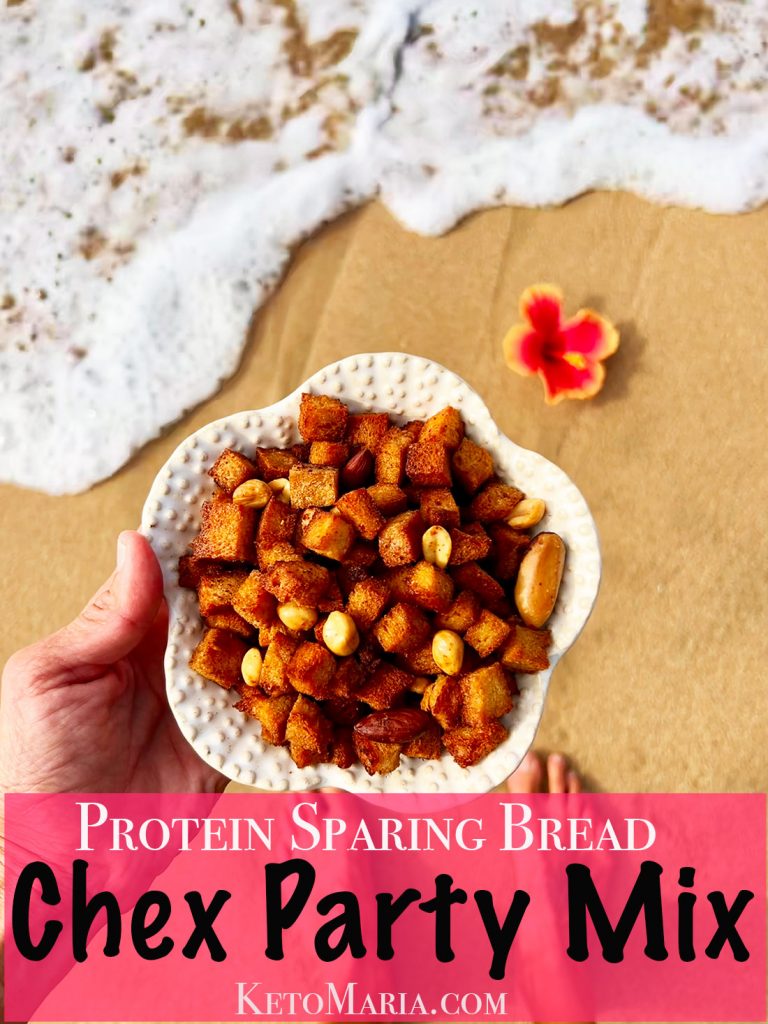 Instead of Chex Mix, I used my protein sparing bread cut into cubes made into little small square to resemble Chex!
The texture and the flavor of my protein sparing Chex Party Mix recipe really took me by surprise! Even my boys gobbled my recipe up and I had to make another batch!
This recipe is so delicious! I have been eating it every night! It is a great snack to pack while traveling or at the beach!
I actually prefer my recipe for Protein Sparing Bread Chex Party Mix without the nuts! Feel free to omit them for lower carbs and better P:E ratio!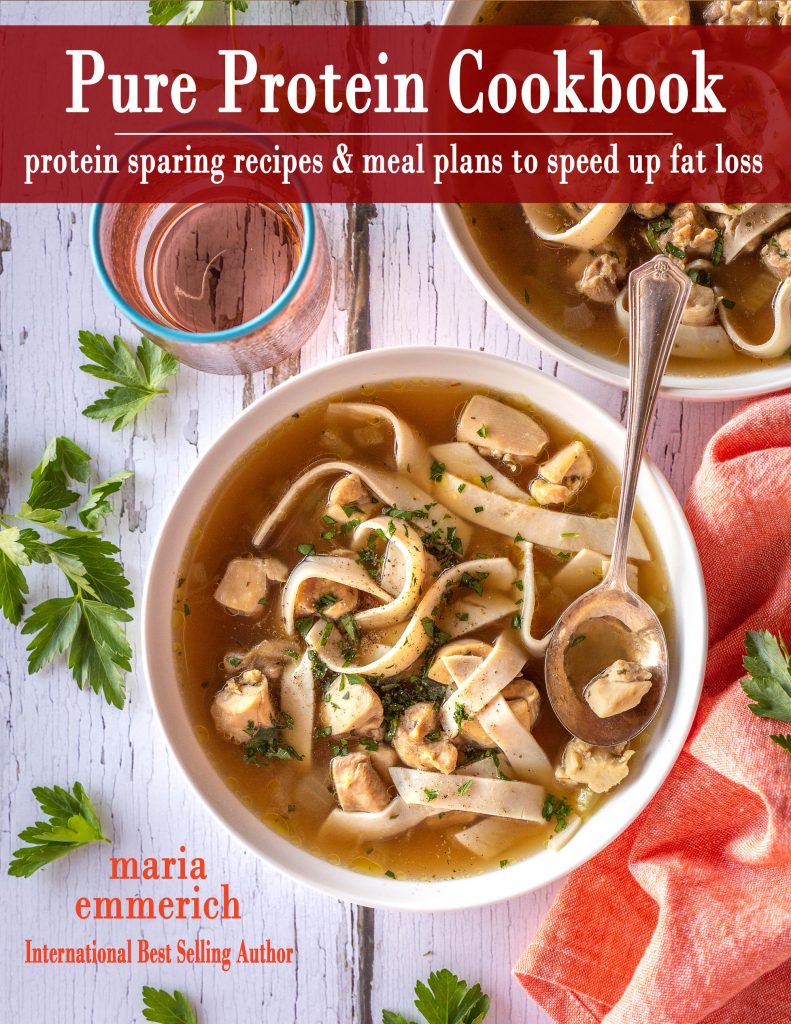 Find more delicious protein sparing bread recipe ideas in my new Pure Protein Cookbook! The Pure Protein Cookbook is filled with Protein Sparing recipes and meal plans to help you get to your goals faster!
I decided to call this The Pure Protein Cookbook because 15 years ago, I didn't call it protein sparing days when I was losing weight, I called it my "Pure Protein" days. This is where I ate lean proteins 3 days a week to help with my weight loss while maintaining my muscle.
I couldn't be more proud of this Pure Protein Cookbook! It is filled with more recipes than most ebooks and it also has meal plans! Not only that, but these are the BEST protein sparing (or Pure Protein) recipes ever! This doesn't feel like a diet when you get to eat such delicious meals!
This ebook has over 85 recipes (30% more than our last ebook)!
Thank you for your kindness and support! 
Protein Sparing Bread Chex Party Mix
Ingredients
4

tablespoons

unsalted butter

melted (or duck fat if dairy free)

3

teaspoons

fish sauce

3

teaspoons

organic tamari

soy sauce

2

teaspoons

apple cider vinegar

1/2

teaspoon

Redmond organic Season Salt

1/2

teaspoon

garlic powder

1/2

teaspoon onion powder

1/2

loaf protein sparing bread Click HERE (cut into 1 centimeter thin slices)

1

cup

mixed nuts

optional, omit for nut free
Instructions
Preheat oven to 300 degrees.

Place the melted butter, fish sauce, tamari sauce, vinegar and seasonings into a large bowl. Stir well to coat.

Use a knife or pizza cutter to cut the protein sparing bread into small 1 centimeter square pieces. Place the small protein sparing bread pieces and nuts into the butter mixture and stir to coat well.

Bake 45 minutes, stirring every 20 minutes. Remove from oven and allow to cool completely so the protein sparing bread bites crisp up. If the protein bread cubes are not crispy after cooling, place back into the oven for 15 minutes.

Store in airtight container for up to 7 days.
Notes
(Without nuts):
83 calories, 4g fat, 11g protein, 1g carbs, 1g fiber
P:E Ratio 2.8
Nutrition
Calories:
152
|
Fat:
10
g
|
Protein:
13
g
|
Carbohydrates:
3
g
|
Fiber:
1
g
|
P:E Ratio:
1.1
TESTIMONY OF THE DAY
This testimony gave me goosebumps! I feel honored to help people like Charity!
"Long story short, I have 3 autoimmune conditions, one being stage 4 endometriosis (they don't clinically categorize it by stages anymore but if they did, this is where I land). Through diet and lifestyle, particularly the Maria Emmerich's way of keto, I have been able to keep all 3 conditions, especially endometriosis, in remission with this approach. 8 weeks ago I got a horrible endo flare up and after a month in with no relief, I was desperate. Meds and BC are not an option. I'm anti meds for many reasons and understand this is a personal preference, so no judging others that use meds. When I was diagnosed, my world renowned excision specialist, told me surgery should be a last resort. I was in so much pain, I was researching and exploring my options for surgery. I decided to do Maria's personal health assessment.
I'm only 2 weeks in and almost pain FREE with no flare ups. I could cry tears of joy!
This disease is debilitating and being in chronic pain every day is no way of living.
The fact Maria helped me do this holistically, naturally and with no meds and surgery is so awesome. Best Christmas gift!
I'm still on this protocol and will continue to do so, and I encourage others to reach out if you have been on the fence about hiring Maria for an assessment. It's worth every penny!
I've learned things about my hormones and endo I never knew thanks to Maria's knowledge and expertise. Even my non-keto healthy anything husband is a believer. He's just happy I'm healing. Thank you Maria Emmerich and Craig Emmerich!
Enjoying the holiday season in much less pain, today!" – Charity
Most people I consult are doing keto totally wrong. Get fast results with the my Mind-blowing Keto School!