Gluten-Free Junk
When I tell clients to eat "gluten-free" they often grab all the "gluten-free" pre-packaged foods on the shelf…but that most likely will cause weight gain and slow the healing process in your gut. Rice flour, the common flour substitute in gluten-free products, is higher in calories, higher in carbohydrates, and lower in nutrients than regular flour. It can cause more inflammation in our bodies.
Inflammation is usually associated with pain, swelling, and heat. BUT it doesn't always show externally; "silent inflammation" is more dangerous because we usually don't know we have it until an illness falls upon us. Everyday issues like headaches, sinus problems, allergies, skin disorders, acne, heart disease, stroke, aching joints and back, arthritis, and cough are nothing more than a physical manifestation of silent inflammation. By the time we notice and address the symptoms, our cells have already been inflamed for a long time. One of the reasons so many people are dealing with inflammation is because of a rapid rise in blood sugar, which causes biochemical changes in the cell.
Choosing low carbohydrate foods is one of the best ways to decrease inflammation. When blood sugar rises, sugar attaches to the collagen in a process called "glycosylation," increasing inflammation (and increases wrinkles!) Athletes also mistakenly eat too many carbohydrates that hinder their healing and recovery time because they are constantly inflaming their joints. Using high-quality fats is also essential to reduce inflammation in the body. Omega-6 fats, found in margarine, soybean, corn and safflower oils, are inflammation-causing fats.
WILD RICE
Another question I am frequently asked is about wild rice. Yes, it is gluten-free, but for those with a damaged gut (leaky gut) or a damaged metabolism or anyone who wants to become keto-adapted, it is way too high in carbs. It is disturbing to find that 60% of adults never completely heal from the celiac disease despite following a gluten-free diet.[53]
It has been found that only 8% of adult patients with celiac disease eating a gluten-free diet reached "normalization," where their intestines completely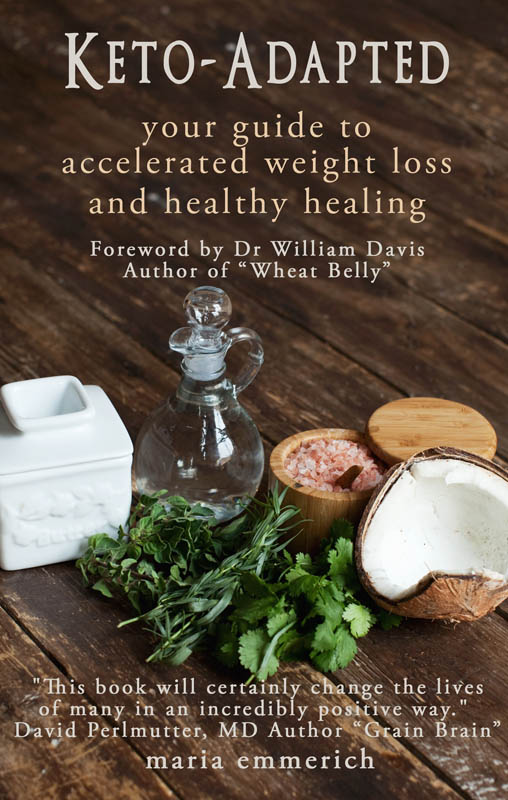 recovered. However, there is new research that may help people with celiac for good! Researcher Alessio Fasano, M.D. has been on the leading edge of recent autoimmune and celiac disease exploration. In 2011, he published a paper titled "Leaky Gut and Autoimmune Diseases" which presented a new theory that suggests prevention and reversal of autoimmune disease is possible.
Read more about healing autoimmune diseases and celiac in my new book Keto-Adapted.
We all know that sugar is bad, but we mistakenly believe complex carbohydrates are healthy and we need to eat them in abundance. BUT what if I told you that "Complex carbohydrates" and "Whole Grains" are just glucose molecules hooked together in a long chain; the digestive tract breaks it down into glucose…also known as sugar. So a "complex carb" diet and a "sugary" diet are pretty much the same things.
To watch a helpful video on how carbs become sugar, click HERE.
If you are having a hard time finding ingredients in your grocery store, just click on the items in the ingredients and you will see where I find them at the best price.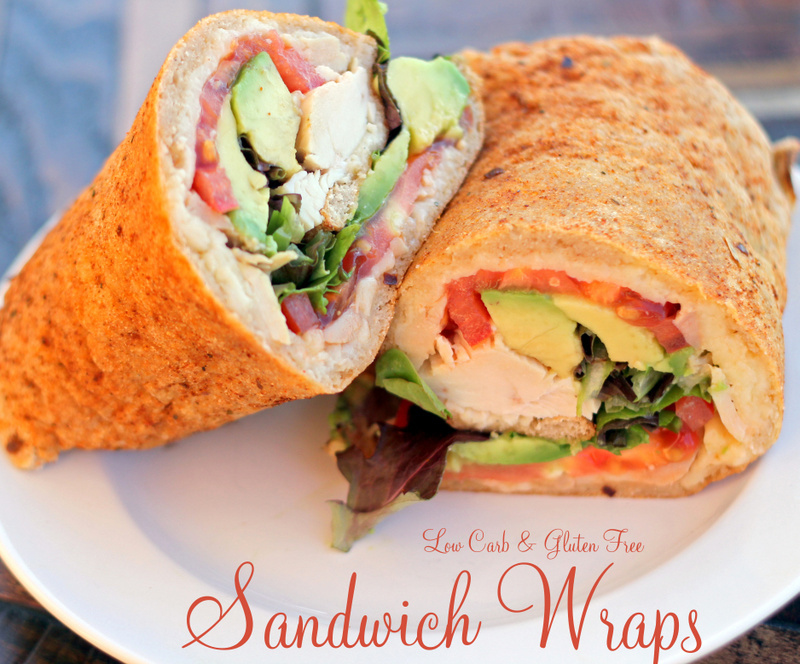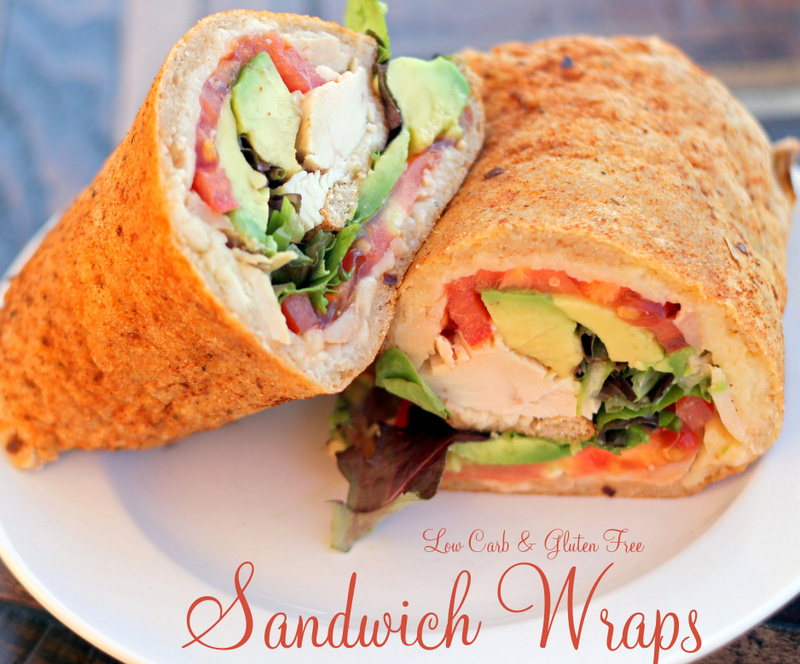 WRAPS:
1/2 cup coconut flour
2 TBSP psyllium husk powder
1/4 tsp Celtic sea salt
1/4 cup butter OR coconut oil, softened
1 cup boiling veggie broth OR water (broth adds flavor)
OPTIONAL FLAVOR ADDITIONS:
1/4 tsp garlic powder
1/2 tsp oregano (click HERE for the health benefits!)
Preheat the oven to 350 degrees F. In a medium-sized bowl, stir together the coconut flour, psyllium husks, salt and any spices you desire. Add the butter or coconut oil. Stir continuously as you add the hot broth or water, it will melt the butter or oil. Combine until very smooth.
Place the dough onto a piece of greased parchment paper (I used THIS coconut oil spray). Using a rolling pin, roll the dough out in a circle shape with even thickness throughout. Place the bottom parchment with the unbaked wraps onto a cookie sheet (I make sure it isn't stuck to the parchment otherwise it is hard to release after baking). Bake at 350º for 20 minutes or until done throughout (this will depend on how thick you rolled the dough). Use for sandwiches! Yum! Makes 6 wraps.
NUTRITIONAL COMPARISON (per wrap)
Traditional Wrap = 180 calories, 5g fat, 2g protein, 30 carbs, 3g fiber
"Healthified" Wrap = 123 calories, 8.7g fat, 2g protein, 9.3 carbs, 6.7g fiber!
An easy way to make these is in a Tortilla Maker. Click HERE to find.
This recipe was inspired by a blog follower, thank you so much for your ideas! I was amazed at how well this wrap turned out!
Testimony of the Day
"Where's the closest bathroom?" was the first question that would come out of my mouth when we would step foot into a restaurant. From as early as I can remember I have suffered from horrible stomach pains after eating meals. I always laughed off my "digestive issues" until one day after my 2-year-old daughter saw me holding my stomach in the fetal position on the couch after a "fun" night out for dinner. She worriedly asked my husband "What's wrong with Mommy?" I knew at that point I had to get some answers and so I began the very long road to healing my gut.
I was referred to a gastroenterologist who told me, although my gallbladder was functioning at a healthy rate, it should be removed. I was not keen on having an organ taken out of my body, so instead, he told me to stay away from butter and oils. I did just that…and lived on boring salads with low-fat dressing for years. Yes, my stomach pains did go away, but my diet was so boring! Then, slowly but surely, I started to get sick again. First it was pneumonia, then nearly once a month I would get almost flu-ish and end up in bed. My weight started to fluctuate, but the last straw was when I came down with shingles. I knew, at 28, that something bad was going on in my body. My doctor told me not to worry, and shingles were completely normal in a 28-year-old woman. It was just too much "stress" in my life…but I wasn't stressed!
Then one night (when I couldn't sleep…due to the steroids they pumped in me to combat the shingles) I was researching my issues and came across the celiac disease. My mind raced as every description matched mine. The next day I made a conscious decision to cut out wheat. I was ecstatic! I immediately felt a difference in my energy, moods, etc.
After a month of eating gluten-free, I decided to contact my doctor and get a test to "confirm" my allergy. He reluctantly did the tests and cheerfully called me the next week to tell me I didn't have celiac…but possibly a gluten "sensitivity". I was crushed! I thought I had found the answer to all my problems. But, as Maria points out, there is a large percentage of false negatives when tested for celiac.
Fast forward to today. I am ever so grateful to have met Maria! I try to adhere to a ketogenic diet, which means high-fat (butter and oils, gasp!), moderate protein and low-carb foods. I have never enjoyed such a wide array of foods in my entire life! Eating is now fun again! My stomach issues have completely disappeared  but what's more astonishing are the other changes: my clearer thinking, my muscle definition, my energy levels, my skin, my moods. The list goes on and on. I am a group fitness instructor and most days of the week I need to be in the gym all morning strength training and teaching high-intensity cardio. I usually don't get home until late afternoon and a ketogenic diet allows me to have the energy to do this! I sometimes even need to remind myself to eat!
And my Raynaud's syndrome completely DISAPPEARED  This photograph is evidence of what my husband used to refer to as my "corpse" fingers. For 8 months out of the year, I would lose complete feeling in not only all of my fingers but my toes and nose as well! My husband even bought me a very expensive pair of boots that I would clomp around in…and that STILL didn't work. I would spend hours just focusing on trying to get blood back into my fingers, to no avail. Out of the blue one day, after switching to a high-fat diet, I suddenly realized I have not lost any feeling since! It's crazy!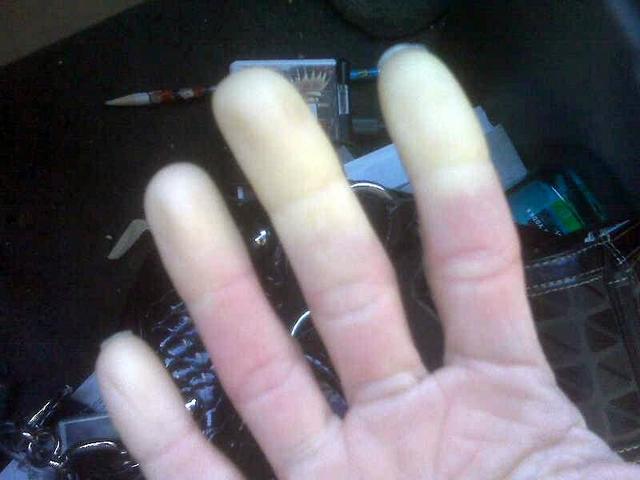 One other "plus": I have been addicted to Diet Mountain Dew since college (over 10 years ago). I used to say "If you want to kill me, lock me in a room without Diet Dew". I would drink SIX cans a day. I was so proud of myself when I cut down to four! After eating this way, I suddenly felt ill whenever I would try to slug a can. So I completely quit my pop addiction cold-turkey. The weird thing is, my body doesn't need the caffeine! The fats in my diet drive my energy sky-high. Now, if you would have told me I wouldn't drink pop five years ago, I would have died laughing!
I am forever indebted to Maria…for opening my horizons to the ketogenic diet and freeing me from a life of boring salads!" Kristen
To get the results like Kristen, click here to get started. A year from now you will thank yourself!