Halloween Pudding

If you haven't tried my very popular hard boiled egg pudding, you are missing out!
All over the WORLD, people are tagging me in photos of my egg pudding telling me that it is some sort of magic or sorcery! It warms my heart to see all of you trying my special pudding recipe!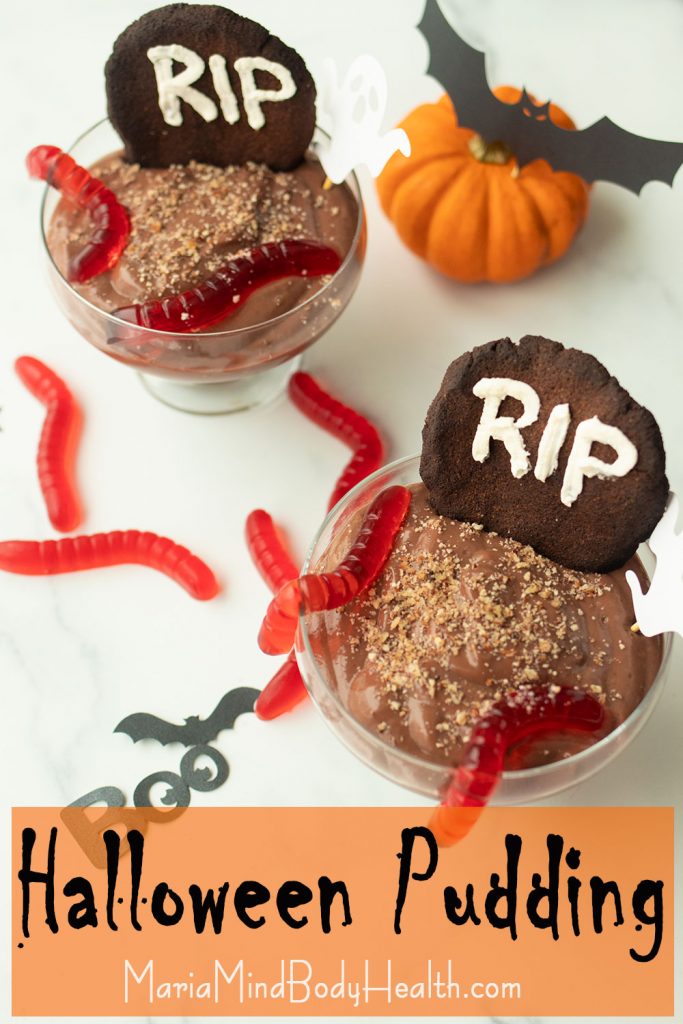 Well, I decided to make my Hard Boiled Egg Pudding into a fun Halloween Pudding for all of you to try! This Halloween Pudding can be made completely dairy free if you want!
I paired a few of my keto kids favorites of the Keto Pudding, my Keto Gummies and I used my Thin Mint Cookie recipe, but I didn't use mint, I used vanilla. I made a cute graveyard pudding scene and my boys loved it!
I hope you enjoy a healthy keto Halloween this year!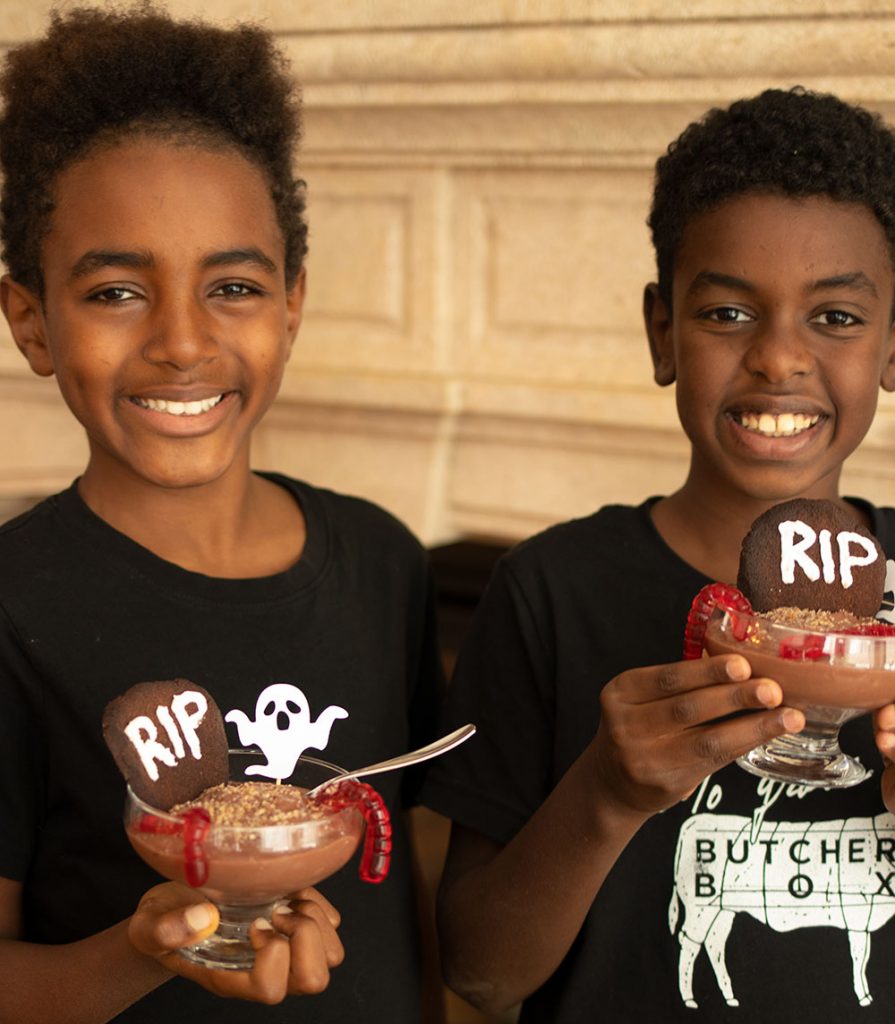 I use my Vitamix daily! No lie. I use it for everything. I make my sauces in it, salad dressings (my Ranch is the best!), my keto soups that I want pureed, and it makes my hard boiled egg pudding into the creamiest chocolate mousse!
Yes, a Vitamix is a pricy gift, but I went through a cheap blender almost every year. My Vitamix has lasted 10 years! It is good investment in my mind!
Click HERE to find the Vitamix I love (on SALE NOW)!
Click HERE to find a more affordable Vitamix! 
Halloween Pudding
Ingredients
CHOCOLATE PUDDING:
10

large

hard boiled eggs

peeled (or scrambled eggs)

1

14 ounce can

coconut milk

(or 10 oz. unsweetened almond milk)

½

cup

Natural Sweetener

or equivalent amount of liquid or powdered sweetener

¼

cup

unsweetened cocoa powder

2

teaspoons

vanilla

1

teaspoon

ground cinnamon

⅛

teaspoon

Redmond Real Salt

use code Maria15 for 15% off
KETO COOKIES:
1/2

cup

butter

or coconut oil

1/4

cup

Natural Sweetener

or equivalent amount of liquid or powdered sweetener

1

large

egg

4

tablespoons

unsweetened cocoa powder

1/4

teaspoon

Redmond Real salt

1

teaspoon

baking soda

2

teaspoon

vanilla extract

3 1/2

cups

blanched almond flour
GUMMY WORMS:
Gummy Worms

Click HERE for the recipe
OPTIONAL GARNISH:
1

ounce

cream cheese

softened (or Kite Hill brand if dairy free)

Crushed Pecans
Instructions
Divide the pudding into 4 shallow serving dishes.

Cool the cookies completely in the fridge.

Place the softened cream cheese into a Ziplock bag. Cut a tiny hole into the corner of the bag. Write the letters RIP onto each gravestone shaped cookie. Place the cookies into the pudding.

Place the gummy worms into the pudding dish. Garnish the pudding with crushed pecans if desired.

Store in the fridge for up to 4 days.
Notes
(NOTE: this uses one cookie per dish or about 1/4 of the cookies)
Nutrition
Calories:
366
|
Fat:
31
g
|
Protein:
18
g
|
Carbohydrates:
6
g
|
Fiber:
3
g
|
P:E Ratio:
0.5
TESTIMONY OF THE DAY
3 months seizure free no meds JUST KETO!
"There are many reasons people choose this lifestyle. For me it is because 10 years ago I developed maternal onset Epilepsy. After my daughter was born I took the anti-seizure meds and OH LORDY. I felt terrible. Depressed, lethargic, memory problems, apathy and weight gain. I am a happy, energetic, impulsive, type A. Living like this was no life at all!
My mom researched alternatives for me and found keto (for those who don't know, the Ketogenic diet was used to manage pediatric epilepsy as far back as the 1920's). I based my diet on a slightly different keto practice and it controlled my seizures but was not sustainable. I did not stick to it. After about 18 months I was back to burgers and pizza..
Fast forward 7ish years and Bam! I started having seizures again. After seeing my neurologist and telling him I just CAN'T go back on those meds we agreed to try diet to control my seizures.
I happened to run into a friend of mine who is a Maria Emmerich JUNKIE . She lent me ALL the books, I learned so much. I am SO GRATEFUL to my friend and to Maria Wojcik Emmerich & Craig Emmerich for being such tremendous resources.
You have not only supported my health but you have allowed me to also keep cooking for my family and friends and no one minds that it's keto because you are SO talented!!!!
Everyone has their own reason for being here and for this WOE for me it is medicine and I am beyond grateful it is working!!! Thank you as well to this community. Each of you have also provided me with a tremendous amount of information. Thank you! 
I hope you all have an amazing weekend!!! — feeling grateful."
Most people I consult are doing keto totally wrong. Get fast results with the my NEW Keto Packages!