Hard Boiled Egg Pudding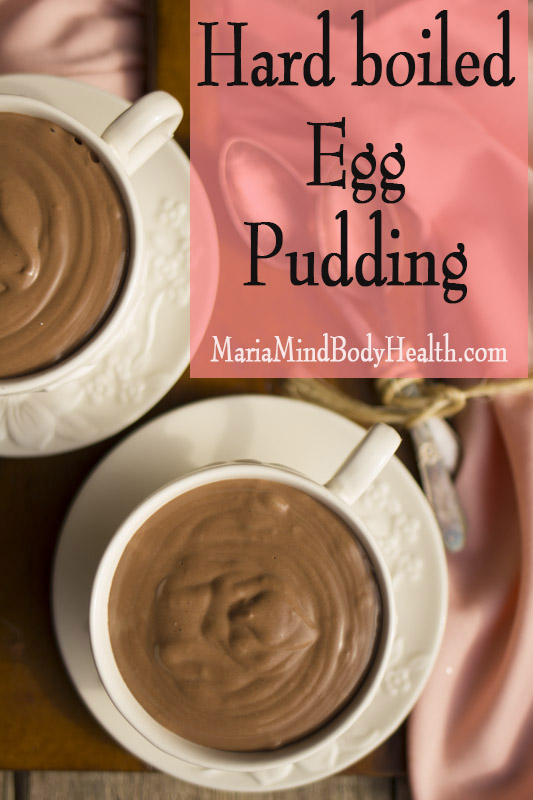 I know this Hard Boiled Egg Pudding recipe sounds crazy, but you must try it!
I first wrote this recipe back in 2011 when we first adopted 2 baby boys and my husband lost his job. Times were tough and money was very tight.
My son Kai hated eggs as a toddler, but eggs are one of the cheapest keto foods and needed to be one of our staples for food. I devised this recipe to sneak some eggs into his breakfasts. He loves it! To think, hard boiled eggs made into a pudding! Yes, I am crazy but it is a great way to get in protein without using protein powders!
This protein pudding recipe is in my book The 30 Day Ketogenic Cleanse cookbook and it is in the meal plans which have helped so many people stick to this dairy free keto lifestyle and enjoy the food!
"Hi Maria! That chocolate breakfast pudding made with 10 hard boiled eggs. I don't know what parallel universe Maria was living in when she concocted that recipe, but it is magically, life-changingly amazing. My husband cannot believe that 10 HB eggs turned into such deliciousness. Neither can I. I was skeptical right up to the last minute. This will be a staple in our house from now on! Thanks, Maria!"
If you do not like chocolate and would prefer a French Toast Protein Pudding, I have that recipe in Easy Dairy Free Ketogenic Recipes cookbook! 
If you want to watch me make this delicious hard boiled egg pudding, subscribe to our new YouTube Channel to get updated when the video comes out which will be in a day or two, and comment below on what video recipe we should make next!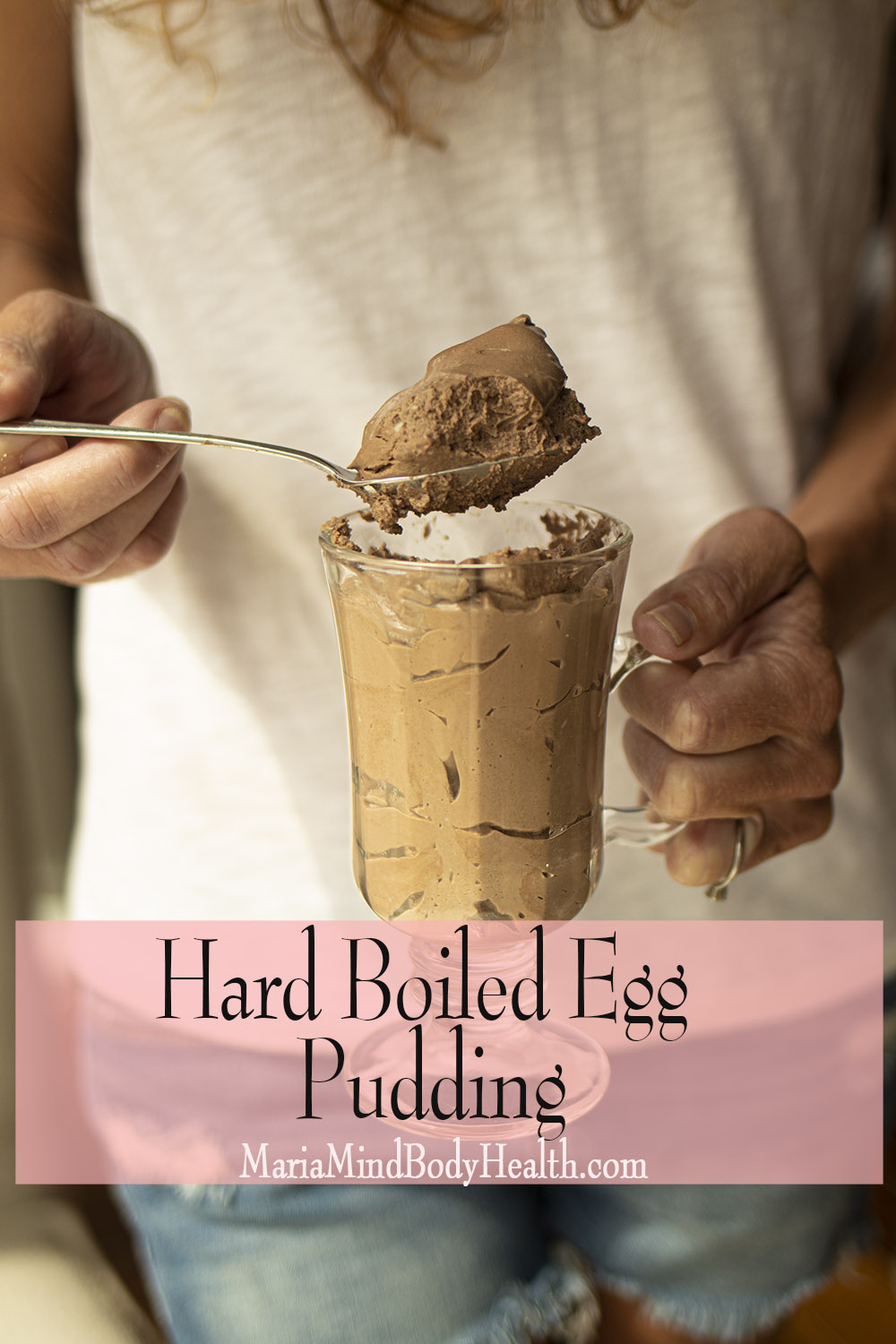 I use my Vitamix daily! No lie. I use it for everything. I make my sauces in it, salad dressings (my Ranch is the best!), my keto soups that I want pureed, and it makes my hard boiled egg pudding into the creamiest chocolate mousse!
Yes, a Vitamix is a pricy gift, but I went through a cheap blender almost every year. My Vitamix has lasted 10 years! It is good investment in my mind!
Click HERE to find the Vitamix I love (on SALE NOW)!
Click HERE to find a more affordable Vitamix! 
TIP OF THE DAY: I often hear that people do not like the sulphur smell of the eggs. So here is a great tip! Jacques Pepin, the amazing French chef, suggests putting boiled eggs immediately into ice water after cooking, and leaving them there for 30 minutes to prevent the sulphuric odor.
I made my keto chocolate pudding for Halle Berry and she absolutely loved it! She took all the leftovers!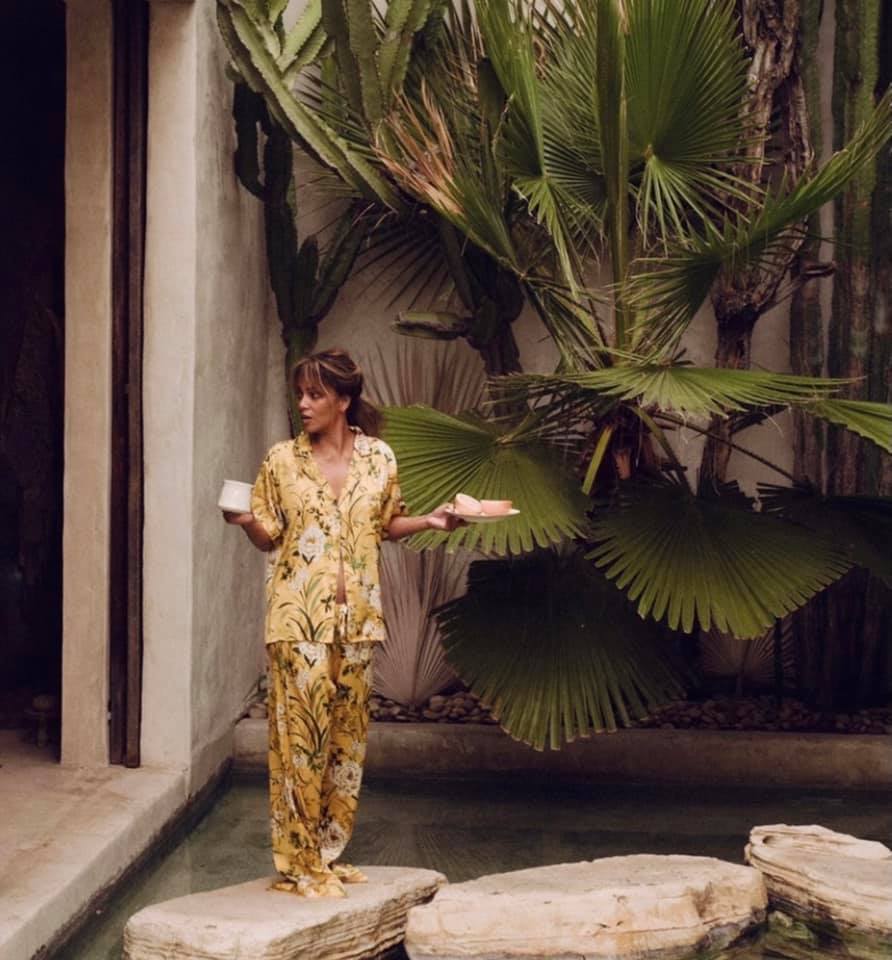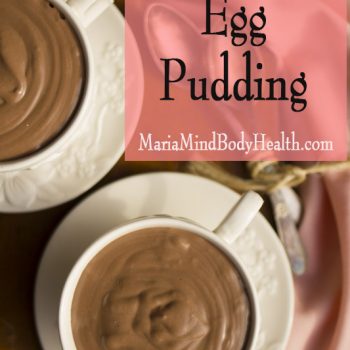 Hard Boiled Egg Pudding
Equipment
Ingredients
10

large

hard boiled eggs

peeled (or scrambled eggs)

14

ounces

coconut milk

1 can, (or 10 oz. almond milk)

1/2

cup

Natural Sweetener

or 3/4 teaspoon stevia glycerite

1/4

cup

unsweetened cocoa powder

or Further Foods chocolate collagen

2

teaspoons

vanilla extract

1

teaspoon

ground cinnamon

1/8

teaspoon

Redmond Real salt

use code Maria15 for 15% off
Instructions
Place all the ingredients into a blender and puree until very very smooth. Taste and adjust sweetness to your liking.

Place in the fridge in an airtight container for up to 4 days.
Video
Nutrition
Calories:
268
|
Fat:
22
g
|
Protein:
14
g
|
Carbohydrates:
4
g
|
Fiber:
1
g
|
P:E Ratio:
0.6
TESTIMONY OF THE DAY
"Hey Maria!
I just had to share my results…So in the beginning of the year I decided to try the meal plan provided in 30 Day Ketogenic Cleanse, mainly so I didn't have to come up with a weekly menu or grocery list. I wasn't thinking that I would see much weight change. BOY WAS I WRONG! Two weeks into the meal plan weight started melting off. I started the 30 Day Cleanse snuggly fitting into a size 6. By the time the 30 days were over I was loosely fitting into a size 4. My mind was blown away. I was feeling better every day. I finally felt in control instead of food controlIng me. I was so excited, I didn't want to stop with just the cleanse so I continued with the meal plan provided in Easy Dairy Free Ketogenic Cookbook. Again, MIND BLOWN. I'm now fitting into size 2…..WHAAAAAT?!?!?!?  
I'm super passionate about this lifestyle (not just KETO, but the supplements and fitness as well) My goal is to be a KETO Coach one day. You and Craig have helped me change from the inside out…Thank you! Thank! Thank you! You are both such an inspiration!"
Most people I consult are doing keto totally wrong. Get fast results with the my NEW Keto Packages!