Testimony of the Day
Another wonderful testimonial!
"I found Maria Emmerich in 2012. I was hooked! I signed up for Maria's Email Support and Nutrition Planning package mid-February 2013. Best investment I ever made! She helped me every step of the way to get things started and she really cares about you!
I started in March and in the first 7 days, I dropped 16 pounds! I was shocked! Within the first month, I dropped 23 pounds; my skin had cleared up and was looking great. I noticed my hair had stopped falling out, no more hair filled brushes! All my body pain/aches were gone and my mood swings had stabilized! I felt normal for the first time in my life!
By June 7th I reached my first goal of 50 pounds lost which was reached 5 weeks and 2 days before the deadline I set for this goal! And I did it without exercise. I feel great and I am ready for my next goal: 66 pounds, start exercising and able to jog a 5k by Christmas!
It has been a real learning process and I have had my ups and downs but I know Maria will always be there for me. I have learned so much and still growing. I am one of those people that have to learn everything the hard way. I now know what slows and stops my weight loss. Maria told me it would happen if I ate this or that but I had to eat it and learn it for myself. I guess that's just how I roll! Maria has been a real blessing in my life.
Started 315 pounds
as of July 7th 265 pounds"
If you want to get started on your "after" photo, click HERE.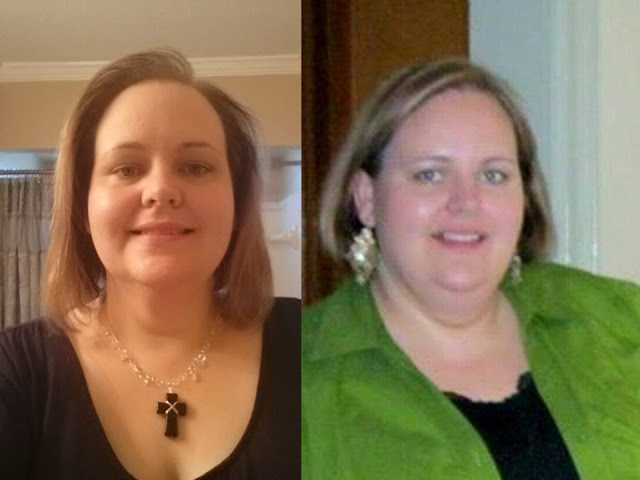 FRENCH ONION SOUP
When you order French Onion Soup at restaurants, do you know what you are actually consuming? Check out these ingredients: Culver's French Onion Soup – Water, onions, seasonings (hydrolyzed corn gluten, soy, and wheat gluten proteins, salt, dextrose, sugar, autolyzed yeast extract, caramel color, natural flavor, tartaric acid, disodium inosinate, disodium guanylate, spice), water, margarine [liquid and partially hydrogenated soybean oil, water, salt, whey, soy lecithin, mono & diglycerides, artificial flavor, beta carotene (for color), vitamin A palmitate], salt, gelatin, onion powder, autolyzed yeast extract, caramel color, soy lecithin, spices, garlic powder. Onions are so healthy, help your body deal with inflammation, fight chronic disease and regulate blood sugar. They help our body fight against many bacteria including Bacillus subtilis, Salmonella, and E. coli. The World Health Organization (WHO) suggests eating onions for the treatment of poor appetite and to prevent atherosclerosis.
WHY ONIONS:
1. SULFER: Onions contain a number of sulfides similar to those found in garlic which may lower blood lipids and blood pressure.
2. FLAVONOIDS: Onions are a rich source of flavonoids, substances are known to provide protection against cardiovascular disease.
3. ANTI-CLOTTING: Onions are also natural anticlotting agents since they possess substances with fibrinolytic activity and can suppress platelet-clumping. The anti-clotting effect of onions closely correlates with their sulfur content.
4. BLOOD SUGAR: One cup of raw onion contains more than 20% of the daily requirement of the trace mineral chromium, important for helping the body to metabolize sugar and lipids.
5. GOOD GUT BACTERIA (increase serotonin/decrease cravings): Onions are a very rich source of fructo-oligosaccharides. These oligomers stimulate the growth of healthy bifidobacteria and suppress the growth of potentially harmful bacteria in the colon.
6. ANTIOXIDANTS: Onions are rich in phytochemicals and the antioxidant flavonoid quercetin, which helps lower the risk of high blood pressure, heart attack, and many types of cancer.
7. ASTHMA: In addition, onion extracts help with treat coughs and colds, asthma and bronchitis. Onions are known to decrease bronchial spasms, they have very powerful anti-inflammatory properties. Onion extract helps to decrease allergy-induced bronchial constriction in asthma patients. Click HERE to find pure onion extract.
I don't know a better way to massively dose our body with onions more than French Onion Soup!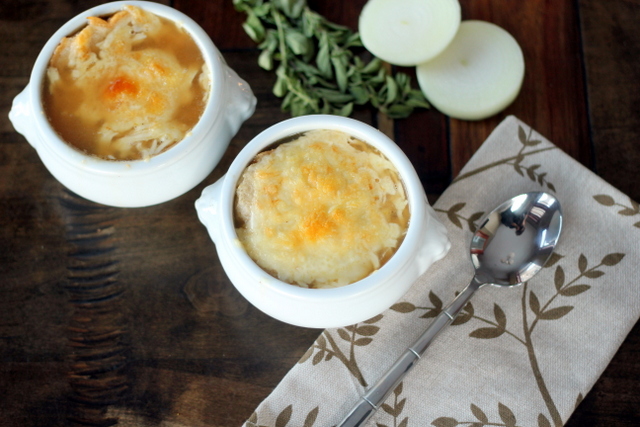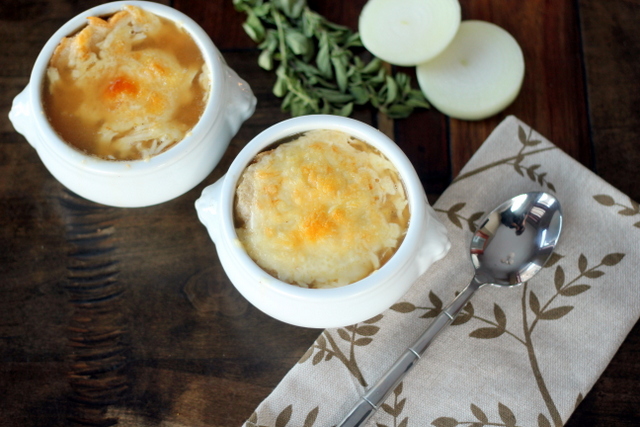 Ingredients:
1/2 cup unsalted butter
2 TBS Coconut oil
4 cups sliced onions
4 (10.5 ounces) can beef broth/veggie broth
1 tsp dried thyme
Celtic sea salt and pepper to taste
8 Protein Buns
4 slices provolone cheese
2 slices Swiss cheese, diced
1/4 cup grated Parmesan cheese
Melt butter with oil in an 8-quart stockpot on medium heat. Add onions and continually stir until tender and translucent. Do not brown the onions. Add beef broth and thyme. Season with salt and pepper, and simmer for 30 minutes.
Heat the oven broiler. Ladle soup into oven-safe serving bowls and place one Protein Bun on top of each. Layer each slice of "bread" with a 1/2 slice of provolone, 1/2 slice diced Swiss and 1 tablespoon Parmesan cheese. Place bowls on the cookie sheet and broil in the preheated oven until cheese bubbles and browns slightly. Serves 8
NUTRITIONAL COMPARISON (per serving)
Traditional French Onion Soup (using wine and real bread)= 732 calories, 79 carbs, 4g fiber
"Healthified" French Onion Soup = 350 calories, 8 carbs, 1.7g fiber