Testimony of the Day
"Maria, it's amazing – after just one day on the supplements no bleeding or pain during and after #2 for the first time since August! Thank you :)"
To get started on your path to health, click HERE. 
Another Client Testimony
"Hi, Maria! I have to tell you about a recent doctor's visit. I told my doc that I'd started working with a nutritionist (you) and changed my diet rather dramatically and he asked a bunch of questions about it. I told him that I completely eliminated both sugar and grains. He seemed really pleased about that and kept asking questions. I told him that he may be horrified by this, but I added way WAY more fat into my diet. He said that he wasn't horrified at all, and really pleased to hear it. Then he looked through my chart and told me that I'd lost about 13 pounds since the last time I'd been in (maybe a year ago). We decided it would be good to get some blood work done at this time, just to see where I compare to my last blood workup.
He left a rather long-winded message on my cell phone last night, and suffice it to say, he was waxing lyrical about my results. He said they were really, really great all around. Even my thyroid labs which had been a problem in the past. He ended the diatribe by saying that with regards to my cholesterol, he joked that he was going to hang the results on the wall to let everyone gawk at. haha! -MJ"
ROASTED NUTS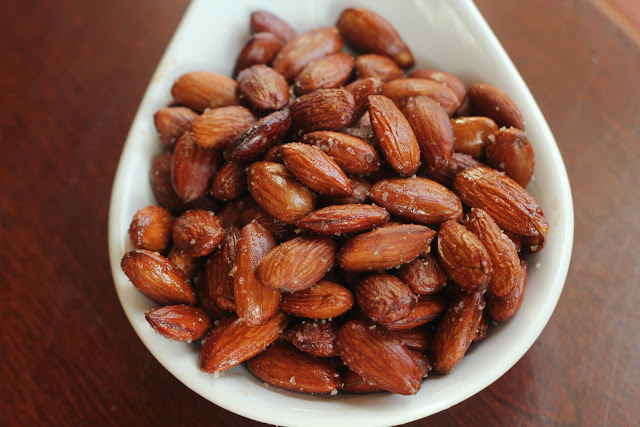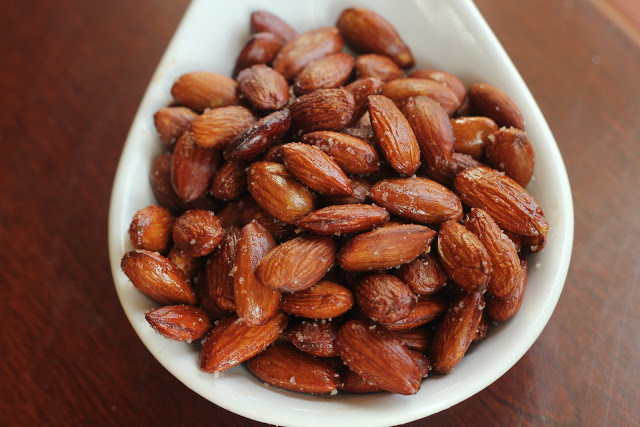 Have you ever looked at those roasted almonds you grab for a "healthy" snack from the vending machine? I bet you would find MSG in the ingredients. MSG (an excitotoxin) causes damage to the neurons in your brain and has links to Parkinson's disease, Alzheimer's, Huntington's disease, and many others. Children are very susceptible to this type of effect on their sensitive and growing brains. Excitotoxins excite the neurons in the brain too much. They become exhausted and die. Neurotoxins are also the main cause of seizures. The damage may not be seen until many years later. When this happens, our neurotransmitters responsible for focus, mood, and memory have a hard time finding and recognizing their receptors due to the inflammation of the membranes on the brain cells caused by the consumption of MSG.
HEALTH TIP:  Consuming MSG triples the amount of insulin the pancreas creates…excess insulin = obesity.
Brain levels of the neurotransmitter dopamine (important for mood and focus) are lowered by 95% when you ingest excitotoxins. But what is even more disturbing, is that when you switch to eating 100% free of processed food, our brain remains unable to produce normal amounts of dopamine in the hippocampus (the part of the brain most responsible for consolidating memory). This is one reason for the high rates of ADHD and depression. To read more on Brain Chemicals, check out my book: Secrets to Controlling Your Weight Cravings and Mood
Roasted Nuts
Ingredients
"HEALTHIFIED" ALMONDS
2

cups

almonds

1

tablespoon

Macadamia nut oil

or melted coconut oil

1

teaspoon

Redmond Real salt
SWEET CINNAMON:
1

tablespoon

ground cinnamon

1

tablespoon

Natural Sweetener
PARIS CRUNCH:
1

tablespoon

Rosemary Sprigs
Instructions
In a 9- by 13-inch pan, mix almonds with oil. Bake in a 250° regular or convection oven until nuts are golden, 35 minutes, stirring once about halfway through. Add salt to taste. Let cool completely.
Nutrition
Calories:
175
|
Fat:
15.8
g
|
Protein:
6
g
|
Carbohydrates:
6
g
|
Fiber:
4
g
|
P:E Ratio:
0.3
If you would like to help out a small family, rather than a large business, I am happy to announce that you can now get my books as a high-quality ebook that works on any platform. This is an ebook format that works on any computer or mobile device. It is a beautiful pdf that has all the full-color pages and layouts as the printed books with a clickable table of contents and searching capabilities. This is extremely useful when trying to find a recipe. These books are much higher quality than the ebook platforms (kindle, apple). Plus, most of the profits don't go to Amazon or apple! Just go here to get your copy!
Click HERE or select "My Books" above to get your copy now!

Another Awesome Testimony!
"I know that we are complete strangers, but I just feel it necessary to tell you to thank you for what you do. In October of 2012, my mom's doc gave her a copy of Wheat Belly to read which she then gave to me. As an RN, it was difficult to believe "healthy whole grains" could be a problem, but there I was, 8 months postpartum and 40 pounds overweight eating fruits and grains and everything I had learned I should be eating! I gave grain-free two weeks and hoped it might give me results that starving myself and obsessing over points on another diet wasn't. Well, after feeling like crap for a week, I stayed motivated because I lost 6 pounds. The next week, 5 pounds and then I started to feel really great.
I found a reference to you on the Wheat Belly blog and now my family's lifestyle is forever changed. No more dieting!! Wow!! I have lost 33 pounds of eating whatever I want the "healthified" way! I threw away the acne face wash I had been using for 10 years to combat my adult acne! My husband is back in the clothes he wore when we got married 7 years ago. My kids are grain-free and always ask if there is wheat or sugar in any food they are offered because they know mom can make it healthier thanks to you! I feel like this is a miracle in my life to be free of food cravings and a past that left me struggling with an eating disorder. I know my three daughters will learn to really eat the right way now! I tell everyone I know about you and Dr. Davis and all your books. Thank you, thank you, thank you!
Julie"