Easy Taco Pie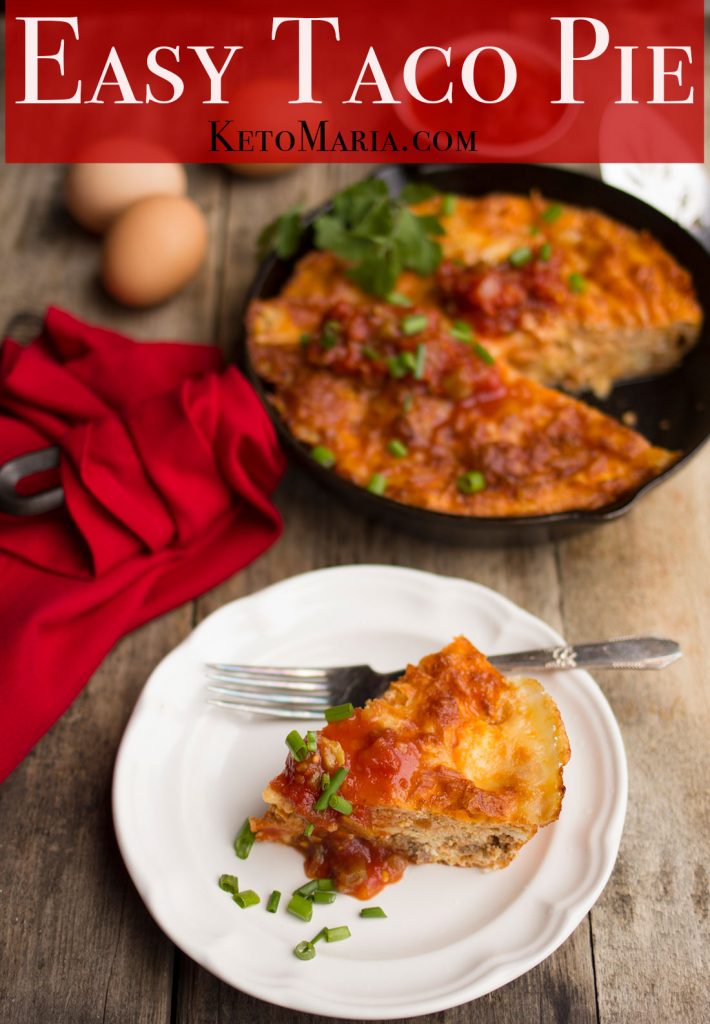 Are you looking for a delicious and EASY keto breakfast that your kids will love?
You must try my Easy Taco Pie! It also makes great leftovers!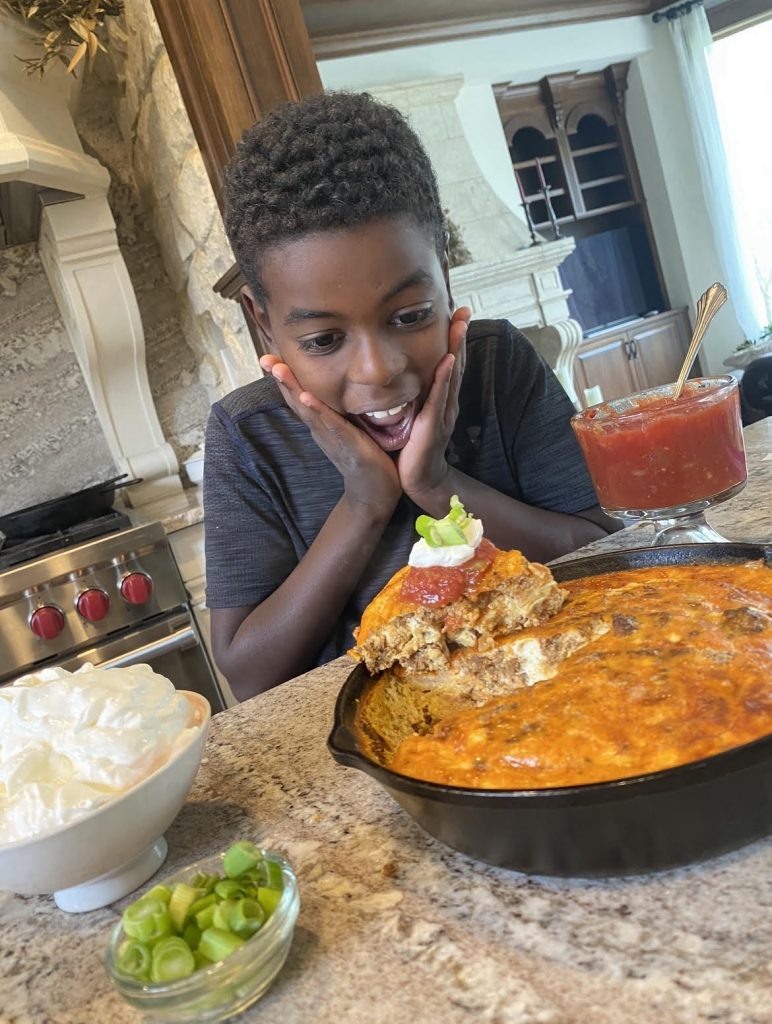 HOW TO MAKE EASY TACO PIE
To make my Easy Taco Pie even easier, I brown the ground beef, combine the ingredients, and place them in the skillet the night before. In the morning, all I have to do is pop the skillet in the oven for an easy breakfast or brunch.
EASY TACO PIE FASTER
If you want to make Easy Taco Muffins instead of Taco Pie which shortens the cooking time, you can bake the pie as individual muffins. Grease a 12-well muffin pan and follow the Easy Taco Pie recipe as written through Step 4. Then transfer the mixture to the greased muffin cups, filling each about two-thirds full. Bake for 10 to 13 minutes, until golden and puffed. Allow to cool slightly in the pan, then transfer the muffins to a serving platter and serve warm.
Watch our YouTube video making my Easy Taco Pie here:
Please share this delicious taco pie recipe with your friends! Healthy eating can be delicious!
Easy Taco Pie
Ingredients
2

tablespoons

unsalted butter

½

pound

ground beef 85% lean

½

cup

chopped onions

2

tablespoons

Taco Seasoning

click HERE

¼

cup

tomato sauce

8

large eggs

beaten

¼

cup

beef broth

¾

cup

shredded Monterey Jack or sharp cheddar cheese

1

ounce

2 tablespoons cream cheese, softened

1

teaspoon

finely chopped garlic

½

cup

chopped fresh cilantro

1

teaspoon

Redmond Real salt

½

teaspoon

fresh ground black pepper

Sliced fresh chives and/or chopped fresh cilantro

for garnish (optional)

Salsa

warmed, for serving (optional)
Instructions
Preheat the oven to 350°F.

In large oven-safe skillet, heat the butter over medium heat. Add the ground beef, onions, and taco seasoning and cook until the beef is cooked all the way through, about 7 minutes. Add the tomato sauce and stir well to combine.

In large bowl, mix together the eggs, broth, cheeses, garlic, cilantro, salt, and pepper.

Add the egg mixture to the beef mixture and stir to combine. Cook over medium heat for 3 minutes, until the eggs are just slightly set, stirring continuously.

Place the skillet in the oven and bake for 27 minutes, or until the eggs are cooked through in the center. Remove from the oven and let rest for 3 minutes, then slice and serve. If desired, garnish with fresh chives and/or cilantro and serve with salsa. Store leftovers in an airtight container in the fridge for up to 3 days.

Reheat in a 350°F oven for 3 minutes or in the microwave for 30 seconds, or until heated through.
Nutrition
Calories:
311
|
Fat:
22
g
|
Protein:
22
g
|
Carbohydrates:
4
g
|
Trans Fat:
1
g
|
P:E Ratio:
0.8
TESTIMONY OF THE DAY
"Every morning when I get up I thank God for Maria and Craig Emmerich !

I will never be able to convey my thanks for showing me the way to lose weight.

I tried every diet possible, I was in TOPS (Take Off Pounds Sensibly)at the age of 12, I tried WW, and a few other well known diet programs. None of them ever worked long term. I'd lose a few pounds and gain it right back.

Wish I could send you a huge bouquet of flowers Maria, but once again I will just send you my thanks and deepest gratitude! I don't have many pictures of myself at 420+ pounds. So I have to go way back to find pictures to share. Hit 200 pounds this morning. I have to say it feels unbelievable!" – Felicia
Most people I consult are doing keto totally wrong. Get fast results with the my Mind-blowing Keto School!