Chicken "WILD RICE" Soup
Another question I am frequently asked is about wild rice. Yes, it is gluten free, but for those with a damaged gut (leaky gut) or a damaged metabolism or anyone who wants to become keto-adapted, it is way too high in carbs.It is disturbing to find that 60% of adults never completely heal from celiac disease despite following a gluten-free diet.[53] It has been found that only 8% of adult patients with celiac disease eating a gluten-free diet reached "normalization," where their intestines completely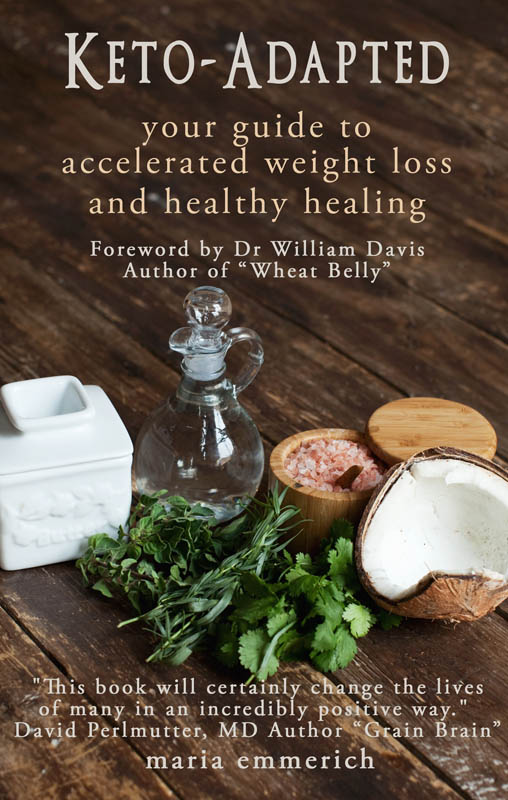 recovered.However, there is new research that may help people with celiac for good! Researcher Alessio Fasano, M.D. has been on the leading edge of recent autoimmune and celiac disease exploration. In 2011, he published a paper titled "Leaky Gut and Autoimmune Diseases" which presented a new theory that suggests prevention and reversal of autoimmune disease is possible.
Read more about healing autoimmune diseases and celiac in my new book Keto-Adapted.
We all know that sugar is bad, but we mistakenly believe complex carbohydrates are healthy and we need to eat them in abundance. BUT what if I told you that "Complex carbohydrates" and "Whole Grains" are just glucose molecules hooked together in a long chain; the digestive track breaks it down into glucose…also known as sugar. So a "complex carb" diet and a "sugary" diet are pretty much the same thing.
To watch a helpful video on how carbs become sugar, click HERE.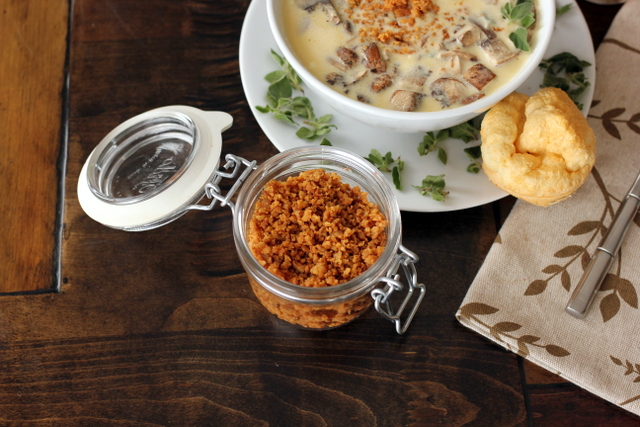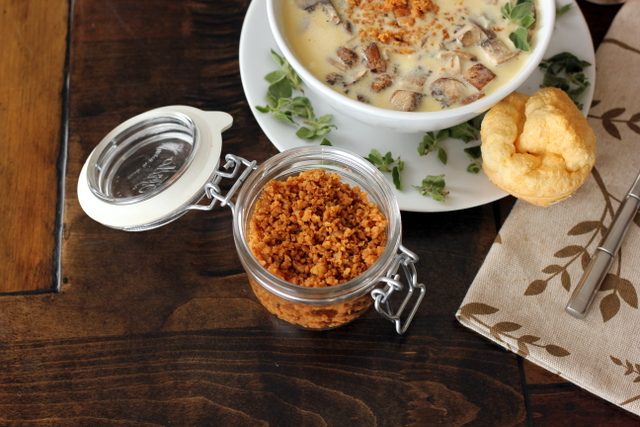 I am more like you than you realize… you can find me opening a Kettle and Fire organic beef broth instead of making my own broth quite often.

Special Deal!
Kettle & Fire have setup a special deal for our followers. Get $10 off your first order! Just just CLICK HERE to get this great deal!
Chicken "Wild Rice" Soup
Ingredients
1/2

cup

coconut oil or butter

1/2

cup

diced onion

1/2

cup

diced celery

1/2

lb

fresh sliced mushrooms

6

cups

organic Kettle and Fire chicken and mushroom broth

1/2

lb

*2 cups) chicken

cooked and cubed (I used leftover chicken that Craig smoked)

1

tsp

fresh thyme

chopped fine

1/2

tsp

Redmond Real salt

1/2

tsp

curry powder

1/2

tsp

mustard powder

1/2

tsp

dried parsley

1/2

tsp

ground black pepper

1

cup

cream cheese

CRUNCHY "RICE":

1

cup

chicken cracklings

see below

OR you can use: 1 cup diced cabbage and 1 cup radishes sauteed until soft
Instructions
In a large saucepan, melt oil/butter over medium heat. Stir in the onion, celery and saute for 5 minutes or until soft. Add the mushrooms and saute for 2 more minutes. Slowly add in the chicken broth, stirring constantly. Bring to a boil, reduce heat to low.

Add the cream cheese. Allow to heat through, and whisk to incorporate the cream cheese.

Add the chicken, thyme, salt, curry powder, mustard powder, parsley and pepper. Let simmer for 1 hour. Stir in crunchy "rice" options.
Notes
NUTRITIONAL COMPARISON (per serving)
Traditional Wild Rice Soup = 391 calories, 21.8g fat, 23.6g protein, 28g carbs, 2g fiber
"Healthified" Soup = 293 calories, 22.5g fat, 19.3g protein, 3.2g carbs, 1.1g fiber
(70% fat, 26% protein, 4% carbs)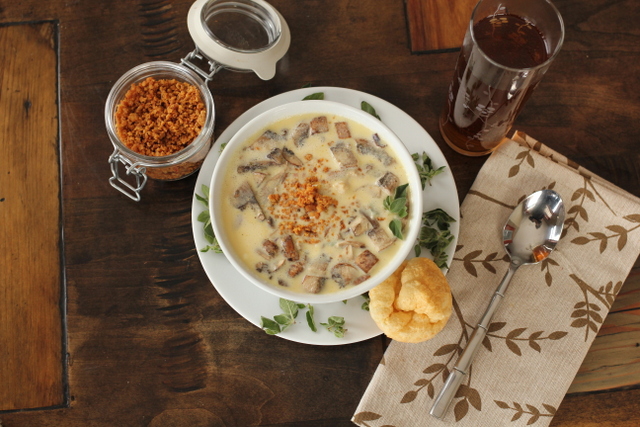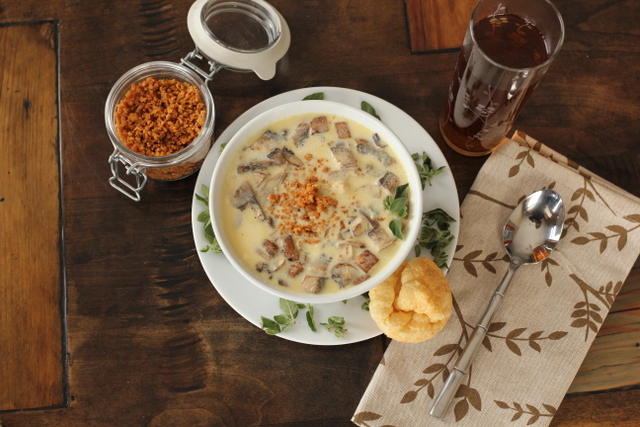 Chicken Cracklings
Ingredients
1

lb.

chicken skin and fat

1/4

cup

onion

diced

Fresh ground pepper

OPTIONAL:

Roasted Garlic

Basil or other herbs to your flavor profile
Instructions
Rinse the chicken skin and fat, pat dry, then chop it into small 1/4 inch pieces. Then place into a large greased skillet (or it will stick in the beginning) on the stovetop and turn heat to low. Cover the skillet and cook on low for about 15 minutes. Liquid fat will start to pool at the bottom of the skillet. Uncover the skillet and raise heat to medium low. Let it cook for another 15-20 minutes, breaking the pieces apart with a spatula and stirring frequently, until the skin starts to brown and curl at the edges. Add onions, garlic and any spices you would like to add and cook for 5-10 minutes or until the onions are browned a bit. There should be quite a bit of liquid fat at the bottom of the pan (which can be reserved for cooking in the future). Remove pan from heat.

Pour the rendered fat from the skillet into a container, using a mesh strainer to catch any small pieces of skin.

After collecting the liquid fat, return the cooked chicken skin and fat to the skillet. Add the onion, garlic and herbs to the skillet. Season the chicken skin and onions generously with salt and pepper. Turn heat to medium and sauté the mixture for about 20 minutes, stirring frequently, until the pieces are dark brown (not black!) and crispy. Remove from the skillet and drain them on a paper towel. Season again with salt and pepper to taste. Makes 15 servings.
Notes
NUTRITIONAL INFO
"Healthified" Cracklings = 137 calories, 12.3g fat, 10g protein, 0g carbs
(81% fat, 19% protein, 0% carbs)
 Chicken Cracklings taste great on a salad (served with Protein Bread and Iced Peach Tea)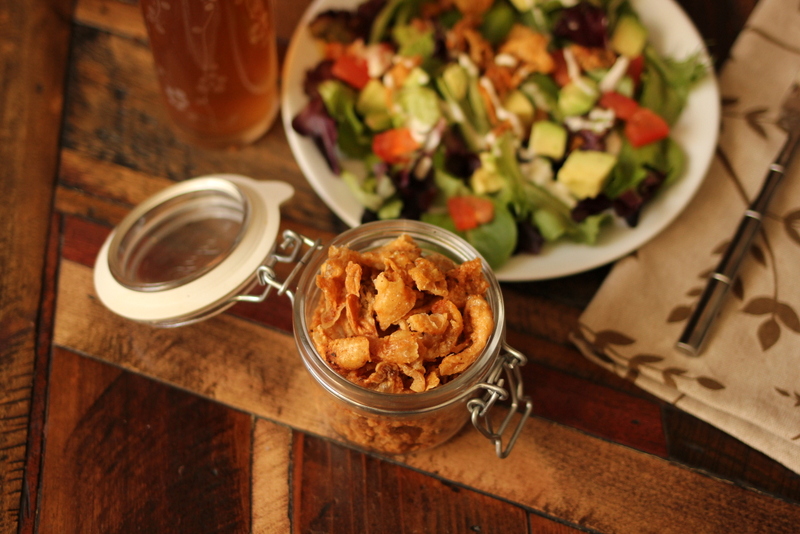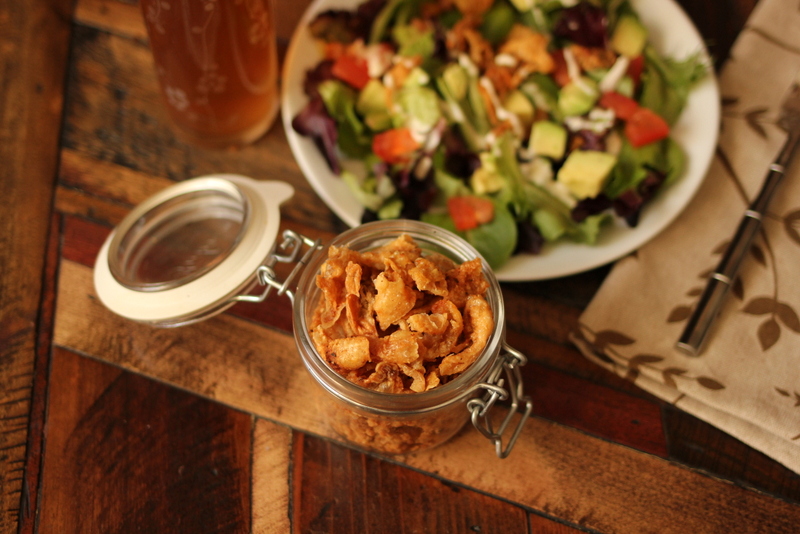 Testimony of the Day
My name is Claudette Melanson, and I'm a 44 year old, living in Ontario, Canada.  About two years ago, I was diagnosed with Rheumatoid Arthritis.  In college I'd discovered the low carb diet and kept a healthy weight most of my life, however, when I moved to Ontario in 2009, to be with my husband, we were having such a good time I completely let go of low-carbing and allowed myself to eat whatever I wanted.  We were so bad, eating tons of sugar and a lot of foods with wheat in them.  It was two years after this that I started having problems. My hands and shoulders were locking up and I was in horrible pain. I finally got referred to a Rheumatologist, who put me on Prednisone.  This helped some of my symptoms but caused a whole host of new ones. My hormones went completely off the rails and I packed on thirty pounds.
Finally, I found Maria's blog.  A naturopath had suggested I give up gluten, but I didn't want to hear it. I loved my pizza and the occasional sweets.  When I started reading Maria's blog, however, all of the science behind everything she explained made sense to me.   Her recipes made me realize I could still eat pretty much anything I wanted and do it in a healthy way. She also made me see why I had to keep gluten out of my system forever and not eat 80/20, as I did when I thought I was being healthy. My husband and I downloaded all of her books and added supplements to our routine.  We started eating natural meats, eggs and dairy and buying only organic produce. 
Last March I could barely climb a flight of stairs. After adopting the Maria way, my pain went away!  My joints are free and I was going to the gym and lifting heavy weight and taking Body Pump classes when before, I could barely move and couldn't lift a full cup of coffee.
I finally was able to lose some weight after switching to a Keto diet (the prednisone had made weight loss impossible!), twenty-three pounds and my husband lost 53 pounds!! Best of all Maria helped me get back to doing what I love—writing. I'd been working on a novel when my RA pain put that on permanent pause.  After following Maria's way, not only did I have the energy to work on it outside my 44 hour work week, I was typing pain free! Now my first novel is published on Amazon and it is in large part thanks to Maria!  I wanted to give back and offer a giveaway of three print copies of Rising Tide:  Dark Innocence.  This book is geared toward a young adult audience, but I've had several adult readers who really enjoyed it.  There is no strong sexual or violent content, just FYI!
Thank you again Maria!  Your way is the only way for us!"
This is a before/after photo of her husband. To get the results fast, click HERE for easy to follow keto-adapted meals.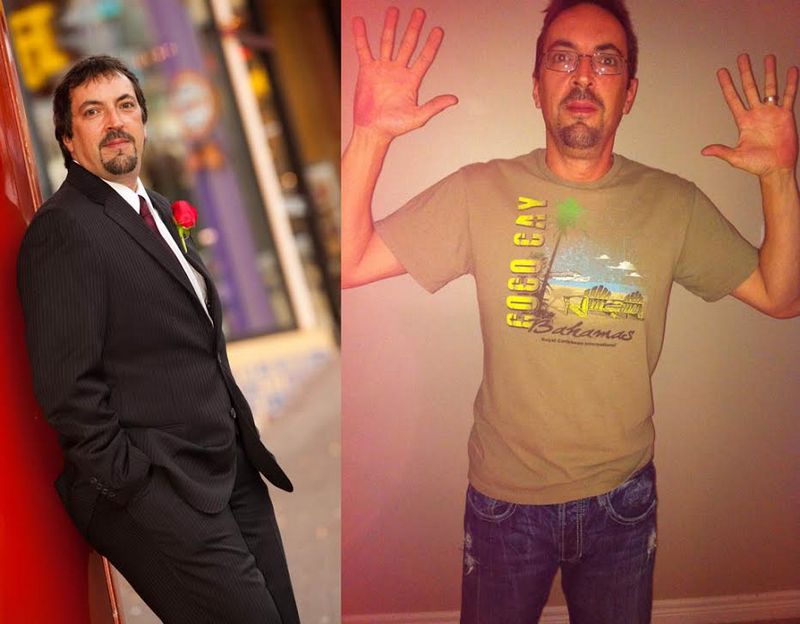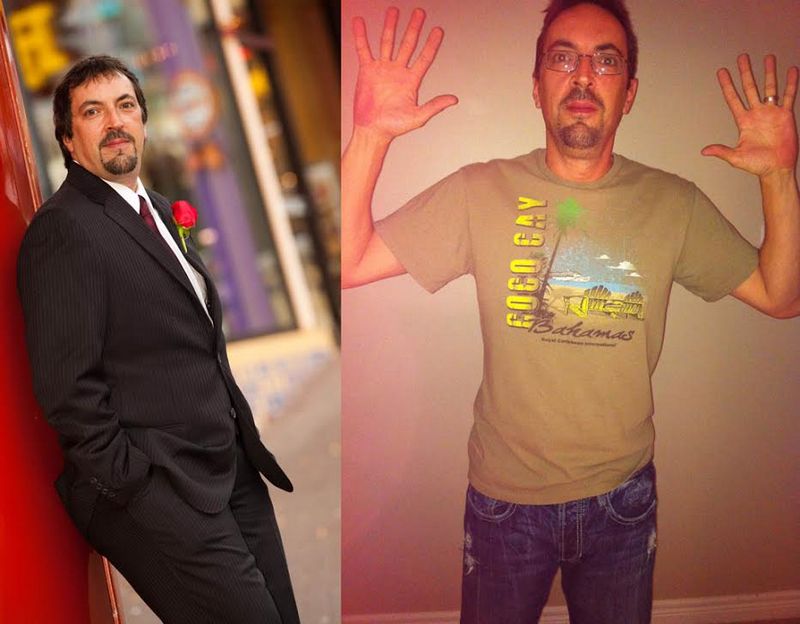 Doesn't he look great ?! Why not start your journey today? A year from now, you will thank yourself!
Another Great Testimony!
"I had a visit with a new MD yesterday. I had gestational diabetes and was on metformin in the past. My hemoglobin a1C is 5.2. The is an A++++ and I am not even close to being considered diabetic anymore…." – Gloria