The BEST Brussels Sprouts
Are you always disappointed when you make Brussels sprouts? I have some great tips for making the BEST Brussels sprouts!
If you told me when I was a child that someday you will love Brussels sprouts, I would have laughed! But you know what, I DO! Especially when you use my tips to make them!
Why are these the BEST Brussels sprouts? Well, it isn't just the way to make them properly. It is the garnish of the soft boiled egg and avocado that really steps this recipe up! I love anything with a soft boiled egg added to it! If you want my tip for making the best soft boiled egg, click HERE.
TIP FOR THE BEST BRUSSELS SPROUTS
One of my favorite things to do on my morning runs is to listen to food podcasts. I really love KCRW Good Food based in California. Every week they do the "Market Report" from the Santa Monica Farmer's Market. Oh, how I wished I lived in a climate that had farmer's markets all year!
But anyway, the last one I listened to discussed how to properly cook the Best Brussels Sprouts. I never really understood why you would need to buy UNsalted butter if the butter you were getting used a high quality sea salt. They explained there are 2 reasons:
1. Is for you, the chef, to control the amount of salt.
2. Another important reason is that it changes if you FRY veggies or STEAM them.
The tip they gave was to place the unsalted butter in the pan and heat until a bit of golden flecks appear (also called 'brown butter'). Add your Brussels sprouts (cut in 1/2) and saute for 2 to 3 minutes. THEN add salt to taste.
So do I eat Brussels sprouts everyday? No! Do I eat them once a week? No. But I believe Thanksgiving is more about the tasty side dishes than it is turkey… you all know I don't like turkey! So for a holiday such as Thanksgiving or Christmas I feel this is a great low carb side dish to serve. If you are a keto-vegetarian (or like my son Kai and do not like bacon) feel free to leave the bacon out.
COOKING TIP
Blanch the Brussels sprouts in boiling water for about 15 seconds. This accomplishes 2 things:
1. It keeps their bright color.
2. It cuts down cooking time to retain more nutrients and keep the fresh flavor.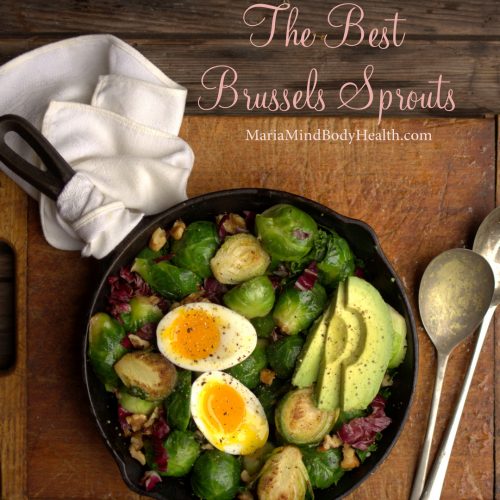 The BEST Brussels Sprouts
Ingredients
2

slices

sugar free bacon

diced (optional)

1½

lbs

Brussels sprouts

trimmed, larger spouts halved

1

cup

chopped radicchio or kale

2

tablespoons

unsalted butter or coconut oil

1

shallot

chopped (or 2 tablespoons diced onion)

Celtic sea salt and pepper

to your taste

GARNISH:

1

soft boiled egg

2

tablespoon

crushed walnuts

1/2

an avocado

sliced
Instructions
Blanch the Brussels sprouts and Kale or Radicchio (I used radicchio for a contrasting purple color) in boiling water for about 15 seconds.

Quickly drain and rinse the Brussels sprouts and radicchio in cold water. Cut the large sprouts in half lengthwise.

Brown diced bacon in a medium skillet for about 3 minutes.

Remove bacon and set aside.

Add butter or oil to the pan and add shallots to saute for about 2 minutes. Add Brussels spouts and coat in butter.

Saute Brussels sprouts about 3 minutes or until they begin to soften, then add the salt and cook until crisp tender.

Transfer to a serving dish with a slotted spoon and top with cooked bacon bits. A soft boiled egg sliced in 1/2, sprinkle with crushed walnuts and set sliced avocado onto the serving dish.
Notes
Nutritional Information:
133 calories, 9g fat, 5g protein, 10g carbs, 4g fiber
TESTIMONY OF THE DAY
I love it when clients tag me in photos like this!
Get started on your path to health today!