The BEST Turkey Recipe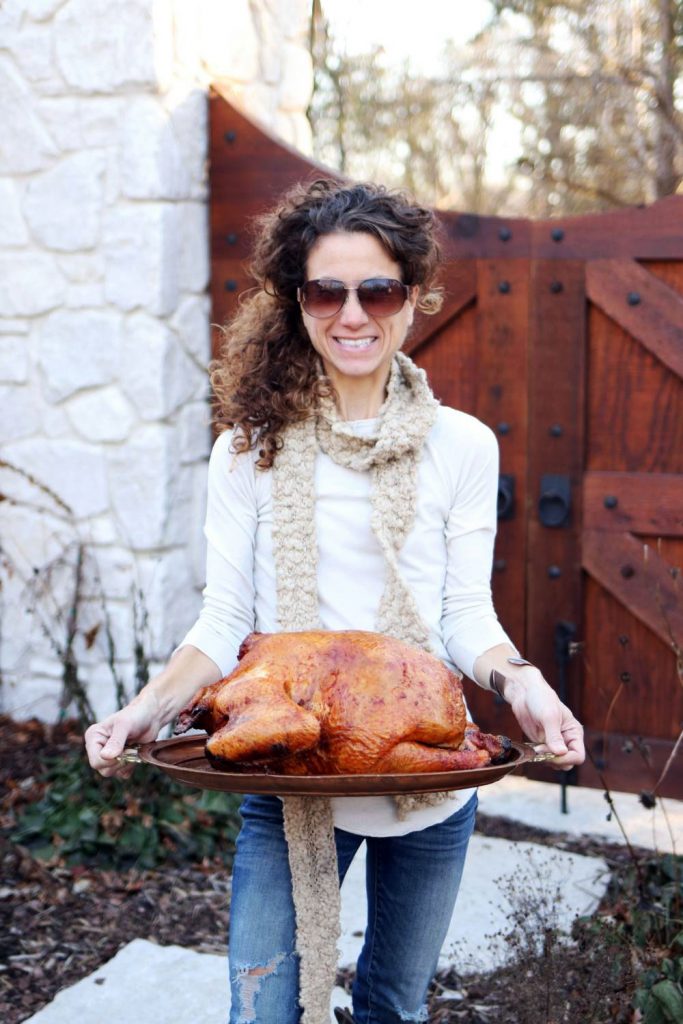 I have great news for you! You all know I despise going to the grocery store! I don't like wasting time driving to the store and waiting in line. This is why I get just about everything mailed to my front door! Including my Thanksgiving Turkey!
Thanksgiving can be stressful enough! I fill my freezer with healthy meats and turkey so I can just grab what I want to eat out and cook it up in no time! My favorite is to cook Butcherbox pre-made hamburger patties and my boys love them too!
Butcherbox now has free range TURKEY!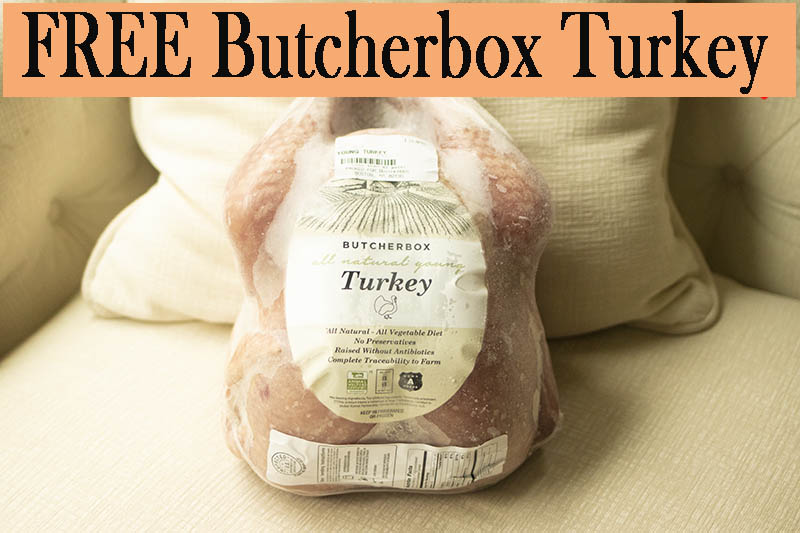 About Butcherbox Turkey:  
8-12lbs
All-natural* young turkey

*All natural: no basting ingredients, no artificial ingredients, minimally processed

No preservatives
No antibiotics ever
No added hormones
Complete traceability to the farm
Animal welfare certified
IT IS NOT PASTURED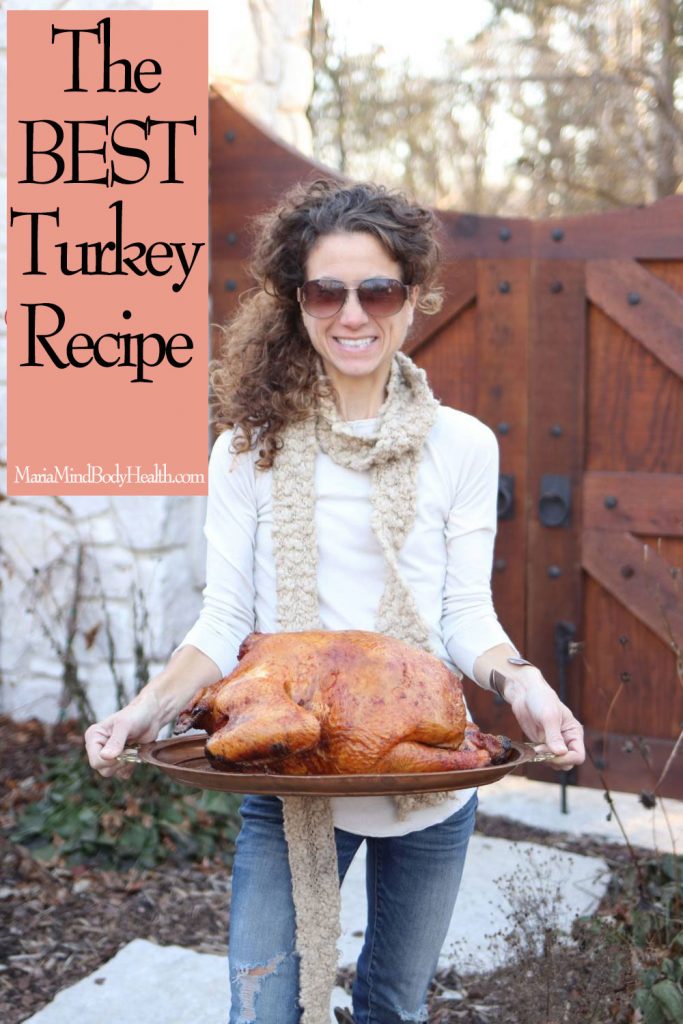 Often times I hear that Thanksgiving and Christmas day are hard days to get all of the cooking done.
I would much rather enjoy my family during the holidays instead of spending all day in the kitchen tending to the Turkey. This turkey recipe is not just the BEST turkey recipe, it also allows you to enjoy your family rather than spending all day in the kitchen!
Even though he won't admit it, my dad is an amazing cook! My dad asked his friend who is a fantastic caterer how to do the best turkey for a large group. I have to admit, when he described this turkey recipe, I was skeptical, but this was the most tender turkey I have ever had! This recipe is the BEST Turkey recipe I have ever tried! I love that it makes the holidays easier because all you have to do is reheat it.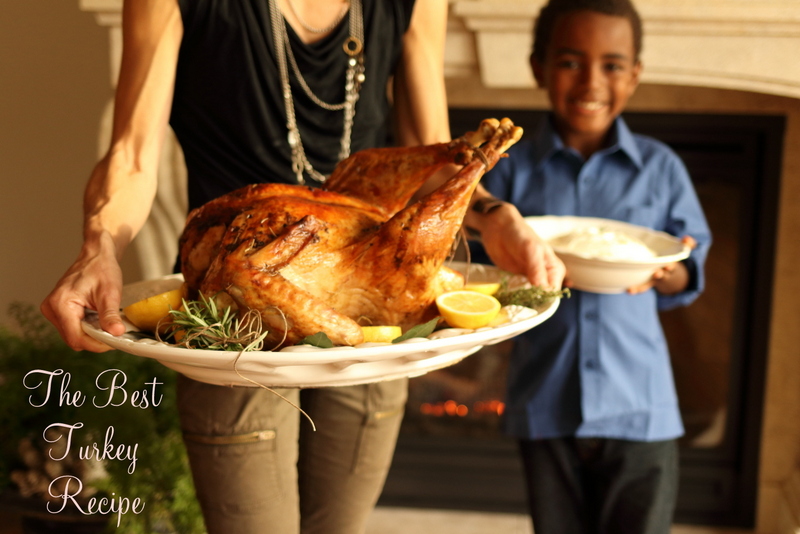 If you are dairy free and miss the taste of butter, you must try this amazing turkey recipe organic butter-flavored coconut oil! It is delicious! Click here to find!
The BEST Turkey Recipe
Ingredients
1

15 pound organic turkey

2

cups

chicken broth

½

cup

butter

or butter flavored coconut oil

2

teaspoons

Redmond Real salt

1

teaspoon

fresh ground pepper
Instructions
Preheat oven to 350. Place the turkey in a large roasting pan. Remove the heart and liver from the turkey and chop fine.

In a medium saucepan place broth, butter, chopped heart, liver, salt and pepper. Bring to a boil for 3 minutes.

Pour the butter mixture over the turkey and rub inside to coat well.

Place in the oven and cook for about 3 hours, until a thermometer inserted into the thickest part of the breast reads 170 degrees inside.

Remove turkey from oven. Allow to rest for 10 minutes. Debone the turkey and remove the skin.

Place sliced and cut up turkey into the roasting pan and cover with the skin. Store in the fridge until ready to serve (up to 2 days).

Just before Thanksgiving dinner, place the roasting pan in a 300 degree oven for 15 minutes or until heated to your liking.

Store extras in an airtight container for up to 4 days. Can be frozen for up to a month.
TESTIMONY OF THE DAY
"I believe God led us to Craig an Maria Emmerich through a friend at church who handed me Maria's 30 Day Cleanse book fall of 2017. Maria an Craig have amazing hearts and have for well over a decade dedicated their lives to helping and healing people across the country and world through this way of eating.
This is our story. It's been a long journey but I love watching it unfold. We started by eliminating gluten, fast foods, prepackaged things and began to eat more real whole foods and even buying ice cream with only 5 or 6 ingredients instead of a list that took up half the side of the container. Switching to gluten free noodles and bread, eating only organic corn chips. We even mastered the baking of all our old treats using the perfect combination of white and brown rice flour. Using that same maple syrup as a sweetener instead of sugar anywhere we could. This went on for about two years. We didn't feel any better, in fact my husband and I both began to steadily gain weight and aches, pains, an stiffness got worse. Convinced it was just age, hormones, and for me more then likely UN-diagnosed thyroid issues, my mom had Graves, I had all the symptoms but my "numbers" were always within the "normal range" so I just kept doing and feeding my family what I thought was healthy.
My husbands weight had climbed to 335lbs and his blood pressure was pretty concerning and so was his hormonal imbalances.
Our girls also had some concerning issues as well. Our oldest was very skinny and always hungry.
There had always been some adhd type symptoms an intense emotional issues with our oldest. She came across some journal entries she had written last year about two months into this way of eating, after reading them she told me she never wants to eat any other way, that she never wants to feel like she used to again! Our youngest had digestive issues and severe constipation that started as a baby and continued to get worse. She went through years of doctor visits, extensive testing poking and prodding with no answers except eat more fiber and she has allergies. She felt awful was slightly overweight an had little energy.
I was so frustrated and discouraged. I had this passion to encourage others to eat better and take charge of their health but our health did not make for convincing testimonies. Begging God for help and answers seemed to fall on deaf ears. But He was listening and I realized now it makes for an even better testimony.
This is where my friend steps into my life handing me Maria's book. She actually intended for me to look into this way of eating for my sister who was getting sicker and weaker over the last two years with no answers from doctor after doctor (she finally got answers from a holistic chiropractor that specializes in tick borne illnesses, yep she had two forms).
Well it turns out after reading Maria's book and researching this way of eating I realized WE needed this, that this was an answer to our prayers!
Our girls are now 14 & 15, we started this way of eating at the beginning of January. Almost a year ago now.
Every single one of those issues is gone!
There has been no wavering for us we all see how much better we feel eating this way so "cheating" has never been a consideration for any of us.
Initially we, as a family, made a two month commitment the 30 day cleanse an then added dairy and nuts back in for the next 30 days. When the two months was up we agreed we should do 6 months… well we have long passed that 6 month goal and none of us want to go ever back to our old way of eating.
It's been pretty amazing to watch it transform everyone in different ways an I love teaching them to be aware to read Every Ingredient to be diligent in doing so, showing them it is possible to take back control. It takes serious self discipline but what an awesome thing to pack in their bags!
For my husband and I it's healing we are after. The years of drug abuse in our past and not eating the right foods has been so hard on both our bodies. Being recovering addicts I suppose we treat this the same way. No wavering.
I believe 100% effort gives you 100% results. 90% effort gives you 10% results. In true healing anyways. You may still loose weight not being so strict but if healing your body balancing hormones (which control oh so much) is your goal ~ then fight like this is the only body you have. Warrior mode.
Weight loss for my husband so far 75lbs, I've lost 40, our youngest lost 15 and our oldest gained 10 filling out perfectly.
We have lost Extreme inches, gained so much energy, mental clarity, motivation, hormonal balancing, moods/drama, aches an pains gone, and… my frequent migraines gone! Restful nights sleep, non alarm early morning rises, the list just keeps going. Our bodies are truly healing from the inside out. We are seriously a whole new family an we are loving watching the individual transformations! It's work and sacrifice but it's So worth it. 💞" Sara
Most people I consult are doing keto totally wrong. Get fast results with the my NEW Keto School!