Strawberry Shortcake Cheesecake Chaffles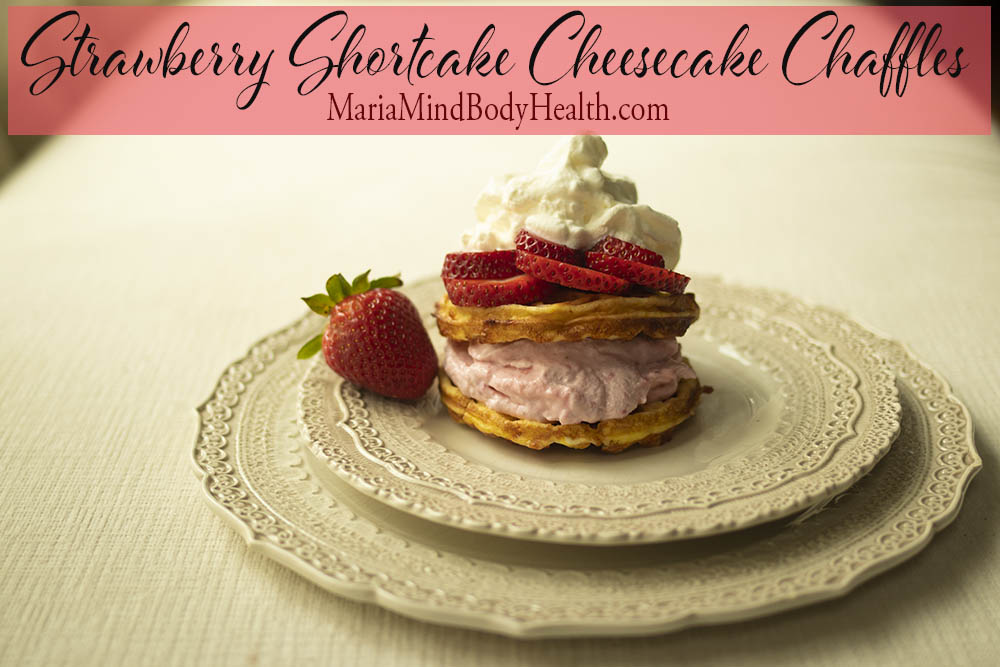 My boys LOVE strawberries! I love chaffles! I married the 2 together and made a special Strawberry Shortcake Cheesecake Chaffle dessert!
When I was a little girl, I would go strawberry picking with my Grandpa Vince and Grandma Rosemary. We would come home with huge boxes of strawberries! There were so many recipes made with the delicious strawberries.
This time of year, I always have fond memories of strawberry fields in Wisconsin.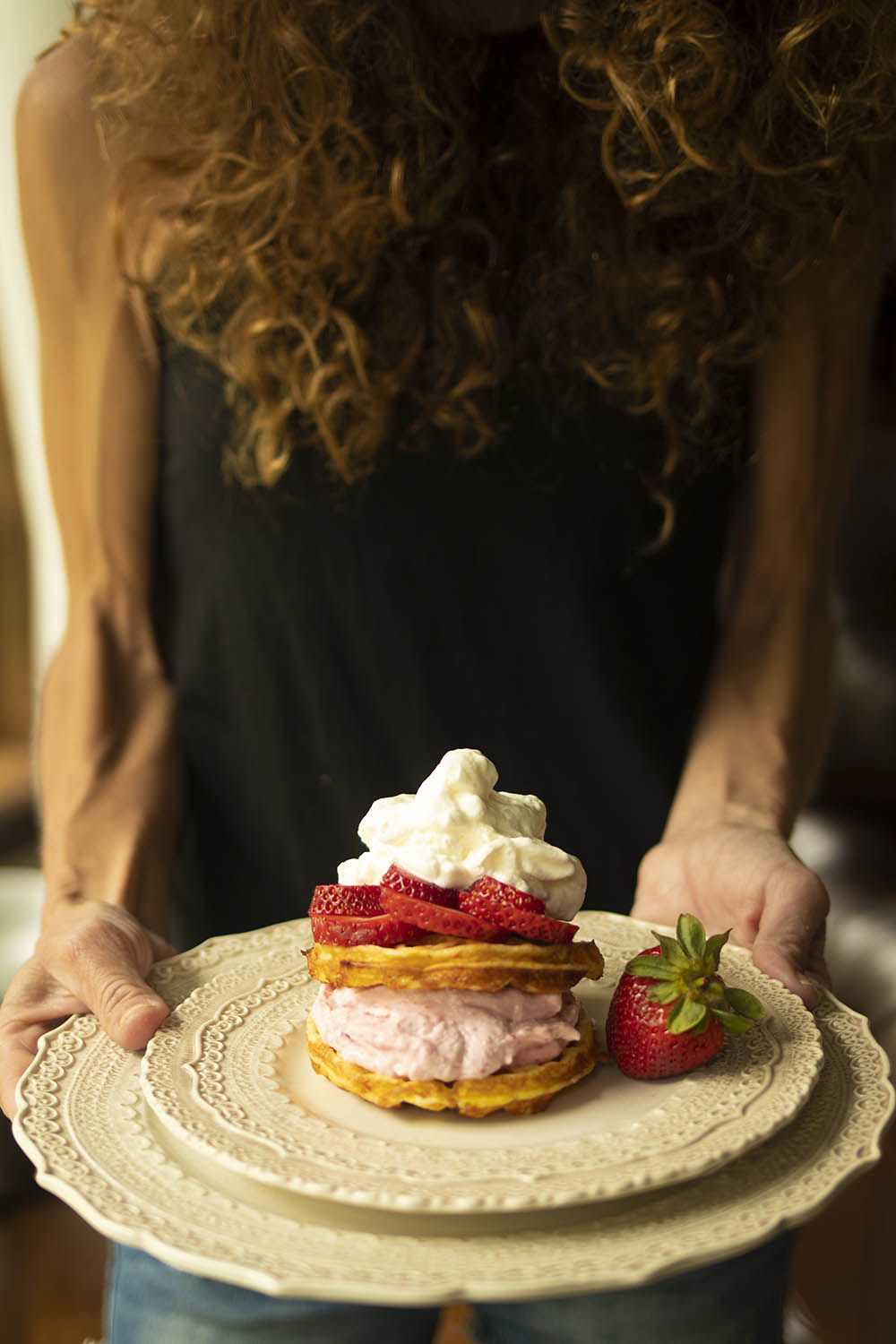 If you don't have one yet, one of my favorite gadgets is a whipped cream dispenser (click HERE to find the one I have).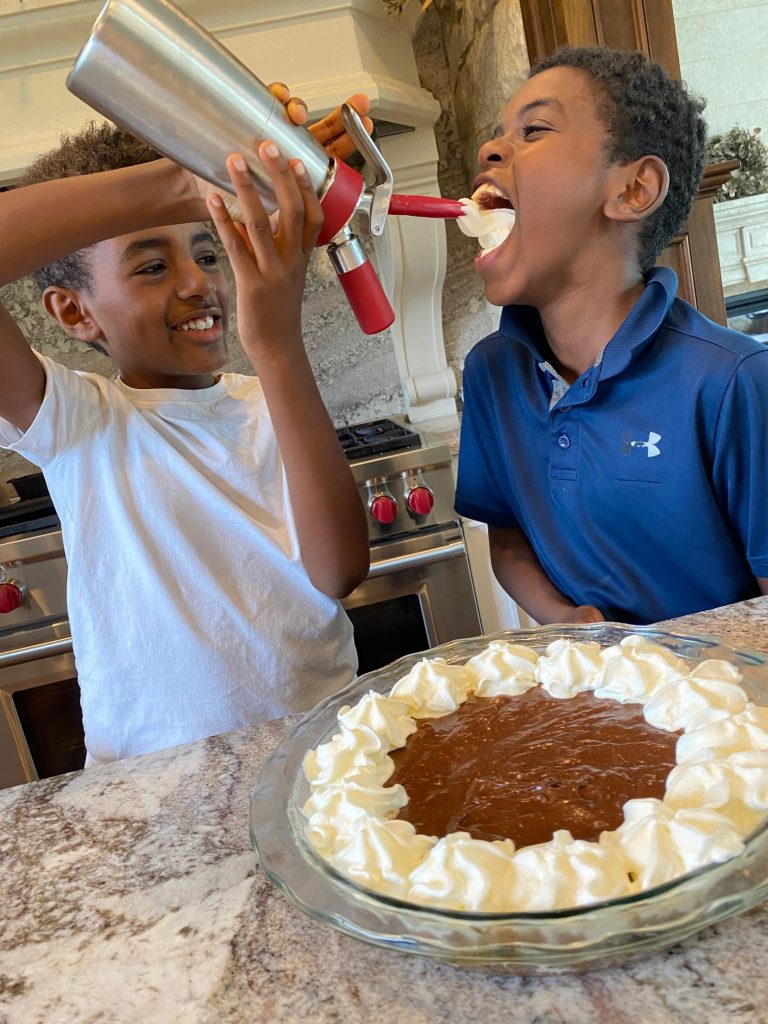 Strawberry Cheesecake Shortcake Chaffles
Instructions
Preheat a mini chaffle maker (click HERE to find).. (Click HERE to find a 4 slot chaffle maker to speed up cooking time).
Place the cheese and egg into a small bowl and use a fork to combine well.
Grease the chaffle maker with duck fat spray (or other spray) and place ¼ of the mixture into the chaffle maker and press the maker down. Cook the chaffle for 2 to 3 minutes or until golden brown and cooked through.
Repeat with remaining chaffle batter until you have 4 chaffles.
Meanwhile, place all of the ingredients for the cheesecake filling into a food processor and puree until smooth. Taste and adjust sweetness to your liking.
Make the topping by placing the heavy cream and natural sweetener into a whipped cream dispenser (click HERE to find the one I have).
Place one chaffle onto a plate, top with ½ of the cheesecake filling, top with another chaffle then top the chaffle with a few tablespoons of sliced strawberries and whipped cream.
Repeat with remaining ingredients.
Notes
Nutritional Information:
503 calories, 43g fat, 23g protein, 3g carbs, 0.2g fiber
TESTIMONY OF THE DAY
A testimony from one of my Certified Keto Coaches! 
"Maria, Thank you! You have no idea what a positive impact you and Craig have had on my life.
I'm 58 years old and have always struggled with my health and weight. It took me to have to hit bottom mentally and physically for me to change. It's sad it had to come to that but true.
That's when I found you. You and Craig are so real and personable, I felt an instant connection and started reading everything I could get my hands on about Keto and taking better care of myself.
That was three years ago. Fast forward to today, I am 120 pounds lighter, have reversed several chronic illnesses and am happier and healthier than I have ever been in my entire life.
I became one of your Certified Keto Coaches a little over a year ago and was bound and determined to spread the word and help others. I started my group and developing recipes. I want to be the inspiration to them like you are to me and pay it forward. It has become my passion in life. I want everyone to experience what I have! So when you ask such a simple request like promoting your YouTube channel, I'm on it. There is no way I can ever pay back all of the gratitude that I have. You guys are the blessing. Thank you for everything you do. It is greatly appreciated." Nancy
Most people I consult are doing keto totally wrong. Get fast results with the my NEW Keto Packages!