Sticks and Dip
Have you ever seen those pre-packaged sticks and dip with cheese? I just saw them at the grocery store and thought…What the heck is that cheese made out of? It wasn't even in the refrigerator section!!! AND it has the SCARY TBHQ junk in them too!
Here are the ingredients in the crackers and "cheese:" *Bold = TRANS-FAT
Enriched Flour [Wheat Flour, Niacin, Reduced Iron, Thiamine Mononitrate (Vitamin B1), Riboflavin (Vitamin B2), Folic Acid], Water, Cheddar and Other Natural Cheese [Pasteurized Milk, Cheese Culture, Salt, Enzymes, Annatto (Vegetable Color)], Sugar, Whey, Partially Hydrogenated Soybean and Cottonseed Oil with TBHQ, Milkfat, Contains 2% or Less of Maltodextrin, Sodium Phosphate, Corn Syrup Solids, Salt, Lactic Acid, Sorbic Acid (Preservative), APO-Carotenal (Color), Xanthan Gum, Yeast Extract, Sodium Bicarbonate, Sodium Alginate, Natural Flavor, Sodium Citrate, Soy Lecithin, Mono and Diglycerides, Ascorbic Acid, Citric Acid.
The membranes of neurons (the part of the brain cells responsible for communication) are composed of a layer of fatty acid molecules. Fatty acids are what healthy fats are composed of. When you digest the fat in your food, it is broken down into fatty acid molecules. Your brain uses these to assemble the special types of fat it incorporates into its cell membranes. If you eat healthy omega 3 fats, we will build healthy happy and calm brains. If you sneak in trans-fats (hydrogenated oils), your brain cells get ridged and hard. Communication between the cells is nearly impossible. When this happens we have a hard time focusing and our moods are low.
The myelin is the protective sheath that covers communicating neurons. It is composed of 30% protein and 70% fat. One of the most common fatty acids in myelin is oleic acid. Breastmilk is the most abundant source of this fatty acid. Some other good sources are walnuts, almonds, pecans, macadamias, peanuts, and avocados.
So instead of making our cells stiff and ridged, let's fill our children's brains with lots of oleic acids!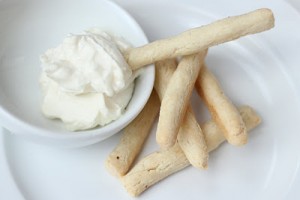 Cheese Dip:
2 ounces cream cheese
2 ounces sharp (white) cheddar
2 TBS veggie/beef broth
Place in a saucepan and warm on low until melted. Remove from heat and cool. (You could do this in the microwave). This will thicken up as it sets.
Crackers:
1 cup Blanched almond flour
1 cup Parmesan cheese, finely grated
1 tsp Celtic sea salt
water (just enough to hold the dough together)
Preheat oven to 350 degrees F. Pulse all the ingredients (except for the water) together in a food processor or blender. Add the cold water to the dough, a bit at a time, until the mixture is holding together well enough to work into a ball or two. Roll into 1/2 inch balls. Using your fingers, roll balls back and forth until a stick/log shape. Bake for 20 minutes, or until crackers are browned. The darker, the crispier.Makes 8 servings.
NUTRITIONAL COMPARISON (per serving)
MOO TOWN Sticks and Dip = 200 calories, 8g fat, 4g protein, 28 carbs, 0 fiber
"Healthified" Sticks and Dip = 191 calories, 15g fat, 10g protein, 3.8 carbs, 1.5g fiber