Pumpkin Spice Dutch Baby
This delicious Pumpkin Spice Dutch Baby pancake doesn't actually have pumpkin puree in the batter. I wanted a pumpkin Dutch baby without the carbs from the pumpkin, but believe me… this yummy keto dutch baby is so tasty, it reminds me of pumpkin cheesecake into a Dutch baby pancake!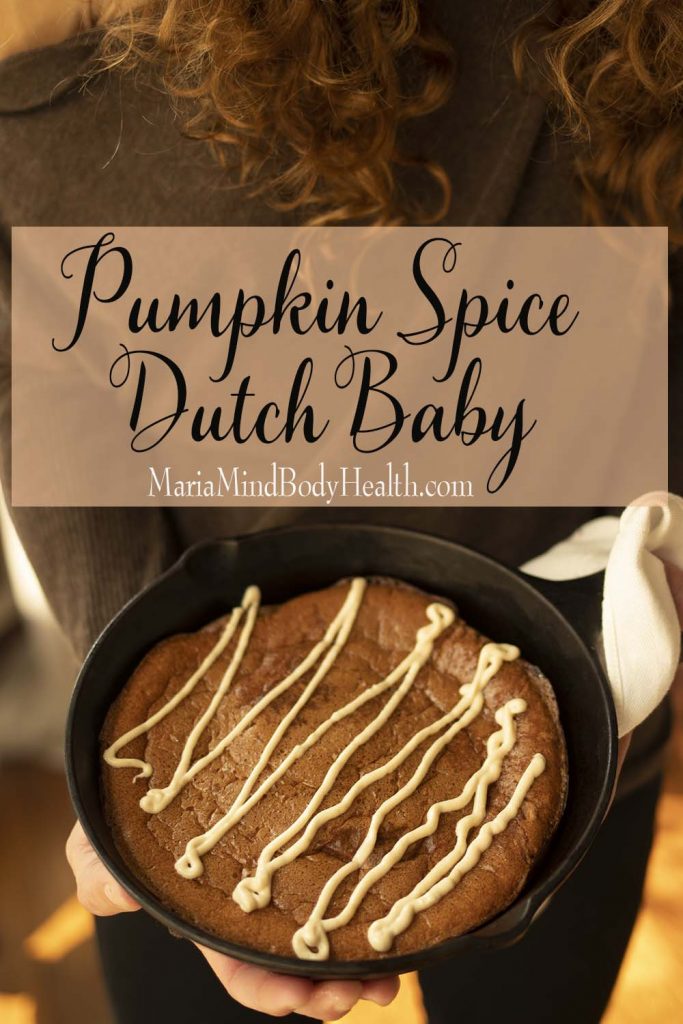 Last night I spoke with my keto support group and one of the questions was how do I make life easier and what tips do I have when shopping. Well, I rarely go to the grocery store! I get most of my items online.
You may have seen me mention this before, but we do not have advertisements on my blog. I get approached all the time to have advertisements on my website and I get offered thousands of dollars a month for it, but you know what? I tried it for a few days and I was horrified to see "healthy" chips and things that I would never recommend for people to eat. I found it so intrusive and it covered up the message I want you to leave my website with.
I ADORE that I now can fast forward commercials on the tv shows I record because right before bed I swear they always show foods like pizza and even though I wasn't hungry, I wanted pizza after I saw it. I don't want you to see temping junk food on my website. I want my website to be a safe place to be educated and encouraged on your ketogenic lifestyle. Not tempted by junk.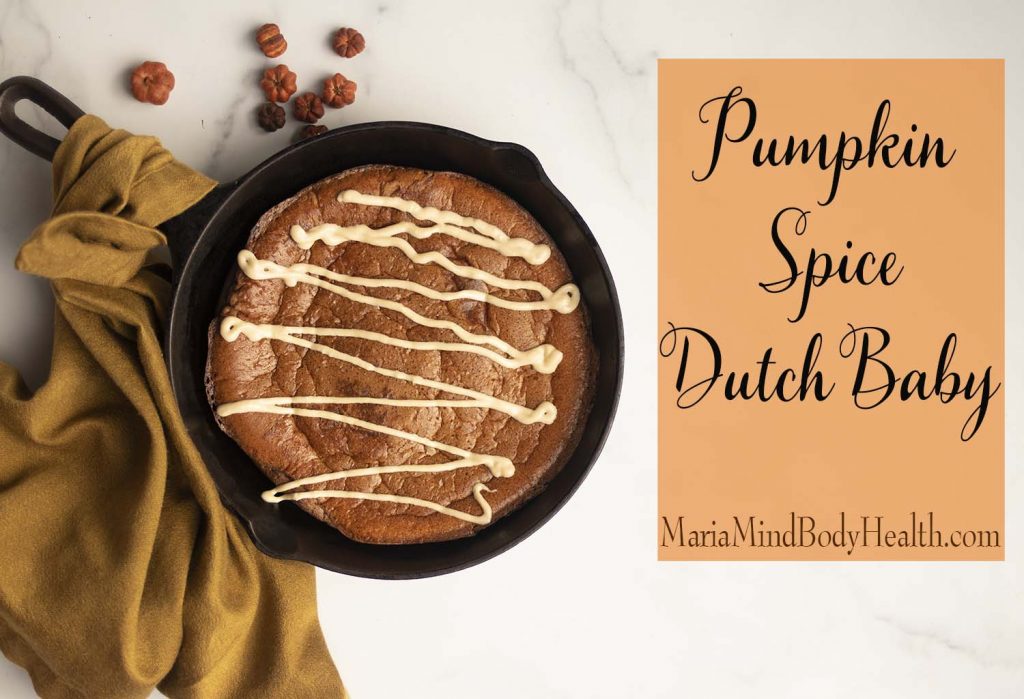 If you want to watch us make my Pumpkin Spice Dutch Baby Pancake, subscribe to our new YouTube Channel, and comment below on what video recipe we should make next!
Pumpkin Spice Dutch Baby
Equipment
Ingredients
1

tablespoon

butter or coconut oil

3

large

eggs

3/4

cup

unsweetened almond milk

1/4

cup

vanilla egg white protein powder

2

tablespoons

Swerve Brown

1 1/2

teaspoons

pumpkin pie spice

1

teaspoon

baking powder

1/4

teaspoon

Redmond Real salt

use code Maria15 for 15% off

1/2

teaspoon

vanilla
CREAM CHEESE FROSTING:
1

ounce

cream cheese

softened (Kite Hill dairy free cream cheese if dairy free)

1/2

tablespoon

unsweetened almond milk

1

tablespoon

Swerve Brown

1/8

teaspoon

ground cinnamon
Instructions
Place an 8 inch cast iron skillet into the oven and preheat oven to 425 degrees F (400 degrees F in convection ovens). Make sure the skillet preheats and gets very hot.

In a blender, combine the eggs, almond milk, protein powder, baking powder, pumpkin pie spice, salt, vanilla, and natural sweetener. Blend for about 1 minute or until foamy.

Using an oven mitt, remove the skillet from the oven and place the coconut oil into the skillet. Swirl the skillet to coat the inside of the skillet.

Pour the batter into the hot skillet.

Bake for about 18-20 minutes or until the pancake is puffed and golden brown.

While Dutch baby bake, make the frosting by placing the softened cream cheese, almond milk, Swerve and cinnamon in a small bowl. Place into a ziplock and cut a small hole into one corner. Set aside.

Remove the pancake from the oven, drizzle frosting on the pancake, eat right out of the skillet! NOTE: the dutch baby will fall after a few minutes out of the oven.
Nutrition
Calories:
341
|
Fat:
27
g
|
Protein:
20
g
|
Carbohydrates:
4
g
|
Fiber:
1
g
|
P:E Ratio:
0.7
TESTIMONY OF THE DAY
"Hello Craig, Maria, Kai and Micah!
My journey to a healthy sized body has been a long one. Always the fattest kid in grade school, high school, and college, my life was typically an unhappy one as a young adult.
I ate the standard American diet my whole life with bouts of diet struggles until I learned about 5 years ago that I was a sugar addict. My weight topped out at 260 lbs and at only 5'4" I was unhealthy to say the least.
Enter Maria, Craig and PSMF (protein sparing modified fasting)!
I feel better now at 71 than I have my whole life! I have energy & stamina that I never knew possible and cannot accurately express my gratitude! Thank you so much Maria and Craig Emmerich!" Janet 
Most people I consult are doing keto totally wrong. Get fast results with the my Mind-blowing Keto School!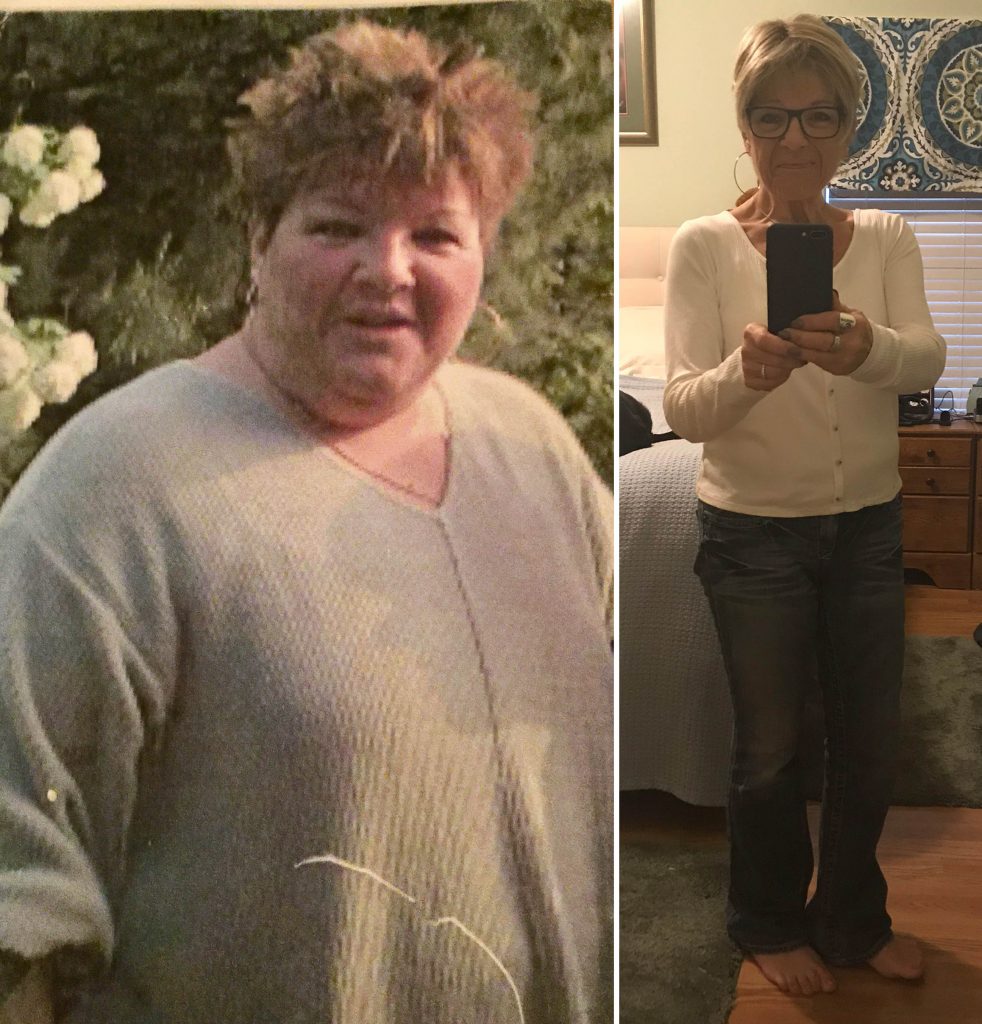 Most people I consult are doing keto totally wrong. Get fast results with the my NEW Keto Packages!