Testimony of the Day
"I have been following Maria closely for a couple of years now.  I adapted over time to her grain free/sugar free lifestyle.  It definitely didn't happen over night for me, but within time it became an easy habit.  Last August I decided to purchase a package with Maria because I still felt there was a major missing link to my healing.  I knew I was eating pretty good, but I was still having a lot of issues: depression, anxiety, major cravings, sleep issues, a few extra pounds, etc.  I felt like there was something off with my hormones so that is what led me to purchase the package with Maria.  Once I purchased the package Maria sent me a long questionnaire to fill out online.  By the next day she had gotten back to me with a detailed list of supplements to be taking. She also recommended some blood work to have done to test for deficiencies, etc. I ordered the supplements that day (warning-not cheap but so worth it!). I also started eating according to the meal plan she sent, which made it so easy.
I am not exaggerating when I say that I felt improvements almost instantly. Within the first week I felt like a new person. I wasn't completely "cured" but I was well on my way. 
It has now been almost 5 months since I contacted Maria. I am off meds for depression, I sleep so much better, and my anxiety is pretty much gone. I feel happier and more at peace now than I have in years.  My sleep still continues to improve. For me, that was the thing that took the longest to change. I went from sleeping about 4 hours a night and now I am up to between 7-8 each night. For me that is awesome!  I still hope to reach a full 8 hours or more on a consistent basis, and I think I will get there soon.
I would have to say working with Maria is the best money I have ever spent. Mentally and emotionally I am at the best place I have ever been in my life.  I am a better wife and mother in so many ways.  I didn't realize how debilitating my anxiety and depression were until I started feeling good.  I wake up happy every day now!  I could never put a price on that. -Cami"
Click HERE to start your journey to a keto-adapted diet!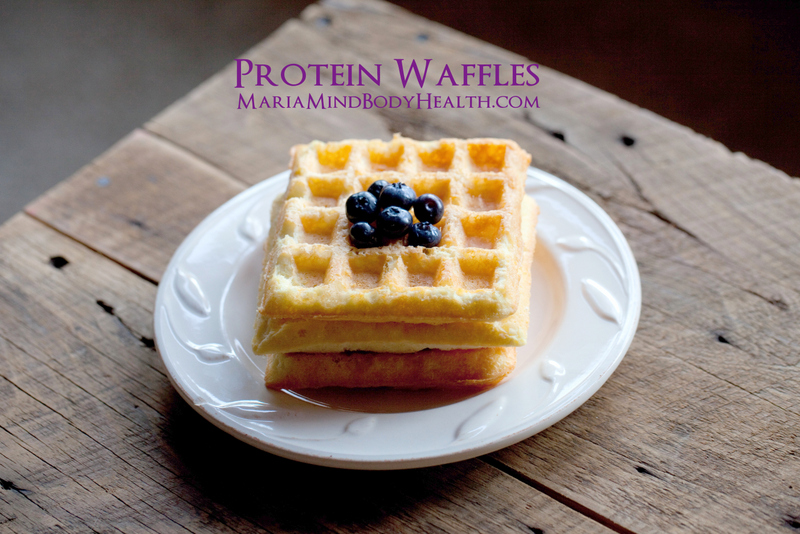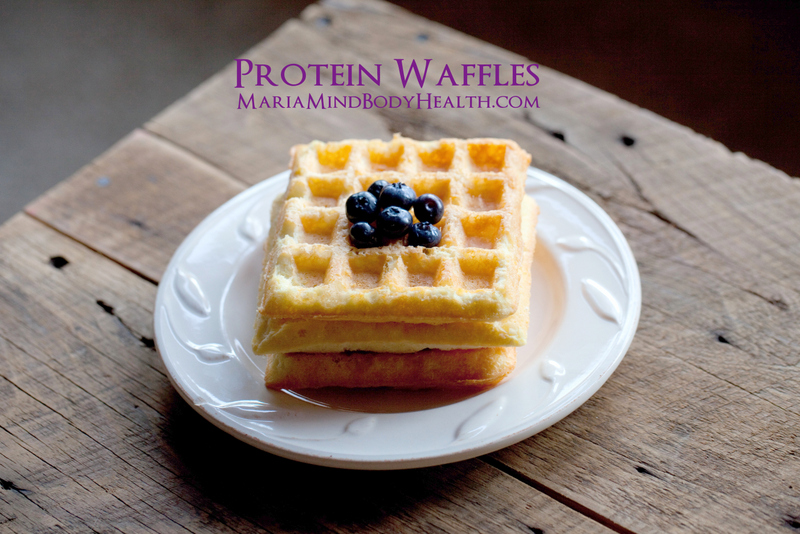 These crisped up really nice. I plan on doubling the batch next time to keep in my freezer for an easy breakfast in the toaster!
Protein Waffles
Equipment
Ingredients
2

cups

almond flour

1

cup

vanilla egg white protein powder

1/2

teaspoon

Redmond Real salt

1

tablespoon

baking powder

1 1/2

cup

unsweetened almond milk

2

large

eggs

4

tablespoons

butter

or coconut oil for dairy free
Instructions
Preheat waffle iron to high.

Combine the dry ingredients in a bowl.

Combine the wet ingredients in another bowl.

Slowly add the wet ingredients into the dry. Let sit for 5 minutes.

Bake according to your waffle iron directions.
Nutrition
Calories:
442.9
|
Fat:
34.4
g
|
Protein:
28.3
g
|
Carbohydrates:
9.9
g
|
Fiber:
5
g
|
P:E Ratio:
0.7