Protein Sparing Reuben Chicken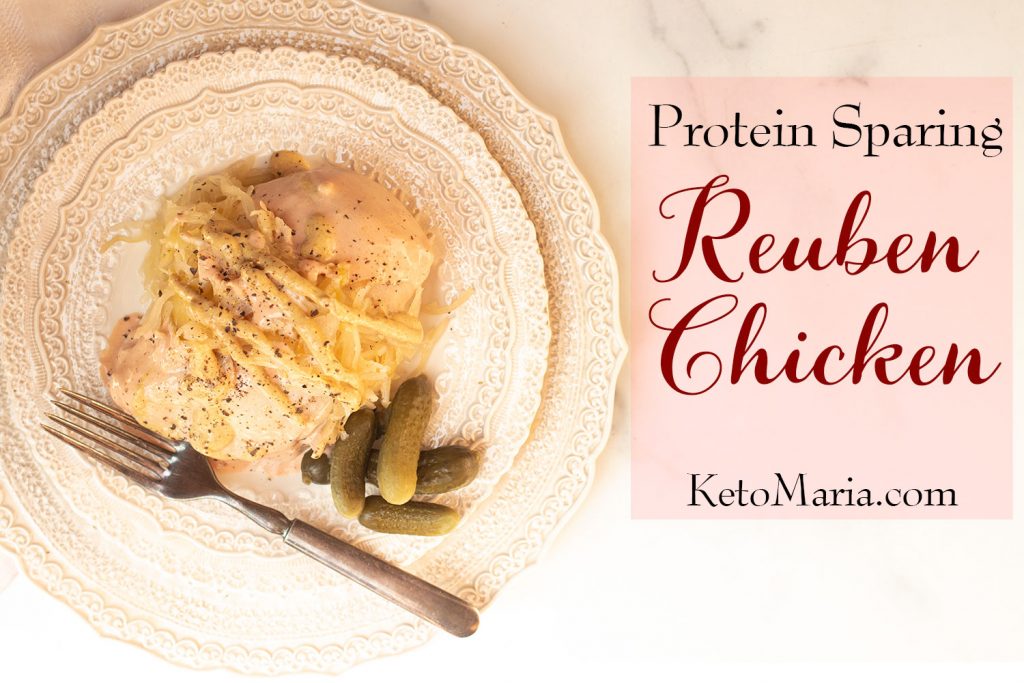 I am a true German girl at heart!
Anything reuben or with sauerkraut and mustard is one of my food loves!
When I was a little girl, we had reuben sandwiches all the time. This recipe for protein sparing reuben chicken is packed with flavor without the carbs or fat!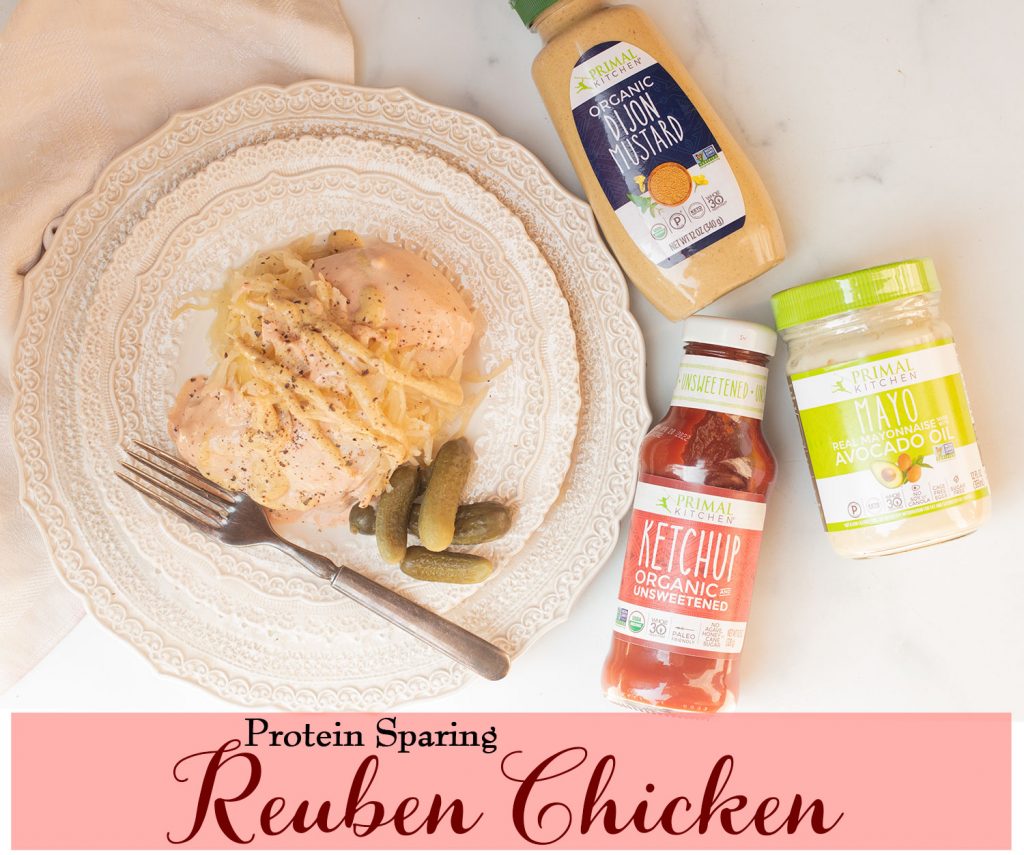 My recipe for protein sparing reuben chicken is so easy! I love that all I have to do is open a jar of Primal Kitchen Thousand Island and Dijon Mustard and toss the ingredients into a slow cooker! It is a family favorite!
A special tip on getting your kids to eat healthy, have them make dinner for you! I know you are thinking, "Yeah right Maria!" But seriously, get a slow cooker. Have your kids follow the directions and fill the slow cooker. The slow cooker does the cooking for you! Look at Kai's face! He is so proud he made dinner for us! Your kids will eat the food because they made it!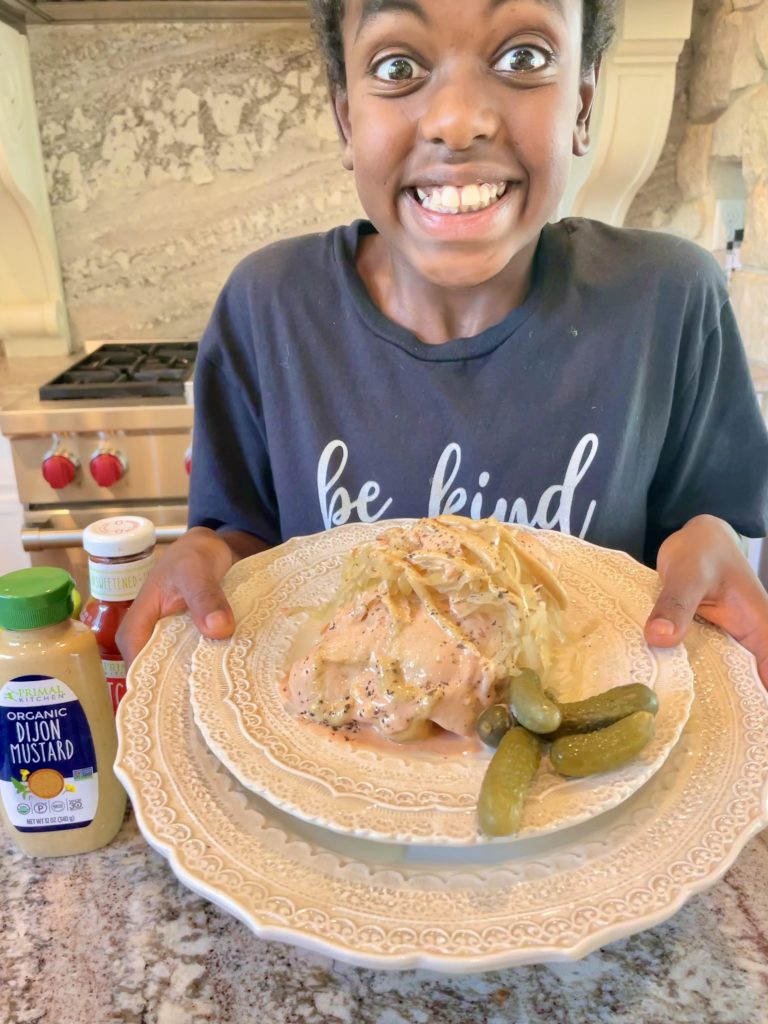 My homemade Thousand Island dressing is so easy to make! All you have to do is open a jar of Primal Kitchen mayo and ketchup and a healthy Thousand Island is made in no time! It works perfect for giving this protein sparing Reuben Chicken a delicious flavor! It also gives my Reuben chicken a creamy texture without the dairy! I know that going dairy free can be hard but thanks to things like my homemade Thousand Island Dressing using Primal Kitchen mayo and ketchup, you can enjoy the creamy texture without the cheese that typically goes on Reubens!
I also love adding Primal Kitchen Dijon mustard to this Reuben chicken because it gives it a touch of acidity. All recipes should have some sort of acidity; this helps make recipes extra delicious!
You are going to love this protein sparing recipe!
Primal Kitchen is SO generous that they are doing a special discount for all of my readers! Use code: Maria for 20 % off!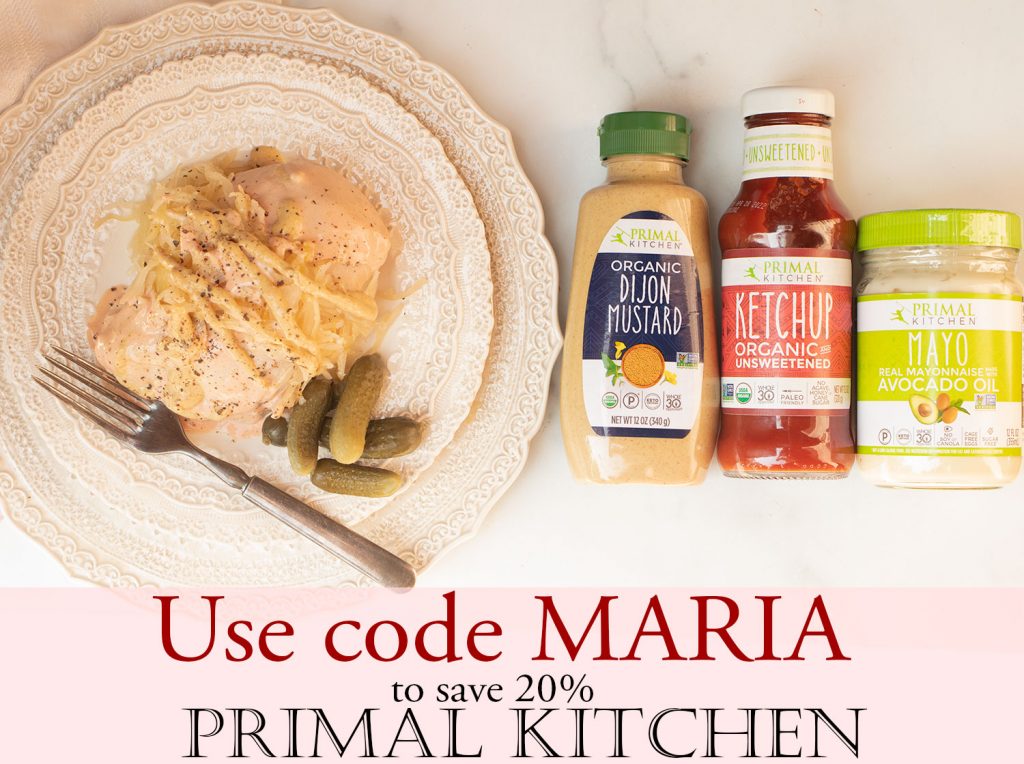 Click HERE to learn more about Protein Sparing Modified Fasting.

Protein Sparing Reuben Chicken
Ingredients
THOUSAND ISLAND DRESSING:
¼ cup chopped dill pickles
¼ cup Primal Kitchen Ketchup
½ teaspoon stevia glycerite
⅛ teaspoon fish sauceor fine grain sea salt
REUBEN CHICKEN:
24 oz. sauerkraut, drained
4 (6 oz) boneless skinless chicken breasts
1¼ teaspoons fine sea salt
½ teaspoon fresh ground pepper
4 tablespoons Primal Kitchen Dijon mustard, divided
Instructions
To make the dressing, place all the ingredients in a small bowl and stir well to combine. Taste and adjust seasoning to your liking. Cover and store in fridge for up to 5 days.
Layer half the sauerkraut in the bottom of a greased 5-6 quart slow cooker. Drizzle with ⅓ of the dressing.
Season the chicken on all sides with salt and pepper. Place the chicken breasts on top and spread half the mustard over the chicken. Top with the remaining sauerkraut and drizzle another ⅓ of the dressing over all and reserve the remaining dressing and mustard for serving.
Cover and cook on low for 4 hours, or until chicken is cooked through and tender.
To serve, place each breast on a plate. Divide the sauerkraut over top the chicken. Top each with a drizzle of the remaining dressing and mustard.
Store extras in an airtight container in the fridge for up to 5 days. To reheat, place in a casserole dish in a 350 degree F oven for 5 minutes or until heated through.
Notes
Nutritional Information:
584 calories, 38g fat, 51g protein, 9g carbs, 0.1g fiber
P:E ratio 1.1
(Use half the dressing to make better PSMF macros)
TESTIMONY OF THE DAY
"This message is a thank you for helping me find my way to the right path of a healthy and factual Keto life. Weighing at 167 and beginning to feel fatigued, depressed, and lacking confidence in my skin was a journey I quickly wanted to stop. A family line of diabetics, heart disease, and cancer encouraged me to take action. How, I was not sure but something needed to be done.
Once this horrible pandemic hit, I refused to sit around and allow my health to get worse. I took action and began a keto lifestyle. I followed high fat and protein diets that suggested wrong advice, I fasted eating one meal a day. I can not say I did not get results, but I lost muscle mass and my skin looked as if it was aging. Something was not feeling right.
I then came across Maria and Craig Emmerich's YouTube channel and began to listen closely to the advice they shared. I joined their program on Keto-Adapted.com and they helped me learn how to properly use PMSF to make my last few pound loss a success. Including introducing eating with joy again.
I now am at 126 pounds and feel fantastic! I no longer need to fast, I eat when I am hungry and never feel deprived. Maria and Craig's meal plans, recommendations, PMSF, and meal planner are amazing!
167 to 126 size 14 to size 4, Maria and Craig gave me the correct advice. I am thankful for their wisdom, their cookbooks, website programs, and caring truth they share with all. No more poor fasting choices now it is PSMF, no more hunger frustrations now it is quality foods. Forever thankful to Maria and Craig for being pioneers for proper health and support for the Keto community." – Stacy
Most people I consult are doing keto totally wrong. Get fast results with the my NEW Keto Packages!