Protein Sparing Meatball Sub
Do not miss this deal FREE GROUND BEEF FOR LIFE!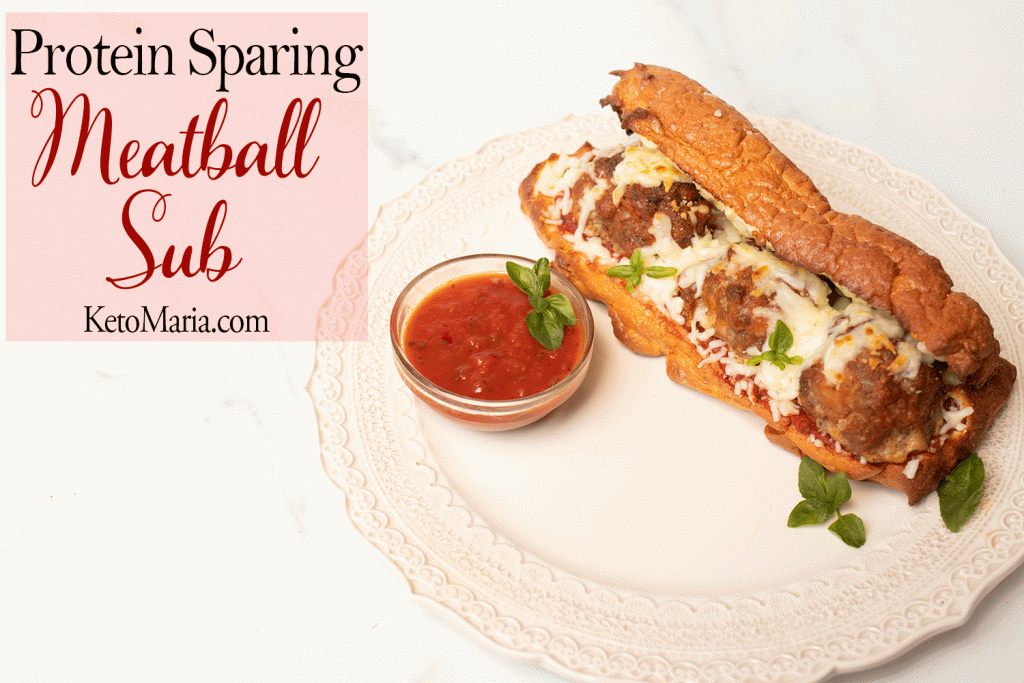 I remember when I was a teenager, going to Subway for meatball sub sandwiches!
I still love meatballs and I make my protein sparing meatballs often, but I haven't made a meatball sub with them before. I will be making these protein sparing meatball sub sandwiches again for sure!
One thing that I often do when I make my protein sparing meatballs, I make a quadruple batch. Since I have everything out to make the protein sparing meatballs, why not make a huge batch to store the unbaked ones in the freezer for easy meals?  Instead of buying store-bought frozen meatballs with unhealthy ingredients, make my meatball recipe!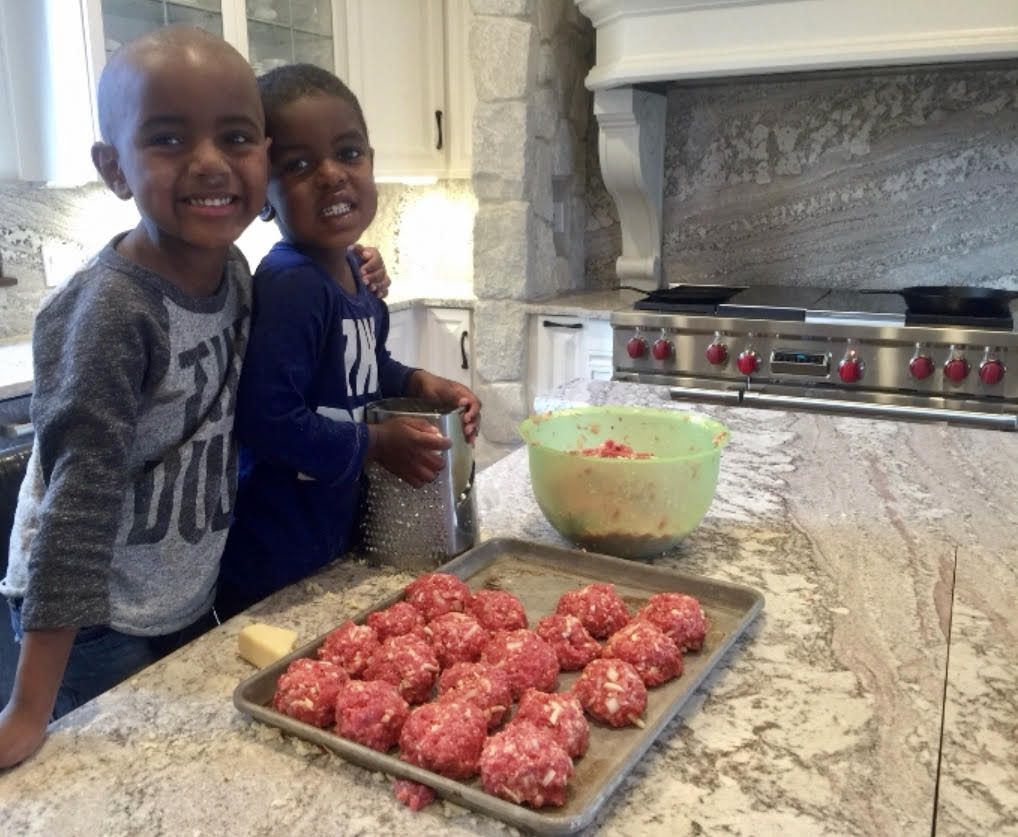 Especially when you have cute keto kids to help you make the meatballs right?
I do the same thing with my protein sparing sub bread. I make a quadruple batch and store extra protein sparing sub bread in the freezer to make easy protein sparing subs with.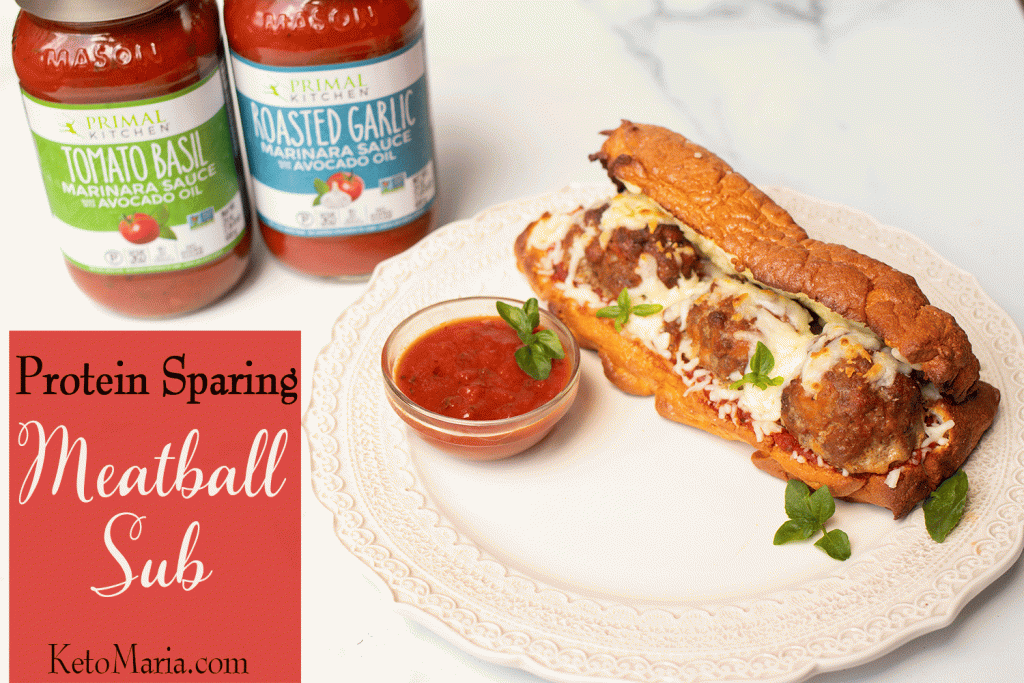 Another shortcut I take when I am cooking, I use Primal Kitchen sauces! I understand that life gets busy and sometimes we need to find shortcuts. I once always made my own bone broth, sauces, marinara sauces, but that's because there weren't any good store-bought options.
Now I find myself making my protein sparing meatballs with Primal Kitchen Marinara Sauces! They are delicious, organic and they do not have any sugar nor vegetable oils in the ingredients!
Primal Kitchen marinara sauce is not only filled with top quality ingredients, it is also delicious! I love that I can easily open a jar and use it to make my protein sparing meatball sub recipe in an instant!
Primal Kitchen is SO generous that they are doing a special discount for all of my readers! Use code: Maria for 20 % off!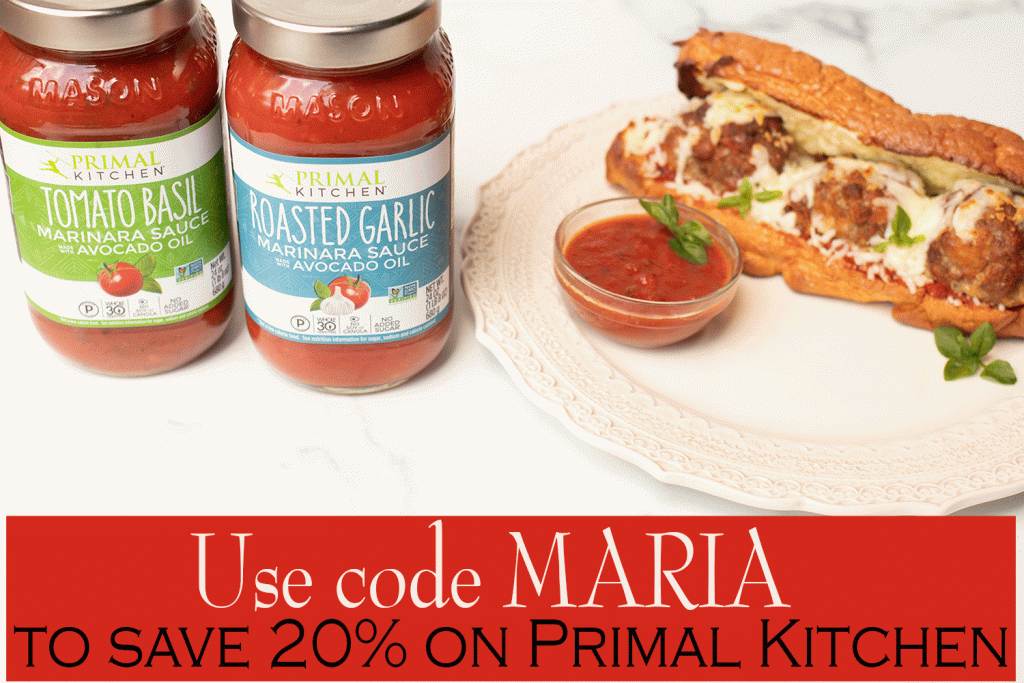 If you want to watch me make Protein Sparing Meatball Sub sandwiches, subscribe to our new YouTube Channel to get updated when the video comes out which will be in a day or two, and comment below on what video recipe we should make next!
Click HERE to learn more about Protein Sparing Modified Fasting.
Protein Sparing Meatball Sub
Ingredients
PROTEIN SPARING BREAD:
6

large

egg whites

2

tablespoons

allulose

1/2

teaspoon

Redmond Real Salt

1/2

teaspoon

cream of tartar

(optional)

1/2

cup

unflavored egg white protein powder
PROTEIN SPARING MEATBALLS:
1

pound

95% lean ground beef

2

tablespoons

chopped onion

1

clove

garlic

minced

1

large

egg

1½

tablespoons

Italian seasoning

1

teaspoon

Redmond Real Salt

1/2

cup

Primal Kitchen Tomato Basil or Roasted Garlic Marinara Sauce
FOR SERVING:
Primal Kitchen Tomato Basil Marinara Sauce

Primal Kitchen Roasted Garlic Marinara Sauce
Instructions
Preheat the oven to 325 degrees F. Place a piece of parchment on a large baking sheet and spray with Primal Kitchen Avocado oil spray. Set aside.

Separate the eggs (save the yolks for another recipe like my keto ice cream, hollandaise, mayo or lemon curd), and place the whites into a large bowl or stand mixer. Add the dried egg whites, allulose, salt and cream of tartar if using and whip the whites for a few minutes until VERY stiff.

Place the dough onto the prepared baking sheet to form 4 sub rolls using a spatula.

Bake for 15 minutes or until golden brown. Turn oven off and leave bread in the oven for 15 minutes to avoid the bread from falling. Let completely cool before cutting or the bread will fall.

Meanwhile make the meatballs. Preheat the oven to 375°F.

In a large bowl, combine the ground beef, onion, garlic, eggs, Italian seasoning, and salt. Stir in 1/2 cup marinara, and combine well. The mixture should be very moist but still able to hold its shape when rolled into meatballs.

Form the mixture into 1 1/2-inch meatballs. Arrange the meatballs in a single layer on a rimmed baking sheet. Bake for 15 minutes, or until cooked through and no longer pink inside.

NOTE: if you are not doing protein sparing ratios, feel free to add shredded mozzarella cheese to the top of the meatballs in the last 2 minutes of baking.

Assemble your meatball sub. Place a few tablespoons of marinara into the center of the sub bread. Place 3 meatballs into each sub and enjoy!

Store leftovers in the fridge for up to 4 days or in the freezer for up to a month.
Nutrition
Calories:
303
|
Fat:
9
g
|
Protein:
48
g
|
Carbohydrates:
4
g
|
Fiber:
0.3
g
|
P:E Ratio:
3.8
TESTIMONY OF THE DAY
"I just have to share my success!
I have been keto for a little over a year, but had been stalled. It wasn't until I found Keto-Adapted.com with Maria and Craig Emmerich that I really started losing! 45 pounds down…I have more to go…but I couldn't be happier!!!" – Terri
Most people I consult are doing keto totally wrong. Get fast results with the my NEW Keto Packages!