Protein Sparing Cinnamon Chips and Dip

Many of my clients tell me they miss a crunchy snack on the keto diet or doing a protein sparing modified fasting day. This is the main reason I wanted to write this delicious protein packed recipe for all of you!
These healthy cinnamon chips are easy to make and will satisfy your desire for a crunchy snack!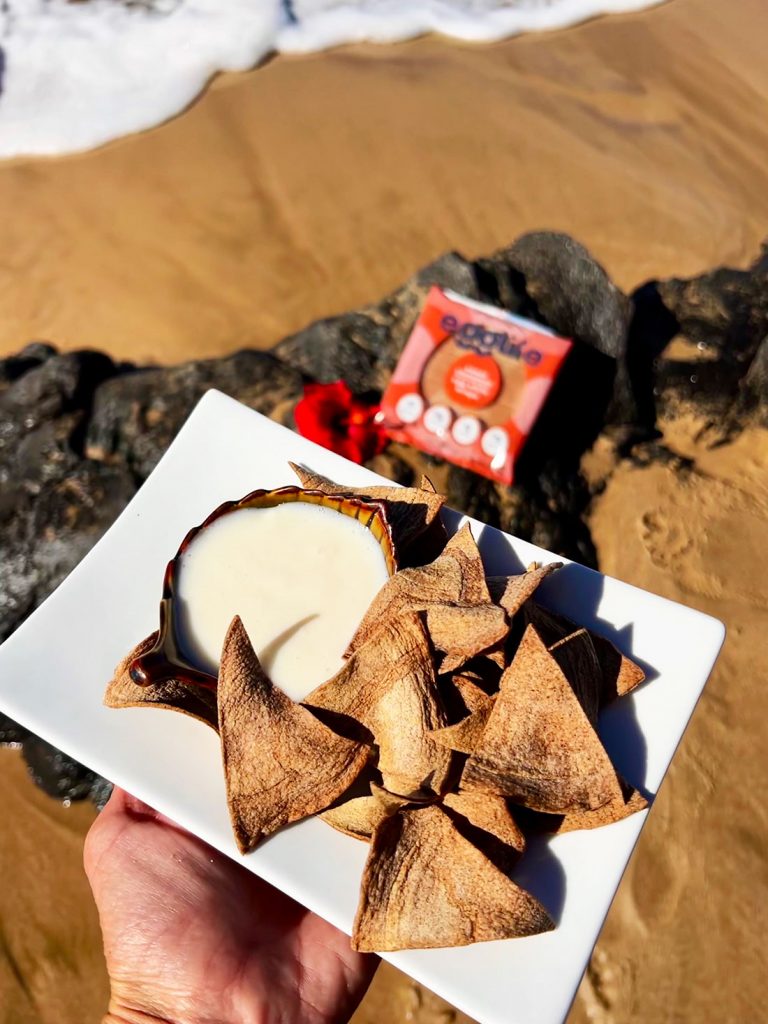 My protein sparing cinnamon chips are easy to make, crispy, loaded with a spicy sweetness, and are perfect for a protein sparing dessert or we even ate them for breakfast! When Kai asked to eat my protein cinnamon chips and dip, I thought, why not? The cinnamon chips are made with egg whites and the dip is all protein!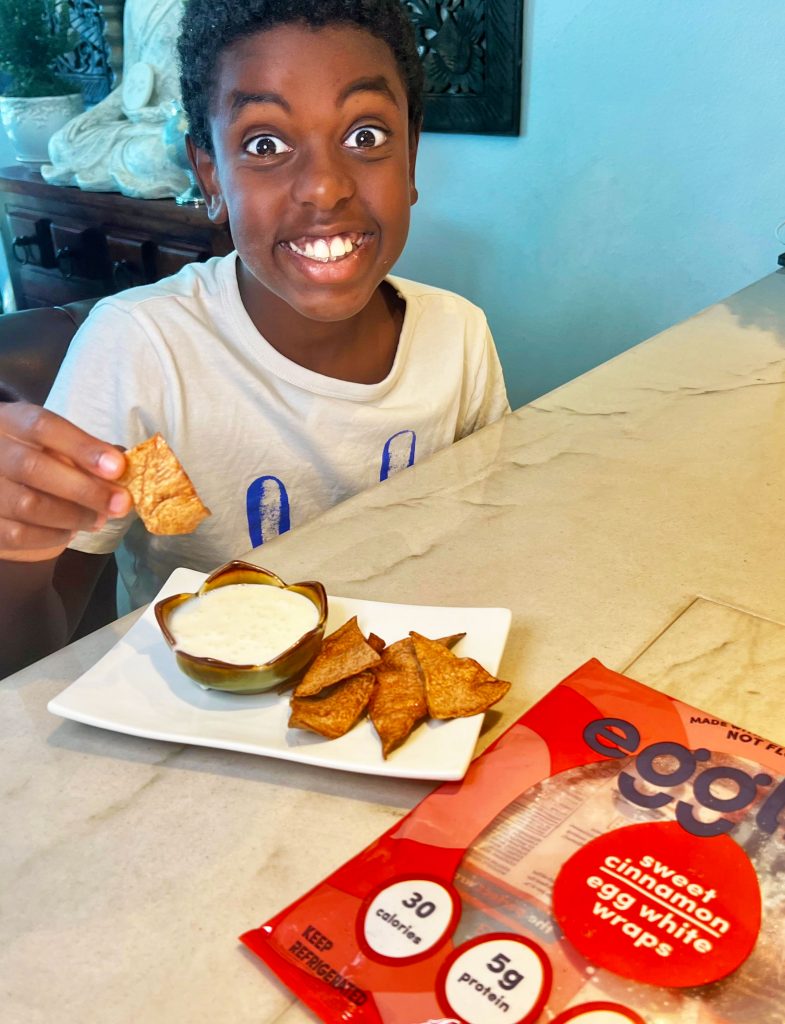 To make my cinnamon chips, I used the NEW sweet cinnamon egglife egg white wraps which I know will become a new family favorite grocery item for you!

I love the new sweet cinnamon egglife egg white wraps for many reasons!
1. They are made with healthy ingredients!
Sweet cinnamon egglife wraps are high in protein and free of sugar & gluten – plus, they only have 1g carbs.
2. They are a great Protein Sparing Modified Fasting item!
They are zero fat and the sweet cinnamon egglife wraps are only 1g carb which makes them all protein! Perfect for PSMF days! They work great for making protein sparing cinnamon chips!
3. They are dairy free and gluten free!
4. The plain wraps are only 30 calories, 5g protein and 0g fat and ZERO sugar!
5. These cinnamon wraps are super sturdy – you can easily fill, fold, and bend the wraps, just like a traditional tortilla and they make delicious protein sparing cinnamon chips!
Use code Maria5 for $5 off online orders of $25+! Plus, you can get a free package of the new sweet cinnamon egg white wraps during the month of January with purchases $25+!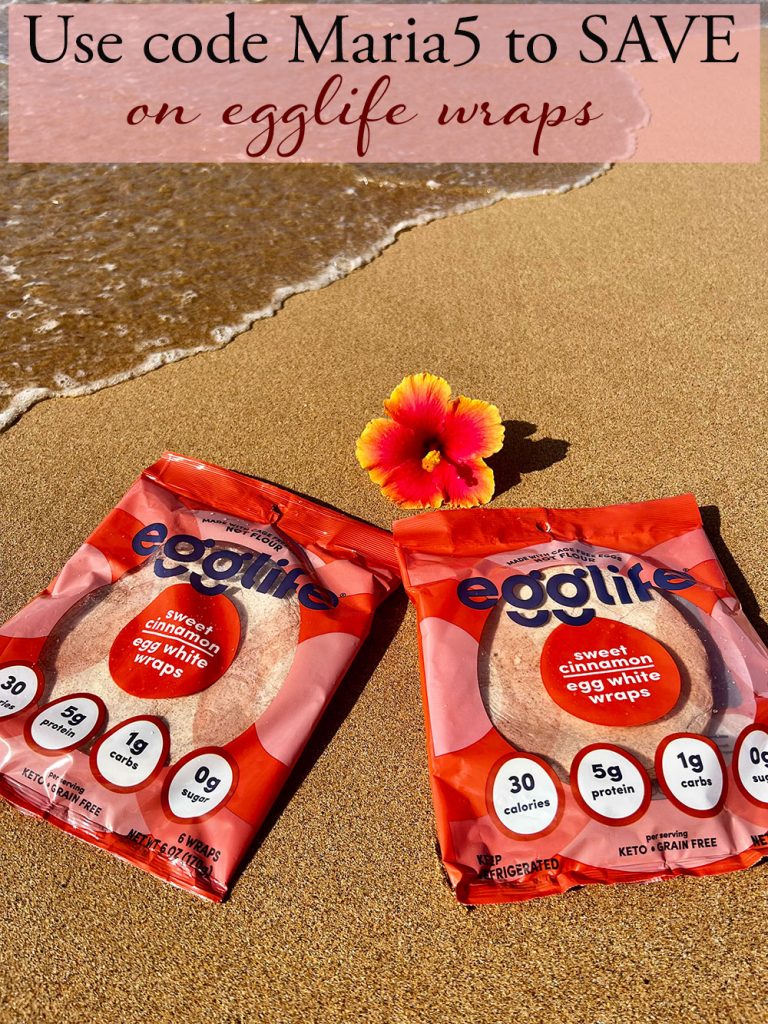 This post was sponsored by egglife, but all opinions are my own:)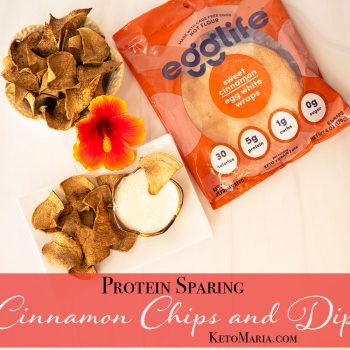 Protein Sparing Cinnamon Chips and Dip
Ingredients
PROTEIN SPARING CINNAMON CHIPS:
PROTEIN SPARING "CREAM CHEESE" DIP:
10

large

egg whites

scrambled and chilled)

3/4

cup

unsweetened almond milk

or hemp milk if nut free

1/4

cup

Natural Sweetener

or equivalent amount of liquid or powdered sweetener

1

teaspoon

Cream Cheese flavoring

1

teaspoon

vanilla extract

or more cream cheese flavoring

Pinch

Redmond Real salt
CREAM CHEESE DIP (Option 2):
4

ounces

cream cheese

softened

1/4

cup

Natural Sweetener

4

tablespoons

unsweetened almond milk

1

teaspoon

vanilla extract
Instructions
Preheat the oven to 350 degrees. Line a baking sheet with parchment paper.

Cut each sweet cinnamon egglife wrap into eighths. Place the wedges onto a single layer on the parchment. Spray lightly with avocado oil spray.

Sprinkle the natural sweetener evenly over the egglife wedges.

Bake for 13-20 minutes or until turning light golden brown and are very crispy.

Remove from oven and allow to cool completely until crispy on the baking mat. Store at room temperature in a zip-top plastic bag.

Meanwhile make the dip.

To make the protein sparing dip, place all the ingredients in a blender and puree until smooth. Taste and adjust sweetness to your liking.

To make the cream cheese dip, place the cream cheese and natural sweetener into a small bowl. stir well with a fork to combine. Add the almond milk and vanilla. Stir well until combined. Taste and adjust sweetness to your liking.
Notes
With Cream Cheese Dip:
75 calories, 6g fat, 2g protein, 1g carbs, 1g fiber
P:E Ratio 0.3
Nutrition
Calories:
39
|
Fat:
1
g
|
Protein:
7
g
|
Carbohydrates:
1
g
|
Fiber:
1
g
|
P:E Ratio:
7
TESTIMONY OF THE DAY
"Hello Maria Emmerich! I, like so many others, have had success by following your PSMF (protein sparing) days and The Art of Fat Loss!! So happy to report. I tuned in to your PSMF Class, implemented 3 PSMF days into my regular IF and macros (which I also calculated from your site (KetoMaria.com! TY!) And I have dropped 8lbs! I was at a plateau of 190lbs since April! I started using the supplements you suggested and I feel absolutely amazing. I am losing weight again, I am feeling satiated and full, I am gaining muscle, my skin is glowing, and people are asking me what I'm doing!
The most amazing thing of all? My diabetic/overweight/sugar-addicted husband is now asking me to show him what I'm doing, asking questions, is showing more interest than ever, and I think he's finally going to join me. Praise the Lord!  Going to sit and figure out his macros and meal plan for us this week." -J
Most people I consult are doing keto totally wrong. Get fast results with the my Mind-blowing Keto School!