Protein Sparing Angel Food Cake

Recipes like this Protein Sparing Angel Food Cake can be found in The Art of Fat Loss!
My Protein Sparing protocol is something I have perfected over 20 plus years of helping clients lose weight and heal their bodies. Protein Sparing Modified Fasts (PSMF) are an awesome way to improve and speed up weight loss, break stalls and get faster results. There is an amazing introduction in the beginning of The Art of Fat Loss which teaches you how to do Protein Sparing Modified Fasting safely and effectively!
I have been asked to write a book for bariatric patients and The Art of Fat Loss and my Protein Sparing books are perfected for those patients! They are focused on protein and nutrient-dense foods that help you maintain muscle while losing fat!
The Art of Fat Loss book takes weight loss and healing to a whole new level with a lot of information about how to do PSMF and why they work, over 65 amazing recipes including PSMF versions of favorites like hard boiled egg pudding, bourbon chicken and more! Same great flavors but even better for fat loss results.
All of the recipes in The Art of Fat Loss are gluten free, dairy free, nut free and soy free. I had 6 recipe testers and they absolutely loved the recipes and still use them often!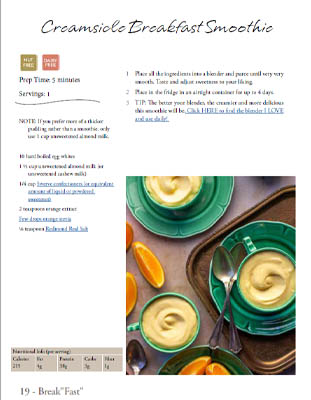 We also included a month (4 weeks of 3 PSMF days each week) of meal plans that include grocery lists making it super easy to include PSMF and get results fast!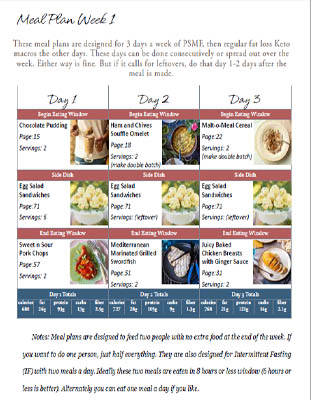 This is a pdf ebook that can be viewed on any device or computer.
If you prefer a PRINTED COPY, you can get your ebook printed at PrintMe1.com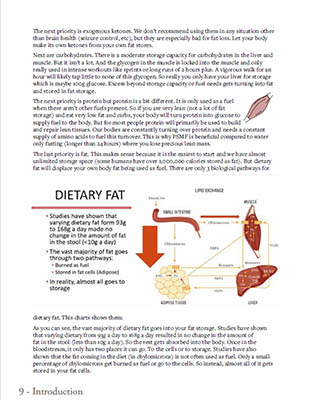 Protein Sparing Modified Fasts are a powerful tool for fat loss and healing. Here is a video where I answer questions about Protein Sparing Modified Fasts.
When you do Protein Sparing Modified Fasts, collagen does not count towards your protein goal. It doesn't have a complete amino acid profile. It is best to eat real food!
If you would like to make a difference and support a small family rather than making a minuscule sale for a large company, I am happy to announce that you can now get my books as a high quality ebook that works on any platform (all done by my wonderful husband!). This is an ebook format that works on any computer or mobile device. It is a beautiful pdf that has all the full color pages and layouts as the printed books with click-able table of contents and searching capabilities. This is extremely useful when trying to find a recipe. These books are much higher quality than the ebook platforms (kindle, apple). Plus, most of the profits don't go to Amazon or apple!
If you prefer print books over ebooks, I suggest printing the books out and put the pages in a 3 ring binder! You can organize pages and recipes as you like! I put my favorite recipes in the beginning!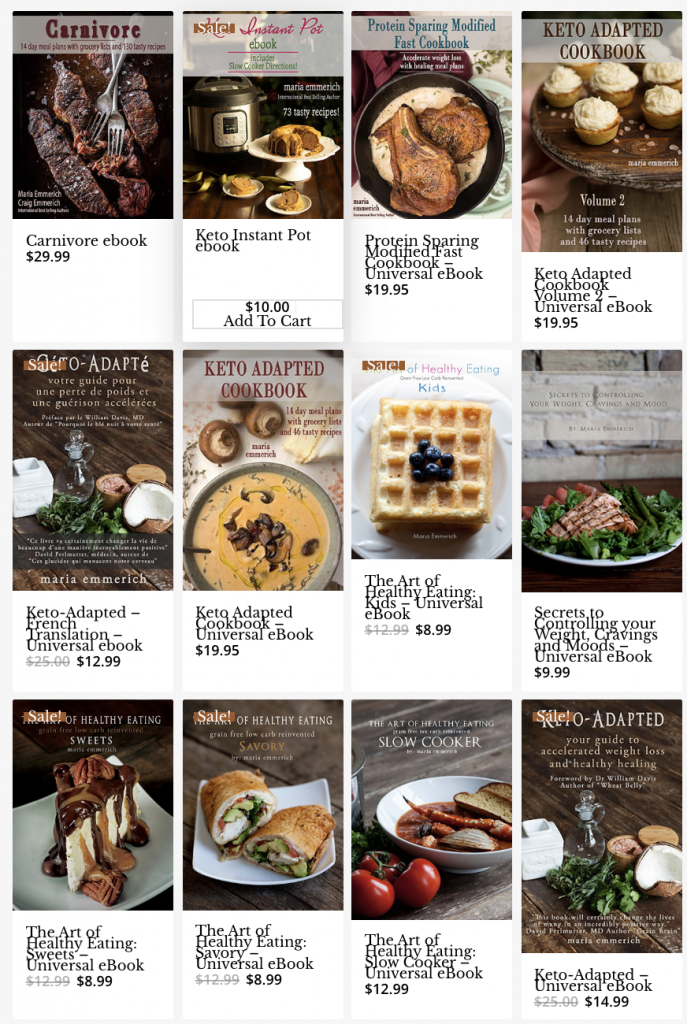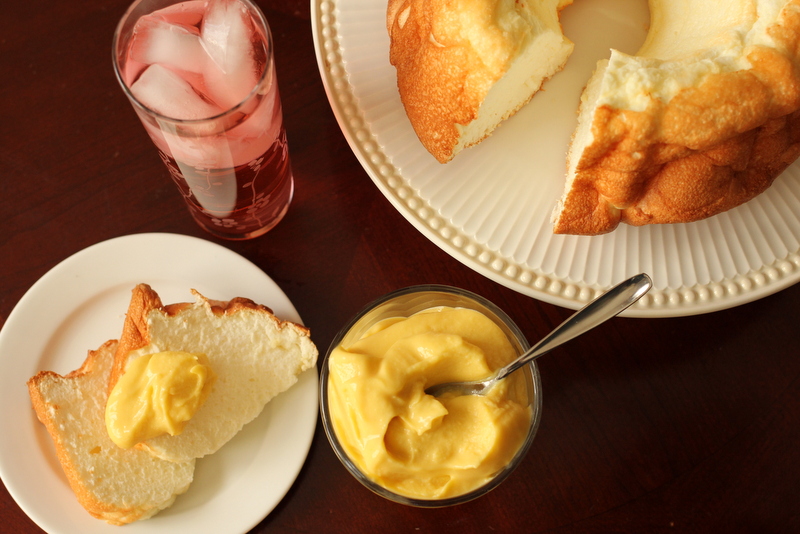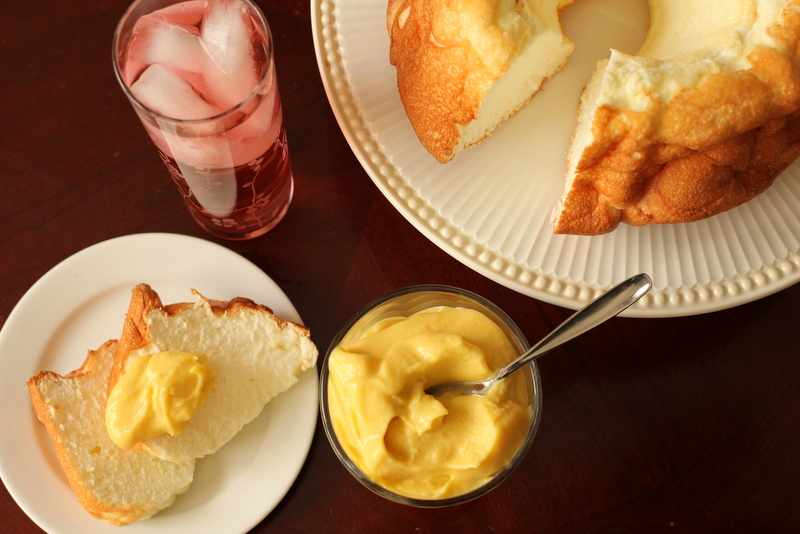 Click
HERE
to find my Lemon Curd to serve with this delicious Angel Food Cake!
To make this protein sparing Angel Food Cake, I used a stand mixer! I adore my stand mixer and it was my favorite foodie gift!
Find my FAVORITE stand mixer HERE (makes a GREAT gift!)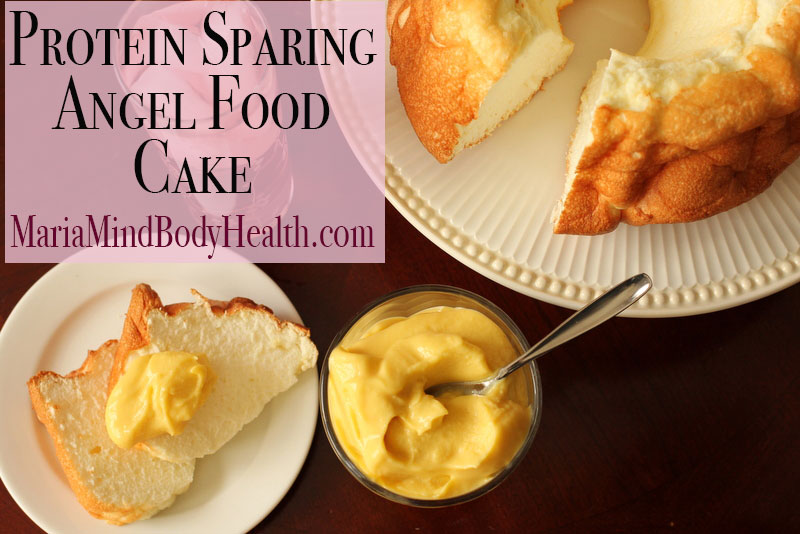 Click HERE to learn more about Protein Sparing Modified Fasting.
Low Carb Angel Food Cake
Ingredients
12

large

egg whites

2

teaspoon

cream of tartar

1

pinch

Redmond Real salt

1

cup

egg white strawberry protein powder (or vanilla or chocolate

1

cup

Natural Sweetener

or powdered erythritol

1

tsp

strawberry extract

or other extract
Instructions
Preheat oven to 350 degrees F (175 degrees C).

Sift protein and confectioners erythritol together and set aside.

In a large clean bowl, (click HERE for the best Stand Mixer)whip egg whites with a pinch of salt until foamy (save the yolks for "healthified" creme brule, "healthified" coconut custard, OR "healthified" ice cream).

Add cream of tartar and continue to beat until very stiff (you will be able to put bowl upside down and the whites won't fall out).

Add your favorite extract flavor.

Quickly fold in protein mixture.

Pour into a greased 10 inch tube pan. Bake at 350 degrees F (175 degrees C) for 45 minutes.

OPTION: Serve in Push Pop Molds with fresh whipping cream and strawberries.

It also makes great FRENCH TOAST (see below for directions) and Strawberry Shortcake (click HERE).
Nutrition
Calories:
54
|
Fat:
0.7
g
|
Protein:
11.1
g
|
Carbohydrates:
0.9
g
|
Fiber:
0
g
|
P:E Ratio:
6.9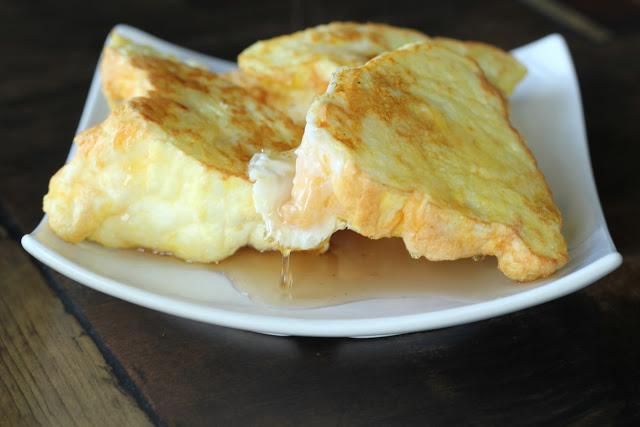 "HEALTHIFIED" FRENCH TOAST
1 Angel Food Cake
4 eggs
1 cup unsweetened almond milk
Cut the cake into 1 inch thick slices. In a medium bowl, mix the eggs and almond milk. Heat a skillet to medium-high heat, greased with coconut oil. Dip each slice of angel food cake into the egg mixture. Place on skillet and fry on each side until golden brown.
Click HERE to find the Keto syrup I use.
NUTRITIONAL COMPARISON (1/4 cup syrup)
Maple Syrup = 210 calories, 0.2g fat, 0g protein, 54g carbs, 0g fiber (54 effective carbs)
Xylitol Sap Syrup = 50 calories, 0g fat, 0g protein,19g carbs, 18g sugar alcohol (1 effective carb)

PROTEIN SPARING TESTIMONY OF THE DAY
I LOVE getting testimonies about my Protein Sparing protocol like this!
"46 yr old, Hashimotos, hypothyroidism, and. High blood pressure, premenopausal. I have been doing dirty keto for over 2 years. But I would get frustrated with the scale I'd go weeks without a loss ((and I have a lot of weight to get off.)) I Decided to try something different!
Was hesitant about giving up dairy & nuts but I've done week #1 meal plan for 2 weeks in " the 30 day ketogenic cleanse and am down 22 lbs!! Did 1 day this week of PSMF, my mind blown! It can be done🙌" – Melaine
Most people I consult are doing keto totally wrong. Get fast results with the my NEW Keto Packages!