Pork Rind Danish
My Keto Fat Head Danish recipe has been a craze in the keto community. I love that people are getting off grains and finding new ways to enjoy their favorite foods like danish!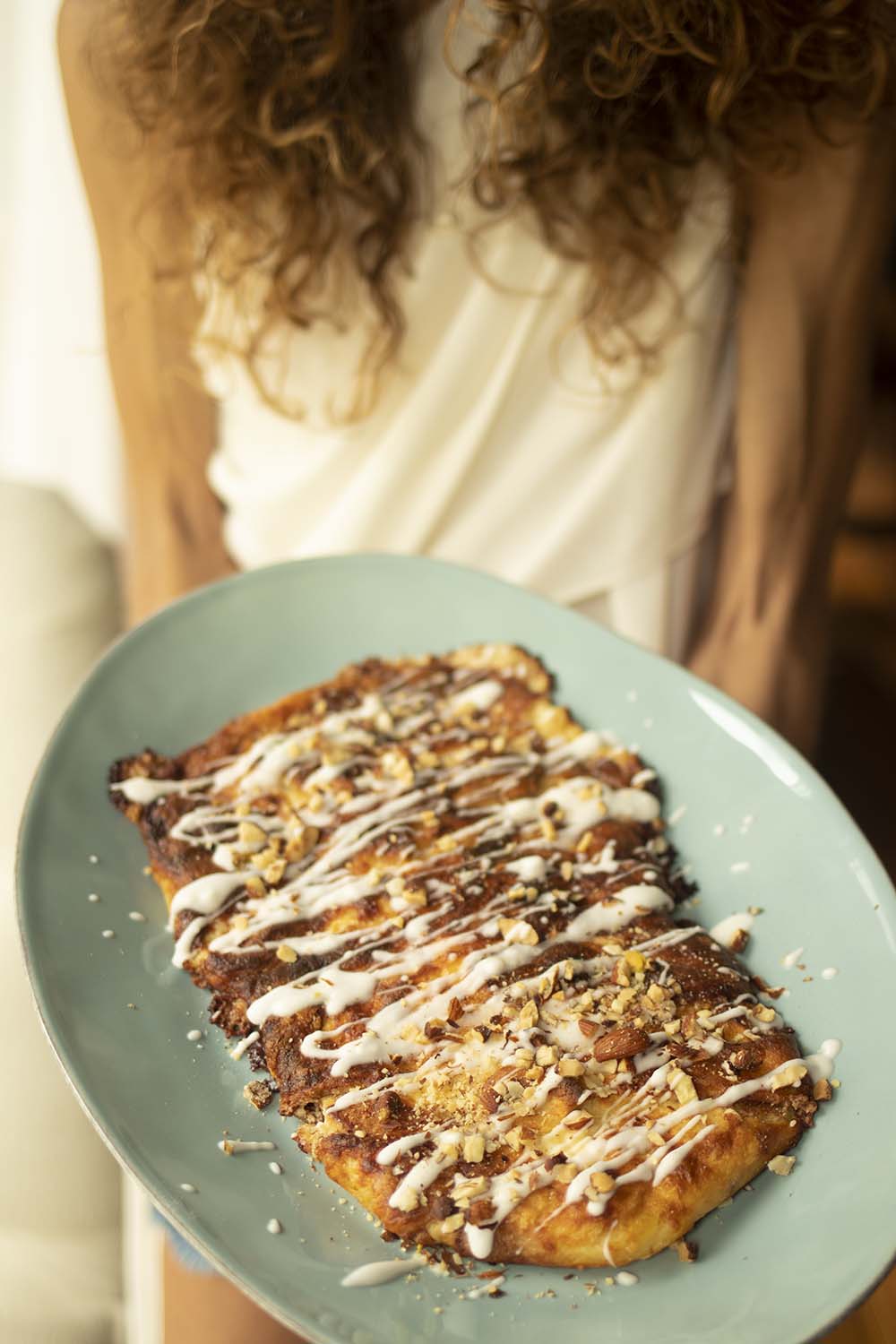 My keto fat head danish is so delicious but I was on the pursuit of making the danish without almond flour because I no longer eat nuts or nut flours since they always kept me back from losing weight. This is why most of my books are NUT free! I have many books that are nut free (and some nut and dairy free too such as The 30 Day Ketogenic Cleanse, Easy Dairy Free Ketogenic Recipes AND my Protein Sparing Modified Fast Cookbook) to help people be successful on the ketogenic diet.
I created my keto danish into a keto pork rind danish! If you do not like pork rinds, do not worry! You don't even taste the pork rinds!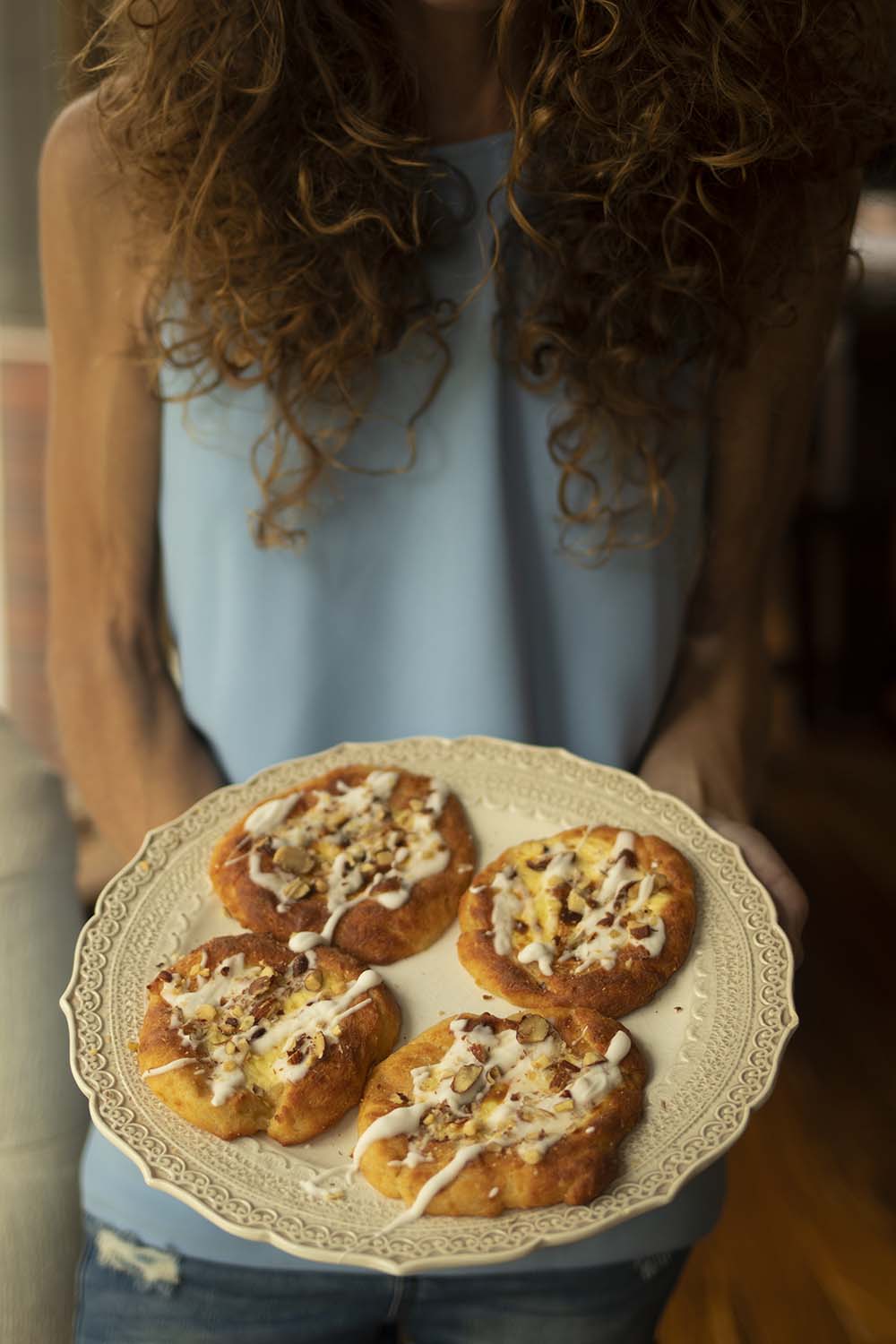 If you want to watch us make these delicious Pork Rind Danishes, subscribe to our new YouTube Channel to get updated when the video comes out which will be in a day or two, and comment below on what video recipe we should make next!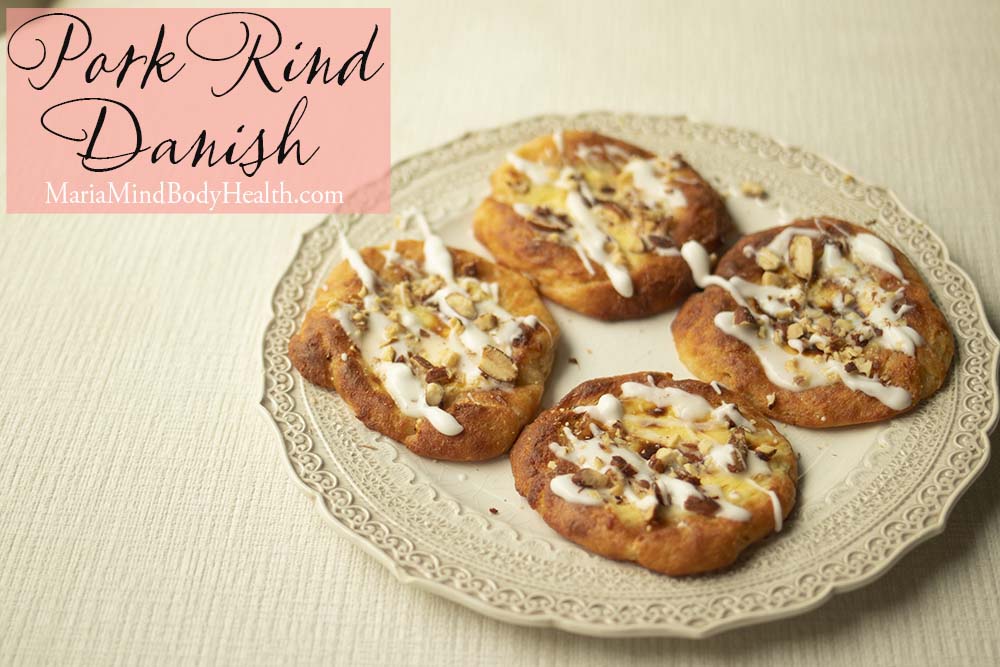 Keto Danish
Ingredients
Dough:
1¾ cup shredded mozzarella cheese
2 tablespoons cream cheese
¾ cup powdered pork rinds
1 egg
⅛ teaspoon fine grain sea salt
Cinnamon Filling:
1 tablespoon melted butter
1 tablespoon cinnamon
1 tablespoon Swerve confectioners
Cream Cheese Filling:
3 oz cream cheese, softened
2 tablespoons Swerve confectioners or a few drops of stevia glycerite
Glaze:
¼ cup Swerve confectioners
1-2 tablespoons unsweetened almond milk (or heavy cream)
Optional garnish: crushed almonds
Instructions
Preheat oven to 400 degrees F.
To make the dough, place the mozzarella and the cream cheese in a heat safe bowl and microwave for 1-2 minutes or until the cheese is entirely melted. Stir well with a spatula. Add the egg and stir to combine well. Add the powdered pork rinds and combine well.
Divide the dough into 4 equal portions.
Place a greased piece of parchment paper on a cookie sheet.
Place one ball of dough the dough on the greased piece of parchment paper and pat out with your hands to make a large circle shape, about 4 by 4 inches. Pinch the outsides to create a crater in the center. Repeat with dough so you have 4 circles placed 1 inch apart from each other.
Make the cinnamon filling by placing the melted butter, natural sweetener and cinnamon in a small bowl and use a fork to combine well. Divide the mixture into the center of each circle.
Fold the outer ½ inch of the circle into the center to make a danish shape that has a well in the middle for the cream cheese filling.
Make the cream cheese filling by placing the softened cream cheese and natural sweetener in a bowl. Mix well to combine. Divide this mixture evenly into the middle of each danish.
Place the cookie sheet with the danishes in the oven to bake for 9 -11 minutes or until the danishes are golden brown and dough is fully cooked. Remove from oven and allow to cool for 15 minutes.
Meanwhile make the glaze by placing the natural sweetener in a small bowl, add just enough almond milk to make a thin glaze. If it gets too thin, add a tablespoon of natural sweetener, and if it is too thick, add a splash of almond milk.
Once the danishes are cool, drizzle glaze over and sprinkle with crushed almonds if desired.
Notes
Nutritional Information:
361 calories, 28g fat, 26g protein, 2g carbs, 1g fiber
TESTIMONY OF THE DAY
"I just wanted to thank to Maria Emmerich and Craig Emmerich!
I bought their fertility and pregnancy package while we were trying to conceive another baby. Amazing info and the supplement list I needed that you can't get from your doctor. We got pregnant with twins and Thank God I had a healthy pregnancy overall.
I believe those supplements Maria and Craig suggested just were enough to keep my body healthy besides Maria's recipes. I wish I knew Maria and Craig while I was pregnant with my first. Again, thank you!!" – Dilek
Most people I consult are doing keto totally wrong. Get fast results with the my NEW Keto Packages!