Meatloaf Cake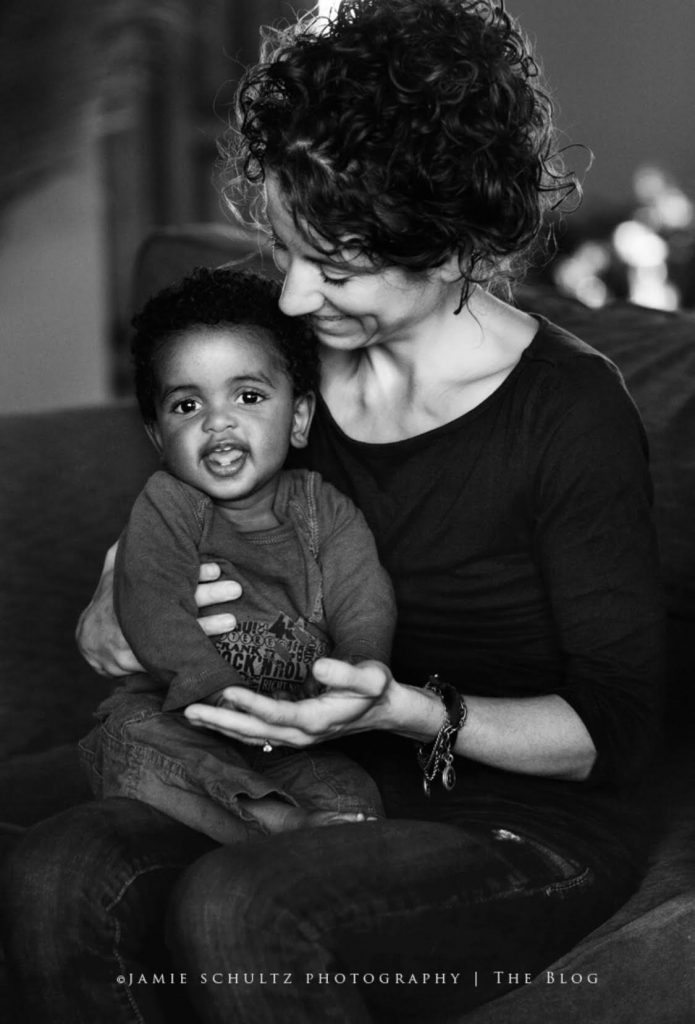 I can't believe my baby boy is turning 10 years old today!
We named him Kai because it means ocean in Hawaiian. I find names interesting and how we often become what our name means. Kai is one with the ocean. He will swim in the Maui ocean all day! He loves it!
Kai also makes me laugh everyday! He is my little goofball that knows how to make anyone happy!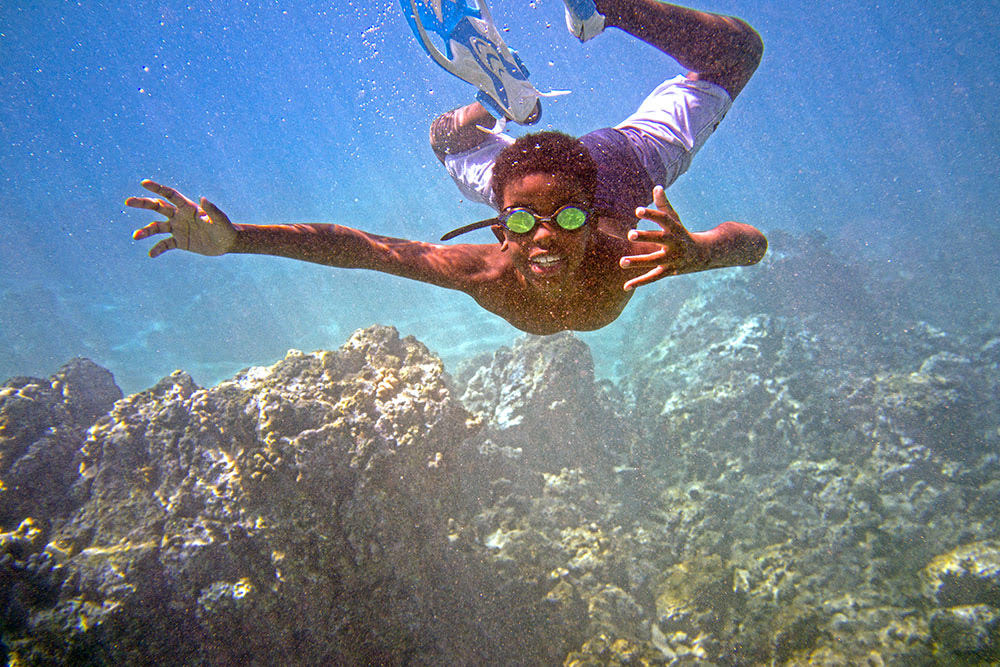 I asked Kai what flavor of cake he wanted for his birthday and he said, "Mom, I want a meat cake!" He is quite the Keto Kid! He doesn't have a huge sweet tooth and prefers savory foods.
I thought a meat cake was a great idea! We all love meatloaf, so I made my fan favorite Swedish Meatloaf (with a few adaptations) into a meatloaf cake!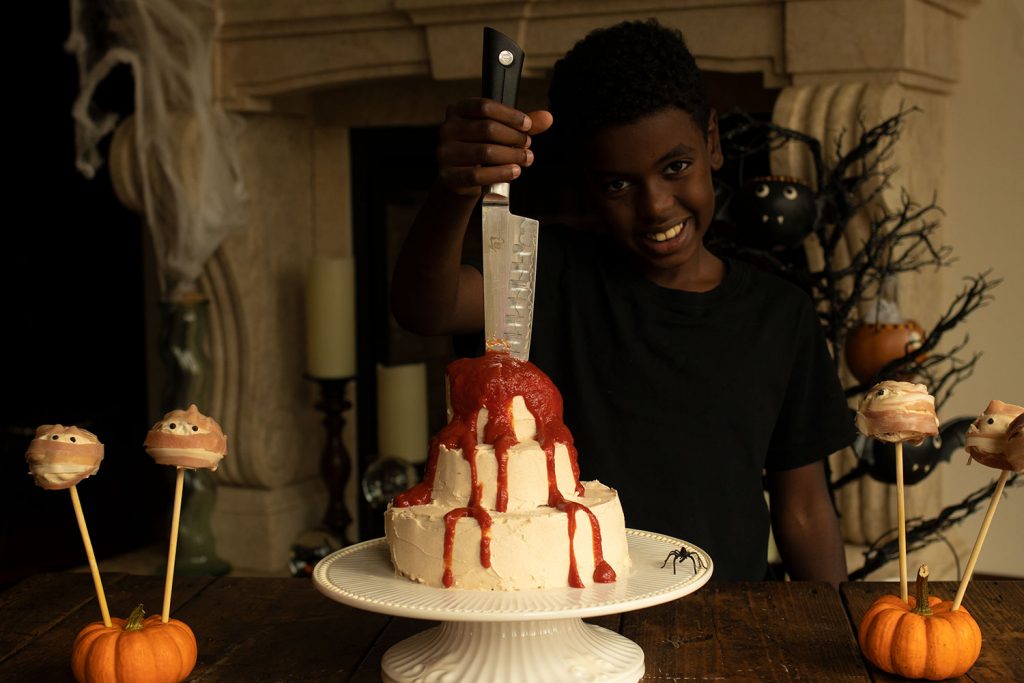 I wanted to make a cuter Halloween Meatloaf Cake, but Kai wanted a spooky one with the ketchup for the blood. He is a typical boy! No matter how much of a sweetie pie he is, boys love spooky looking cakes! So I made this meat cake extra spooky for him!
He also LOVES Primal Kitchen Ketchup and since I'm not a fancy artist, I used the ketchup to make a spooky Halloween cake that was really easy!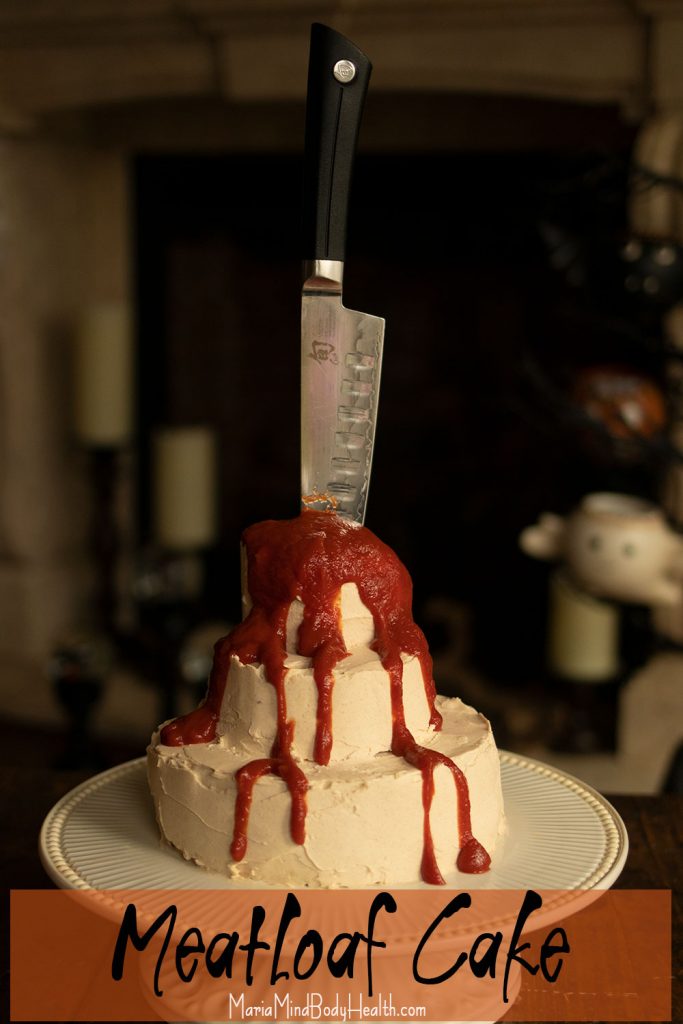 If you are looking for a delicious cake to serve at (next year's) Halloween Party, I highly suggest making this amazing Meatloaf Cake! The leftovers are even better!
I also made Meatball Cake Pops that I will post next week!
Happy Halloween my keto friends!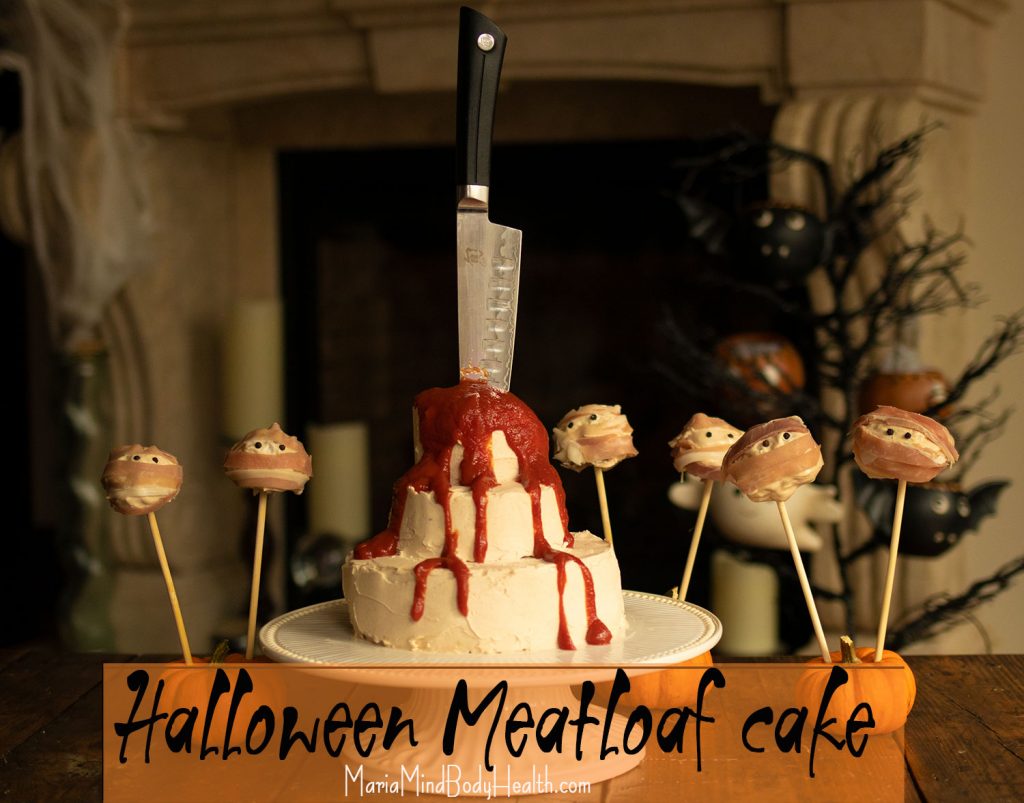 Meatloaf Cake
Ingredients
3

pounds

ground beef 85% lean

1/2

pound

ground pork

or more beef

2

large

eggs

1/2

cup

tomato sauce

3/4

cup

minced yellow onion

4

tablespoons

dry mustard

4

cloves

garlic

minced

4

teaspoons

Redmond Real salt

plus more for seasoning sauce (use code Maria15 for 15% off

1

teaspoon

fresh ground black pepper
FOR THE "FROSTING"
1

cup

unsalted butter

16

ounces

cream cheese

softened

1/2

cup

beef bone broth

I used Kettle and Fire brand
FOR THE BLOOD:
Primal Kitchen Ketchup

use code MARIA for 20% off
Instructions
Preheat the oven to 350 degrees F.

In a large bowl, combine the ground beef, ground pork, egg, tomato sauce, onion, mustard, garlic, salt, pepper. Mix until well combined.

Line an 8 inch, 6 inch and 3 inch cake pan with parchment paper and place mixture into the pans.

Place in the oven and cook the 3 inch meatloaf cake for 15 minutes or until cooked through and no longer pink inside. Cook the 6 inch meatloaf cake for 30 minutes or until cooked through and no longer pink inside. Cook the 8 inch meatloaf cake for 45-55 minutes or until cooked through and no longer pink inside.

Meanwhile, make the sauce: Place the butter in a saucepan and heat until the butter sizzles and brown flecks appear, stirring constantly to keep the butter from burning. Reduce the heat to low. Whisk in the cream cheese and broth. Use a stick blender to puree until smooth.

When the meatloaf is done, remove them from the oven. Allow to cool for 30 minutes in the fridge, so the frosting doesn't melt when you place it onto the meatloaf cake.

Once the meatloaf is cool, trim the top of the cakes so that they are flat on the top and bottom.

Place the 8 inch meatloaf cake on the bottom of a serving platter and use a knife to cover with frosting.

Place the 6 inch meatloaf cake on top of the frosted 8 inch meatloaf cake and use a knife to cover in frosting. Repeat with the 3 inch meatloaf cake.

Place in the fridge to chill until serving.

Just before serving, place a large knife into the center of the top of the cake. Pour the ketchup on the top of the cake and use a spoon to slide it down the slices to look like blood.

To serve, reheat slices in a casserole dish in a 350 degree F oven for 5 minutes or until heated through.
Nutrition
Calories:
449
|
Fat:
36
g
|
Protein:
23
g
|
Carbohydrates:
4
g
|
Fiber:
1
g
|
P:E Ratio:
0.6
TESTIMONY OF THE DAY
"Thank you Maria for the very complete list of supplements.  I was very impressed with the questions you asked on your questionnaire, and was even telling my husband that he needs to do it as well.  I have been waiting for several months to purchase your Supplement Plan.  I asked for it as my birthday present.  My Keto journey started a little over a year ago when my father passed away from Alzheimer's.  Watching his mind deteriorate from the awful disease really pushed me into trying Keto.
My sister turned me on to your cookbooks.  I immediately saw and felt a HUGE difference after eating your Keto recipes. I lost about 10 lbs, had more energy, and just generally felt better overall.
However, something was still missing, and the supplements you had me take finally fixed my thyroid and digestive issues.
Forever Grateful, V
Most people I consult are doing keto totally wrong. Get fast results with the my NEW Keto Packages!