Meatball Cake Pops
These Meatball Cake Pops are perfect for a keto Halloween party!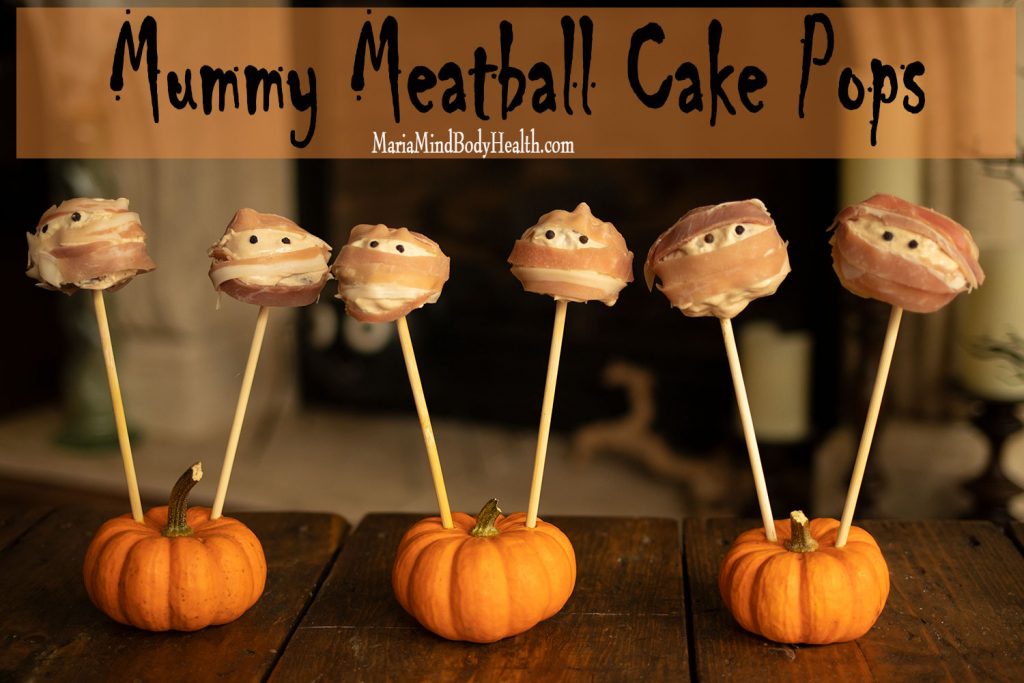 My son Kai turned 10 last week and I made him a delicious Meat Cake at his request! Click HERE to find his Meat Cake recipe!
I wanted to make his birthday extra special since we aren't doing much for celebrations because of Covid-19 going on!
Instead of just a meat cake, I also made Mummy Meatball Cake Pops! Yes, we had a lot of food, but both recipes make GREAT leftovers for easy keto meals!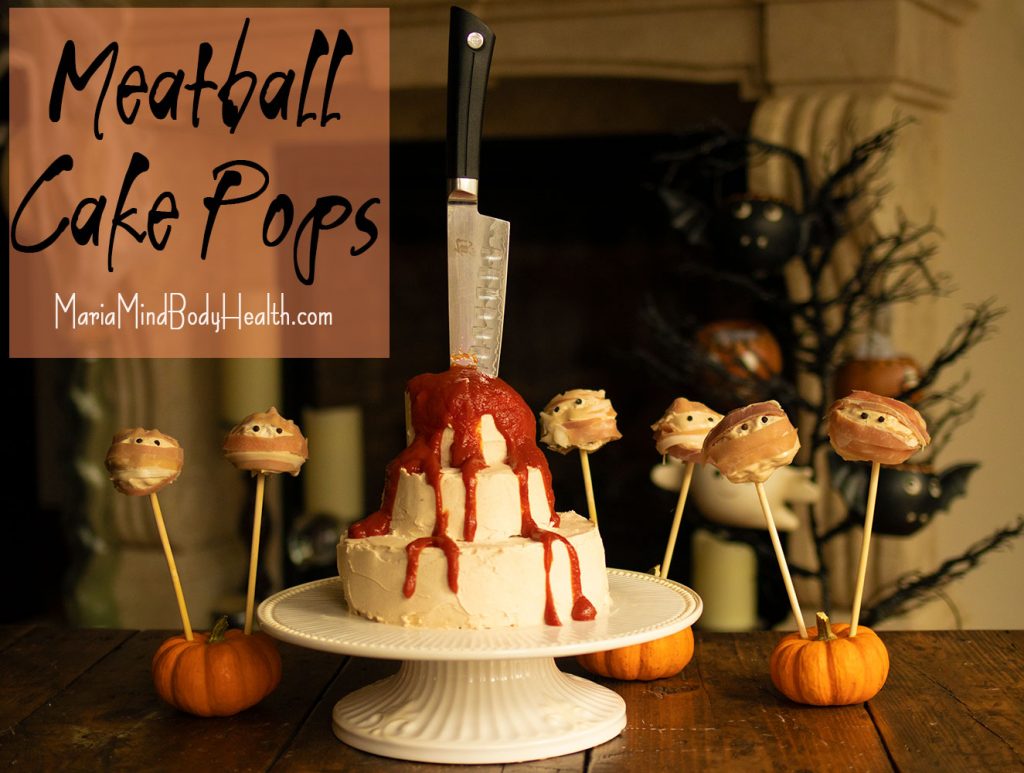 I also love that whenever I reheated the leftovers, it brought a smile to all of our faces!
If you are having a Halloween party with your family or maybe a fun party next year, you must try these delicious Mummy Meatball Cake Pops!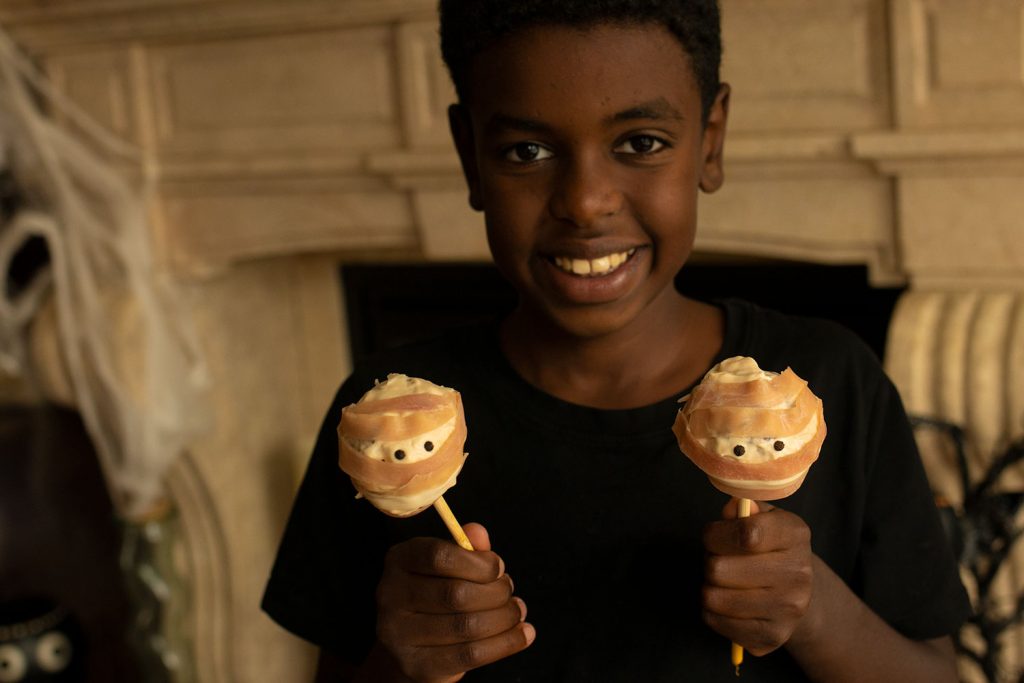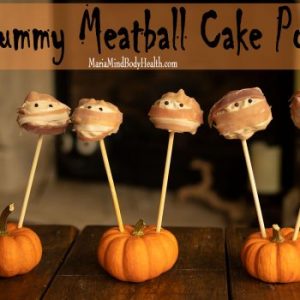 Meatball Cake Pops
Ingredients
1

pound

ground beef 85% lean

1/2

pound

ground pork

or more beef

1

large egg

1/4

cup

tomato sauce

1/4

cup

minced yellow onion

2

tablespoons

dry mustard

2

cloves

garlic

minced

2

teaspoons

Redmond Real salt

plus more for seasoning sauce (use code Maria15 for 15% off

1

teaspoon

fresh ground black pepper

FOR THE "FROSTING"

1/2

cup

unsalted butter

1

8 ounce pkg cream cheese, softened

1/4

cup

beef bone broth

I used Kettle and Fire brand

FOR THE MUMMY

1

package Prosciutto

Whole Peppercorns
Instructions
Preheat the oven to 350 degrees F. Place a piece of parchment onto a rimmed baking sheet.

In a large bowl, combine the ground beef, ground pork, egg, tomato sauce, onion, mustard, garlic, salt, pepper. Mix until well combined.

Use your hands to form the meat mixture into 1 3/4 inch round meatballs (they will shrink after baking).

Place the meatballs onto the prepared baking sheet. Place into the oven to bake for 25-30 minutes or until cooked through and no longer pink inside (160 degrees F internal temperature).

Meanwhile, make the sauce: Place the butter in a saucepan and heat until the butter sizzles and brown flecks appear, stirring constantly to keep the butter from burning. Reduce the heat to low. Whisk in the cream cheese, broth, and cheese. Use a stick blender to puree until smooth.

When the meatballs are done, remove them from the oven. Allow to cool for 30 minutes in the fridge, so the frosting doesn't melt when you place it onto the meatball cake pops.

Once the meatballs are cool, place a corn dog stick into the center of each meatball. Dip each meatball into the warm sauce for a thin layer over each meatball. Place the empty end of the stick into a small pumpkin.

Slice the prosciutto into 1/4 thin thin strips. They may break in spots, but that is ok. Use the pieces to wrap around the frosted meatballs while leaving an open strip of area for 2 eyeballs.

Place 2 peppercorns into the frosting in the open area.

Serve or if desired, reheat in a 350 degree F oven for 5 minutes or until heated through.
Notes
Nutritional Information:
292 calories, 25g fat, 16g protein, 2g carbs, 0.2g fiber
TESTIMONY OF THE DAY
"Thanks Maria and Craig Emmerich!!!
4 months ago I watched your carnivore class and started the next day. Well, today is my 4 month carnivore-versary and today I reached a big milestone. 51 pounds gone!
Definitely still a work in progress, but I feel great and have NEVER been able to lose this much weight so easily or quickly." – Kristy
Most people I consult are doing keto totally wrong. Get fast results with the my NEW Keto Packages!